As always, today's "˜Spotlight On' piece will be offering something other than the uncertainty and the stress you see plastered on the news. It'll be offering a different way to look at the chaos — one that inspires cooperation and action.
As the weeks pass and our time spent isolated continues, it's important to keep examples of communities banding together, of small businesses looking out for each other, front of mind.
It can be easy to focus on the negative — but today's "˜Spotlight On' piece will get you feeling positive.
It'll show you that any apparel decorator can get working, even with the stay-at-home orders in place. It'll show you that local businesses are looking for ways to help each other, even when they're suffering themselves.
And it'll show you that, above all else, your community is rooting for you.
They want you to succeed.
So, get ready for today's featured campaign: Mayb Tmrw's Life Vest Store!
Overwhelmed by water
That's how it started.
Mayb Tmrw, a New York City based apparel decorator, was used to hustling. Surrounded by the chaos that is the big city, the whole team was accustomed to last-minute orders, expedited turnaround times, and racing against the clock.
In fact, this hustle was so commonplace that the Mayb Tmrw tagline was "We get it… You needed it yesterday."
The apparel decorator was highly equipped to handle mayhem. But nothing could have prepared the team for COVID-19.
With the Governor ordering all non-essential businesses to close their doors for the indefinite future, Mayb Tmrw realized their normal operations were no longer permissible.
It was a scary sight.
Orders were dwindling, in-house supply chains were put on pause, and there wasn't a back-up plan.
The team could have sat back and watched as their business was overcome by the effects of the pandemic.
But they didn't.
They got to work, refusing to be swept under by the waves. They were going to get creative, and they were going to stay afloat.
Enter: the Life Vest
The idea was simple: create an online store, using InkSoft technology, where t-shirts could be sold as a fundraiser. There would be no need for in-house operations, and there would be no need for buyers to leave their living room.
But Mayb Tmrw wasn't just interested in saving their own ship. They were looking to help other NYC-based small businesses, too.
So, just like we've seen with the Here for Good movement, Mayb Tmrw reached out to those local businesses, inviting them into the plan — at no cost to them.
That meant that each business would get to choose its own t-shirt color and design, and Mayb Tmrw would showcase those custom t-shirts in an online store — the Life Vest store — for free.
The t-shirts would sell for $20 a pop, and all proceeds would be split down the middle — half going to the local business involved, and half going to the Mayb Tmrw.
At the end of the campaign, the apparel decorator would then print and ship all of the orders. Again, at no cost to the local businesses.
The only thing the local businesses had to do, aside from send in their logos, was promote.
Promote, promote, promote.
By sharing news of the store with all of their customers, by explaining how they could make a difference with just a few clicks, the campaign would be able to gain traction.
And, for a digital fundraiser, that's always the most important part.
All fundraising hands on deck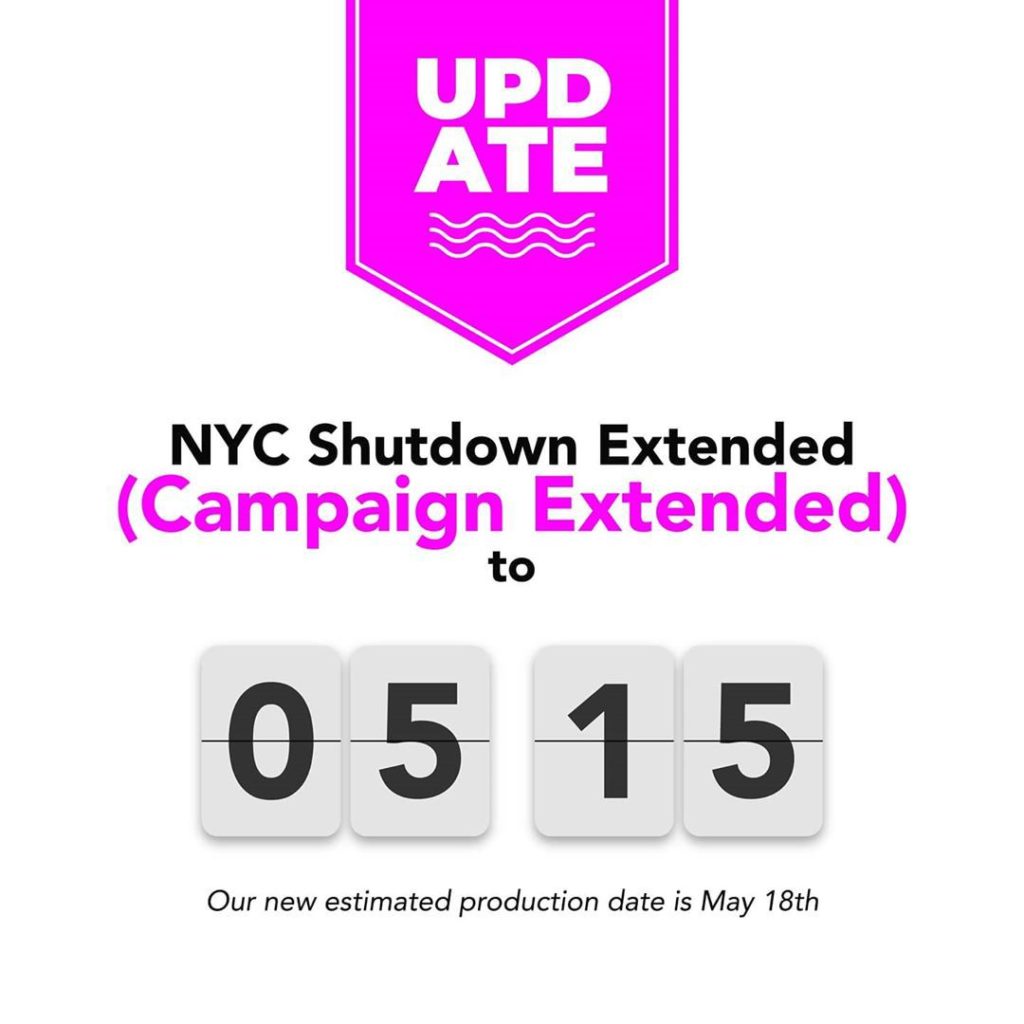 The only requirements for a small business to join in?
It must be based in NYC, and it must have an active social media account.
Since promotion is the key, Mayb Tmrw needed its local businesses to be able to reach their customer-base — and the community at large.
Once news of the Life Vest store reached the New York Community, Mayb Tmrw was certain that support would start coming in. In waves.
And it did.
The Life Vest store has a $10k goal, and as of today, it's already raised more than $7,200.
It has 26 custom t-shirts available for purchase, which means that it's helping 26 unique local businesses stay above water — just like its "Life Vest" name promises.
The best part? The campaign will keep running until the stay-at-home orders are lifted. In other words, the virtual store will remain open, and fundraising, until physical stores are allowed to replace them.
How you can participate
Mayb Tmrw is still inviting more local businesses to join in — to get their own t-shirts made, and sold, in the store. The more businesses they can help out, the more people they can reach — and the greater the impact the whole campaign will have.
So, if you're a NYC-based small business, check out this intake form and sign up.
Or, if you're an apparel decorator moved by this incredible campaign, don't be afraid to take a lesson out of Mayb Tmrw's playbook.
Reach out to local businesses in your area. Use InkSoft technology to get designs made and online stores running. Promote as much as you can. And then, watch the returns grow. And grow. And grow.
Not only is it possible, but it's been proven time and time again. (Check out that proof here, here, and here.)
So get moving. And who knows? Maybe our next "˜Spotlight On' piece will be featuring you.
If you have any questions, our team's always happy to chat. You can reach us at 800-410-3048.
We can't wait to see how you and your business are taking action.
Stay safe,
The InkSoft Team