In today's edition of "˜Spotlight On,' we'll be taking a break from the negativity and the chaos to focus on one campaign that's making a massive difference — and isn't asking for anything in return.
Today's feature looks a little different from our past spotlights.
It isn't a fundraiser, first and foremost — it's not aiming to raise massive amounts of money for local businesses. What it is aiming to do is simple.
It's aiming to raise community support.
It's aiming to use physical indications of gratitude to boost morale throughout the areas in this country that have been hardest hit, and man, is it doing a great job.
We're so excited to introduce today's "˜Spotlight On' campaign: Hospital Heroes!
Helplessness drove creativity
When James and his family looked around, they were shocked — like many of us — about how quickly the pandemic veered the entire country into mayhem.
But, more than the shock, they realized they felt helpless.
While all of the frontline workers — the doctors, the nurses, the people who keep the hospitals running — were giving 100%, 24/7, James and his family were stuck in their home.
Work was paused. School was closed down.
So, they put their minds together and, after speaking with friends and family who were part of the frontline crew, developed an idea.
They wouldn't just sit still and wait until the crisis was over to give their thanks.
Instead, they'd do it now.
The care package of the century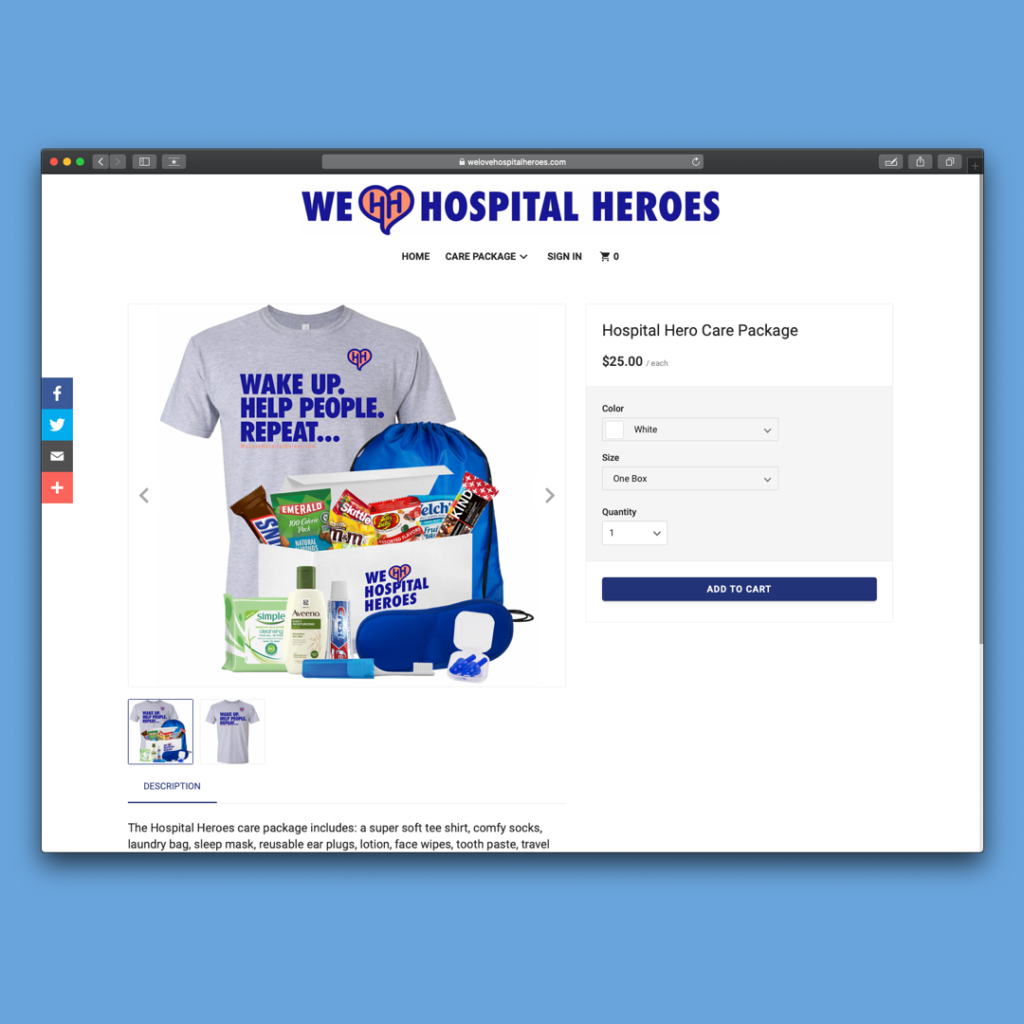 The idea started small.
A homemade package of goodies, with a hand-written card that conveyed just how grateful James and his family were for the people who went into work, risking their lives every day.
Those care packages were delivered to nearby hospitals — and the response was incredible.
So, the family decided to scale up.
James was able to get items at cost, putting together care packages — always with a personal card of gratitude — that were functional and meaningful.
A super-soft t-shirt that reads "Wake Up. Help People. Repeat."
Healthy snacks.
A sleep mask, earplugs, and lotion.
Face wipes, a laundry bag, and a toothbrush/toothpaste set.
Once compiled, they sent the care packages to hospitals in the North East, where cities have been the hardest hit. It was a simple idea — and it was effective.
It made a difference in the frontline workers' lives.
It made them feel like, finally, there were people looking out for them.
How to help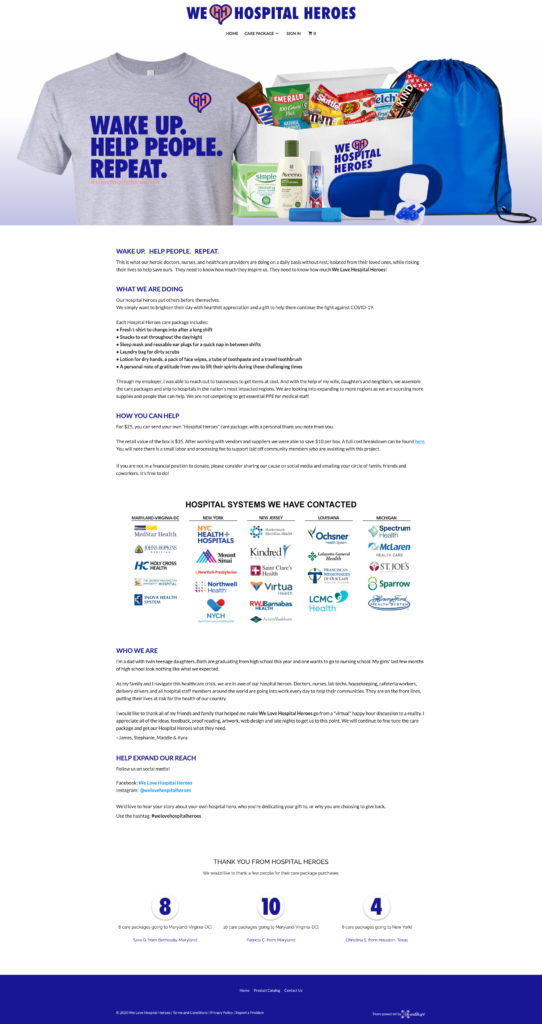 For $25 a care package, you can take part in the campaign, showing hospital workers that you don't just see them — but you appreciate them.
When you purchase a box — on this online store, powered by InkSoft technology — you'll get to include your own personal thank you note. Then, the whole care package is shipped to a hospital on your behalf.
While there is a small labor fee included in the $25, James writes that that money goes to support laid off community members who are helping to piece the packages together.
So, there may be a (tiny) fundraising component, but the main purpose of the campaign is something different. It's something pure, and something incredibly impactful.
"Wake up. Help people. Repeat," James writes. "This is what our heroic doctors, nurses, and healthcare providers are doing on a daily basis without rest, isolated from their loved ones, while risking their lives to save ours."
"They need to know how much they inspire us."
The Hospital Heroes campaign, with the help of all of its supporters, gets that message across.
Our InkSoft team is so impressed by, so blown away by, how creatively our technology is being used to affect change.
Whether it's for the fundraising of local businesses, the fundraising for vulnerable groups, or the spreading of recognition and gratitude for the people risking everything to save our sick — we couldn't be more moved.
It's campaigns like this — and people like James and his family — that deserve to be highlighted, and recognized, for their hard work and community-mindedness.
We hope that you tune in to our next "˜Spotlight On' feature, where we recognize another initiative that's making a difference.
And, like always, if you have a campaign or an idea that InkSoft can help you with, don't hesitate to reach out. Our number is 800-410-3048.
Stay safe,
The InkSoft Team