It's that time again, ladies and gentlemen.
The time where we take a break from the grisly news channels, from the negativity flooding our social media, and turn instead to the people who are making a difference.
In today's "˜Spotlight On,' we'll be taking a good look at one screen printer that, faced with adversity, refused to give up.
Instead, its team started a campaign to help other businesses who were hurting.
That type of selflessness, of service, is what this "˜Spotlight On' series is all about.
Whether they're fundraising or boosting morale, volunteering or working on the frontlines, these are the heroes and the campaigns — local and far away — that deserve our attention. So, what do you say you join us in giving it to them?
Cheers to today's Spotlight feature: Sunday Cool and the #SupportLocal campaign!
When tragedy strikes
Sunday Cool is a screen printer based out of Tavares, Florida.
Before the pandemic, it was a bustling business. It employed 59 staff (plus three dogs), worked with thousands of clients all over the country, and even developed its own unique water-based printing method that had it standing out from the crowd.
But then, COVID-19 hit.
Local businesses all over the country were massively impacted, with stay-at-home orders forcing some to close and others to reach for demand that no longer existed.
For Sunday Cool, the effects of the virus were nothing short of heartbreaking. Nineteen employees were laid off, and each of the 40 others whose jobs were spared had to take a 50% pay cut.
It was devastating, through and through.
But, with the company's faith-based background and its dedication to serving others before all else, it refused to be consumed by the tragedy. Instead, it sprung to action.
T-shirts that serve
With their eyes open to just how widespread the damage to their community was, the team at Sunday Cool was searching for a way they could help.
"We can't make masks," Austin Warren, Sunday Cool's director of sales, told WKMG news. "We can't make respirators, we don't have the equipment. But what we can do is we can make t-shirts."
Leaning into what they do best, the team put everything they had into drafting an actionable campaign that used branded t-shirts to raise money.
In three days, their entire business model had changed — and they were made serviceable to any and every business.
Here's what they're offering:
Any local business signing up with the #SupportLocal campaign gets to work with Sunday Cool's in-house artists to design a custom t-shirt, using InkSoft's Designer feature.
Within 24 hours of signing up, Sunday Cool also creates a custom online store for that business to sell the t-shirt, using InkSoft's Stores feature.
After seven days of being open, the team at Sunday Cool then takes all orders collected from the store and prints them, shipping out the t-shirts directly to the supporters who purchased them.
Free of charge, local businesses are given an awesome product and an original store to sell it in, without having to worry about any of the nitty-gritty logistics. Oh, and they get to make some money, too.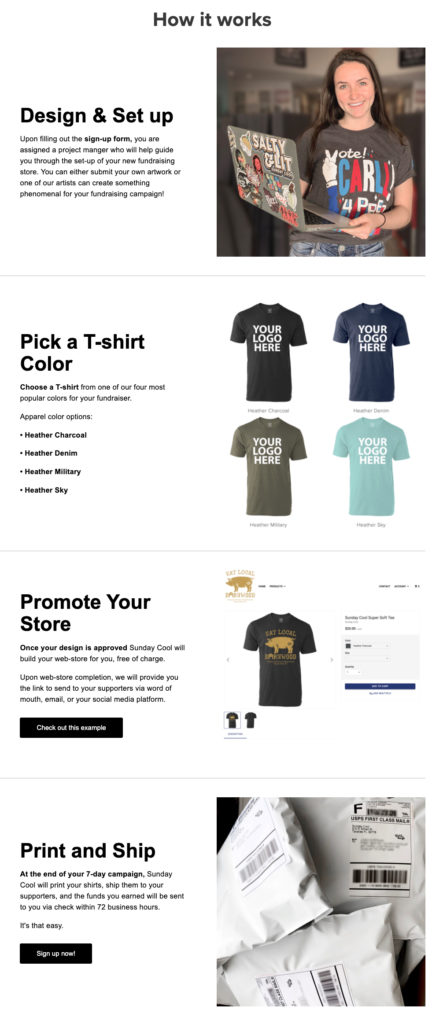 Overflowing gratitude
With the long list of businesses — both in central Florida and out of it — signing up for the #SupportLocal program, it's clear that Sunday Cool's mission to serve is being achieved.
Not only are they providing small business after small business with another stream of revenue, but they're also providing them with the chance to see the true size of their network of supporters.
Virtually, and for some, in-person too — one local Florida BBQ joint, Barnwood Barbeque, is offering 10% off to all diners who wear their purchased t-shirts to the restaurant once this is all over.
As soon as each local business has its custom online store set up, the reins are in its hands for promotion. Whether it uses creative offers like Barnwood, or good old fashioned social media, is up to them.
But, for the maximum effect, promotion is key. The business should be promoting to all of its customers, its neighbors — even its competitors.
Anyone who can vouch for the work they've done over the years, or the impact they've had on their community, should be aware of the online store.
And then, after all that promotion, the business's team gets to sit back and watch as their community shows up for them.
What's next
Just like each of our previous "˜Spotlight On' campaigns, the #SupportLocal initiative spearheaded by Sunday Cool has found a spark of humanity — of joy — in the darkness.
It's not just about making money. It's also about reinforcing the notion of community that, when in isolation, oftentimes feels lost.
We at InkSoft are so proud of the work Sunday Cool is doing, and were overjoyed when its president, Steve Hooper, reached out to us with a piece of good news:
"We look forward to expanding our employee base soon!"
If that doesn't put a smile on your face, we're not sure what will.
Actually, we are: showing support for your community, your way.
Maybe that means finding one of these fundraising campaigns and buying a t-shirt (or 10).
Or maybe that means starting a campaign of your own.
We can't tell you what makes sense for you. But we can tell you that, no matter which direction you're looking to take it, InkSoft is here for you.
We're working with businesses like Sunday Cool to get things done quickly, the right way.
Our technology allows you to design, showcase, and sell cutting-edge products without any fussiness or delays. And, because we know how crucial these campaigns are to our communities, we're working hard to make sure you have what you need, when you need it.
Give us a call whenever you'd like, and we'd be happy to chat about how we can best serve you. (We're taking a lesson out of Sunday Cool's playbook here.)
You can reach us at 800-410-3048.
Stay safe,
The InkSoft team
P.s. Make sure to check out all of our 'Spotlight On' posts for maximum community fundraising inspiration!