---
HOW TO GET THE MOST VALUE FROM THIS GUIDE
Watch the Webinar Recording: See video below
Start Selling Merch: Download the FREE Boxing Up Local Pride: Here for Good 2.0 Marketing & Fundraising Graphics Kit
---
Bottom Line Up Front: This is the fundraising campaign to end all fundraising campaigns. It'll ignite more excitement, lock in more sales, and connect your community more than ever before — and all it takes is the building of a few boxes. We explain it all below.
As we near the end of the most surprising, taxing, and dramatic year in modern history, we at InkSoft find ourselves thinking about ways to get our hands on that one thing we've all been missing.
Connection.
Hugging. Catching up over coffee and laughter. Cheering on games. Sharing food, dance floors, and stories without worrying about the invisible droplets. Without worrying about the invisible danger.
The good news is, we know that the vaccine is on its way. We know that soon enough, we'll all be back to the normal that graces our TVs and our dreams.
But while it's coming soon, it's not coming now. It's not here yet. And that means we're left doing the best we can with what we've got — trying to sort through the reality and find new ways, new ideas, to feel the warmth of community.
Back at the beginning of this whole pandemic rollercoaster, we brought you coverage of the genius Here For Good movement. We watched together as decorators and print shops all over the country (and in Canada, too!) worked with local businesses to sell printed t-shirts online, creating new revenue streams and massive fundraising potential at the same time.
The ingenuity, the determination — we were blown away. And now, as our communities face the same conditions and our local businesses feel the impact even more than they did all those months ago, we're ready to watch our industry tackle something else that's just as impactful.
The Here For Good model, which you can read more about here, is brilliant — and if you're looking to help your local businesses thrive with that approach, we'll keep sending our applause and awe your way.
But for the end of 2020 — for the end of the year that made us question our norms more than anything else has in our lifetime — we wanted to bring something else to the table.
A new way to approach things. A new fundraising model. A new driver of impact.
But most of all, we wanted to give our industry a way to connect with the people they love most — their community. And help make it easier for their community to connect with each other in turn.
So, if you're ready to roll with the unfolding of this crazy new idea, let's dive into what it has in store. It's called Boxing Up Local Pride, and we might be biased but — we think it packs a pretty powerful punch.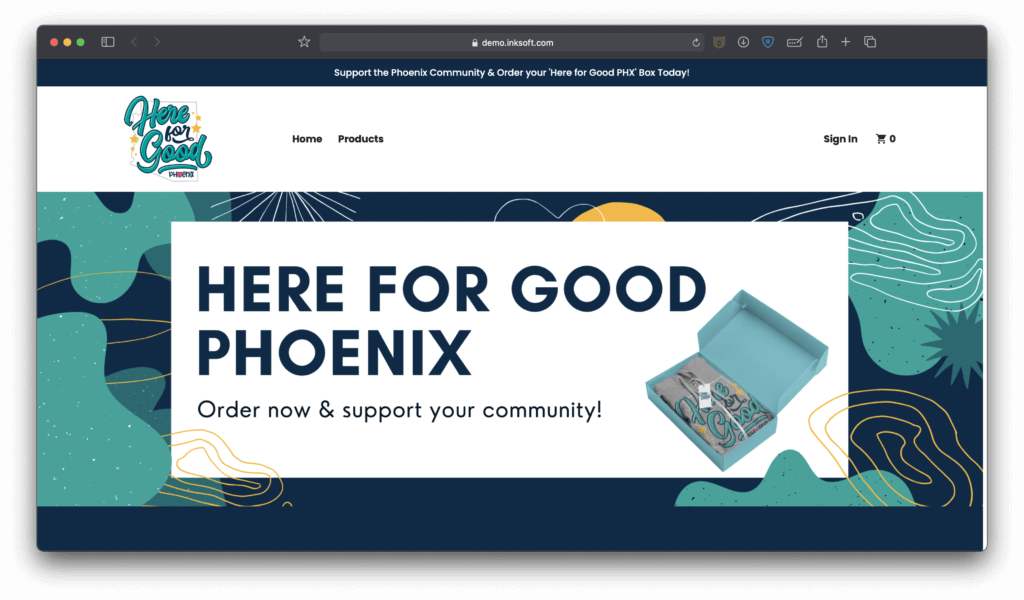 The Boxing Up Basics
The Boxing Up Local Pride campaign model is very much in-line with the model we saw with Here For Good: an apparel decorator or print shop works with local businesses to design custom products that are then sold in custom Online Stores, conjuring up a new way for local businesses to earn money and feel the support of their community.
At its heart, Boxing Up Local Pride is a "˜support local' community fundraiser. Its mission is to help local businesses stay kicking, help local communities stay vibrant, and help local people stay connected to the neighbors and places they miss the most.
So now that we understand the heartbeat behind the model, let's take a look at the rest of it.
Where Here For Good gave you custom t-shirts, Boxing Up Local Pride is giving you boxes. Lots of them. Filled with lots of stuff inside.
We're talking swag boxes comprised of custom apparel, custom promo products, and the spirit of your community holding it all together. We're talking opportunities to collaborate with local businesses on items that best represent their brand identities and value offered, and we're talking opportunities to let your local audience show up, buy-in, and support in a big way.
But we're also talking routes for you (and your local business collaborators) to uplevel your fundraising. Because the bigger the product, the greater its appeal — and the more you can collect, in terms of order value and in terms of orders placed, in return.
Here are the three steps required to get the Boxing Up Local Pride campaign off of the ground:
Pull in Local Businesses: Reach out to the businesses in your community that you think would love the chance to get involved. (Remember: it's a great way for them to increase their brand awareness while earning some extra revenue.) Share the concept with them, and then start brainstorming product ideas with them: what type of apparel or promo product do they think will best reflect their business? What kind of design? The more specific it is, the more it will mean to their audience — and the more interest it'll generate.

Create the Boxes: Once you have product ideas from a few (or more!) different local businesses, start setting up your boxes. Which products will go in which box? Maybe you live in a town called Evergreen, so you create an Evergreen Kids' Box, an Evergreen Happy Holidays Box, and an Evergreen Athletes' Box — or maybe you simply offer an Evergreen Basic Box, Evergreen Bonus Box, and Evergreen Extraordinary Box. Remember: it's important to offer a selection of different boxes, at different price points, so your community feels empowered to choose what they'd like — and not feel excluded because of their budget.

Set Up the Online Store: Quickly and easily create a custom Online Store for your campaign, making sure your page(s) are on-theme with the "˜Support Local' backbone. Use graphics, messaging, and other media to help the site stand out and really impact its audience: your community. Show off the different box options, articulate what each one offers, and be sure to note how the pricing works: what dollar amount from every box goes to the local businesses? Which businesses benefit from each box? Make it clear, make it concise, and make it resonate — we're here to help local. So don't hesitate to show your passion for your locale — for your community.
There you have it: the three-step process that'll help you connect, sustain, and nourish your community. The key to the whole puzzle? Creating a knockout product. Using your firsthand insight into your community to put together a few boxes that you know they'll go crazy for.
Because at the end of the day, it all comes down to connection. At this point in the year, people will buy into just about anything that reminds them of their bonds to community — so long as it's done authentically. Everyone wants to support the businesses that make up the mosaic of their surroundings, they're just waiting for a way to do it.
So give them that way. You know your community best — it's up to you to give them a clear route so they can show up for local businesses. And each other.
Make Your Boxing Up Campaign The Best Ever
It's one thing to have a handle on the basics. It's quite another to be able to surprise your community with wow-worthy features, expert campaign marketing strategies, and the type of product storytelling that drives sales, community connection, and local business promotion — all at once.
That's where we've got you covered. Since this campaign prototype has been a bit of a passion project for us, we've spent a good deal of time thinking through the features, strategies, and storytelling that'll help your endeavor soar. And we've broken each of them down below — so you don't have to waste any time getting to the good stuff. (Read: the implementing.)
Ready for our tips for knocking this thing out of the park? They're coming at you in 3… 2… 1…
Keep It Relevant
Whether it's where they shop or which television shows they watch, your audience wants to feel represented, and understood, by the things that have their attention. That means that your boxes — and the stories behind them — need to speak directly to your audience's experience. And not just their whole experience, but their experience this year. In 2020. How do you do that?
First, by offering the right products: items like custom face masks, hand sanitizer, and other work-from-home goodies provide them value, 2020 style. Next, by using the right messaging: building urgency and connection through phrases like, "Stronger Together in 2020″ or "Supporting Local, 2020 Edition" help to create product stories that aren't just relevant, but memorable. (And that will serve as markers of this time for your audience down the road.) How you frame these boxes is the difference between whether your community feels the need to show up and buy in, and whether they just don't feel the pressing importance. So play up the urgency, play up the theme of 2020, and play up the community support backbone. They'll all help you tell the right story.
Boxing and Unboxing
What goes in the box is important — but how it all comes out of the box? That's arguably just as integral to the whole experience. In the era of online shopping and Amazon delivery, everyone's used to the brown boxes and the camel-colored envelopes. With your Boxing Up campaign, dare to be different. Make your unboxing experience something special. How?
Whether through custom packaging, custom wrapping paper, or custom stickers, your options are endless. Other things to consider: if you know your community is passionate about eco-friendly practices, go ahead and find packaging/wrapping paper that's eco-friendly. Or, if your community has just one color scheme or mascot/notable imagery that represents it, make sure those markers are prominent on the box's outside — just like they're prominent on the inside. Beyond just offering your buyers a more fun and memorable experience, these tricks also help to ensure the boxes gain more traction on social media (hello, Instagrammable products!) and that your audience is left feeling like the investment was worth it. The more unique the unboxing experience, the higher the perceived value of the box — and the more you can get away with charging. So figure out the box… and then figure out the unbox. Every time.
à€ La Carte & Freemiums
With a campaign like this, you don't want to leave any sales opportunities unaccounted for. Maybe there are people in your community who want to show up for the local businesses, but don't have the budget this year to partake in a whole box — or maybe there are people outside of your community who want to support one specific local business, but don't need the other items. How do you meet their demand without losing the overall concept of the campaign?
With a little tagteam we like to call: à  la carte and freemiums. First, you have à  la carte — a range of custom products you developed with local businesses for the boxes, available out of the boxes as well. By having these à  la carte item options available on the custom campaign site, you're making it easy for buyers to choose exactly what they want (and can afford), ensuring that you're not missing out on any potential sale. But if those à  la carte options are available, won't most people flock to them instead of the larger, more expensive boxes? Not if you include freemiums! Freemiums are bonus items, usually exclusive or limited edition in nature, that are only available inside the boxes. They should be exciting, sought after, and strong enough to persuade community members to buy in — want an example? Put the full color imprint garment in the box, and the single color version available à  la carte. Easy as pie.
Digital Marketing Power
The key to making a campaign like this — with massive sticky potential — actually reach, spread inside of, and stick to its target audience is how effectively you get the story out. And as we all know, spreading awareness of any kind in today's world comes down to digital marketing. Since the virtual world is, by and large, our only reliable connection to each other, you need to use it. And then use it again. And again. It's one thing to create posts on social media that provide information — it's a whole other thing to use the right messaging, graphics, and techniques to generate excitement and incite action. Here's how you do that.
First, let's talk about your best friend through the duration of this campaign: urgency. That's right — urgency. How are you going to make your audience feel like they should buy in right now? How are you going to convey that these boxes are crucial to the survival of local businesses today? Techniques like integrating video messages, personal anecdotes, and quotes from local business owners in your campaign's social media posts are effective, because they drive urgency through an authentic, and emotional, framework. Other tips and tricks? Using bright, captivating graphics and "˜Coupon!' or "˜Discount!' messaging to get your audience clicking faster. If you're offering a 10% discount for today only, or an extra t-shirt thrown in for every purchase of 3 boxes, that'll ramp up both urgency and sales — effortlessly.
Obviously, having the right products — the right boxes — as your campaign's foundation is crucial. But once you have those established and ready to rock, it really does all come down to the presentation. The storytelling. The promoting. The bonuses that get people talking. So leverage them — and get ready to blow your whole community away.
Pinpointing Your Audience
It's a community-oriented campaign, so your marketing efforts will be — and should be — targeted at your community. But that doesn't mean you're limited to only a wide-lens approach. In fact, here at InkSoft, we're of the mindset that you should get specific — wherever you can.
So what does getting specific look like in this case? We have a couple of ideas.
Use Your Local Businesses: Every business, no matter how small, has its own network of people. From customers to staff to family and friends, they all already have an audience that's eager to hear from them — and support them. So use those audiences. Make sure you communicate to the local businesses involved, from your very first campaign-related interaction, that the success of the fundraising, and the degree of their earnings, is up to how effectively they're promoting the initiative to their people. Whether it's through sending out emails, posting on social media, or getting creative in their own way — like hosting a virtual event where all buyers can attend wearing their new custom apparel — the options are limitless. And the more options that are explored, the more raised funds there will be.

Think Corporate: With the new year fast approaching, businesses big and small are looking for creative ways to show their employees they're valued. And what's better to show gratitude than end of year gifts? Once you have your boxes established, reach out to notable businesses and organizations in your community with the stand-out idea of sending each employee a community-centric box of custom goodies, so they can feel more connected to their surroundings and each other. The best part? Employees will know that their businesses targeted their holiday/new year spending at a great — and important — cause, and they'll love the gifts even more. Things to keep in mind in your pitch: you're offering an end-to-end order fulfillment experience, so once the organizations tell you which boxes they'd like, and how many, all they have to do is sit back and relax as you produce, package, and distribute them — directly to their employees' homes. (Hint: don't limit this pitch to the holidays! You can make a case for work anniversary gifts, award gifts, or even community-themed Work From Home kits. We repeat: limitless options.)

Partner With A Second Cause: Beyond just partnering with local businesses, consider the option of bringing a charity into the mix. Maybe it's the local children's hospital, maybe it's the local PTA drive for getting students new tools/technology/athletic equipment, or maybe it's a statewide fund to help the homeless this holiday season. Whatever it is, make sure you're talking to the local businesses and getting their opinions — and figuring out how the profits will be split. Adding a charitable cause to the mix of this campaign is an excellent way to ramp up that sense of urgency — and of impact — even more, while simultaneously opening the initiative up to new audiences. (If it's a statewide nonprofit, you'll very likely have people all over the state wanting to buy in and show support.)
The Boxing Up Wrap Up
Boxing Up Local Pride is a campaign concept that provides communities of any size, and of any attributes, the ability to show up for, support, and invest in each other. But more than just giving people a way to show they care, the initiative also gives people a way to stay connected. It's powerful because it promises spirit, pride, and unity — despite the shutdowns and the working from home.
We truly believe Boxing Up Local Pride has the potential to dramatically help local businesses, local people, and yes, your own operations too. We know that its impact can be as far-reaching as you want it to be — so now, it's up to you.
We've laid it all out: the basics, the umph-adding techniques, and the quandary of how to get specific with your targeting — while increasing your audience's size (and excitement) in the process. Now it's your turn to start getting specific.
How do you foresee your community reacting? Which businesses are you excited to get involved, and which products do you think will leave the most impact?
The beauty of Boxing Up Local Pride is that it's made for, and by, your community. No two campaigns will look alike — and that's the point. To give your community something special, just for them.
To give them a way to show off their love for each other, while donning the apparel and products that show off their love for the community as a whole.
Boxing Up Local Pride has the power to breathe new life, new energy, and new connection into the place you call home. So what are you waiting for? Start building your campaign now.
And if you're not already set up with the best industry-specific e-commerce system out there, it's time you got yourself acquainted with all that InkSoft Stores can do. With already-embedded formats for Online Fundraisers and infinite ways to customize, this is the technology you need behind you for every endeavor. (Because we all know that nothing kills a buyer's desire to buy like a complicated, slow, or otherwise annoying buying experience.) Give your end-audience the gift of seamlessness, and give your customers — or in this case, your collaborators — the gift of way more sales.
---
Get the FREE Boxing Up Local Pride: Here For Good 2.0 Marketing & Fundraising Graphics Kit
We created a complete turnkey marketing and graphics kit to help you successfully promote and market your local community fundraising offering! The kit contains professionally copy-written marketing content including email and social media messaging! Complete the form below today to get immediate access! We'll also keep you informed of additions and new marketing kits.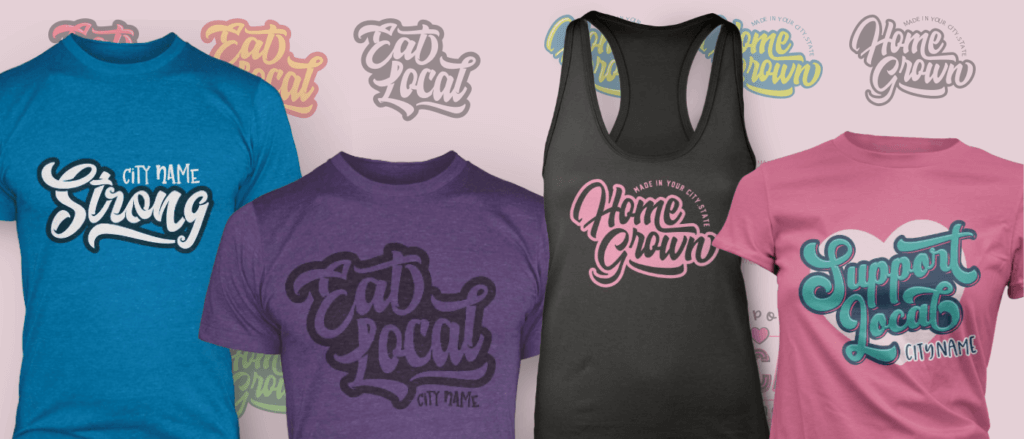 Complete the form below to register and access the kit.
---
Related Marketing Kits