Bottom Line Up Front: Researchers in the social sciences have determined what works and what doesn't when it comes to fundraising. We break it all down — and give you actionable tips to boost earnings — here.
One of InkSoft's most employed, loved, and lucrative capabilities is the Online Fundraising Store. As many of you already know, this Online Store is specially designed to make fundraising for any event, organization, or business simple — while still offering tons of marketing appeal.
With the e-commerce buying experience consumers know and love, customizable site designs and messaging, streamlined admin processes, and limitless digital marketing potential, these Online Fundraising Stores offer your customers a way to ramp up their capacity for earnings by expanding their reach — and impact. Which is why they sparked so much interest when the Here for Good movement started a few months ago, and it's why they continue to harbor so much traction today.
The point is: Online Fundraising Stores offer apparel decorators a way to appeal to prospects, excite customers, and stand out in today's crowded industry — all while reminding everyone that community-mindedness, and community impact, matter most.
So, while we could wax on about the feature itself, we figured you'd much rather read about actionable ways to make your fundraisers — and your customers' fundraisers — as successful as possible.
We dug through the new research (coming straight from leading social science experts) on what makes certain fundraisers more fruitful than others so that we could bring you the facts, the tips, and the strategies you need to optimize yours.
Ready? Great — let's dive in.
Fundraising Research
According to a white paper generated by the Council for Advancement and Support of Education (CASE) titled "A Brief Introduction to the Science of Fundraising," there are real, practical benefits to studying fundraising through different social science lenses.
Here, we'll discuss trends and truths that were deduced from a range of studies conducted in the psychology, sociology, and economics disciplines. The three main points we'll be looking at? Donation Impact, Motivation, and Effort — or what this white paper deems the "DIME" framework.
Donation Impact is up first, and it's focus is on how (and if) potential donors are made aware of how their contribution would be making an impact — and how that information incites a behavioral response. While all fundraisers typically describe where the funds raised go, studies have determined that the more specific the information is, the higher the likelihood that people will donate.
And not just donate, but feel good about their donations — prompting them to donate again.
Here's an example: a 2013 study (entitled "The Donor is in the Details") gave half of its participants a fundraiser with a general explanation, and the other half the same fundraiser with a specific explanation. The general explanation dictated that all funds would help a range of needs around the world; the specific explanation said that funds would go to provide villagers in West Africa with clean water.
The result? The participants who were given the specific explanation donated almost twice as much as their general-explanation counterparts — because they felt a better-defined, and larger, sense of impact.
We'll throw one more study at you: in this 2013 study (entitled "Making a Difference Matters: Impact Unlocks the Emotional Benefits of Prosocial Spending"), all participants were given $10 to donate — and their happiness levels were measured after they donated. Half of the participants were shown a fundraiser for UNICEF that had a general description, including a bio for UNICEF (where it works, how many international employees it has), and the other half were given a specific description for the same fundraiser — including that "every $10 collected purchases a bed [mosquito] net for a child in Africa."
Obviously, the specific description gave participants a much clearer picture of where their money would be going, generating a higher degree of felt impact. Participants within the specific category reported higher happiness levels — and this study purports that when donors feel greater happiness levels, they're more likely to donate again in the future.
After Donation Impact, we have Motivation — which looks at how fundraisers that align their values with specific donor motivations tend to be more successful.
What do we mean by donor motivations? The primary two examined here are whether donors are contributing to fundraisers for reasons mainly fueled by self-interest, or reasons mainly fueled by altruism.
An example of self-interest motivation would be tax incentives or personal recognition, while an example of altruistic motivation would be a genuine wish to help the community or the organization involved.
So what does the data tell us? That people will be more likely to give when the fundraiser specifically aligns with their motivations — or, in other words, that fundraiser organizers should be figuring out why their donors might be interested in supporting them, and working double-time to make sure their values clearly align.
And finally, we're at Effort — and we're pretty sure this one will surprise you. Effort in the case of understanding fundraising behaviors tells us that people prefer to donate when it's more difficult for them to do so.
Wait — what? Yes, you heard us right. The more taxing — physical or otherwise — the process of engaging with the fundraiser is, the higher the likelihood that people will want to do it.
Let's look at an example: one 2013 study (entitled "The Martyrdom Effect: When Pain and Effort Increase Prosocial Contributions" found that participants who were asked to hold their hands in freezing water for one minute if they wanted to make a donation donated more than participants who weren't given any obstacle. The point? That "donors are able to derive the most meaning from their donation decisions when they believe them to be personally costly and effortful," as summarized by the white paper.
When you think about the success of 5k runs, ice bucket challenges, and other physically exertive fundraising events, it all starts to add up.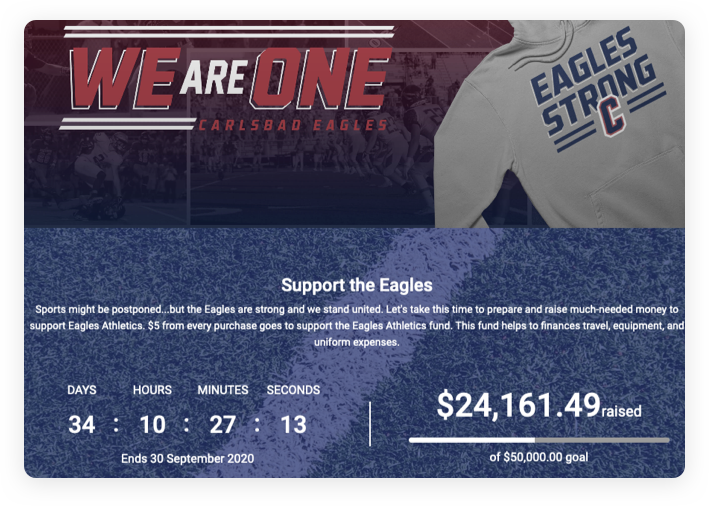 Applying the Fundraising Research to What You Know
So we've (probably) overwhelmed you with a whole lot of research from the world of social science. Now, what are you supposed to do with it? Well, the use of all of these trends comes down to how we translate them into real-world applications.
And, since you're no stranger to wielding fundraisers (through Online Fundraising Stores) of your own, we figured we'd let you in on some techniques to help you make the most of your fundraising potential. And, of course, pass along the knowledge to your customers too.
Let's start with Donation Impact tips:
Lean on Specificity
Encourage your customers to customize their Online Fundraising Stores with messaging, images, and media that speak directly to where funds raised are going.
If it's a fundraiser to raise money for a high school football team's new equipment, mentioning that every $50 donated buys a new helmet is a great step. Or, saying that the total amount needed for a complete equipment overhaul is "X dollars," and including a bar to showcase where they're at dollar-wise in their fundraising efforts would also be highly motivating.
Remember: donors want to feel like their donation actually matters. The more they can understand and see that it does, the higher the likelihood they'll donate. And once they do, their satisfaction levels will be higher, leading to more donations in the future.
Personalize the Follow Ups
The notion of "˜Donation Impact' doesn't end when the donation's been made — by utilizing strategic follow-ups, whether it's by showcasing high donors (those who've purchased the highest number of t-shirts) on social media or sending all donors an email with the results of their contribution, the same effect will be achieved. That is — donors will feel that their contributions have made an actual, concrete difference.
If we take the football team equipment example, maybe your customers include special shout-outs to the high donors on the school's Instagram page, with a blurb on what kind of equipment was purchased with the fundraiser's earnings.
Or maybe every donor to the fundraiser receives an email alert when the goal's been reached and the equipment's been purchased, letting them know that their donation actually made a difference.
These personalized touches go a long way in increasing donor satisfaction, priming them to repeat their donating behavior the next time a fundraiser comes around.
Next, let's discuss a Motivation tip:
Do Your Research
Or better yet, have your customers do their research. Every fundraiser targets a different demographic — and the most successful fundraisers know who it is exactly that they're speaking to. When your customers are able to identify their target audience, they'll be able to craft messaging that applies to them — and they'll see higher returns.
With the high school football team, we know that the majority of the donors will be in the school community. In other words: that they're donating because they want their kids, students, and/or peers to succeed. That's an altruistic motivation — so the Online Fundraising Store's messaging should reflect that.
The messaging should hit home that new equipment isn't just preferred, but actually needed for the sake of team safety and success. It can include brief profiles of the team players or a team picture, so community members can see — right there in front of them — who it is that they're helping.
The point here is that understanding your audience, and appealing directly to them, increases the likelihood that they'll donate. So use that to your advantage.
And finally, we're onto the Effort tip:
Consider Activity Add-Ins
We know that exertion leads to more people wanting to engage with fundraisers — so have your customers consider partnering their sold goods with an event or an activity. Sure, selling custom t-shirts with cause-specific messaging is great, but what about coupling that t-shirt with a mile run?
Imagine every donor for the high school football team's equipment fundraiser is invited to wear their t-shirt at the same time, for the same activity. Maybe there's a meet-up at the school's field, or maybe it's a mile-run that everyone can do on their own time on the same day. In either case, it's another layer of community building — and effort — that generates excitement.
And that doesn't even begin to cover the digital marketing potential of donors uploading pictures from their activity or event, clad in the custom t-shirt. (Can you say expanded reach? How about major impact? Because both are waiting.)
The Conclusion: Major Fundraising Results, Unlocked
If this article has shown you anything, it should be that there are surefire ways to capitalize on fundraising behaviors. When you're armed with the right capabilities and the right strategies for success, the sky's the limit.
Not only do Online Fundraising Stores make setting up fundraisers for your customers easy as can be, but they also lend themselves to the kinds of customization and marketing capabilities that make exciting donors — and reaching larger audiences — possible.
So take this research, and these tips, and use them however you need to. Whether it's by informing your customers while you're pitching Online Fundraisers to them or whether it's by shaping a fundraiser of your own, the result will be the same: increased impact.
Knowledge is powerful. Use this knowledge to drive more earnings, earn more customers, and spread more community good — near and far.
We can't wait to see what you accomplish.
---
Want the Best Online Fundraising Stores?
InkSoft is the industry's #1 online fundraiser store platform. With InkSoft Stores, you can quickly create and launch gorgeous fully mobile responsive online fundraising stores. Let our team show you why InkSoft is the best choice for stores. Request a personalized online tour and consultation today to learn how your print business can benefit from InkSoft.