---
HOW TO GET THE MOST VALUE FROM THIS GUIDE
---
Missed our Live Spirit Wear Webinar?
No Problem! Watch the recording below.
---
Spirit Wear Sales Strategy Overview
Bottom Line Up Front: Spirit wear is vital to giving students, faculty, and families the school community they need this year. The potential for sales are limitless — here's how you act on it.
If you're nervous about what the selling environment will look like this Fall, and if you're hesitating to ramp up your pitching and production capacity now because you think there will be fewer sales waiting for you come September, then you need to stop.
Seriously, stop. Pause that mindset. Blink your eyes a few times.
Look around. Connect the dots.
There are not less selling opportunities in 2020's back to school rush. In fact, not only are there not less, there might just be more. And they might just need you to buckle up and deliver more expertly, and more creatively, than you ever have before.
How do we figure? Let's look at it like this: what is spirit wear typically used for?
It's used to identify people — students, faculty, families — by the school or team they're rooting for. It's used to showcase support and enthusiasm, and it's used to visibly connect groups of people to each other.
In other words: it's used to enhance community. To make people feel connected, like they belong, and like they have a whole population of others who are on their side.
Knowing that, and observing the world-wide crisis that's been unfolding for the better part of the year, wouldn't you agree that kids, teens, and families need that sense of community more than ever?
Wouldn't you agree that all of the limitations that have been put in place — in order to prioritize and protect their health — have also worked to isolate them from the networks of support they're used to having by their side?
We've all been immersed in an impossible situation for the past several months. And now students, teachers, faculty, and families are about to be thrust into another one. But regardless of whether they're in physical classrooms or not, and regardless of whether they're cheering in the bleachers at gametime or not, they still need their markers of community.
They still need their sense of identity, of belonging, and of support.
Here is how you, as forward-thinking apparel decorators, give it to them.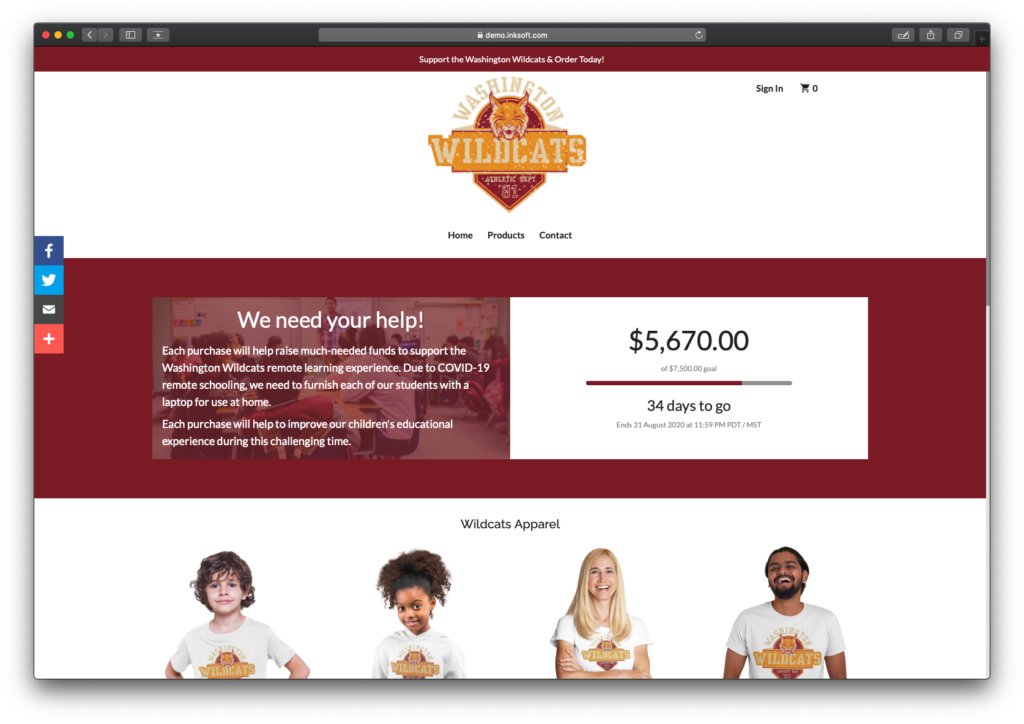 From The Schools' Perspective
We all know that schools and school districts have a ton on their plate right now. (And that might even be the understatement of the year.) They're tasked with making the calls that have the power to change lives en masse, and they're doing it at a time when there are no easy answers — anywhere.
So how about you use your capabilities to ease their load a little bit.
Online School Stores are something you may have heard us talk about before, but we're going to bring them up again — and probably again and again in the future, too. (Sorry in advance.) Why? Because we believe that they offer way more selling power than their in-person counterparts. And they require far fewer resources to do it.
First, let's talk about the literal selling: switching to e-commerce for the selling of spirit wear — and that includes spirit wear for schools, teams, clubs, and seasonal events — removes the need for a store to occupy physical space. And it removes the need for staff to be manning that space.
Since schools are typically short on physical space — and that'll be exponentially more true when they open up again under social distancing rules — this is an automatic perk. And, of course, not having to hire a school store employee — or draft other faculty members to take shifts — is a benefit most will jump behind fast.
With an Online School Store, all product offerings can be displayed clearly — and virtually — in a custom site. That means there are no store hours, no handling of inventory, and no need to take care of anything transaction-related — it's all done through the platform.
And that brings us to the administrative side of things: nobody's looking for more work right now. If you can offer customers a way to automate processes, streamline organization, and guarantee results while keeping their hands off of the logistics, then you're not just offering them a kickass product — which we're sure you are. But you're actually offering them a whole, full-fledged solution. You're making yourself, and your offerings, indispensable — at a time when creative problem-solving is most needed.
Online School Stores make quick, safe, secure transactions possible. They streamline how sales are made, how orders are filled, and how analytics are tracked in order to identify what's needed for the next round of offerings.
So that's the solution you're offering, but what about how you offer it?
With InkSoft, you're able to show schools exactly what you're promising — by using an Online Pitch Store in your pitch presentation. Not only will you be able to curate spirit wear you know they'll love and display it in a visually compelling site, but you'll also be able to empower them to navigate that site themselves.
They'll see how simple the buying experience will be for students, teachers, faculty, and families — and they'll realize how game-changing the technology will be for them. A real win-win.
From the Students' Perspective
E-commerce isn't just the most effective, efficient, and compelling buying experience out there today — it's also the only buying experience that speaks to the behavioral needs of younger generations. They've grown up with technology, they've always had the world at their fingertips, and they're used to getting what they want — when they want it.
E-commerce brings that instant gratification with it. It gives complete control to the buyer, letting them browse, scroll, zoom, and pay to their heart's content. And the best part? Kids don't have to be on school property to do it.
Online School Stores offer students the freedom they crave — to visit the store, look around, and buy their favorite products whenever they want to.
Maybe that's when they're on the phone, coordinating their purchase with their friends. Maybe that's when they're eating dinner, pointing out their must-haves to mom and dad. Or maybe that's when they just earned their first paycheck, and they can't wait to buy the hoodie that matches their love for their home team.
E-commerce makes the buying experience personal. It gives students — a cohort who are used to being told what to do and when to do it — a sense of independence. And because they can do it their way, they'll want to do it more.
Access + excitement over the buying journey = higher, more stable sales.
Now that's an equation we can get behind.
From the Parents' Perspective
Parents want the best for their kids — that'll always be true. And since the pandemic began, they've seen their kids endure things that nothing could've prepared them for.
Fear over public health. News cycles that belong in a sci-fi movie. Uncertainty as far as the eye can see.
If you're offering them a way to get their kids excited again — which you are — and you're offering them a way to ground their kids in a sense of community — which you also are — then they're absolutely going to buy-in.
And they're going to buy in with all of the money they didn't need to spend on back-to-school shopping. With a budget surplus and a clear way to connect their pride and joy to their school community — without risking their health — parents won't hesitate.
Which brings us back to the perks of e-commerce: because they'll have the freedom to act, to buy in, whenever it's convenient for them. 24/7 access to Online School Stores breeds endless opportunities for buying.
That's why they're a value-added solution that every corner of the school community can stand behind.
The Bottom Line
Now that you've gotten the lowdown on how the three primary perspectives will see Online School Stores, let's get into the rationale behind their explosive sales potential. (And no, we don't use "˜explosive' lightly.)
Online School Stores offer more selling opportunities because of their digital, highly-accessible nature, sure, but that's only part of it. The real potential comes from the marketing strategies that are already embedded in the stores.
What do we mean? It's something called "˜shareability' — and it's a pretty big deal. Especially when it comes to the younger generations who spend all of their time, especially now, on their social media.
Because all offerings are displayed, and clickable, on the Online Store, students have the option to share the goodies they love — with their entire network of Facebook friends, Instagram Followers, or Twitter followers. (Plus, of course, there's TikTok, and Youtube, and… you get the point.)
When students share their favorite products, or images of them wearing them, their entire network bears witness. And maybe peers decide they need that same product or a different one. Or maybe peers from a different school decide their school really needs to be selling similar spirit wear, and take action to make it happen.
It's a snowball effect where shareability leads to expanded reach, which leads to exponential sales growth, which leads to increased excitement over the products — and takes us back to the beginning of the cycle, when new offerings are released.
It's huge for your customers, but it's also huge for you. Because your brand exposure is increasing with every share, and your phone will start ringing with other schools looking to get a piece of the pie.
That brings us back to the bottom line. Sales opportunities are not reduced, and they're not gone altogether — they're just waiting for the right creative answer. You have that answer.
You have the capabilities to offer unrivaled e-commerce technology, streamlined management processes, and world-class spirit wear to schools and school districts across the country. The question is, will you use them?
---
Get the FREE Back to School Spirit Wear Marketing Kit
---
What We've Included
Turn-key Marketing Copy Kit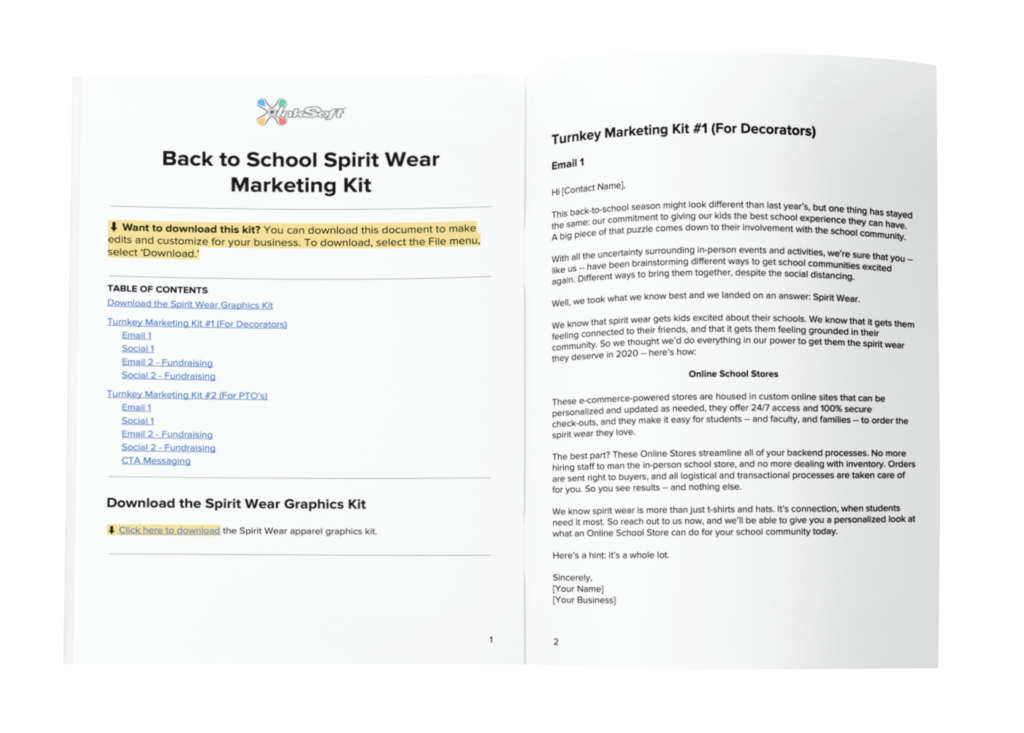 We obviously believe in this sales strategy — that much is clear. But maybe you didn't expect for us to believe in it so definitively that we actually put together not one — but two complete marketing kits for you to use as you start implementing it for your business.
And they're both free. Yeah — 100% free.
The first marketing kit is for you. It includes the email templates you can send to your school contacts to kick off your pitch, the social media posts you can use to generate interest (and invite schools to come to you), and the web copy you can include on your own business site to make sure your current customers know the deal.
The second marketing kit, however, is for your customers. The schools that you close with this strategy, who hear about all of the potential and waste no time signing on the dotted line. It's a kit that gives them email templates — which they can use to advertise the Online School Store to their entire email list. It gives them social posts — which they can use to reach new audiences (of alumni or old school parents & teachers). And it gives them web copy, which they can include on their own primary sites — to make sure everyone that visits it knows about the spirit wear program too.
But wait — we're not done revealing the free resources you have access to yet. Because we were thinking about what else you might need to really be all set to get the job done, and it dawned on us that having a spirit wear graphics kit in the design stage could be pretty useful.
So we compiled one of those too. And yes, it includes vector apparel designs, clip art, and fonts — so you've got it all. Here's what's included:
32 vector editable templates in both Adobe Illustrator (.AI) and CorelDRAW (.CDR) file format.
40 vector illustrations/clip art elements
4 texture overlays, both in vector and bitmap formats
34 fonts used in the designs
Spirit Wear Graphics Kit
That's it. That's the whole strategy, the whole toolkit, and the whole direct pathway to success this back to school season. It's all waiting for you — so take it, mold it to your business's needs, and get to work.
We can't wait to see how you do.
---
Get the FREE Back to School Spirit Wear Marketing Kit
By registering, you'll receive instant access to the kit, plus we'll notify you with updates and additions! We'll even tell you when we publish brand new marketing kits.
New Marketing Kit Just Announced
P.s. See Our Other Marketing Kits
P.s.s. Here's More Advice on Back to School Spirit Wear Sales Opportunities
---
Need Online Spirit Wear Stores?
InkSoft Stores provide all the features you need to sell to schools and make the most of spirit wear sales opportunities. Want to see why InkSoft is the best online store solution for print shops and apparel decorators? We'll show you! Schedule a quick online tour with one of our industry experts.
---
Need Spirit Wear Product Ideas?
We asked our friends at S&S Activewear to share their product recommendations and ideas to consider when launching your spirit wear campaigns and stores.
Product Ideas for Students
T-shirts
ComfortWash GDH100 – Garment-Dyed T-Shirt *Also available in Youth: ComfortWashGDH175
Main Product Details: 5.5 oz. American grown 100% ringspun cotton; Ribbed set-in collar.
Product Highlight: Sustainably produced with a vast color palette, using American grown cotton. Perfect for the new generation of eco-conscious students.
Sweatshirt/Hoodie/Pullover
Independent Trading AFX90UN – Unisex Lightweight Hooded Sweatshirt
Main Product Details: 6.5 oz. 80/20 cotton/polyester; pre-laundered; 100% cotton anti-pill face; Unisex Slim fit; Tearaway label (*Fabric content in heather colorways vary.)
Product Highlight: Used and sold by retailers across the country, this hoodie delivers the best printable surface, longevity, and lots of comfort.
Face Mask
Main Product Details: 100% polyester, B-Core moisture management fabric; Anti-microbial; Comfort anti-chafe ear loops stretch; Washable/reusable; Writable interior name bar for identification
Product Highlight: Performance properties, make this perfect for active students who need to wear them while training, in games, or in school.
Optional Accessory
Main Product Details: 600D heathered fabric; Slip side pockets; Main zippered compartment w/ laptop sleeve, fits most 15″ laptops; Front zippered pocket with organizational compartment
Product Highlight: A simple yet trendy backpack, the 21L feeds students' craving for sporting the iconic Champion brand.
---
Product Ideas for Teachers & School Staff
T-shirts
Main Product Details: 4.0 oz. 100% combed ringspun cotton (*Heather colors are 60/40 cotton/poly); Fuller, contemporary cut; Tearaway label; Made in a WRAP-certified factory
Product Highlight: Sustainably and responsibly made with the quality and comfort of retail apparel.
Sweatshirt/Hoodie/Pullover
Adidas A482 – 3-Stripes Double Knit Quarter-Zip Pullover *Women's companion A483
Main Product Details: 7.2 oz. 100% recycled polyester; Moisture-management properties; Performance logo on left bottom hip; Waffle texture knit construction
Product Highlight: Great for coaches and teachers who love the 3-stripe life and the look of athleisure fashion.
Face Mask
Main Product Details: 4.25 oz. 100% Polyester; Tubular; UPF 30; Size: 9.5″ W x 19″ L
Product Highlight: Great for those looking to wear something more comfortable with festive patterns.
Optional Accessory
Main Product Details: 600D 91/9 polyester/PU; Padded sleeves for electronics; Inset zippered organizer pockets; Two external zipper pockets; Vertical zipper stash pocket on front flap; Size: 15 1/4″ W x 13 1/2″ H x 5″ D
Product Highlight: This messenger's sleek and simplistic style lends itself to letting any monochromatic design be the hero of the bag. Perfect for the modern teacher on campus.
---
Product Ideas for Teachers & School Staff
T-shirts
Main Product Details: 4.2 oz. 100% airlume combed and ringspun cotton; Retail fit; Unisex sizing; Tear-away label
Product Highlight: This tee delivers a fashion-forward color palette, soft feel, and smooth printing surface for your artwork.
Sweatshirt/Hoodie/Pullover
Main Product Details: 6.2 oz. 80/17/3 Viscose/polyester/elastane brushed hacci (an open-knit and loopy texture); Boxy fit; Rib Sleeve Cuffs
Product Highlight: Super comfy and perfect for moms who love repping their kids' schools.
Face Mask
Bayside 1900 – USA-Made 100% Cotton Face Mask (https://www.ssactivewear.com/p/bayside/1900)
Main Product Details: 4.2 oz. 100% cotton; 7″ W x 5″
Product Highlight: Great for those who love to support American made products.
Optional Accessory:
Main Product Details: 7.4 oz. 100% Polyester Double-Faced Sherpa; Pocket to conceal embroidery backing
Product Highlight: Great for embroidering school and team logos, this blanket will become a parent-favorite for staying warm and cozy.