Bottom Line Up Front: There might be a lot of uncertainty surrounding schools opening up this Fall, but one thing's certain: spirit wear has never been more important. Here's our advice for getting your offerings in line with current school & team needs so you can maximize your sales.
With the virus still raging on throughout the country, we're all facing what could very well be a different reality come September. Kids, parents, and the rest of us are left wondering whether schools will be in session the way they've always been — or whether we're going to need to be making some hefty adjustments.
But, whether back to school looks like in-class lessons or a literal "home room," whether our kids are physically together or connected by long-form Zoom sessions, your capabilities are still needed.
And not only are they still needed, but they might just be needed more than ever. Here's why.
The Background
With the confusion and the panic that have characterized most of 2020, students of all ages — and their families — are desperately looking for normalcy. They're looking to the start of school as the beginning of a new chapter — like they always do — but this time, that new chapter is a sense of stability.
It's a safe haven away from the chaos of the pandemic. And that's true regardless of whether they're in their school hallways or on their living room couch.
For apparel decorators and print shops, the start of school has always been just as momentous. The orders are big, the shops are busy, and the excitement that comes from urgency and productivity is everywhere.
Well, we're here to tell you that those orders, that busyness, and that excitement — they're all still waiting for you. They're not reduced because physical schools might be closed, and they're not impossible because physical school shops might be shut down.
They're still out there. You just need to position yourself the right way to reach them.
How To Be Ready For Anything
First thing's first: don't let either back to school reality catch you off guard. Sit down with your team and go over the different possibilities, making general game plans for each. The bottom line here is that students, faculty, families, and school districts are desperate for a taste of their regular scheduled programming.
And that includes school and team pride — and all the spirit wear that comes with it.
It's up to you to be able to shift your offerings, your processes, and your capabilities to ensure that you're adapting to new behaviors and meeting new needs. If you can't provide value that's relevant to what your customers — and their consumers — need today, then what you're offering isn't good enough.
And odds are, someone else will be offering something better.
The good news is, you have time to make the tweaks necessary so that your shop is prepared for anything. With a little advanced planning, you'll be perfectly positioned to redeem all of the sales — and all of the excitement — that comes with the back to school rush.
Here are our tips for how to get you there.
Amp Up Your Network Connections
Start reaching out to your school accounts now — but not just to your primary contact. Connect with every faculty member, coach, and parent volunteer that has some say (or need for) spirit wear — and make sure you're communicating your ideas, enthusiasm, and plans of action clearly.
The PTO President, Athletic Director, Office Manager & Receptionist, Activities Director, Recruiting Coordinator and Student Outreach Official — plus leaders of all major parent-run organizations — should be at the top of your list here. Get a dialogue started early so they feel familiar with your business — and you — and trust that you'll be able to deliver. Even in these odd times.
Remember: they're looking for normalcy just as much as you are. When you pitch them ideas that offer to bring their students (and teachers) school pride — and excitement — you're painting yourself as the hero. If you believe in your tactics and capabilities, they will too!
Let E-Commerce Reign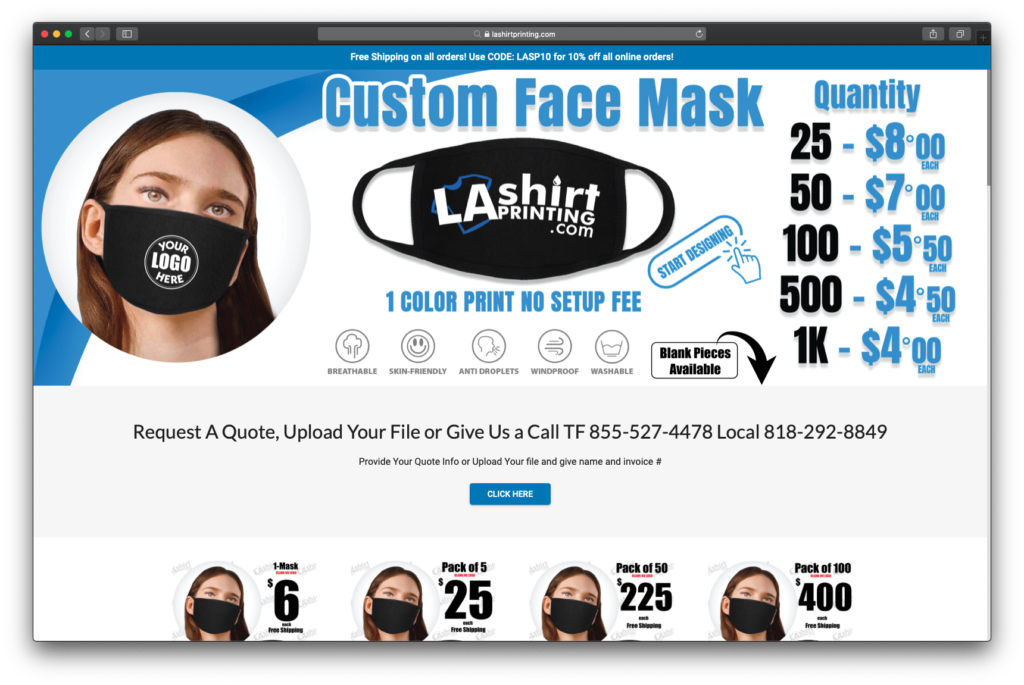 We've seen just how valuable e-commerce is throughout the past several months — when physical storefronts are off the table (or on the table, but still high-risk), online buying experiences make it possible to obtain necessities and indulge in retail spending. And their 24/7 accessibility, easy-to-navigate pages, and secure checkouts make them all the more popular.
Students and staff are already accustomed to the ease and convenience of e-commerce. So if the physical school store (or traditional methods for selling spirit wear) is no longer possible, bring an online school store to the rescue.
And make sure all of your school contacts know that option's in your wheelhouse. Your technological capabilities could be what differentiate you from the print shop down the road — or they could be what inspires the school to believe in your offerings as a way to boost morale.
Don't be afraid of innovation, and don't be panicked about veering away from the status quo. Use every bit of creative problem solving to achieve the goal — and online school stores are a sure-fire way to get there.
Integrate Safety Into Products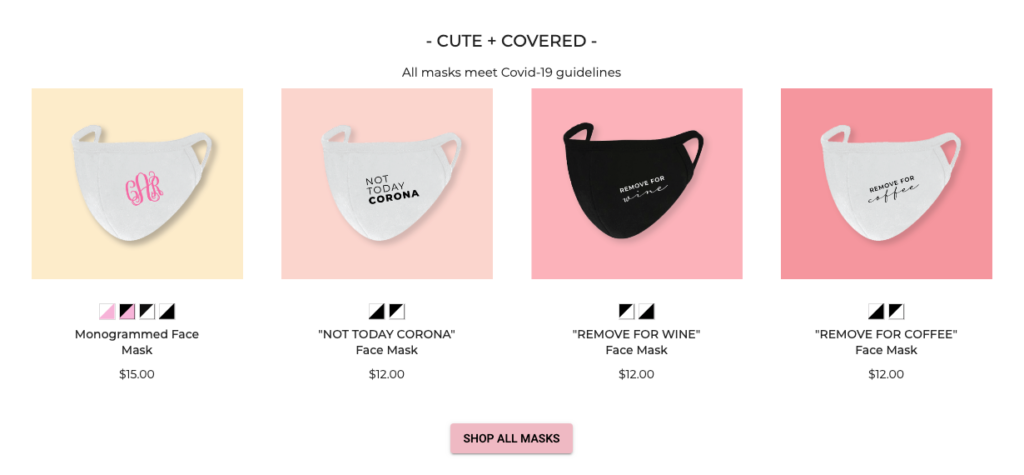 The number one thing on most people's minds right now is public health and safety. Parents want to know their kids are safe, teachers want to know they're not subjecting their students to high-spread environments, and school districts want to feel comfortable with every decision they make.
So use that health-focused interest to your advantage. Think custom branded face masks with school mascots on the front, hand sanitizer that reads "Go Mustangs!" — or even UV Sterilization water bottles (with a spirited design, of course).
When you show your customers that you care as much about their community's health and safety as they do, and that you're implementing creative options to keep their kids and students safe, then they'll be all the more inclined to buy in. And with endless branding opportunities at your fingertips, you'll be positioned for high value offerings — and high earnings.
Gear Up For Fundraising
Schools, teams, and clubs need fundraising now more than ever before. With the pandemic throwing almost everyone off course, typical fundraising cycles have been shattered, leaving a huge gap where there once was expected funding.
Lucky for schools (and school districts), your business has the capacity to set up lucrative fundraisers — completely online. Online fundraising stores should be something that you pitch to all of your school/team contacts, and something that you pitch often and well. With their ease, convenience, massive reach potential, and overall effectiveness at generating sales, you'll be hard-pressed to find a contact that isn't at least intrigued.
Especially when traditional methods of fundraising — like bake sales, rallies, and dances — are no longer an option, communities are looking for ways to show support to their district (and the teams/organizations/clubs within it). So make sure your online fundraising store capabilities aren't being overlooked.
Flip The Narrative
As it stands right now, staff, students, and parents are clouded with uncertainty. What's safe? What's dangerous? What will September look like? What about January?
There's so much confusion, and such a profound sense of helplessness, that it can be easy for school communities to get caught up in it. It can be easy for them to focus on the pandemic, as opposed to focusing on tactics that will help boost morale.
You have the power to flip that narrative. You have the power to minimize the sense of panic and helplessness surrounding the school year, and you have the power to let schools regain their enthusiasm — even if there's still uncertainty happening outside.
You can do that by not shying away from bringing our current strangeness to the forefront of your offerings. The more you pretend it's not there, the more you fuel the anxiety surrounding it — so bring it on out into the open. Put a face mask onto a mascot design, or add a "Distanced But Never Apart" message to the bottom of a t-shirt — it all works to foster community, and it all works to give students a sense of control by letting them marvel at the absurdity together.
Another option is to add "Welcome Back Kits" to students, complete with branded masks and mini sanitizers. Whether the students are receiving these in class or at home, they'll go a long way to making kids feel connected (and safety-conscious), while boosting morale.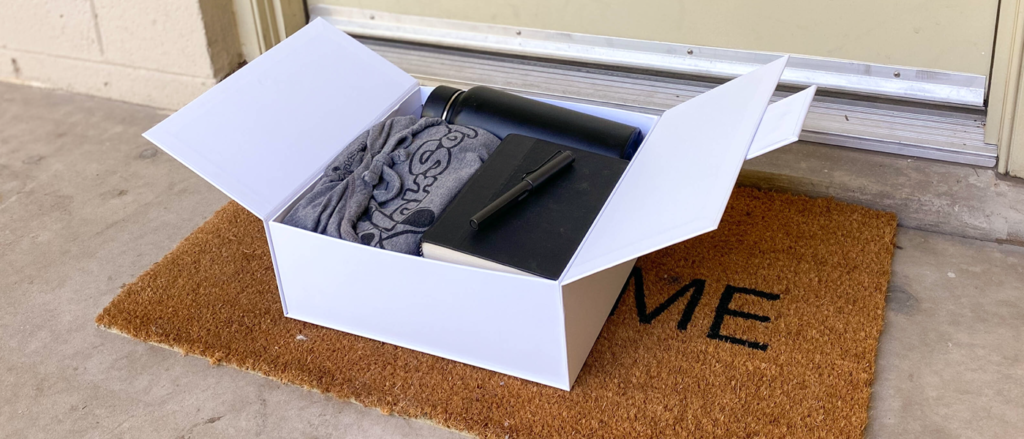 The key point here is that you're the expert. You know the kinds of products that'll generate happiness, excitement, and connectivity, and those are the kinds of products you need to be pitching. Don't let your contacts tell you that there's no need for spirit wear this year — because we all know that morale starts with markers of community.
And t-shirts, hats, lettermans, and water bottles — they're all markers. The further apart students, teachers, athletes, and coaches are from each other, the greater the need is to have them be reminded of the community they're part of. That's what you're offering: the chance to feel connected, despite the distancing.
So flip the narrative. Get your contacts excited. And prove to everyone that community isn't a physical place — it's a feeling.
The Wrap Up
Whether you're betting on schools opening back up for in-person lessons or whether you think classrooms will be operating online, it never hurts to be prepared. You should be drawing up plans of action, getting your team on the same page, and strategizing possible pitches now — so that when the decisions are made, you're ready to act.
School and team spirit wear is more necessary now, given everything that's going on in the world, than it's ever been before. Make sure you believe that — and that you're conveying that to your customers. Because it's true: everybody could use a morale boost right about now.
And when you're pitching and preparing your new offering ideas, keep in mind that families might have bigger discretionary spending budgets — especially if schools aren't opening up for business. With little need for back to school shopping, they'll be able to spend more on the spirit wear that gets their kids excited to be a part of the community.
So don't be panicked. Be prepared. Your sales opportunities are waiting for you.