Bottom Line Up Front: Online pitch stores are the most effective way to lock in new sales. They showcase your capabilities, prove your professionalism, and differentiate you from the competition — and they couldn't be easier to implement.
When it comes to online store technology, it can be easy to get caught up in the end goal: the finished, customized store that you set up for your customers after they've hired you for your decorated apparel services.
But what about before? What about the pitching part of the sales process, when you're trying to convince the customer you have the capabilities they need?
We're writing this today to remind you — to beg you — to not overlook the pitch store.
It might not be as flashy, or as common, or as expected as the other online stores you're quick to implement — but we guarantee that it's just as, if not more, effective as a sales tool. Keep reading and we'll break down why.
The Pitch Store Basics
What is a pitch store? Well, it's exactly the same as your other online stores — it displays custom products in a custom layout, and it presents the simple-to-use e-commerce technology you know and love.
The only difference is that you're not showcasing the products for individual purchase — you're showcasing the products, and the technology, to show your customers what you can do.
As an apparel decorator, your sales — and your reputation — is staked on the quality of your products. Those products deserve to be exhibited in a way that really highlights what's on offer — and that's what this pitch store provides.
Products can be clicked on and zoomed into for a closer look. They can be seen from different angles, in different colors, and you can even add and remove products in real-time. Your customers will be able to point out exactly what they like, or don't like, because they'll be seeing the products as vividly as you are.
But they'll also be seeing the store in the same way as their end-users will be. They'll know how the navigation works, how the pages appear, and how easy the whole set-up is to maneuver through.
With pitch stores, you're not just offering your customers a unique, in-demand buying experience for their end-consumers — you're offering them the chance to engage in that same buying experience. You're going the extra mile for them, and that always works to impress.
How It Affects Your Sales
There are endless ways to pitch to prospective customers. Whether you're currently using invoices and quotes or PDF's and PowerPoint's, the bottom line is, you're not doing enough. Or rather, you're not doing all you could be to show those buyers that you really want their business.
Think about the notion of "˜Show and Tell.' As people, we're more likely to be engaged by something we see right there in front of us than something we hear explained. You might be the best vocal pitcher in the game — but if you don't have the materials that substantiate what you're saying, it can still be hard to close.
Buyers, especially first-time buyers, are compelled by proof. So give it to them.
With online pitch stores, you can.
But that's not all — here's what else online pitch stores can do for your business:
Legitimize Your Offerings
Online pitch stores work to legitimize any claims you make about your capabilities. How? By showing prospective customers the products, the online store, and the technology up front. They won't have any doubts that you're well enough equipped to serve their end-consumers, and you'll gain credibility — and a reputation for having major professionalism.
Differentiate You From Competition
Odds are, your competitors aren't equipped with the same top-of-the-line technology you are, which means they're not presenting to prospective buyers with pitch stores. Not only are you standing out from the crowd by having custom online stores in your offerings, but with pitch stores, you have the power to stand out from your first proposal. And prospective customers will never overlook a unique, well-thought-out pitch.
Complete Your Narrative
You're the business that offers free, custom online stores with the purchase of other services — and an online pitch store cements that. It showcases the full story: that you offer the e-commerce technology that simplifies processes, amplifies products, and ultimately leads to a more positive brand impression. And if you believe in the tech enough to use it for your own sales opportunities, then won't your customers be more inclined to follow suit?
Offer High-Quality Visuals
Your product offerings are the basis of your business, so don't they deserve to be showcased accordingly? Online pitch stores make sure your prospective buyers can see everything they need to see — and those kinds of visuals can't be found in a PDF attachment.
Make Your Pitch Accessible
Having an online pitch store means that anybody with the link can access it, take a look at the products, and get a feel for the technology. That makes it easy for your buyers to pass the pitch around internally, which gets more eyes onto your business's capabilities — which is always a good thing. Plus, the easier the presentation is to access and navigate, the fewer barriers to engagement there are for your viewers.
Prove Your Offerings Are Relevant
It's abundantly clear that in the post-COVID print economy, e-commerce is king. Consumer preferences have changed and businesses must keep up — and your pitch store verifies to prospective customers that you can help them do just that. You're not just the right apparel decorator — you're the right apparel decorator for right now. And that's massively impactful for your sales.
They might seem like a small tool, but pitch stores pack a big punch when it comes to increasing your sales. And if you still don't believe us, we'll lay a couple more benefits out.
Pitch Stores & The Benefits They Bring
First, let's talk about samples. Everyone knows that samples are highly effective at locking in sales, but we also know that generating one-off, brand-specific samples are expensive, and not always possible. The good news is, with online pitch stores, you have a way to offer those brand-specific samples without the hefty production price tag.
How? By turning them virtual. Using InkSoft's Rapid Product Creator technology, you have the power to create virtual mock-ups of branded products — and you have the power to create them fast.
But those virtual samples aren't the only pitch store benefit. In fact, when it comes to online pitch stores, the biggest benefit to your business isn't being able to showcase brand-specific offerings, but to be able to save time.
We call it "˜downstream value,' because though you might be taking the time (ahem, minutes) to set up the pitch store before the deal is done, that's time saved down the road. After you win the account, you can enable e-commerce directly from the pitch store — with zero extra labor required.
Tips & Tricks
We know most of you are new to the concept of pitch stores, so we'd be remiss if we didn't offer you inside insight into how to use them for optimal results. Here are a few of our favorite tips and tricks:
Disable E-Commerce
In InkSoft, you have the option to disable e-commerce in each online store you create. By disabling the e-commerce feature in your pitch stores, you can present with peace of mind, knowing there's no way for your prospective buyers to place sample orders — or order without approval and confirmation.
Organize With Purpose
Don't just throw all of your products into the store — think about where each one is placed. Make sure that you're organizing the products logically, and in order of priority, so that you're setting up the perfect pitch journey for each of your prospective customers. You can do this using InkSoft's featured product components.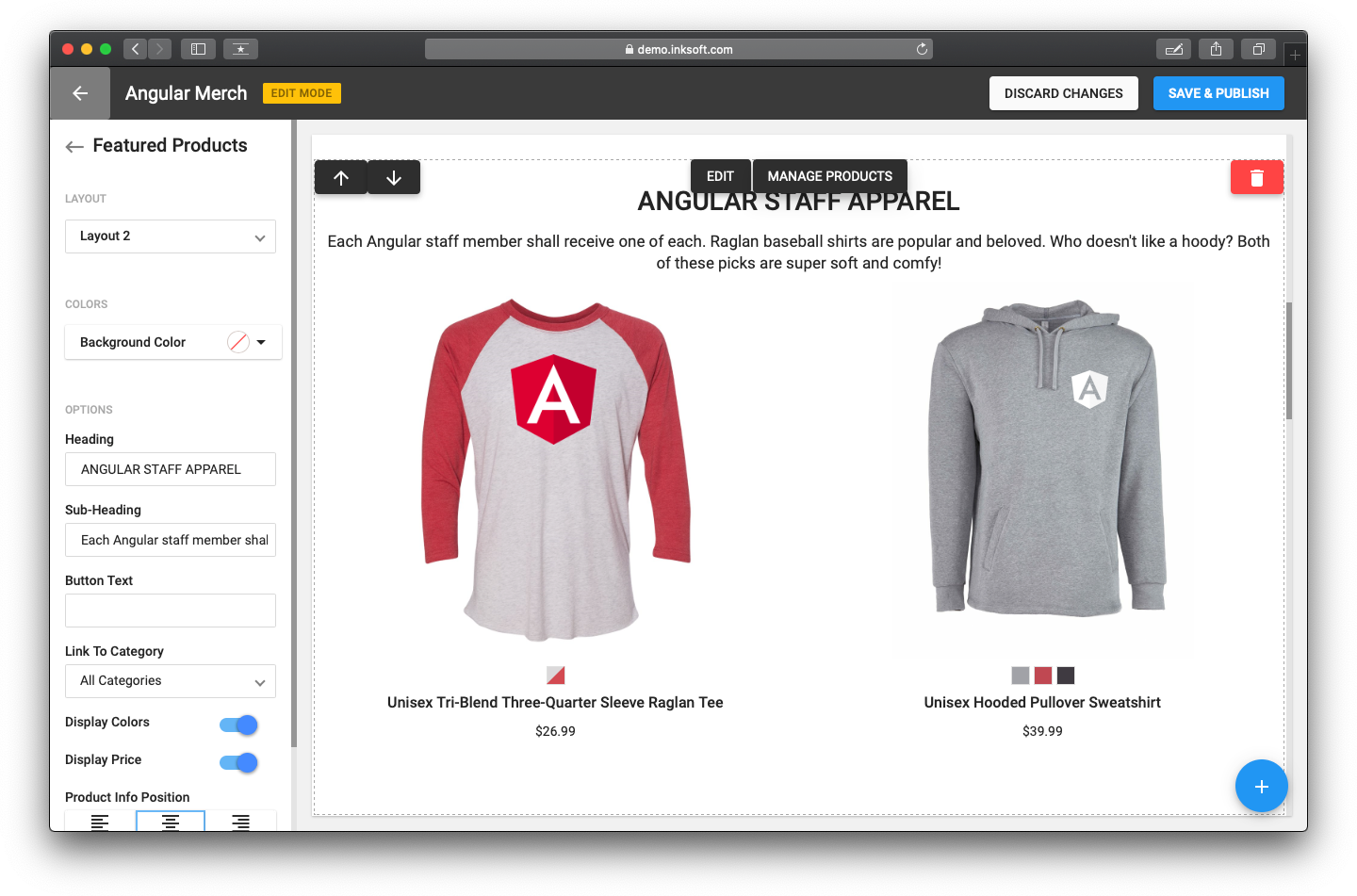 Better, Not More
Overwhelming potential buyers with too many product options is never the right idea. What you should be doing is curating the best products for each individual buyer's needs, and presenting them in a way that shows you understand what their end-consumers want.
The ten-year historical average number of products per online store powered by InkSoft is six — which means that you should always be thinking in terms of quality, not quantity.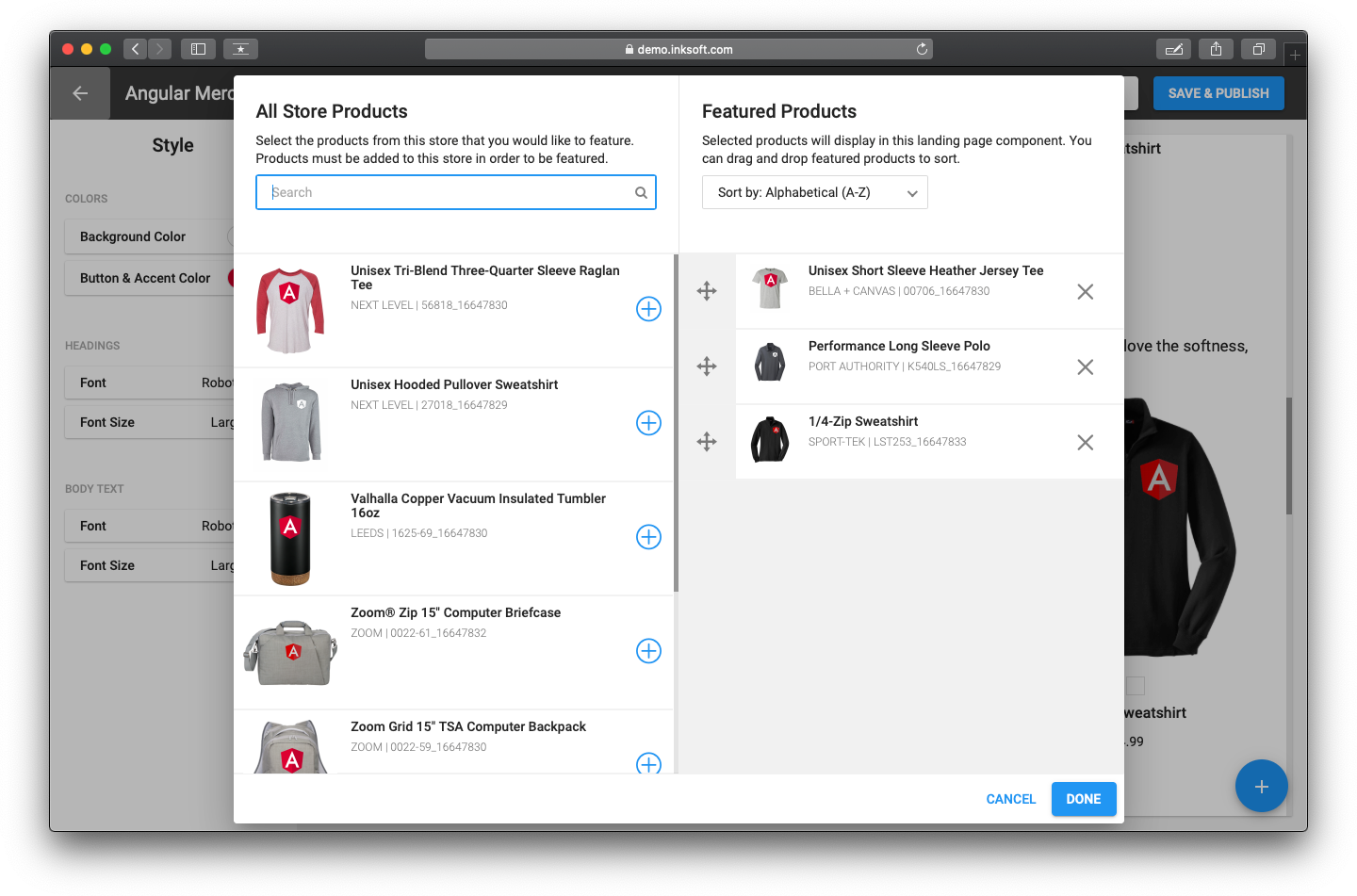 Call-to-Action
Make sure you're giving prospective customers the instructions they need for the next steps. Using the custom content and call to action component in InkSoft, you can add short, effective messages that get your buyers' attention, communicate to them clearly, and drive them to take action.
To take it a step further, you can even create and embed a personalized video into the online pitch store. Not only does this demonstrate the true potential of your technological capabilities, but it also helps you connect with your prospective customers on a deeper level. It can be short, it can be basic, but at the end of the day — it still works to show them you're eager to go that extra mile.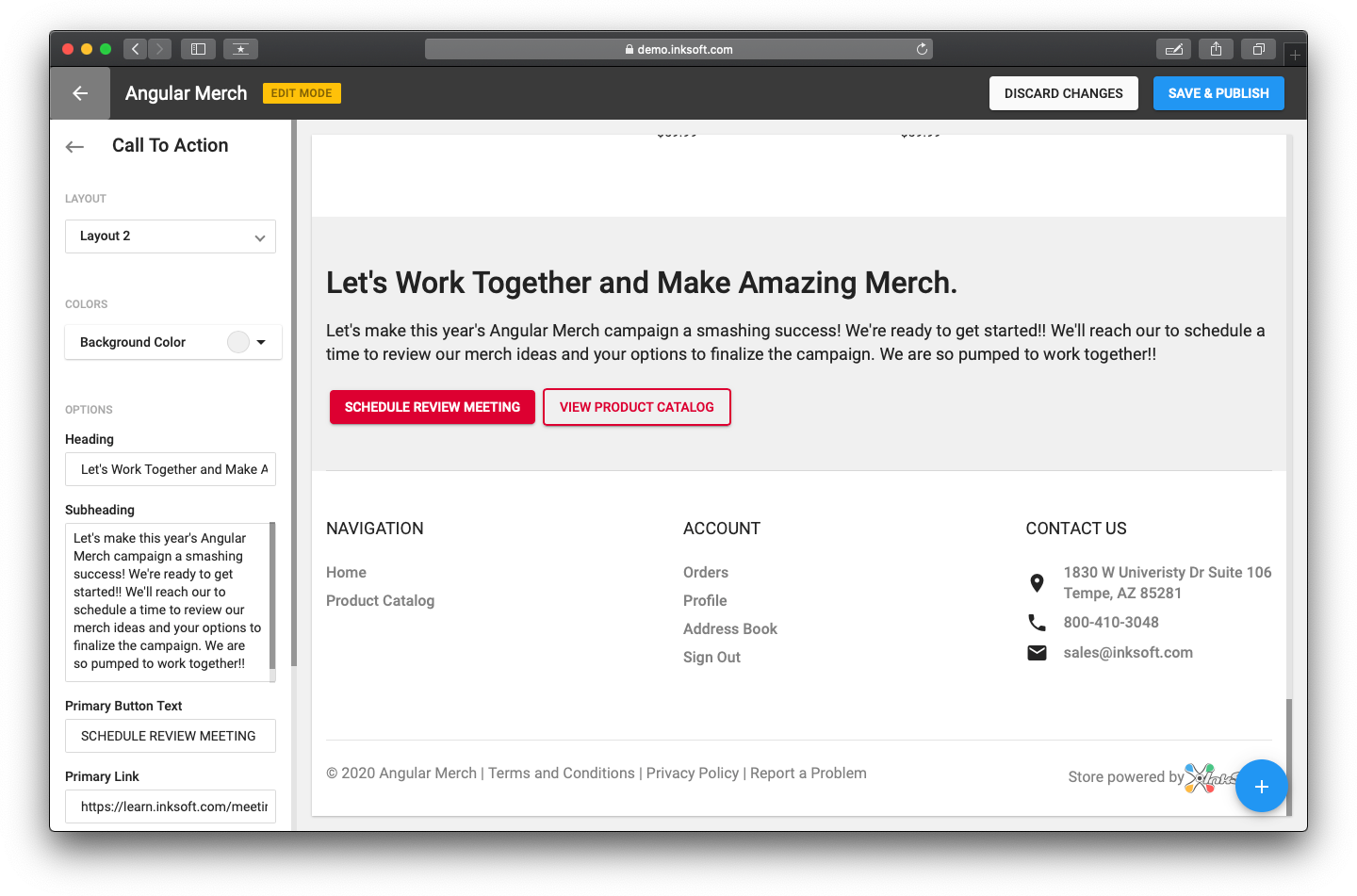 To Conclude, Pitch Stores WILL Increase Your Sales.
We've shown you what they are, what they'll do for your business, and how you should be using them for optimal results. All that's left now is for you to start using them.
---
Start Selling Smarter with InkSoft Online Stores.
With over ten years of online store experience, InkSoft is the industry leader and best choice when it comes to online stores. With InkSoft Stores, you'll have the most comprehensive features to handle any sales scenario. InkSoft stores are perfect for:
Spirit wear programs
Team, Sports & Athletics
Special Interest & Causes
Fundraising
Band
Brands
Company & Corporate Sales
B2B Sales
Events
Issues & Advocacy
Religious Organizations
Groups & Clubs
Request your personal tour.
Take a personalized virtual tour of the InkSoft Stores platform today and see why InkSoft is the best choice for print shops, apparel decorators, and promotional product distributors.