Bottom Link Up Front: One of the founders of Allmade, the eco-friendly apparel company that's taking our industry by storm, is here to break down the best sales & marketing tips she's learned throughout her career. Listen to her insight now.
Sell More Merch is back — and in today's episode, InkSoft co-Founder JP Hunt is diving into the strategies, the lessons learned, and the motivations that have gotten our guest to the (awe-inspiring) place she is today.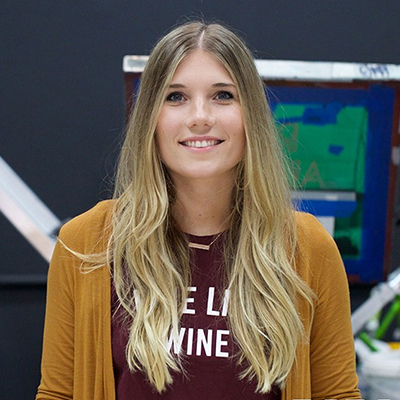 That's right: we're talking to Mel Lay, founder of kids' clothing brand SandiLake Clothing and one of the primary founders of Allmade. And we're not wasting any time before we get into the good stuff.
Just like with the other Sell More Merch episodes you've listened to, the goal here is to bring you the wisdom, the advice, and the stories — straight from the expert's mouth. We find out how Mel got her start in the decorated apparel industry, how she set goals and found herself beating them, and how she used the feeling of community — of authenticity — to drive forward every initiative she took on.
If you've ever wondered how to grow your business, how to reach more people, or how to connect with your audience in a way that isn't shallow or contrived — then this is the podcast episode for you. Mel walks us through the art of using technology, weaving authentic stories, and affecting real impact, so that you can take her tactics and make them right for your brand.
But she's not just with us to talk about her high-risk leap into building a first company. She's also here to unravel the behind-the-scenes look at how Allmade, the eco-friendly apparel brand that's taking our industry by storm, came to be.
Spearheaded by ten decorated apparel experts — many already business owners of their own — Allmade was born out of an idea to do good. Produce materials ethically and sustainably. Empower the workers who made it possible. And showcase to the industry — and its consumers — that having real impact on the environment, and on our world, is more important than being the cheapest option on the market.
Here are some of the pearls of wisdom that you'll be walking away with:
How to build an audience that believes in you, communicates with you, and stays loyal.
How to build a brand identity that is distinctive, relatable, and valuable.
How to choose the people you're selling to — and how to actually sell profitably to them.
How to convince customers that pricing isn't everything. 
How to successfully pull off caused-base marketing strategies — from messaging to pitching.
How to avoid the dreaded "brand stalemate" — where there's a plateau with products and efforts — and keep your audience excited.
Listen to the Podcast
If those gems aren't enough to reel you in, then consider this: it was recently announced that industry giant SanMar will be the exclusive distributor of Allmade, and you don't get that kind of attention by accident. Mel and the other founders were committed to building a stand-out company that wasn't just successful, but that caused a splash.
And it's safe to say they're achieving just that.
So give today's Sell More Merch podcast a listen, hunker down with your sales and marketing know-how, and start thinking creatively about how you can take your own business to the next level. Mel has accomplished so much throughout her career, and we're fortunate to have gotten the chance to pick her brain. So take the opportunity to learn from one of our industry's best — and then get ready to turn what you learn into action.
You can find the episode on all major podcast streaming platforms — or give it a listen now here.
And, once you've absorbed all of that fantastic insight, be sure to check out the e-commerce tools that'll help you make implementing your sales & marketing efforts easy. From Online Stores to Online Proposals, our technology was designed to make your daily workflow, your pitching, and your selling seamless. It's the gift that keeps on giving — so check it out for yourself.
---
If you like this podcast episode, you'll love this one too!