Another day, another incredible campaign to spotlight!
Today's fundraising initiative has made sure to put the "˜unity' in community at every step. It's coming from the Here for Good movement, but man has it put its own spin on things.
With more involved local businesses than we've seen before, and a high commitment to promoting the heck out of the good it's doing, this campaign will prove to you that heart matters way more than fancy marketing and expensive tactics.
In times like these, most of us don't have the resources to hire outside experts or take on complex new capabilities. But that doesn't matter — and it certainly hasn't stopped apparel decorators from taking action.
All over the nation, they're getting creative with what they do have. And, as you've seen in our past Spotlight features, it's working.
So stop stressing about the "˜perfect campaign' and start getting acquainted with the perfect campaign for your business. That's what today's Spotlight feature did — and it was that creative spark, that grassroots power, that made the biggest community difference.
Ladies and gentlemen, get ready to get inspired by today's Spotlight: the Parkway Printshop and Here for Good VA!
Homegrown heart
For Jared Chubb, screen printing wasn't just a passion. It was something he'd grown up with his whole life, and it was something that connected his family.
So, noticing a lack of high-quality screen printing in 2017, Chubb decided to follow in his dad's footsteps — and found his own print shop. The Parkway Printshop was born, and so too was Chubb's aim: to positively impact his industry, and his Williamsburg, Virginia community.
When the pandemic started, the Parkway Printshop team knew that they were far from the only local business affected.
Businesses in every industry, of every size, were hit — they couldn't operate normally, or at all, with their current business model, and they didn't have backup plans to call on.
As Chubb saw fear and uncertainty grab hold of his community, he knew it was time to step up. It was time to make that positive impact — and it was time to make it as quickly as he could.
The movement, with a twist
We're all well-acquainted with the Here for Good movement by now, but what we're seeing more and more of is apparel decorators taking the pillars of that exemplary model and making the rest of the campaign — the details — their own.
Here for Good VA was no exception.
While a typical Here for Good store works with local businesses to design custom t-shirts first, and then makes them available for purchase online, Parkway Printshop approached things differently.
There were no custom branded t-shirts. Instead, Chubb and his team created six t-shirts, each reading the same simple, but poignant, message.
"Here for Good."
There were no logos or slogans, no animated images of the virus or reminders to wash our hands. The t-shirts were sleek, clear, and unifying — and that's what made them so powerful.
Visitors to the virtual store could choose their t-shirt from six different colors, and then they would be prompted to pick the local business their purchase would support.
$10 from every t-shirt sale would go directly to the business chosen. The rest of the proceeds would go to helping Parkway Printshop stay afloat.
As of today, there are 153 local businesses available to choose from when prompted.
I'll repeat that: there are 153 local businesses that can be supported by their customers, their fans, their community members — all it takes is visiting a website and buying a t-shirt.
For those businesses — restaurants, gyms, bars, spas, to name a few — the proceeds they get from the virtual store could be the difference between continuing to function and having to close up shop.
That is no small impact. And, with more than $11,350 already raised, it's clear that the whole community is stepping up when it counts.
Promotion is the secret sauce
Two weeks ago, the Parkway Printshop made its first Instagram post, detailing the Here for Good VA store it created.
In 14 days, Chubb and his team have posted 14 more times. To update the community with how much money's been raised, to remind them that local businesses are still in need of their support, and to let as many businesses as possible know that they, too, can join in.
It took 2 weeks to hit more than $11,350. With this kind of promotion, and this many businesses involved, doing their own promotion, imagine what the next two weeks will bring.
We're not sure whether it was the simplicity of the t-shirts' messaging, the dedication to promoting the campaign, or Chubb and his team's already-there ties to the community that brought so many local businesses on board so fast.
But whatever it was, we're blown away.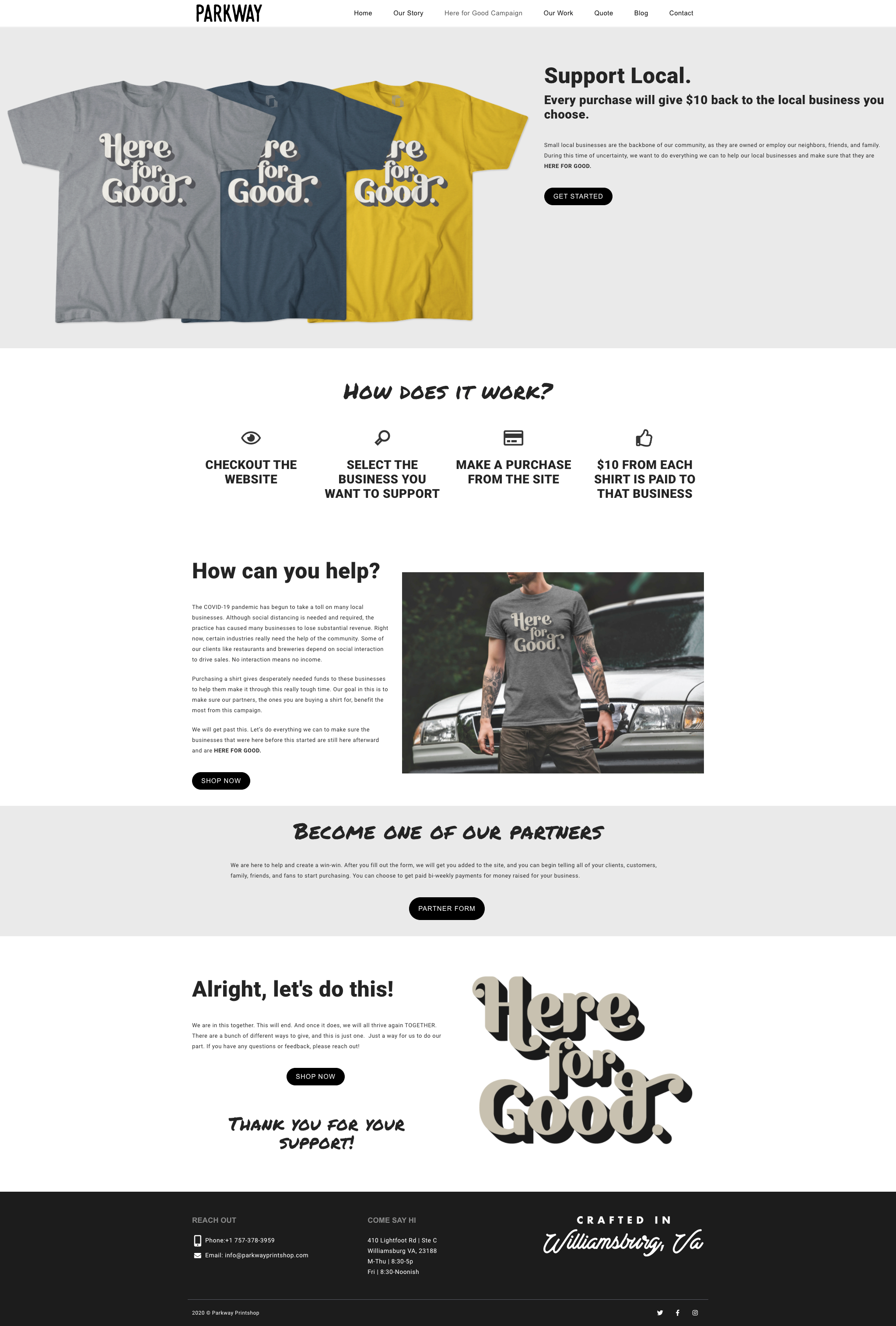 One campaign — one seed of an idea — was enough to affect change for 153 local businesses caught up in a crisis. It was enough to keep a screen printer alive and well, and it was enough to bring an entire community together.
"Here for Good."
That's what the t-shirts say, and that's what all of the local businesses, and the local residents, are saying with them. Nothing — not even a crisis, not even a pandemic — can take their community away from them.
If you learn one thing from this campaign, it should be this: it doesn't have to be complicated. It doesn't have to be elaborate. It just has to have heart.
---
Get Started with Online Fundraising Stores
Whatever campaign you decide on for your business, remember that InkSoft technology is here to guide you through it. Use our software to design your t-shirts digitally, to create easy-to-use online stores, and to fundraise without any of the hassle.
We're here for you, waiting to answer any of your questions. And we can't wait to see the impact your campaign has on the community you love.
We're rooting for you,
The InkSoft Team
Want to learn how InkSoft can help you launch successful online fundraising stores? Click the button below to schedule a short tour with one of our industry experts.