Bottom Line Up Front: Live events are a massive driver of branded merchandise — but they're not the only driver. Smart screen printers are getting creative, finding pockets of new opportunity, & increasing their profits. Here's a breakdown of how.
As our country continues to grapple with the virus that's changed everything, the decorated apparel industry continues to watch as its norms — its clients, its orders, and its operations — are thrust into uncertain territory.
It's October now. In a normal year, screen printers would be selling in large quantities to schools and teams, orders oriented around large events and championship games. In a normal year, they'd be selling to nonprofits, helping them raise more money during their galas and silent auctions; they'd be helping corporate clients choose their holiday orders — carefully curated merchandise for their employees and customers — that could be doled out at the holiday party.
But, this year is far from normal.
Live events have been put on pause. No crowded bleachers, no packed dance floors, and no team-building weekend trips.
The question of how to sell when the normal vehicle for selling has been removed is one that all screen printers and print shops have been confronted with.
How can we continue to push our operations forward, knowing the reality of the market has completely flipped? How can we try to keep our earnings stable when we have no ability to control — or know — what kind of selling will be permitted one month, two months, six months from now?
We're not here to stroke your fears. We are here to tell you something that'll help you reverse course on those questions — that'll help you feel grounded, and motivated, to keep doing what you do.
Here's the bottom line: your sales aren't connected to live events.
We'll repeat that. Your sales aren't connected to live events.
Inhale. Exhale. Still with us? Great — let's dive in so you can understand why.
No Live Events? It Doesn't Matter
Sure, live events were awesome breeding grounds for people who were interested in buying your products. They helped bring end-consumers together, they got them excited, and they convinced them that they wanted to partake in purchasing a token of the community — to further their connection to the community as a whole.
But here's the thing: buying a home team hat or a t-shirt to remember the charity run by was never about wearing it to the game or donning it during the run. It was about the feeling they got when they did those things.
The feeling of community.
They were connected to the people, the places, or the values they held dear. They were showing off a part of their identity, and they were belonging to a group that was showing off that exact same part.
Needing to feel connected to community isn't a trivial desire — it's an innate human need. With or without the existence of live events, it's there. And in 2020, when so many of us have been forced apart, it's begging to be fulfilled louder than ever.
So, yeah, live events might be missing from this year's calendar. But the demand for your products, for the feelings and experiences that your products generate, has never been greater.
One Lafayette, Louisiana-based screen printing company took that knowledge and spun it into something powerful — for their own selling power, and for their local community. Here's how they did it.
The Festival — and the Opportunity
Festivals Acadiens et Créoles is an annual festival that combines great entertainment, great food, and great art together for Louisiana residents over one weekend in October. It's usually an in-person affair, stacking up schedules of live musicians with stalls selling local food and artist offerings. But this year, things looked different.
The festival was turned virtual, given the COVID-19 restrictions, and the community was invited to listen to the live music remotely and buy in — from the food and art vendors — using take-out and e-commerce options.
Without the in-person gathering — and the energy that came from watching live music together — many were concerned about the festival lacking the same sense of impact for its community. Without the congregating and the live music and the overall experience of being in the same place, at the same time, there wasn't as much physically, viscerally tying people together.
That's why the screen printing company — a determined, creative InkSoft customer — surmised that custom merchandise would be more important than ever.
The company's apparel decorating brand, Talk'n T-Shirts, got to work, designing and producing branded t-shirts, stickers, and accessories. Its promotional product and signage brand, Grafx Plus, jumped into the process too — knocking out some pins, posters, and flags for the celebration. Using InkSoft technology, both brands were able to sell their goods in custom Online Stores — even promoting them across social media and press for the festival itself.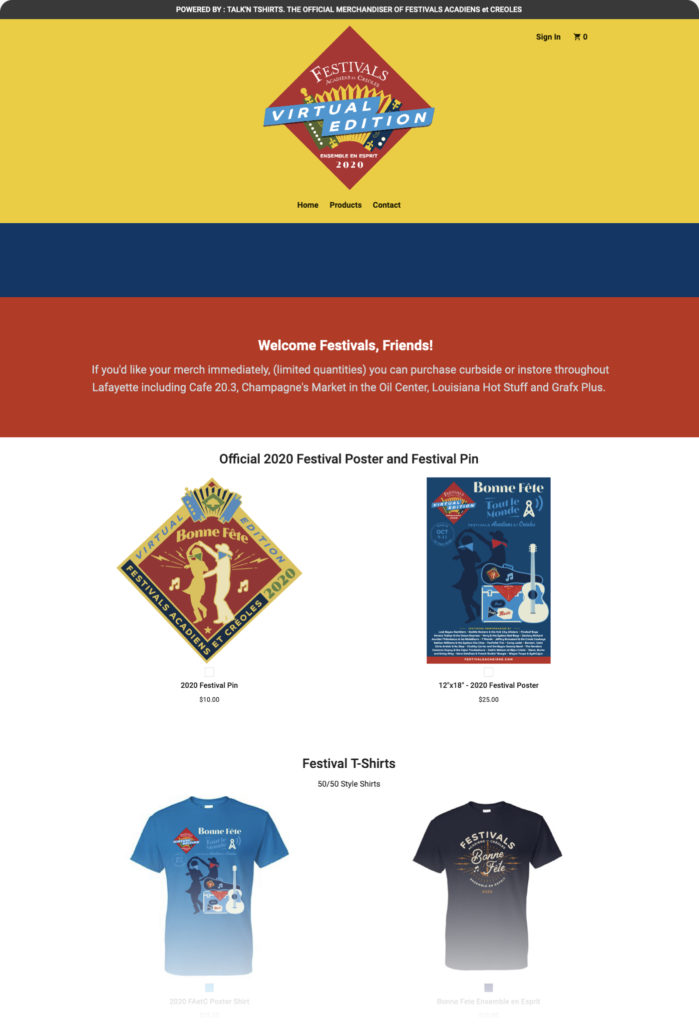 The result? Tons of people reached. Tons of products sold. And tons of Lafayette community members connected, showing their support for local artists and chefs — and for their community at large — by proudly donning their festival merch. Both on the weekend of the festival, and for the months and years to come.
There's no doubt that it's a strange time. We're all experiencing something that's unprecedented. But our desire to unite, to feel bonded with the people and places around us, is still burning.
Talk'n T-Shirts and Grafx Plus showed us how screen printers and print shops, using nothing but their own capabilities and creative thinking, have the power to meet — and supply — that desire in 2020.
It's about showing support. It's about feeling connected. And it's about communities — doing what they can to take care of each other amid the uncertainty of 2020.
If you're still unsure about where your offerings might fit into today's reality, consider whether or not you have the e-commerce technology necessary to compete. Are you able to seamlessly sell through Online Stores? Are you able to pitch and present new proposals to your customers through Online Proposals?
This year is calling for each and every screen printer to get innovative — but to do that, you need to have the right technology in your corner. InkSoft is here to help you make sense of the new normal, so your selling power has no choice but to grow — along with your capabilities.