During times of crisis, we turn to experts.
When uncertainty is more widespread than answers, when contradictions are made in every news cycle, we look to the experts who were put in charge.
The experts who are working twenty-hour days, who are held responsible for every unexpected turn, and who are the ones — the only ones — offering us any semblance of assurance.
To many, that expert is Dr. Hinshaw.
As Alberta's Chief Medical Officer of Health, Dr. Hinshaw's face is as prevalent on the news as it is on Twitter. And now, thanks to two local Calgary, AB women, it's also prevalent on t-shirts.
Finding a spark of goodness
Overcome with a sense of gratitude, Julie and Alison Van Rosendaal were looking for a way to show it. But it wasn't just about giving thanks to Dr. Hinshaw — it was about uniting the community she was serving.
Enter the t-shirts.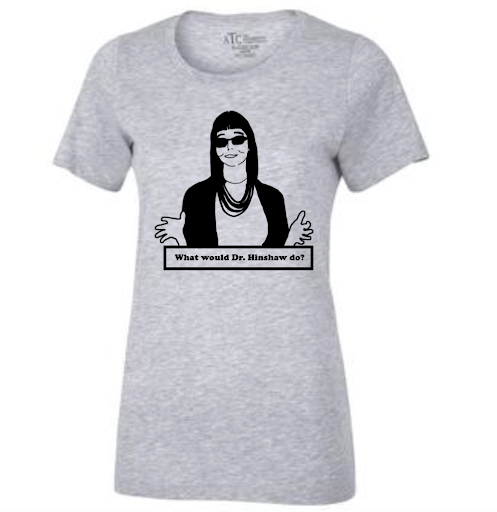 Complete with a drawing of Dr. Hinshaw with her hands up, as if she's mid-explanation, the tee reads: "What would Dr. Hinshaw do?"
It could be a nod to encouraging the (widely necessary) practice of social distancing. It could be a nod to following the advisements given to us by experts. Or, it could simply be a tongue-and-cheek display of gratitude for one woman working overtime, doing everything she can to make sense of our uncertainty.
With unity comes action
The Van Rosendaal sisters designed those t-shirts and added them to a virtual store, thinking their efforts — and their self-promotion — would lead to their friends and family buying in.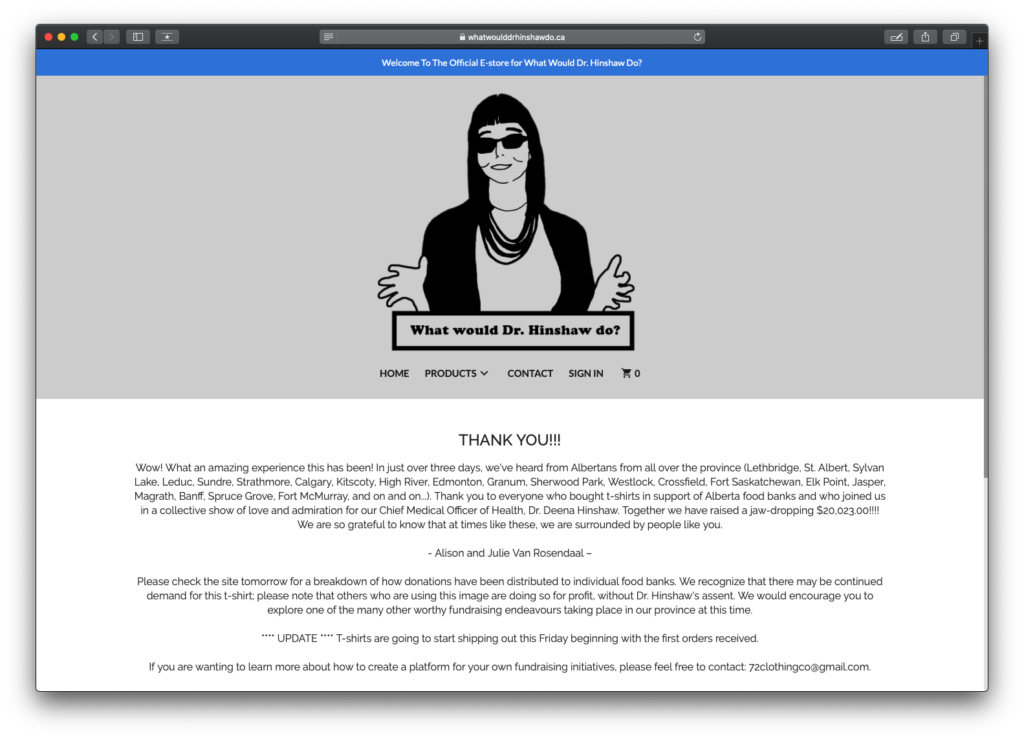 What they didn't think was that those shirts, which were being sold for $25 a pop, would become a viral hit.
With all proceeds going to food banks around Alberta, the Van Rosendaals were able to donate $20,023.00 to members of their community in need.
In a time like this, where the vulnerable are even more vulnerable, that amount of money — and any amount of money, really — makes an incredible difference.
Time to imitate (and flatter)
As we're all actively physically distancing from one another, we should also be finding ways to connect.
Not just in terms of Zoom calls and social media posts, but in terms of service.
What can you do to help your community? What kind of unique skill-set can you turn into actionable service?
Whether it's volunteering to go on grocery runs for the elderly in your neighborhood or creating a line of t-shirts that unite and give back at the same time — whatever you do, it matters.
How to make a difference
If you're already in the decorated apparel industry and you're looking to use your expertise for good — or if you're not in the industry and you want to, like the Van Rosendaal sisters, give branded merch a shot — InkSoft is here to make it as easy as possible.
With features like Stores and Designer, creating the products you want with the messaging you need is simple and straightforward.
Hats with your community's name?
Hoodies with messages of hope?
T-shirts with the faces of local experts?
Whatever your go-to tool — or combination of tools — for inspiring unity, our easy-to-design Stores will allow your designs to be showcased properly.
And when they go viral, you'll be blown away by how quickly the profits stack up.
Inspire action through action
For those of you who are already customers, consider making a new Store to fundraise in your community. And, while you're turning substantial profits for local organizations in need, go ahead and spread the word to your clients.
Maybe there's a company looking to raise funds for the employees they had to lay off.
Maybe there's a high school looking to raise funds for digital textbooks, so the students can continue to learn.
Or maybe there's an association looking to raise funds for healthcare workers who can't be at home with their children, who need childcare support.
The point is, every client — every person — knows of others in need.
By giving actionable suggestions, and showing that you take your own advice, you're not just spreading awareness for your business. You're inspiring a wave of action.
Community at our core
When asked why they created the t-shirts for Dr. Hinshaw, Alison Van Rosendaal answered simply.
"So many of us have taken comfort in her unique combination of deep thinking, careful decision-making, and generosity of spirit… I have such deep admiration and profound gratitude."
Because Dr. Hinshaw affected Van Rosendaal's life, she turned gratitude into action — affecting the lives of many more.
At InkSoft, like at most decorated apparel businesses, we believe community is paramount.
By creating services and products that connect people with merchandise that represents something they love — a sports team, a business, a city — we're creating bands that connect them to community.
So, we implore you, let's do that here.
Let's do that now.
Let's create branded apparel, virtual stores, and waves of action — so that, just like the food banks in Alberta, our communities can benefit.
If you have questions or are interested in learning more about InkSoft Stores, including our Designer and Fundraising features, please don't hesitate to reach out.
Anything our team can do to help your team, your idea, we'd be glad to do. Because, like you, we're still working. And we're here to help.
You can reach us at 800-410-3048.
Stay safe,
The InkSoft team