Bottom Line Up Front: Create a source of reliable and recurring revenue by developing and marketing a subscription-based employee swag program. It'll solve customer needs and earn you more long-term sales — full breakdown and marketing kit below.
The biggest quandary facing Human Resource and Marketing departments right now is how to develop company culture — in a way that boosts employee job satisfaction — amid everything that's going on in the world.
For some, business has gone back to normal, with employees commuting in to their offices and interacting with each other face-to-face. For many others, business is still operating remotely.
But in either case — whether companies are left wondering how to increase unity over Zoom calls, or over in-person, face-mask clad meetings — the need is there. Because even though brand cohesion isn't the most important thing going on in the world today, or next week, or next month, it still matters.
It matters to the employees, whose output we know is contingent on how they feel about their workplace. It matters to the business, which has a brand that needs to be upheld in order to achieve optimal brand exposure and recognition. And it matters to the customers — because they're expecting to buy from a unified entity where every employee is motivated to do their best.
So, the problem is brand cohesion — and specifically, how to achieve it in these unusual circumstances. The solution? It's something your business has the power to offer today.
Employee Swag Subscription Programs.
What are those? Well, you already have branded merch on your offerings list, so this idea takes those products and moves them into a recurring revenue model.
You might be wondering: could companies really need that much swag? And we're glad you asked — because the answer is yes. Absolutely. 100%.
Here's why: as you already know, branded apparel and promo products are rarely just branded apparel and promo products. They come with an innate sense of community spirit, of inclusion, and of belonging.
So when a company offers its new hires a welcome kit full of swag, it means something.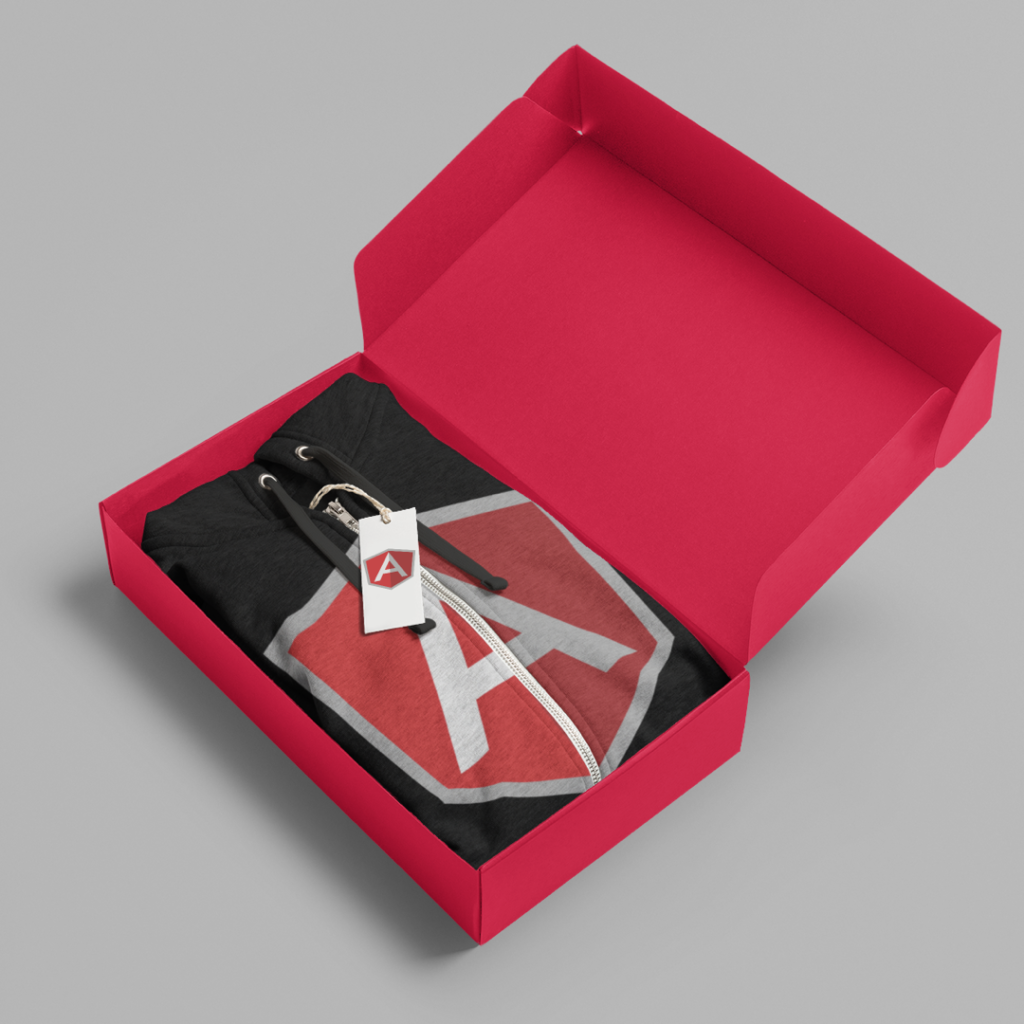 When a company sends its employees a "˜work from home' kit during the pandemic, it means something.
And when a company invites its employees to vote on new swag options, to choose the hat color they want, or to wear comfortable swag on a Zoom call (instead of the usual business attire) — it all means something.
It fosters morale across the company, it boosts job satisfaction because it makes employees want to be a part of the thing they've been invited to be a part of, and that works to increase employee retention. Happy employees lead to a happy — and productive — workplace culture, where the whole team is invested in doing well. Because they want to do well for their community.
So from an HR standpoint, swag is a highly effective strategy. Now let's weigh the benefits for marketing.
Branded merch gives businesses the chance to communicate their mission, their core values, and their overall identity — without shoving it down anyone's throat. An aptly designed hoodie or backpack has the power to convey brand identity in a way that leaves the people who see it wanting to learn more.
That's true whether the swag is seen by a stranger on a subway platform or by a client on a Zoom call — and it's a heck of a lot cheaper, and more meaningful than a billboard would be. Because it doesn't just communicate branding — it communicates that the employees, the people behind the brand, believe in it.
And that's what brand cohesion is all about.
How Does An Employee Swag Subscription Model Work?
From your vantage point, it looks like financial security. It looks like a recurring revenue system where you're able to forecast, allocate resources, plan production, and schedule your operations easily — because you have the confidence of knowing what sales are going to happen when.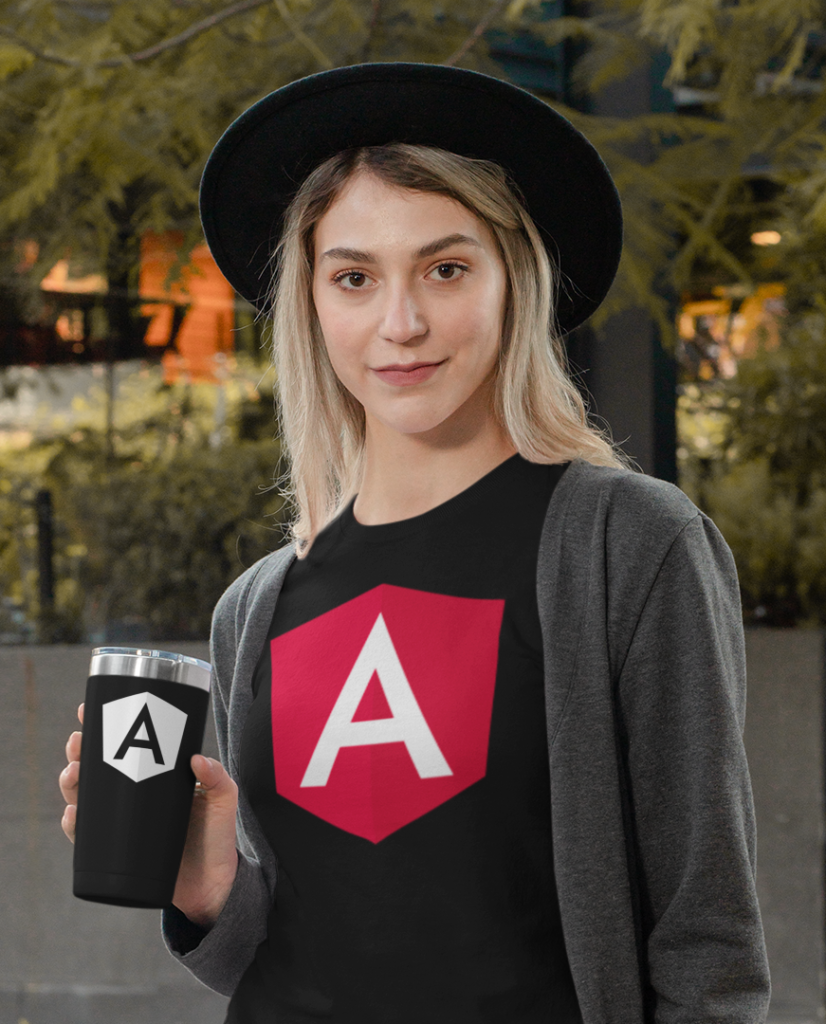 But beyond just making your operational processes more streamlined, stable, and secure, swag subscription models also work to enhance your customer relationships. Because you'll be producing new merch for these customers on a regular basis, you'll be getting to know their brand — and their team — extremely well.
That understanding of their needs (and their wants) gives you a leg up when it comes to retaining their business — because you're able to give them a solution that's been tailor-made to fit their problem, in a way that none of your competitors would be able to do off the cuff.
And, beyond just retaining those customers for their internal swag needs, you're also opening yourself up to other sales opportunities they might have room for. Maybe they're looking to start a fundraiser, or maybe they're looking to sell custom t-shirts at a conference. Either way, they know you and they know your capabilities — so you're positioned perfectly to make that pitch.
The Employee Swag Subscription Program Pitch
If you're liking this idea — and you should be, because it's an effective way to secure sales long-term — then you're probably looking for some pointers on how to persuasively pitch it to your customers. We've got you covered.
Here are the main selling points you should hit, every time:
We do all the work.
Everything from printing to delivery is on our shoulders, which means that you'll be getting product options, logo concepts, printing options, and packaging options, with the only effort required of you being to choose what you like best.
Zero inventory to worry about.
You'll never have to deal with inventory, so there won't be any stress about waste, theft, or loss. It's a stress-free program!
Hands-off fulfillment and distribution.
Like we said before, we do all the work. We take care of every aspect of fulfillment and distribution, so you never have to worry about any of it.
Single invoice program.
We'll send one invoice each month — because we like to keep things simple.
Eco-friendly packaging, products, & imprinting.
This will likely be a huge selling feature for many businesses because they're probably already committed to eco-efficiency measures — and publicly striving to reach sustainability goals. By offering them sustainable product options, you're helping them take actionable steps towards those commitments and goals.
A Few Of Our Favorite Employee Swag Subscription Program Tips
Once you've nailed the pitch, these are the tips you'll need to make sure your swag subscription program runs as smoothly — and effectively — as possible. We've narrowed them down to just six, so you'll be able to adapt them into your process easily.
Increase Employee Engagement: How? By recommending to your customers that they include their employees in the "˜choosing swag' process. Using InkSoft technology, you can display the product options online, making it easy for employees to sort through them and vote for their favorites. Not only will it make them more engaged in the process, but it'll also increase their excitement and satisfaction once the products arrive.
Pay Attention to Packaging: Everyone loves a good unboxing experience, so make sure you're considering the packaging when you're putting together the swag kits. Employee excitement and satisfaction with the swag program will ensure your customers keep engaging with the subscription model — and that excitement/satisfaction begins with the unboxing experience.
Keep Everything Aligned: When it comes to branding, consistency is key. Make sure you're checking — and re-checking — your customers' brand guidelines in order to confirm the products, graphics, and decorations you're presenting to them are in line with their already-established brand identity.
Research, Research, Research: When it comes to learning about a customer, you can never know too much. Get to know their business through investigating their website, blog, social media accounts, and even asking your own questions — the more you know, the easier it'll be for you to produce swag that really speaks to their workplace culture and brand identity.
Don't Be Shy: Once you have your employee swag subscription program established, get comfortable pitching it to your other customers — new and old. You can orient the pitch around new employee swag kits (for companies that are adding new employees frequently), around work from home kits (for companies that are leaning in to remote work), or around any other customizable option you see fit. There are countless ways to tailor the offer, and there are countless ways to offer value to your customers — while securing recurring revenue for yourself.
Referrals Are Key: When your employee swag subscription program is up and running, and your customers are more than a little satisfied, you should be asking for referrals. Businesses have their own network of suppliers and vendors that they work with and trust, and if they're happy with your work, why wouldn't they recommend you to their contacts? The question can be as simple as: Can you share three contacts from businesses that you work with or that you know that could benefit from an employee merch program? Believe us: having someone that can vouch for you inside the network makes a huge difference.
The Wrap Up
Employee swag subscription programs make it easy for you to increase your sales opportunities, retain your current customers, and reach new ones — all while providing an offerings plan that you already have the capabilities to carry out.
It's the "˜two birds, one stone' solution for businesses because they get to achieve HR goals and marketing goals with each new swag kit.
And for you, it offers stability through its recurring revenue model, a new way to engage prospective customers, and the chance to increase the value you're giving current ones because you have the time to really get to know their brand.
From where we're standing, it's a win-win. And with the pitching points and six tips we just laid out, we know you'll be able to get it running — and start seeing sales — in no time.
---
Free Employee Swag Subscription Marketing Kit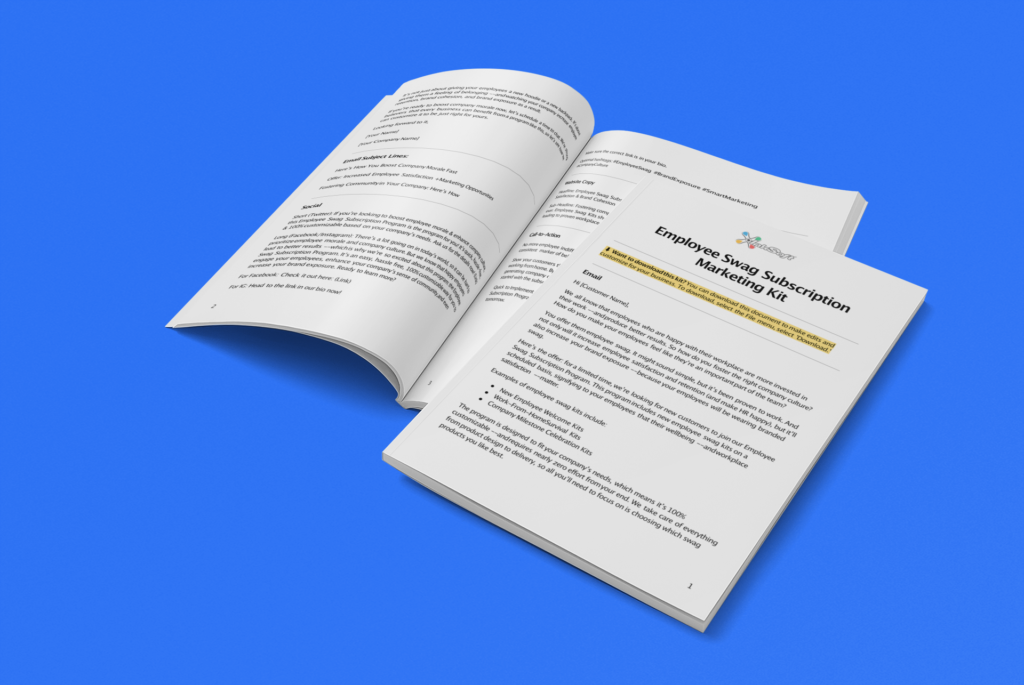 We've made it easy to start presenting and selling employee apparel swag subscriptions with our turnkey ready-to-go marketing kit. The kit comes complete with:
Email marketing copy
Email subject lines
Web site copy
Social media copy
Call-to-action copy
Register now and get immediate access to this powerful marketing tool kit!