As Chrystal Hart-Meeker said in the first Instagram video introducing the fundraiser: "I've lived here for 39 and a half years, and I have never seen anything like this."
With tears in her eyes, and her husband — and co-owner of Xtreme Grafx — behind her, Chrystal voiced the pain that hundreds of thousands in the state were feeling.
She was talking about the wildfires. The wildfires that were burning through Oregon with a vengeance, that were destroying homes and threatening lives. The wildfires that had left the sky black, that had hidden the sun, for three days straight.
The wildfires that showed no sign of slowing down. The wildfires that gave the whole state community another dire danger, on top of the rest of the hazards that 2020 had brought with it.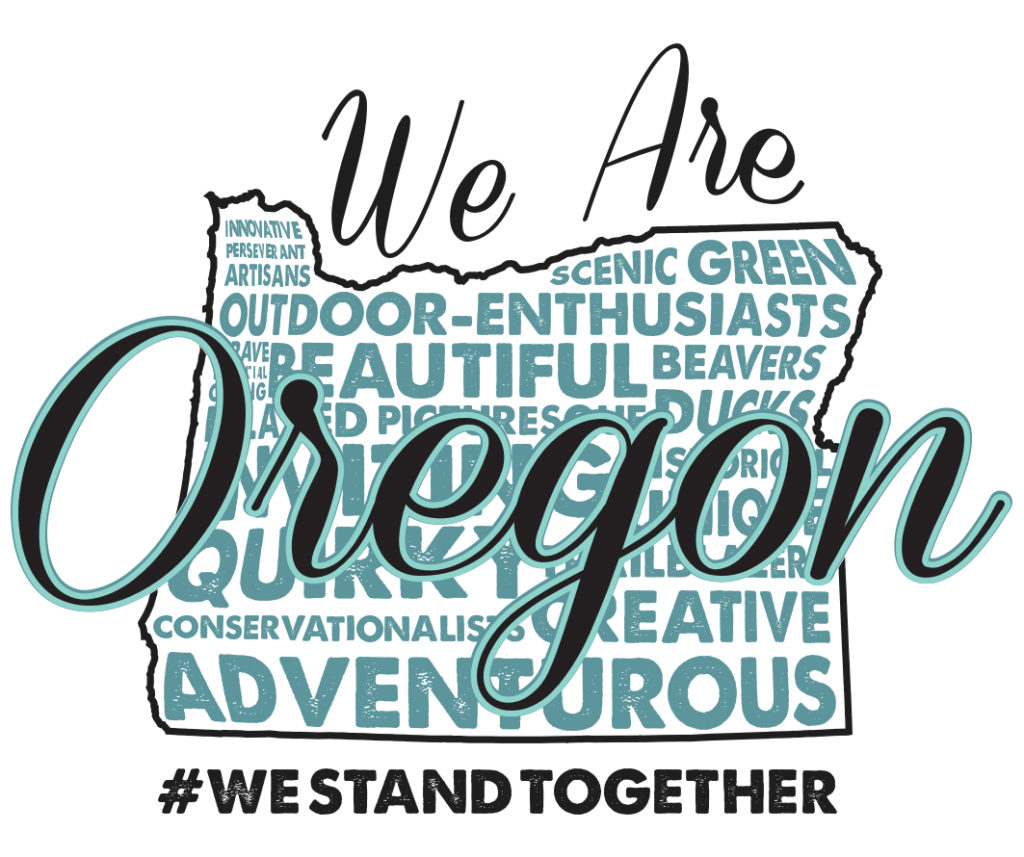 Chrystal looks right into the camera. "At Xtreme Grafx, we're always thinking about, what can we do?" She says, her voice cracking just a bit. "What can we do?"
The answer, for Chrystal and her husband, Arthur, was to start a new fundraising campaign. Just like the campaigns they'd run for local businesses during the start of COVID, this fundraiser would be oriented around selling custom products. And it would take place, with the help of InkSoft technology, completely online.
Today's Customer Success Story is an example of showing up for community, wielding capabilities to take action in times of uncertainty, and never once letting misfortune result in giving up. We're blown away by Xtreme Grafx's dedication, creativity, and perseverance — and we're absolutely certain you will be to.
So let's jump in.
The Breakdown
Xtreme Grafx is a one-stop-shop for custom products ranging from apparel to signs & banners to vehicle wraps, and it's been based in Albany, Oregon for the past 15 years. A well-known business in the community, Chrystal and Arthur have always taken pride in being able to help out where they could, sponsoring countless organizations and events in their time operating.
So when COVID struck, they wasted no time jumping onto the Online Fundraising Store train, helping those in their community find a new way to earn amidst the crisis. "We had a lot of fun with it," Chrystal says in that video, "and we also helped a lot of organizations get money when they needed it."
The campaigns were easy to enact, simple to manage, and led to real, meaningful results. That's why, when the wildfires put their community (and too many livelihoods) in jeopardy, Chrystal and Arthur were quick to call on them once again.
The plan was to sell beautifully designed t-shirts, hoodies, and hats through a custom Online Fundraising Store — with $15 from each sale going directly to the Salvation Army. (The Salvation Army was an integral organization for Oregon wildfire relief, working to house, feed, and otherwise empower displaced residents, first responders, and everyone else affected.)
On September 10th, Chrystal and Arthur posted their "˜We Are Oregon' fundraising initiative introduction video, on Xtreme Grafx's Instagram page. It was enough to transform the fundraising idea into a full-fledged, widely-known, and successful campaign.
The Online Fundraising Store was flooded with community members — and those who knew community members — rushing to show their support. With an easy way to donate (to an action-taking cause) and stunning options for apparel to commemorate the place they love, buying into the campaign was a win-win.
By September 16th, the campaign had raised $12,000. And that's when things got even more creative.
The Third Act Twist
Towards the end of September, the team at Xtreme Grafx was determined to wring even more out of the campaign — and get as much money raised for the Salvation Army as possible. Their solution? Add a new product into the mix.
That's when face masks made their entry.
Making it official with an Instagram post on September 24th, Chrystal and Arthur added two-packs of "˜We Are Oregon'-designed face masks to the campaign's offerings. And that addition was enough to propel the fundraiser — for its last two days of running — over the edge of $15k.
By the time the We Are Oregon Online Fundraising Store was closed, the team at Xtreme Grafx had raised a total of $15,525.
That money would go to helping displaced residents get what they need to survive. It would go to helping first responders stay fed and prepared for action. And it would go to keeping the whole state community — and everyone inside it — as safe, supported, and empowered as possible.
Let's Do Some Learning
Obviously, Xtreme Grafx's We Are Oregon fundraising campaign is a perfect example of using your own expertise, and your own capabilities, to make a substantial community impact. But it's also a great example of two other things.
First, abiding by the one-more-sale approach: instead of settling for the results you've already seen, driven by the offerings you've already established, try for more. Mix up the offerings, add new fire to the campaign, and get your audience excited — all over again.
As shown by Xtreme Grafx, face masks are an incredible choice for adding something new into the product lineup. Not only are they an easy, inexpensive add-on to whatever your consumers were going to buy anyway, but they also convey that your campaign — and your business — cares about public health. Particularly for initiatives that are already community-minded, face masks help to really further that sense of thoughtfulness — and create a safer, healthier space.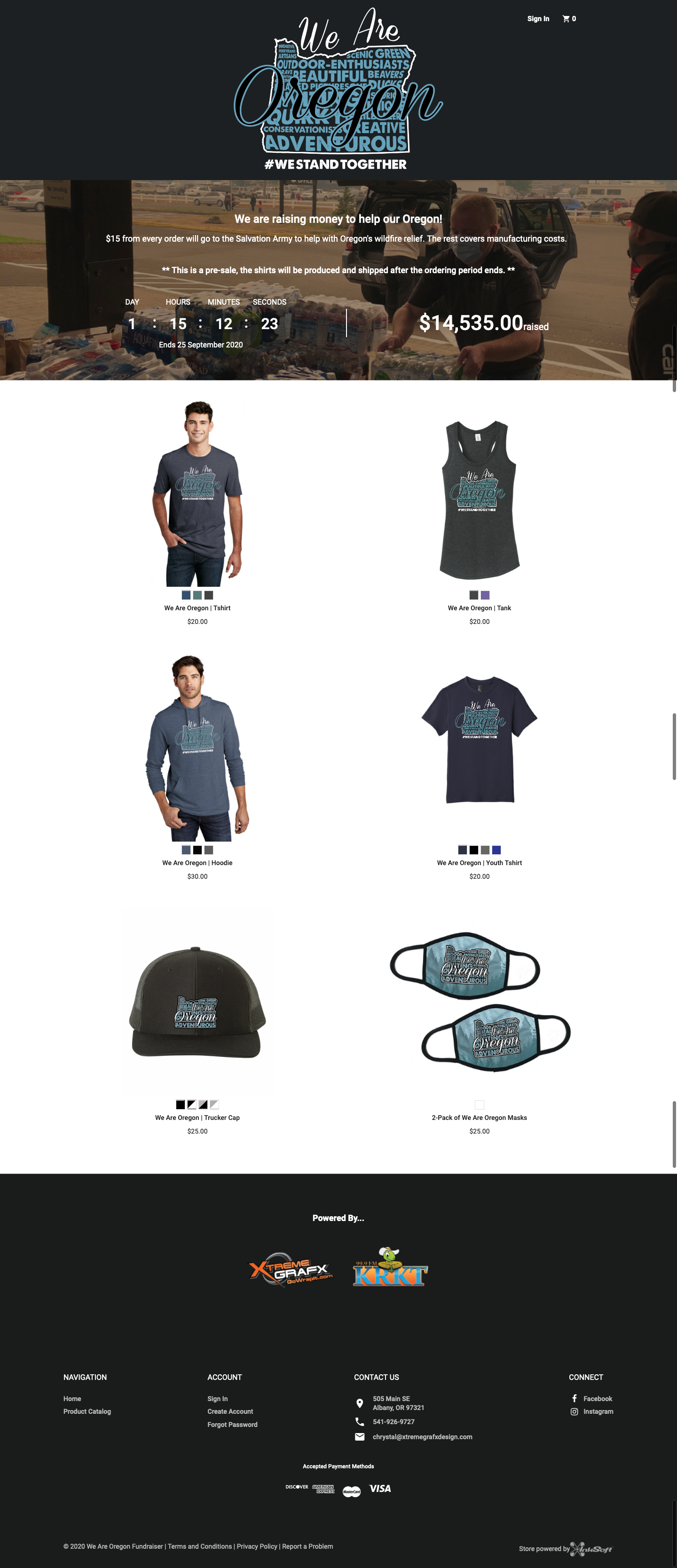 Second, utilizing digital marketing to spread awareness — and drive results. Chrystal and Arthur did an impeccable job with that first Instagram video, speaking from the heart as they explained why they created the campaign, what it was aiming to do, and how followers and viewers could get involved.
With all campaigns, authenticity matters. Showing up as people first helps you connect with your audience (also comprised of, you guessed it, people), and helps you inspire them to act. Plus, videos like this one are much more captivating than any old graphic, because they appeal to the story behind the campaign — and advertise using humans, rather than products.
In addition to that intro video, Chrystal and Arthur also posted updates about the campaign — from money raised to new product additions — in order to keep the community informed, paying attention, and involved enough to want to keep showing their support. The more front of mind your campaign is, the more traction it'll have with your audience.
Consider using tactics like these for your next campaign. They'll help to give your fundraiser the power it needs to reach its fullest potential.
And, whether you're helping to raise money for a local cause, for local businesses, or for anything else that matters to you and your people — let InkSoft's Online Fundraising Stores support you through it. They couldn't be easier to use, and they couldn't make the whole process any more seamless. To learn more, find the details here.
That's all for now. We'll see you back here for our next Customer Success Story — and we can't wait to see what you achieve in the meantime.