The popularity of online stores isn't new, but the demand for convenient online shopping experiences has accelerated in recent years. In 2023, some projections estimate that more than 20% of retail purchases will occur online.
If your business doesn't offer online stores, now's a great time to make the jump.
For screen printers, offering online stores is another tool in your belt to satisfy your customers' needs. Customers want an easy way of removing paper order forms, Venmo, checks, and Zelle to manage merch purchasing.
Ready to get started?

Benefits of Online Stores for Your Shop
Online stores are crucial for meeting modern customer demands, but they also stand to benefit your shop. That includes perks like:
Error reduction: An online system for orders can mean less redundant data entry or paper forms that can get lost. Less time fixing mistakes or reprinting products means more time for you and your team to go out and get more customers.
Transparent reporting: Your shop also gets valuable reporting information from all your online storefronts, which you can use to set up reorders and drill down who your most profitable store customers are.
Quicker opportunities: You can tap into up-to-the-minute sales opportunities like a home team winning a state championship simply with a contact email and a link to a store mockup. Curious about how effective this strategy is? See how this shop did it to set up a successful store for a local team and clinch some significant merch money.
Here's a quick look at how much you can do with InkSoft Stores:

Pitching Stores to Customers
If you're interested in pitching stores to your customers, there are a few key benefits you can sell them on:
Bundling opportunities: With an online store, you can take a simple T-shirt order and turn it into a complete branding package. You can offer them a bundled package with virtual mockups that suits their needs. That way, they don't need to deal with the costs of setting up a separate website.
One-stop shop: You've probably heard the term "one-stop-shop" quite a bit, and offering online stores to customers helps reinforce that reputation. Maybe you're already the place everyone visits for screen printing, DTG, and heat transfers. Now they can also call you for their e-commerce needs.
Time savings: An online store creator gives your customer the power to set up a store within a few hours. Sometimes as quickly as three minutes, depending on the product lineup and customization of the store.

Check out this demo to see how you can build a store this quickly:
Using a Pitch Store to Seal the Deal
One of the most effective ways to sell stores to your customers is with a pitch store and proposal. Here's a quick demonstration of how to do that:


You can incorporate your customer's colors and branding into a pitch store and proposal. If they're interested in doing business, you've already built the core components to start the transaction.
Setting Terms and Conditions
Whichever type of stores you decide to run, you'll want to make sure you also outline terms and conditions so customers know what you guarantee and what you're free of liability from. You can establish policies that fit your business best, and if you need some starting points, check out this helpful FAQ on configuring policies in InkSoft Stores.

Here is an example Terms & Conditions you can use. Please get outside legal counsel to review it before using it for your business.
Underneath each product description on your online store, we recommend using the following:
Return Policy
All items offered through this online store are custom-made. Therefore, items may not be returned.
Artwork
All designs represented in this art approval are the intellectual property of ___. You are not permitted to take the artwork we create to other vendors. The unauthorized use of these designs is a violation of international copyright law.
For artwork-related terms and conditions related to the customer's quote/invoice, this is a stock template used for the GraphicsFlow platform:
All designs represented in this art approval are the intellectual property of Craig's Creations. You are not permitted to take the artwork we create to other vendors. The unauthorized use of these designs is a violation of international copyright law.
Colors May Vary
We strive to display as accurately as possible the colors of products shown on this website. Due to the inconsistencies of various display monitors, the color you see on your screen may not be a totally accurate reproduction of the actual product. Screen images are intended as a guide only and should not be regarded as absolutely correct. When approving, you are acknowledging this fact and waiving any claim of dissatisfaction due to color.
Pro tip:
If you need high-quality artwork for stores, that is royalty-free, check out GraphicsFlow
Set your team up for success
Whether your customers are running an online store for a fundraiser, their business, a school sports team, or another category, you still need to have some key elements buttoned down at your shop, including fulfillment and supply stocking.
Online Stores Fulfillment
To Stock or Not to Stock?
The short version? You need to have a handle on your shop's inventory strategy. Some printers now do "just in time" fulfillment rather than stockpiling boxes of garments in the warehouse. This approach complements decoration methods like DTG and DTF printing since they are usually for short-run or short-turnaround orders.
Some shops, like Ohio-based Power Graphics, use just-in-time strategies for monthly and bi-monthly promotional stores to incentivize more people to buy custom merch before it's sold out.

"There's no inventory stockpiling, and it helps us gauge demand," says Power Graphics owner Nyles Reinfeld.
Other businesses, like STL Shirt Company, utilize supplier programs to streamline their inventory strategy. Owner Connor McDonnell says the business takes advantage of programs like S&S Activewear's Freight Advantage to reduce inventory but still supply customers with what they need and stay on schedule.

Check out this deep dive on how STL Shirt Company established their online store strategy:
Keeping inventory on-hand
There are cases for keeping inventory stocked too. For example, if you have recurring customers who typically place the same order every month, then keeping blanks on hand can be helpful. Especially if you provide local delivery.
Dana Cardinas from One Stop Promotional Products says this is the strategy at their shop.

"This approach allows us to complete orders quickly," she says. "For instance, a customer texted me this morning needing 15 shirts for new employees. I had them in stock, and the decoration is super quick to apply. We delivered his order this afternoon."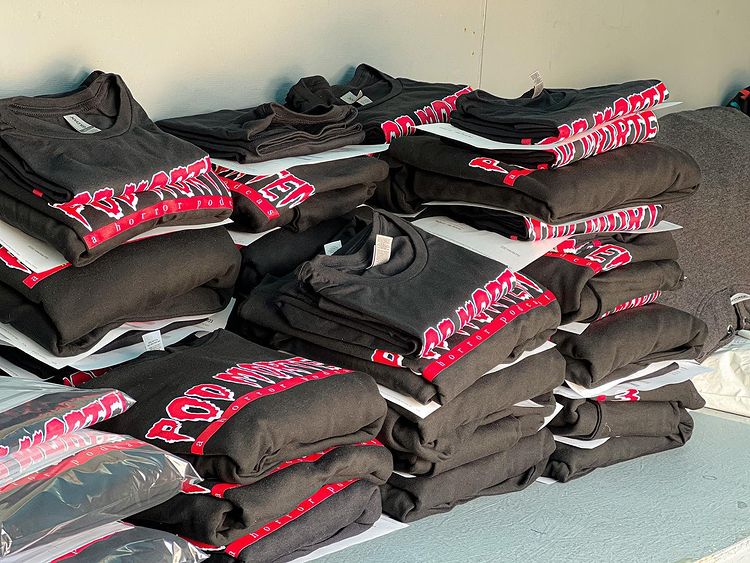 Bagging and Tagging
If you need a formalized process for bagging and tagging orders at your shop, check out this handy nine-step process. This method ensures that every step, from checking your blanks inventory to packing orders for your customers, is done with the utmost attention to detail and minimizes spoilage.
You can also get a breakdown of the process here.
In short, you want to ensure that nothing's missing from each online store order every step of the way. That means starting by counting in products when they arrive, eventually matching order slips to filled packages, and double-checking your master order list one last time before the order leaves the shop.
Including contact information and a thank you note in the package is also a good idea. That way, customers can get in touch if there are any questions about the order, and ideally, they'll be excited to order from you again because of your excellent customer service.
For pricing bag-and-tag services, one popular way is to factor the cost of the service into your product prices. Connor points out that he doesn't charge a separate fee for the service and uses a built-in pricing method.

"Typically, we upcharge around $2.00-3.00 per shirt sold in a store to account for bagging, separating, and smaller print runs," he notes. "Usually, we assume that our stores will have at least 24-48 total items sold of each design, so we start there with pricing. For example, if a normal, bulk order of 24-48 run of one-color Gildan shirts is $13.00 per shirt, we are charging $15.00-16.00 per shirt on a store to account for the extras."

Supply Hacks
Connor points out that if you're a higher-volume shop, you can use large boxes for holding separated orders and use the small boxes for larger, individual orders.
Branding your shipping packaging with your shop's logo is a great way to promote your business. But it can get expensive if you're a smaller shop that doesn't ship or pack as many orders. If you don't have the budget to order custom-printed boxes, there are still ways to get crafty.

"If you want to get fancy, you can heat press your logo onto your boxes using a DTF transfer," says Dana.

For shops that don't print DTF, a simpler route is adding a sticker to the exterior shipping carton and including one with the thank-you note inside the box. Stickers are typically one of the most affordable promo items that you can order in bulk and add to any customer order.
Here are additional resources on setting up online stores:
Learn how One Stop Promotional Products grew their business with online stores.
Read why online stores are the ultimate selling tool for busy seasons like back-to-school.
Find out how to combine online stores with upselling strategies to sell more custom merch.

Special thanks to Jonathan at Success Print Shop and Cole Lundrum at Shirt Agency for the insights.