An online presence is essential for your shop since it's the easiest way for customers to contact you. Equally important is providing customers with tools to sell their printed merchandise online.
You could stick to just printing the apparel and swag, but if you offer them online stores, customers get the added benefit of a way to sell branded goods to shoppers and a reliable shop that prints their merch.
InkSoft Online Stores Make it Possible
One of the simplest ways to do this is with InkSoft Online Stores. They offer a seamless, secure online shopping experience modern customers want, and online stores suit all markets and niches.
Combine Online Stores with Proposals for a Bigger Impact
You can combine online stores with InkSoft proposals for a more powerful selling strategy.
This feature is great for existing customers as well as prospective customers.

Here are a few big benefits of combining proposals with an online store:
1. Less data entry: With Inksoft's enhanced proposals, you save time, and there's less room for error with duplicate data entry. Once they're associated with a customer store, proposals auto-populate with store-specific information like quantity discounts, multi-location imprint discounts, pickup methods, store overrides, and tax overrides.
2. Better branding solutions: InkSoft's proposals allow you to stand out and close more deals since you can build them with your customer's logos and branding colors to offer them a complete branding solution.

Proposals automatically pull in the look and feel of an online store, making them the perfect tool for prospective customers. You can build a pitch store that's associated with a proposal for a professional, eye-catching package.

3. More efficient for employees: Once a proposal is signed by your customers, an order is automatically created with the store linked in the top right-hand corner, so your team can find order details quickly.
Check out this video for more on the benefits of combining InkSoft proposals with online stores:
Online Stores in Action with a Real Shop
Wisconsin-based Creative Imprint is a fantastic example of using InkSoft Stores to help customers sell merchandise online and drive more business back to their shop. Check out some of these examples of their successful stores.
Online Stores for Sports Teams
Creative Imprint set up this local basketball team apparel store with various T-shirts and long-sleeve shirts. Online stores are suitable for team sports since you can assign a timeframe if you want it to be a temporary shop for seasonal sports and customize the color scheme to match team colors.
Plus, you can add a logo, so shoppers know it's an official store for their favorite local team.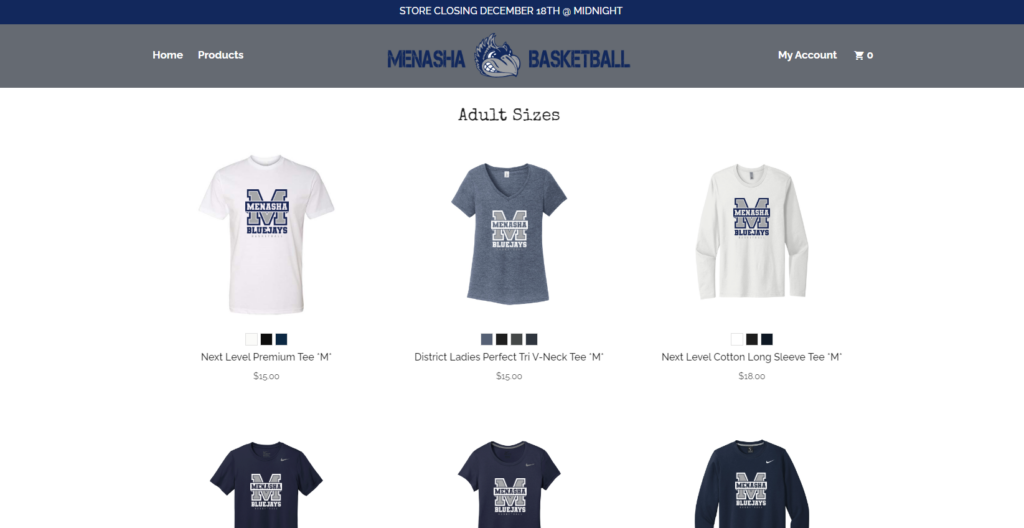 Other school groups for online stores:
Spiritwear and School Pride
Fundraising Programs & Campaigns
Greek-letter organizations
Clubs: Drama, Debate, Band, etc.
Local Businesses
Local businesses need printed merchandise to promote themselves to the community. Whether that's hats, tote bags, T-shirts, or other printed swag, they'll have an even more significant impact if they can sell those products online. Here, Creative Imprint configured an online store with merchandise for a pub and restaurant chain.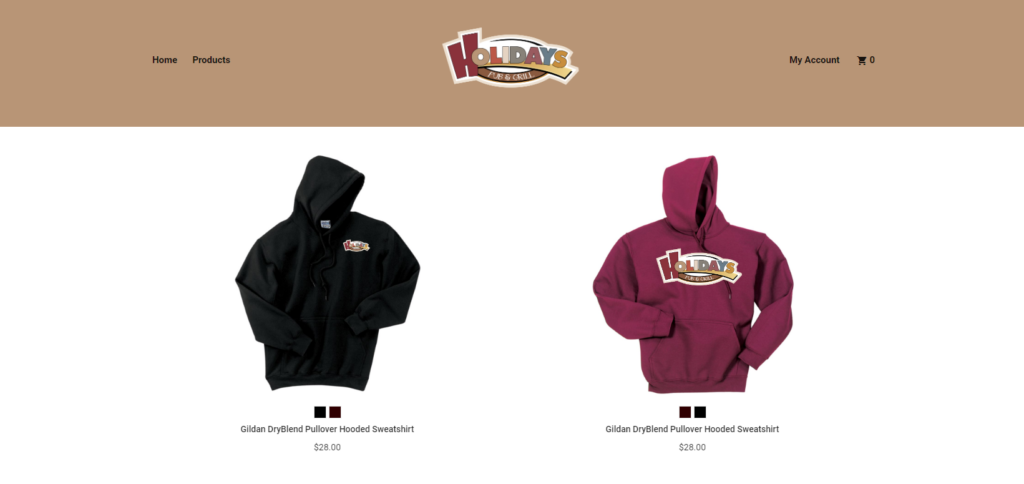 Online stores allow for easy product upload, which suits businesses that periodically rotate out their swag offerings.
Other features of InkSoft Stores that are perfect for companies include:
Rich website features library
Simple website style editor
Custom webpages
SEO Tools
Customer login to reorder and see the status
Simple Shipping Cart & Checkout
Operating Employee Uniform Programs with Online Stores
You can also build employee apparel stores with InkSoft's Online Stores like Creative Imprint did for a local YMCA. Customers can specify the apparel and accessories they want to offer their staff, and they can easily swap out products from the storefront.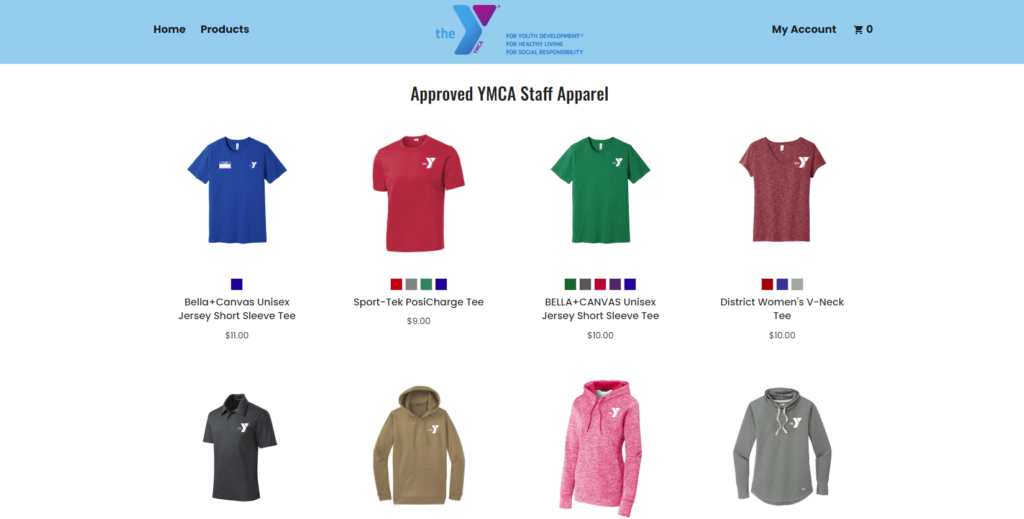 Other features suitable for employee apparel programs:
Create product style and colorways
Logo colorway creation and management
Embroidery file support and thread colors
Retain production details to automate decoration instructions
Upsell Opportunities with Online Stores
Whether it's a corporate store, a team store, a fundraiser, or another application, one thing all of these storefronts have in common is upselling opportunities. Your customer might want an order of logoed T-shirts to sell, but if you've already got the order artwork approved, why not suggest a few other options to go with that shirt?
Consider some of these possible options:
Drinkware: Depending on the storefront, you can offer all types of drinkware to customers. For team sports and leagues, water bottles are a great option both for athletes and supporters. You can also bundle higher-priced drinkware with apparel in some stores. High-end tumblers are a suitable companion for premium store products like embroidered polos and jackets.

Tote bags: Reusable bags can truly pair with any store bundle since they don't ever go out of season. They can easily be decorated with various methods, including screen printing and heat transfers. Plus, with lots of cities across the country now banning single-use plastic, there are plenty of shoppers who always need a spare bag for a store run.

Headwear: Similar to drinkware, headwear is a versatile category that you can offer anything from a basic, affordable cap to a high-quality hat based on the overall theme or vibe of the store. Baseball caps and dad hats fit perfectly alongside T-shirts, while a five-panel hat or a beanie made from quality materials can work great with a premium decorated fleece or long-sleeve tee.

Signage: Signs are handy for everything from graduations and playoffs to community events and festivals. And signage doesn't just mean big banners or lawn signs. You can also tap into resources like the InkSoft signage program to print smaller-scale items like stickers as a companion to wearable goods.
Be the Branding Solution
These upselling strategies will help your bottom line, but offering your customers bundling options is also about presenting your shop as the one-stop solution for all their needs, so they don't go elsewhere. In fact, if you spend a little extra time chatting with your customers when you're setting up a store and a sales campaign, you'll probably learn that most of them are on the hunt for a better branding solution and not just another place to hawk some swag.
These are just a few examples of how you can use InkSoft Online Stores to offer your customers more than just a stack of printed shirts. Think about the range of customers you can accommodate with simple customization, all backed by a powerful e-commerce platform.
Ready to start launching your own online stores with InkSoft? Contact a Client Advisor for a personalized demo.
Related Posts: