Bottom Line Up Front: For this determined, Illinois-based print shop, driving a successful fundraising campaign relied on reach and promotion. In 1 week, they've already hit $25k — so they're surely doing something right. Join us for the full breakdown below.
By now, so many local businesses have been impacted by the work of screen printers that we know it's possible. We know that selling t-shirts online, as inconsequential as it may sound, is actually enough to make a difference.
And not just a small difference, either.
If you've read our other Spotlight features, you know that thousands of local businesses all across the country have been helped by these campaigns. You know that hundreds of thousands of dollars have been raised, and that an impossible-to-identify amount of brand exposure has been achieved, even with everybody stuck at home.
From a business standpoint, these campaigns are doing wonders.
Then there's the community standpoint. As you'll see in today's feature, these campaigns have a way of bringing community together like nothing before.
You'd think competition would be expanding amid crisis — but, actually, the opposite is taking effect. Local businesses are working with each other to see returns. Individuals are spending what they can to help out others who have less.
It's in times of adversity that we start to see the character that defines our businesses and our communities. And we think that, like us, you'll be blown away by the character of today's Spotlight feature.
But this campaign isn't just big-hearted — it's also shown itself to be incredibly savvy. Its numbers are staggering, both in terms of how many local businesses are involved and in terms of the growing, and growing, and growing amount of funds raised.
If you're looking for a boost of inspiration, you're going to want to keep reading.
So, six weeks into closures and stalled business, join us in welcoming a print shop that didn't let that stop them — today's Spotlight feature: AVH Ink & Vinyl, and their Support Clinton Countee Campaign!
Hard work was the name of the game
It started back in 2006, when Angie Wurtzler was working full-time at a local newspaper publishing company. In the evenings, she'd get home and start working on vinyl graphics, in addition to layout and design.
Her goal?
To become self-employed. And, six years later, after countless nights spent putting in the work to make it happen, she was.
After Hours Vinyl was born. Offering everything from wall vinyl to window lettering, signs and banners to t-shirts, Wurtzler wanted to be as useful to her community as possible. But it wasn't just about offering variety — it was about making sure she was offering quality.
After Hours Vinyl eventually became AVH Ink & Vinyl, but that hustler mentality that the business was founded on — that determination to achieve what was in Wurtzler's heart, never wavered.
She might've stopped only working "after hours," but that didn't mean she stopped going above and beyond.
In Clinton County, the Illinois area that Wurtzler and her print shop team call home, the pandemic's effects were devastating local businesses.
Wurtzler watched as the places she knew, as the places she frequented, were thrust into unprecedented panic. She watched as the people who helped make her community so great were left looking around, wondering what, if anything, they could do.
And so, just like she'd done for the past decade and a half, Wurtzler got moving — using her ambition, and her determination, as a compass.
Everyone on board
Using the many screen printer-led campaigns already unfolding across the country as inspiration, Wurtzler and her team got to work, creating the Support Clinton Countee fundraiser.
You already know the breakdown: they invited local businesses to join in, designing custom t-shirts for them, and then those t-shirts were showcased in the campaign's online store.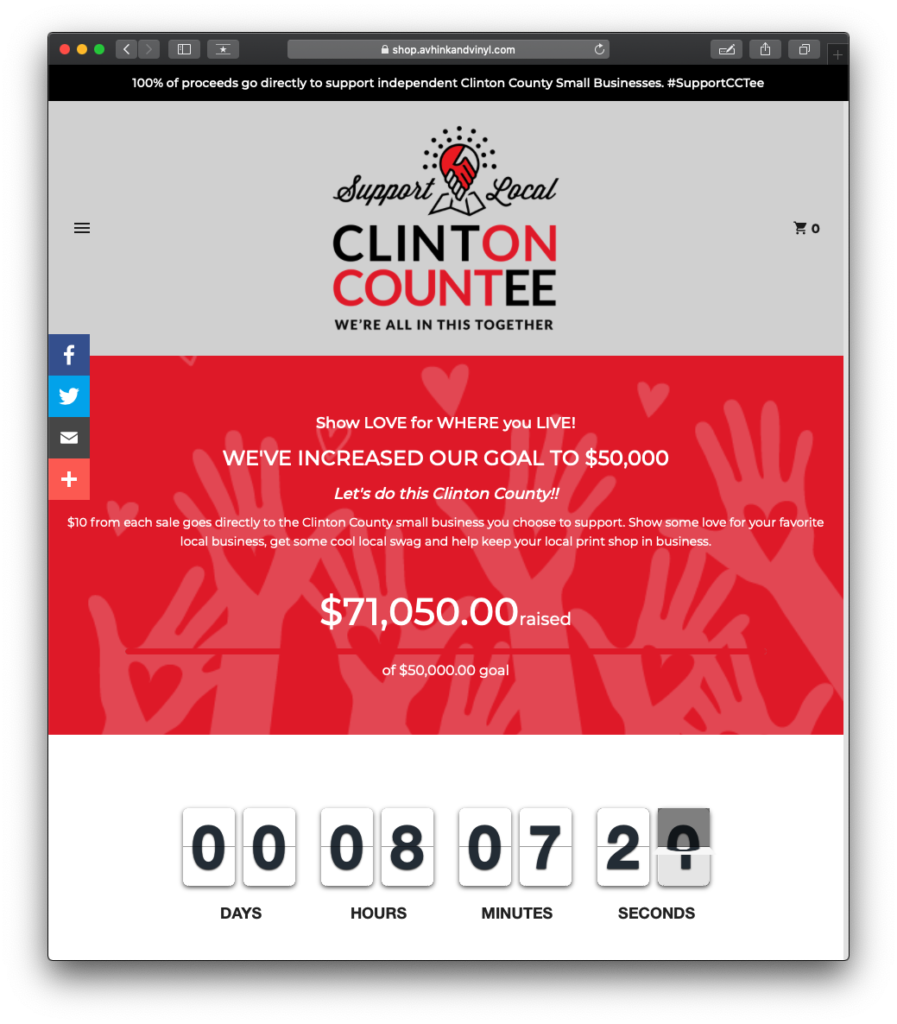 Then, the community could buy in, showing their support through t-shirt purchases, and sending $10 (for each t-shirt purchased) to the local business of their choice.
On April 22nd, the day the campaign store went live, there were 52 Clinton County businesses involved.
Today, one week later, there are 113 local businesses involved — more than double what was there last week.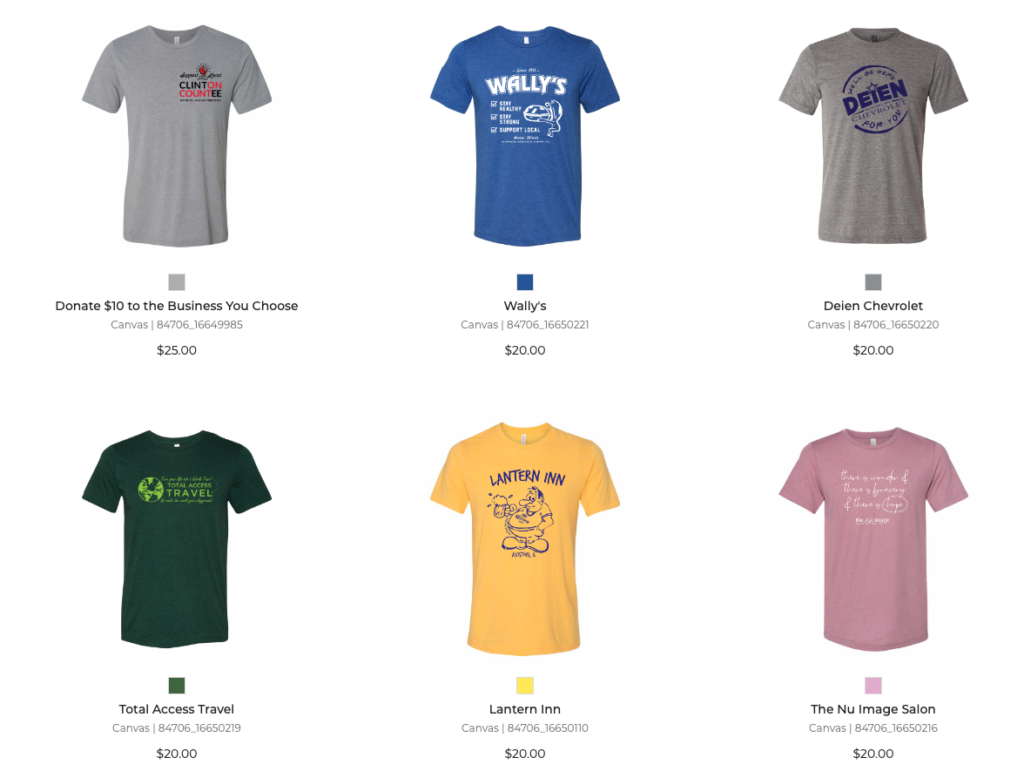 To say the campaign is growing exponentially would be an understatement. The AVH Ink & Vinyl team had an initial goal of $10k — one week after opening, they're at $25,500. Now? They have raised over $75,000.
Like we said, that hustler mentality never went anywhere.
So how'd they do it?
The snowball effect
At the beginning, Wurtzler reached out to local businesses and community members she knew to generate interest. What started with three businesses involved — including AVH Ink & Vinyl — quickly turned into something much bigger.
As Wurtzler and the two other businesses created a Facebook page for the campaign, and promoted the campaign on all of their own social media pages, more and more businesses started showing interest.
Then, those businesses started promoting the concept to their friends and customers, spreading awareness throughout their communities — before the custom online store was even live.
So, by the time Support Clinton Countee was open for business, it had more than 53 t-shirts — each with an original design — ready for purchase.
And, because there was so much anticipation and excitement already boiling around the opening date, community members were quick to visit the page and show their support.
By updating their Facebook pages with videos, and by welcoming as many local businesses that were interested as they could, the Support Clinton Countee campaign made sure it didn't just reach thousands of people — but that it impacted them personally.
And that impact led to its massive, awe-inspiring growth.
If you're reading this feature and thinking, hey, I have the capabilities to do something like that too, then here's your sign:
Do it.
Get started today — all you need is the expertise you already have, and the InkSoft technology that's waiting for you to use it to its fullest extent.
It really couldn't be easier. Use the Designer feature to let local businesses design their own t-shirts, use the Stores feature to showcase the campaign, and use the Fundraising tool to streamline the transaction process.
It's all digital, and it's all making a difference. So what are you waiting for?
If there's anything we can help you with as you start your campaign, don't hesitate to let us know. Otherwise, we can't wait to see how your initiative grows and grows, just like this one did.
Stay safe,
The InkSoft Team