Bottom Line Up Front: For this Canadian print shop, making a difference in the lives of customers was always first priority. So, when the pandemic hit, they turned that focus to their community — and the fundraising results were powerful.
Welcome back to another edition of InkSoft's Spotlight On series! Today's feature reminds us that the pandemic we've all been affected by isn't only wreaking havoc in our country.
In fact, far from it.
From Asia to Europe, Australia to Canada, COVID-19 has flown through borders and across oceans to make it clear that this is a global catastrophe. But, even as it's ravaged the norms and daily routines for billions of people, it's also shown us that we're all more connected than not.
That, in times of devastating crisis, we all rely on community to make it through.
Today's featured screen printer might be based in the country to our north, but it's proven that within our borders or not, American or not, community-mindedness still comes first. We're blown away by how this Canadian print shop has been using its capabilities to affect change, and we're pretty certain you will be too.
So, raise your glass — of beer or maple syrup — for this stand-out print shop and their incredibly moving grassroots campaign: Civilian Screen Printing and the KW-Awesome Store!
It was always in the details
Civilian Screen Printing started in the basement of Curt Crossman's college house.
He was still going to school — but when he and his friends couldn't find the quality of clothing they were looking for, he realized there was an opening for a print shop that delivered excellence. So Crossman started printing merch for local bands and began his own clothing brand.
In 2007, Civilian Screen Printing moved into its first store — in Waterloo, Ontario, Canada.
Two different office spaces and a variety of equipment later, Civilian Screen Printing had taken off. They were seeing consistent growth, and continuing to expand their own capabilities — driven by the steadfast belief that if their customers' projects did well, if their customers were happy, then they'd be doing well too.
"Detail-oriented to the core," Crossman and his team were resolute when it came to their customer service and project execution. That's why, when the pandemic hit, it didn't take long for the team to pivot — and do what they could to ease the struggle of those around them.
A Canadian community campaign
Like many of the campaigns we've seen before, the Civilian Screen Printing took their expertise — and their access to InkSoft technology — and designed a fundraising campaign that would support local businesses, and bring the whole community together.
KW-Awesome, which is a shout-out to the Kitchener-Waterloo region in Southern Ontario, was born.
Crossman worked with local businesses and local artists to design t-shirts that best represented them, with some businesses even choosing to design more than one. In addition to the t-shirts that showcased the businesses, there were also t-shirts — and hats — that proudly read: "I <3 KW."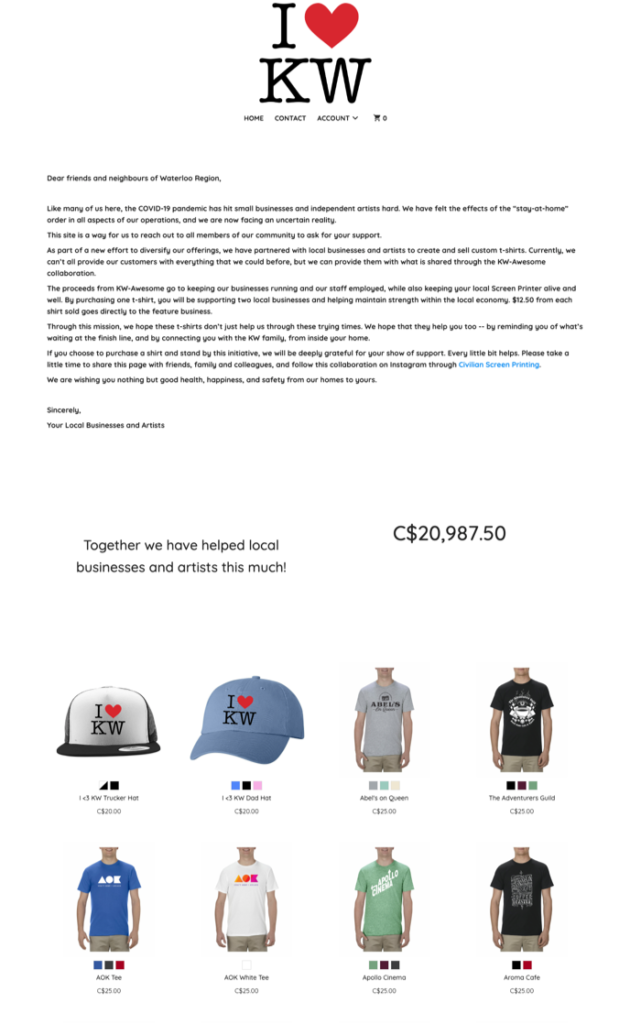 All of that's to say that, when KW community members showed up to the custom online store Crossman and his team created, they'd definitely see something that they like.
Whether it's choosing to purchase a t-shirt to support one of the 44 different local businesses involved, or choosing to purchase a "dad hat" that declares their love for the KW community, there were countless ways for community members to show up.
And that was the Civilian Screen Printing team's intention: to create a fundraiser that caused people to pay attention, that gave people actionable ways to help out, and that — most importantly — brought their beloved community together.
The breakdown and the results
In order to collaborate with local businesses and local artists during the stay-at-home orders, Crossman and his team relied on InkSoft's Designer feature. The technology enabled all parties to see the design process — and share notes — from wherever they were, which was a necessity for the campaign.
Once the businesses and artists were happy with their design (or designs), the Civilian Screen Printing team got to work adding them into the fundraising store, which Crossman created using InkSoft's Stores feature.
In all, there are 51 items available for purchase — ranging from the aforementioned "dad hat" to the Habitat For Humanity WR t-shirt, from the BRFC "Be Kind" tee to the Four All Ice Cream's "Stay Home, Eat Ice Cream" shirt. In short: there's something for everyone.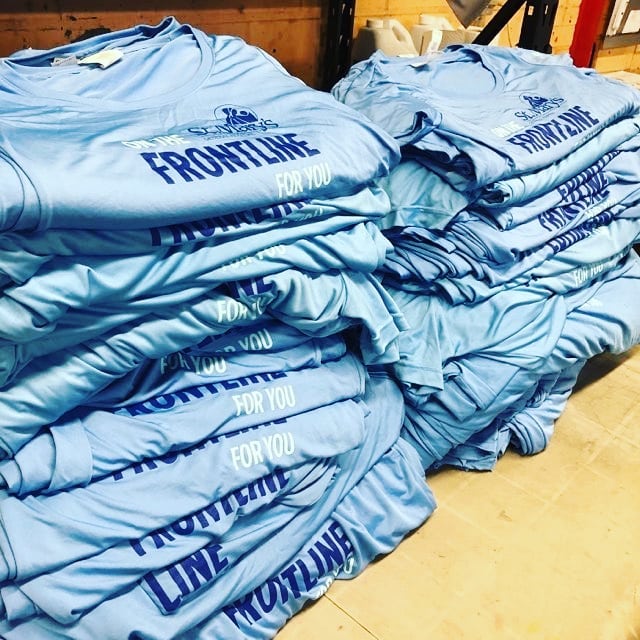 Each of the t-shirts (and hats) comes with an original design, a distinctive look, and a definite sense of quality — and, looking at the store as a whole, Crossman's commitment to paying attention to the details is abundantly clear.
From the moving words at the top of the page down to the last t-shirt at the bottom, everything about the store screams unity. It shows us that collaboration and hard work doesn't have to stop just because we've been hit by tough circumstances or stay-at-home orders.
And that's more than effective — it's inspiring.
As of now, the KW-Awesome campaign has raised more than $30k — for the local businesses, for the local artists, and for the KW community as a whole.
We spoke to the team at Civilian Screen Printing recently, and they left us with some words that made us more grateful than ever.
"InkSoft has been crucial for small businesses during this time."
As some of you know, our entire mission is oriented around making the operations — and lives — of apparel decorators easier. Especially in times like these, we've been working as hard as we can to try to alleviate some of the heaviness, and stress, on your shoulders.
So we feel incredibly grateful that businesses like Civilian Screen Printing are embracing our technology, and allowing it to make a difference in their lives. It's been an absolute pleasure working with teams like Civilian Screen Printing — teams that are driven by their ambition, their creativity, and their commitment to making a difference in their customers' lives — and we look forward to watching this campaign, and all of the campaigns, continue to see success.
Whether you have a campaign of your own running already or you're looking for help to leverage our technology for a new idea, we're always happy to answer questions. Shoot us a message or give us a call, and we'll do everything we can to help you out.
Otherwise, thanks for joining us for today's special Canadian Spotlight feature — and we can't wait to see you back here when we feature another campaign that's making a difference.
Stay safe,
The InkSoft Team