Bottom Line Up Front: A Texas fundraiser for a local Fire Chief earned some inspiring results when five local businesses — including a screen printer — came together. We break down how their teamwork led to success below.
In the decorated apparel industry, none of us are strangers to watching fundraisers unfold — especially now. Over the course of the past few months, we've witnessed — and given Spotlights to — tons of campaigns oriented around fundraising for local businesses.
And each and every one of those fundraisers has been incredible to see.
But today, given all of the chaos that's unfolding throughout the country, we thought it'd be nice to highlight a fundraiser that's a little more personal. A fundraiser that demonstrates the true power of a community coming together — for no reason other than to help a fellow community member out.
So today's fundraiser isn't oriented around a business or an organization or a movement, but it's just as — if not more — impactful. At least, that's what we at InkSoft believe. It shows us the strength of teamwork and of community spirit, and it leads us to believe that anything is possible when you have a dedicated team behind you.
So, without further ado, let's dive in.
The Background
In the middle of May, Sean Anderson, the Chief of the Fire Department in Cleveland, Texas, entered the hospital. He was in the midst of a medical emergency, and it required him to undergo open heart surgery.
The anticipated recovery time was 7-10 days. But, as Day 15 came and went, Sean was still in the hospital — and nobody knew how long he'd be there for.
His wife, Randi, was already overcome with the concern of his hospitalization — during the covid crisis, no less — and she didn't need anything else to add to her stress. But, since she was unable to work at her regular role as a nurse, she knew they needed some help.
That's when their community stepped up.
One barbeque restaurant offered to host an event. Other local businesses joined in as sponsors. And that was all it took to careen the once-modest effort forward, turning it into an all-hands-on-deck fundraiser that left the whole Anderson family floored.
The Details
Local restaurant Bailey's Barbecue jumped up to show support for Sean and Randi quickly, not hesitating to offer their space — and delicious food — to the initiative. They organized the BBQ-heavy event with the help of four other local businesses, all of which were just as eager to hop on board.
Robby and Cindy Koon, the owners of Bailey's Barbeque, donated a portion of all sales of the food at the event to the fundraiser. Neal Funeral Home, Martin Chrysler, and Scott Shuff State Farm — the other local businesses involved — each matched that donation with their own.
Good Promotions, an apparel decorator also based in Cleveland, joined those businesses in matching the Koons' donation — but then they went a step further, offering up their unique capabilities too. The team had a "Praying For Sean, Supporting 401″ t-shirt designed, and then they set it up in a custom online store.
Not only did this addition help to provide a new channel for fundraising, but it effectively made it easier for people who couldn't attend the event to show their support. And, because we all know how online stores work to expand digital marketing opportunities and reach, those t-shirts made numerous sales possible — all while furthering the promotion of the community-minded effort.
Because, for the five businesses involved and for the Anderson family, that's really what this was all about.
Community.
A community banding together to show its love for an individual who had been showing up for them for decades.
The Results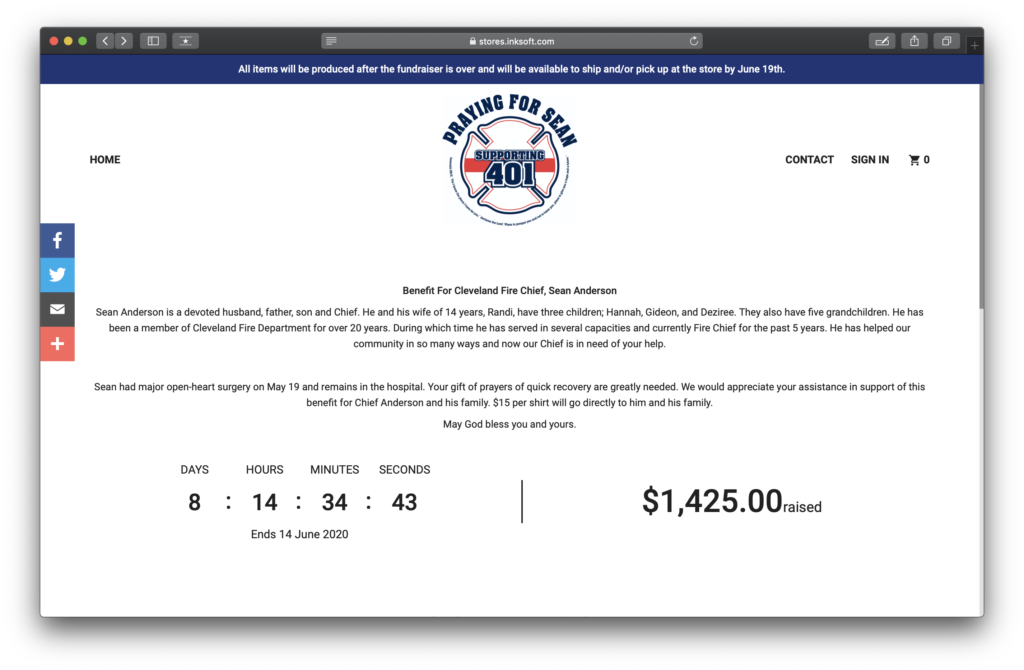 When Randi walked into Bailey's Barbeque on the day of the event, she was expecting to see familiar faces and to raise a couple of thousand dollars — maybe.
But by the end of the day, after community member after community member arrived for their plate of delicious barbeque and after each business made their matching donation, Randi was handed a check that left her speechless.
It wasn't just for a couple of thousand dollars. It was for over ten.
$10, 540.70, to be exact.
That was the final amount raised on the day of the event — but it certainly wasn't the final amount raised, hard stop. Because, even though the event was over, the online store created by Good Promotions was — and still is — running strong.
In the online store, community members are invited to purchase a t-shirt for $20. $15 of each sale goes directly to the Anderson family — which means that their fundraising is far from over. In fact, if we take into account the generosity, the big hearts, and the community-mindedness that characterize the Cleveland community, then we believe Randi hasn't seen anything yet.
If this fundraiser has shown you anything, let it be that the spirit of a community coming together has the power to help solve any problem.
If you're running your own fundraiser, don't think twice about getting other local businesses involved — they might be willing to match donations, to offer up their own capabilities, or to volunteer their time.
And, if this fundraiser has shown you two things, let the second one be this: don't overlook online stores. Even if they're created quickly, simply, or completely off the cuff — they have the potential to skyrocket your fundraiser's earnings by creating more sales opportunities than any in-person event ever could.
We hope you learned something, and we hope you got inspired — because we here at InkSoft sure did.