Bottom Line Up Front: Selling online is crucial in today's market. Use InkSoft Online Stores to create professional online storefronts for you and your customers to sell more products like these businesses.
Your shop needs a solid online presence in 2022, or you're bound to get left behind. Whether you're a tiny garage printer or a massive print shop, your customers want the ability to shop with you online. And they want a seamless and easy experience.

Looking for ways to ramp up your online presence? Great news! Businesses like yours have already seen success with InkSoft's platform!
Ramp things up with InkSoft's Online Stores and build stores that fit all of your customers' needs.
Check out these businesses that use InkSoft to create online stores for customers and are ready for success in 2022:
Fundraisers
With InkSoft's Online Stores, you can quickly build fundraiser stores for school sports teams and clubs with the store creator. Whether it's T-shirts, hoodies, or athletic wear, these Online Stores make it simple. Your client's customers can order the products they're selling, and you can focus on printing orders.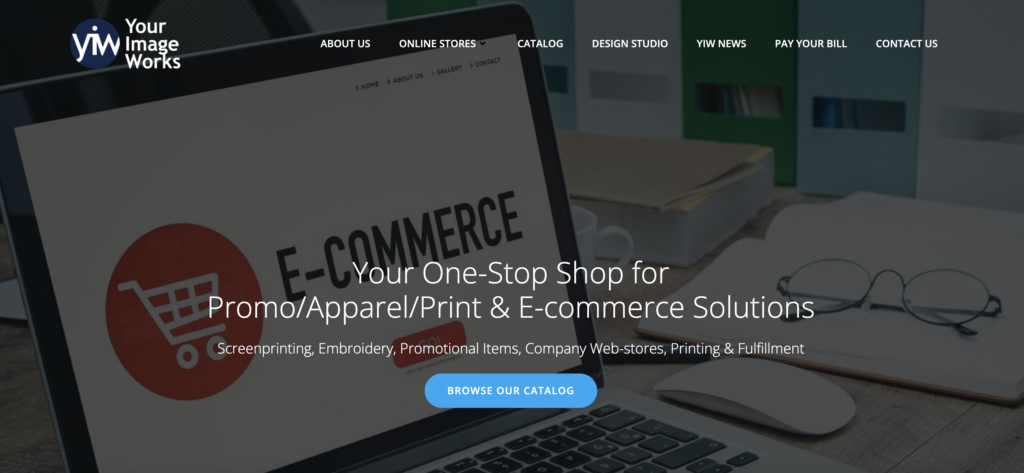 School Sports Teams
Parkway Printshop
Connect with local school sports teams using online stores. InkSoft Stores gives school sports teams a more straightforward way to sell their swag and lets families and friends show their pride with the gear they buy from those storefronts. Get those teams set up with a Store and watch your orders roll in.
Other school groups perfect for Online Stores:
Colleges & greek organizations
Schools & spirit wear
B2B or B2C online storefronts
Uniforms
Build uniform programs for your corporate customers with Inksoft's Online Stores. Corporate customers can designate the types of apparel and products to offer their staff through the store. And corporate stores can easily swap out products from the storefront. That means InkSoft Stores are perfectly flexible for those periodic changes in product needs and branding at bigger companies.
Features perfect for uniform programs:
Logo creation and management
Create product styles and colorways
Embroidery file support and thread colors
Retain production details to automate decoration instructions
Think about how many different types of customers you can assist with basic customization, all backed by the power of InkSoft's Online Stores! All three of these customer stores are different categories, but they demonstrate the power of a reliable online store. They're a testament to how a solid online presence keeps your shop one step ahead of the competition.
Ready to start building Online Stores for your customers? Contact an InkSoft client advisor today for a 15-minute personalized tour.
Related Posts: