As many of you already know, we at InkSoft love to highlight our community's hard work. We love to tell the tales of your successes, and we love to learn from your development and growth.
We know that our industry — and our world — only gets better by learning. By not being afraid to think creatively, and by not hesitating to try new things.
That's why we set up our Customer Spotlight series: to give all of you a platform for sharing with, connecting with, and inspiring the go-getters around you. And today, we have something truly special for you.
In our newest edition of Customer Spotlight, we're looking at an InkSoft customer who found herself immersed in a fundraiser with — ahem — quite a bit of star power behind it. This woman's team beat out some of the industry's biggest players in order to secure its role as Online Fundraising Store aficionado, generating some extraordinary results for an extraordinary cause.
Without further ado: our newest Spotlight. Hold for applause.
A Bit of Background
Based in Calimesa, California, Chendia Nicholass Sharp's Sharp Designs Print Shop was a small shop with a mighty spirit. Passionate about fulfilling orders that blew customers away — and brought people together — the team had a proven record of expertise in embroidery, applique, tackle twill print on demand, and glitter decoration.
But even with all of that talent, and all of that heart, Sharp Designs was still just a small player in the grand scheme of the decorated apparel industry. Sure, they were known in the community, but across the continent? Across the ocean?
When Chendia first heard about the opportunity, she knew that there'd be bigger fish trying to grab ahold of it. She even presumed that some of the biggest fish out there — like Custom Ink — would be vying for the gig.
But that didn't stop her. Armed with confidence in her team's ability to deliver — and the e-commerce technology necessary to make it happen — Chendia refused to back down.
And guess what? She was the fish that won.
The Project
Marcus Mumford, of the little-known — we're joking — band Mumford & Sons, has been a Global Ambassador for War Child UK for some time. The organization, whose mission is to protect and support children threatened with the violence of war around the world, has offices throughout Europe and North America.
While efforts from War Child are typically oriented around the urgent dangers of conflict, 2020 has seen them pivot their efforts to reflect our world's newest threat: Coronavirus.
With children in developing nations strapped for the resources they so badly need to protect themselves from risk of infection, War Child UK jumped to action — and Marcus Mumford was right behind them. Seeking to organize a fundraising event for some of his most loyal fans, Mumford knew he had to work with the limiting Covid regulations and still, when it came to the actual fundraising, aim high.
That meant he'd have to go virtual. But with the right partner, he could also keep some elements in the physical world.
The official plan was to host an intimate live-stream concert, entitled "At Home with Marcus Mumford," and open tickets up to the band's online fan group, Agora. A significant portion of proceeds would then go to War Child UK — and help children around the world stay safe against this unprecedented virus.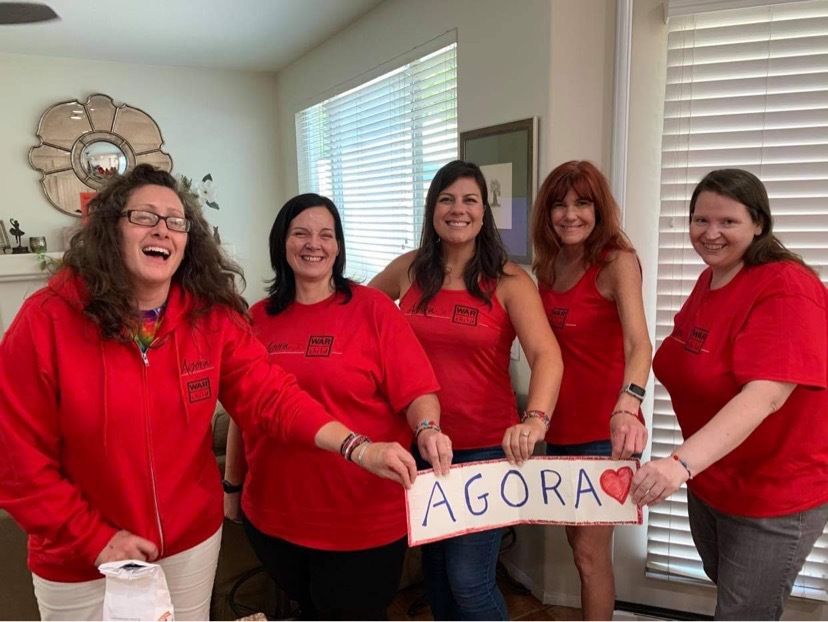 But more than just the virtual event, Mumford and the organizers wanted a way to drive more fundraising — and give event attendees a way to commemorate their experience. So they started looking at apparel decorators and print shops to partner with, in order to produce some event-specific merchandise and go the extra fundraising mile.
The Success Story
Working with Mumford and the event organizers, Sharp Designs designed custom merchandise — including t-shirts, tank tops, hoodies, posters, and decals — and set it all up in a custom Online Fundraising Store.
The result? An easy-to-access, quick-to-navigate, on-brand e-commerce experience that attendees could pop in and out of at their leisure. With the wide array of merch, the 24/7 "open" hours, and a complete order fulfillment service included, buying products couldn't have been easier. And that led to a significant increase in fundraising.
All in all, 357 t-shirts, tanks, and hoodies, 112 posters, and 123 decals were sold — to attendees from 15 different countries. Chendia and the whole Sharp Designs team designed, produced, and shipped each of the orders, letting their InkSoft Online Stores system take care of the nitty-gritty logistics so they could focus on the important stuff: getting as many products sold, and as much money raised, as possible.
The results were so successful that Mumford decided, after the first show, to host another one. The store remained open, and money continued to roll in.
And the result? More than $30,000 donated to War Child UK.
That's more than $30,000 that's going to help children in war-torn nations access the personal protective equipment — like face masks, hand sanitizer, and gloves — that they so desperately need.
The Wrap Up
This Customer Success Spotlight is an excellent example of three very important, very telling values — conveyed so beautifully by the Sharp Designs team.
Even when the competition was crowded, and the path to winning the sale seemed daunting, Sharp Designs never backed down. They were confident in their offerings — and confident that they were the right team, with the right capabilities, for the job. Confidence and determination lead to results.

Never fear growth. Whether it's taking on projects bigger than you're used to or bringing newer technology into your operations, moving forward always seems nerve-racking at first. But those progressions will open the door to more learning, more developing, and more opportunity than you'd ever be exposed to otherwise. So rely on technology, like Sharp Designs did — because it's your secret weapon.

Giving back to those in need is the name of the game. The individuals and businesses that take the time to work hard for community-minded initiatives, that do what they can to offer more to the less fortunate, and that take part in endeavors for the genuine reason of helping others, are the individuals and businesses that people want to work with. Since closing this event's Online Fundraising Store, Sharp Designs has been invited to work on two new apparel fundraising projects for the same organizers. The legacy of hard work, high-value, and community care never dims.
So, we hope you take this Spotlight and run with it. We hope you learned something from the small print shop with the mighty spirit, and we hope you felt a beam of inspiration — and are ready to get your own team thinking creatively.
Remember: with the right technology behind you, and the right determination inside you, anything is possible. If you haven't already adopted InkSoft's Online Stores into your operations, we highly recommend taking a look at everything they can do for your business. You can find all those details here.
Until next time. We can't wait to see all that you accomplish.