We know that you're all busy trying to produce the best products, and the best buying experiences, for your customers. We know that you're working hard to stay on top of the trends and the innovations and that you're working even harder to try to differentiate your business from the print shop down the street.
It's a competitive world out there. But hear us out: that's not actually a bad thing.
We know that competition breeds growth. That when you're pushing to distinguish yourself, you're pushing yourself harder to learn more. To offer more. To grow.
We've been taking stock of many of you for the past few months — observing as you pivoted to meet challenges, adapted to meet needs, and expanded your capabilities and know-how to meet your potential.
And we've been enthralled by seeing your success.
So we decided to start showing it off. Not just to sing your praises, but to give other decorators a way in. A way to learn new tips, understand new creative ways of thinking, and to feel inspired to adopt new ideas of their own.
First up to the bat is a screen printer based in Salinas, California. Known for its sports apparel design prowess and its minimalistic identity branding, Creative Design League takes its… well, creativity seriously. And that comes across in everything it touches — in ways we can't ignore.
From its incredible Online Store branding to the expertly designed and curated products it gives its customers, the Creative Design League has really taken the notion of industry artistry and pulled it up to a whole new level.
So, without further ado, let's get a good look at some of the magic they've been doing — and hopefully inspire some of you to start thinking about your own capabilities along the way.
The Online Store
Before end-consumers receive their products, they're faced with an Online Store — which gives your customers' Online Stores the power to make or break a sale. Bland stores with boring designs and generic messaging do little to motivate consumers into making a purchase, but stores with personality?
Stores with on-point branding, flushed-out graphics, and messaging that speaks right to their audience?
Those stores give their audiences something to relate to. They give their audiences the motivation to buy-in and the sense of community that they crave once they do.
The team at Creative Design League knew all of this when they started on Pajaro Valley High School's Online Store. They knew that it wasn't just about the ease and convenience of an e-commerce buying experience, but that it was also about reeling consumers in with a wow-worthy design.
And "WOW" they did.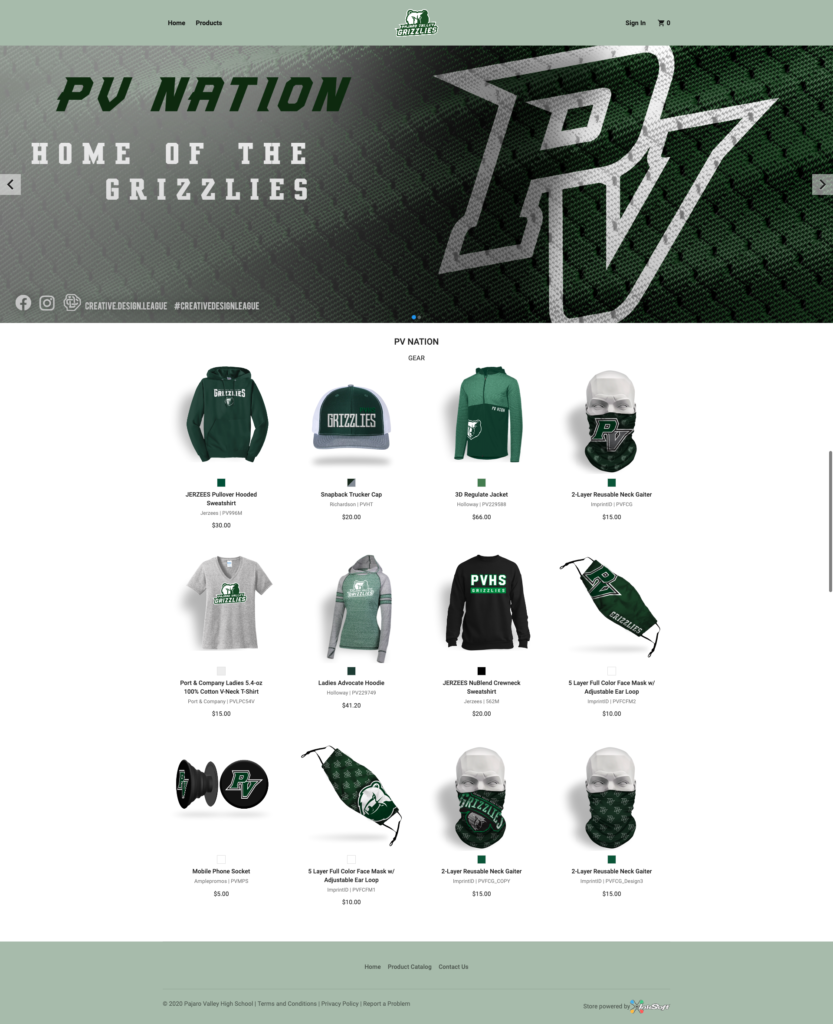 With an Online Store that aligned with the "˜PV Nation' product line — in terms of coloring, font style, and messaging — site visitors got a clear, punchy sense of branding right when they landed on the page.
And that worked to evoke an even stronger sense of community from the start. Sure, most of the site visitors were likely already part of the PV High School community anyway — but that doesn't mean that every product purchase would be a given.
Through thematically in-sync banners, a stunning product presentation, and the type of messaging that the PV students, teachers, and families wanted to read, Creative Design League pulled them in. They made it clear that it wasn't just t-shirts and hats that were for sale — it was ways to be a part of something bigger.
And that gets end-consumers clicking "Buy Now" faster than any piece of clothing — no matter how pretty.
The Product Offerings
One of the hardest parts about preparing a product pitch for customers might just be narrowing down the options. As decorators, you never want to overwhelm (or "option paralyze") your prospects, so choosing the perfect curated range of apparel, items, and designs is crucial.
Creative Design League did a stand-out job of that — and it really comes through with this Online Store's presentation of products.
With 12 products on offer for this store, including five apparel options, five PPE options, one hat, and one pop-socket, there's something for every consumer — and it's all designed with the same overall branding.
That means the t-shirts and jackets complement the face masks and trucker cap perfectly, and that they all go nicely with the "PV" branded pop-socket. Because the designs are so well-defined, they flow seamlessly from one item to the next, working to establish an energized community identity that Pajaro Valley students, teachers, and families want to invest in.
And because those expertly-designed products are presented in an Online Store that possesses the same stylistic alignment, it's an overall experience that results in more excitement, more urgency, and more sales.
Another trade secret the Creative Design League team used to their advantage? They applied a shadow to each product, giving it more dimension and more texture — which also works to ramp up visual appeal. It might sound like a subtle trick, but we'll be the first to tell you: it makes a big impact for on-screen buyers.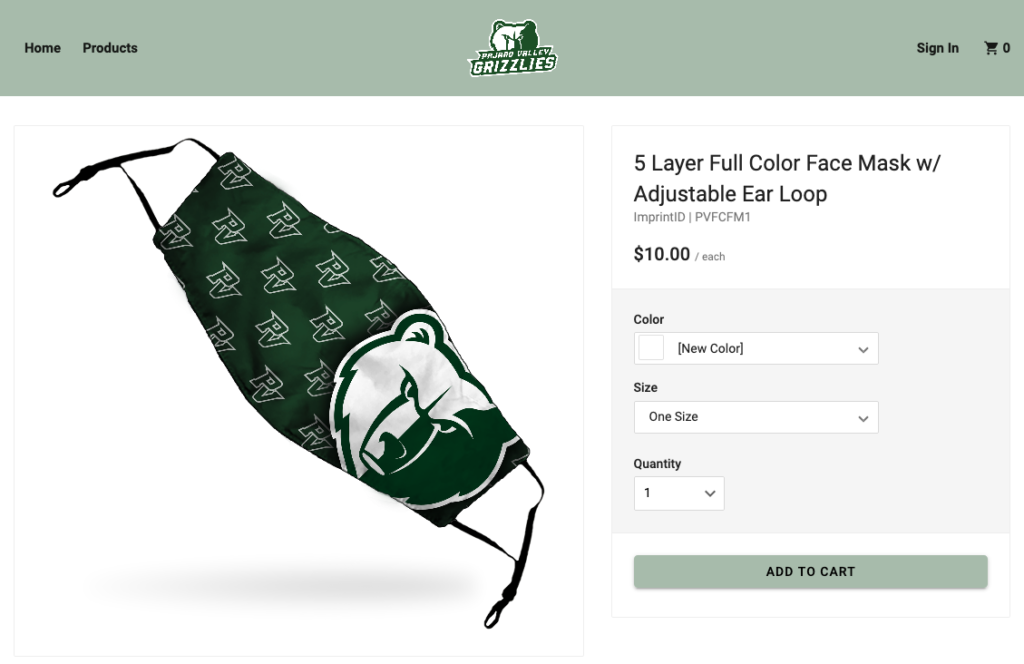 That's the power of kickass design.
The Digital Marketing
Here's the thing: you could set up the most incredible Online Store for a customer and fill it with the most inventive and remarkable line of products, but if no-one knows about it… you're not going to see the results you should be seeing.
That's why digital marketing should be in every apparel decorator's back pocket. It's the liaison between your hard work and your end-audience — and even though it's technically the responsibility of your customers to be promoting their goods, you certainly have good reason to be invested.
Creative Design League used that rationale to drive its digital marketing prowess. The team wasn't only concerned about aligning product designs with the design of the Online Store — it also focused on spreading those designs beyond the site. To social media.
Both screen printer (Creative Design League) and customer (Pajaro Valley High School) did their fair share of posting, using their platforms to spread awareness and interest in the new product line. And that interest was furthered by a new Online Stores feature: the Store Preview Image feature.
The team at Creative Design League knew that posts on social media with eye-catching visuals tend to do much more for the desired effect (results!) than boring, generic, or too small/too big images. So they produced images that did the Online Store — and the offerings inside — justice.
The right graphics. The right colors. The right style.
These visuals got the right audience's attention at the right time — and generated real results.
Aside from using posting on digital media to increase site awareness — and sales — Creative Design League also knew that its posts were accomplishing something else. Its posts were showing off its capabilities.
Digital marketing is both a short game and a long game; on the one hand, decorators use it to promote live stores and product lines for maximized returns — but on the other hand, they use it to help build the value of their brand. And that not only impresses current customers, but it also helps to persuade prospects of their talent.
And there's nothing better than doing things now that lead to better results later.
Cutting-Edge Capabilities, Stunning Results
As you can see from this Customer Showcase, the InkSoft Online Stores framework is essentially a blank notebook. You have the power to use it however you see fit.
Creative Design League chose to put its all into designing an extraordinary store, a compelling range of products, and a social media strategy that spoke to end-consumers.
With the store, the team used banners and messaging to heighten the connection end-consumers felt with the offerings. With the offerings, the team strived for simplicity and diversity, producing a perfectly curated range of apparel and accessories — so there was something for everyone. And with social media, they leaned on their own design aptitude — and a certain little InkSoft feature — to equip their customer to share posts that matter.
To share posts that drive maximum impact.
This is a real-world example of what happens when an apparel decorator's commitment to the craft, and to industry innovation, meets a strong technological foundation. By thinking creatively about how they could achieve the most with InkSoft's capabilities, the team behind Creative Design League pushed themselves to create better. To leverage what was in their arsenal. And to grow.
Our only question for you is: are you going to follow their lead?
---
InkSoft Stores, the industry's best online store platform
With InkSoft Stores you can quickly build customized e-commerce stores for your all of your customers. Book a consultation with our team today to see the power of InkSoft online stores.