Bottom Line Up Front: The legalized cannabis industry is a growing and profitable market. Find out how you can use InkSoft's tools to print and sell merch in this booming marketplace.
Selling custom merch online successfully always comes back to finding profitable niches. And one of the biggest booming industries right now is the legalized cannabis market. As of publishing this blog, there are 18 U.S. states where recreational marijuana is legal, Washington, D.C., and the U.S. territory of Guam.
Depending on your state, there are potential marketing opportunities you can tap into with custom apparel and promo products with online stores. It's a lucrative market, and currently, there don't seem to be any signs of it slowing down. In 2021, the cannabis market cracked almost $15 billion, and by some estimates, it's projected to surpass $25 billion by 2025.
Know the rules
Before you start lighting up your local dispensaries with emails or calls, you'll want to double-check what kinds of regulations your state has on advertising for cannabis. For example, some states like Rhode Island don't have any restrictions. In contrast, states like Massachusetts are very restrictive on what kinds of printed products dispensaries can sell and display. And in New York State, promo materials require approval by the state before dispensaries can sell or display them. Knowing and following your state's regulations will ensure that neither your shop nor the dispensary you are doing business gets hit with hefty fines. If your shop already has a lawyer, it's worth conferring with the experts. The wording in some state laws is complicated and confusing to those not versed in legalese.
Providing you can print merch for dispensaries according to your state's laws, let's look at how you can capitalize on this opportunity and how InkSoft's tools can help you get there.
Online opportunities
Like any other printed merch job, custom products for local dispensaries will require professional designs to print on their swag. You can use the powerful combination of InkSoft's art approvals and quotes to jumpstart that conversation. Whether you're looking to offer up apparel and headwear or smaller promo goods, you'll be able to create online mockups quickly, so dispensary management can see exactly what your business is capable of without printing off samples. Companies can review and approve your presentations all online so that you can move quickly to production.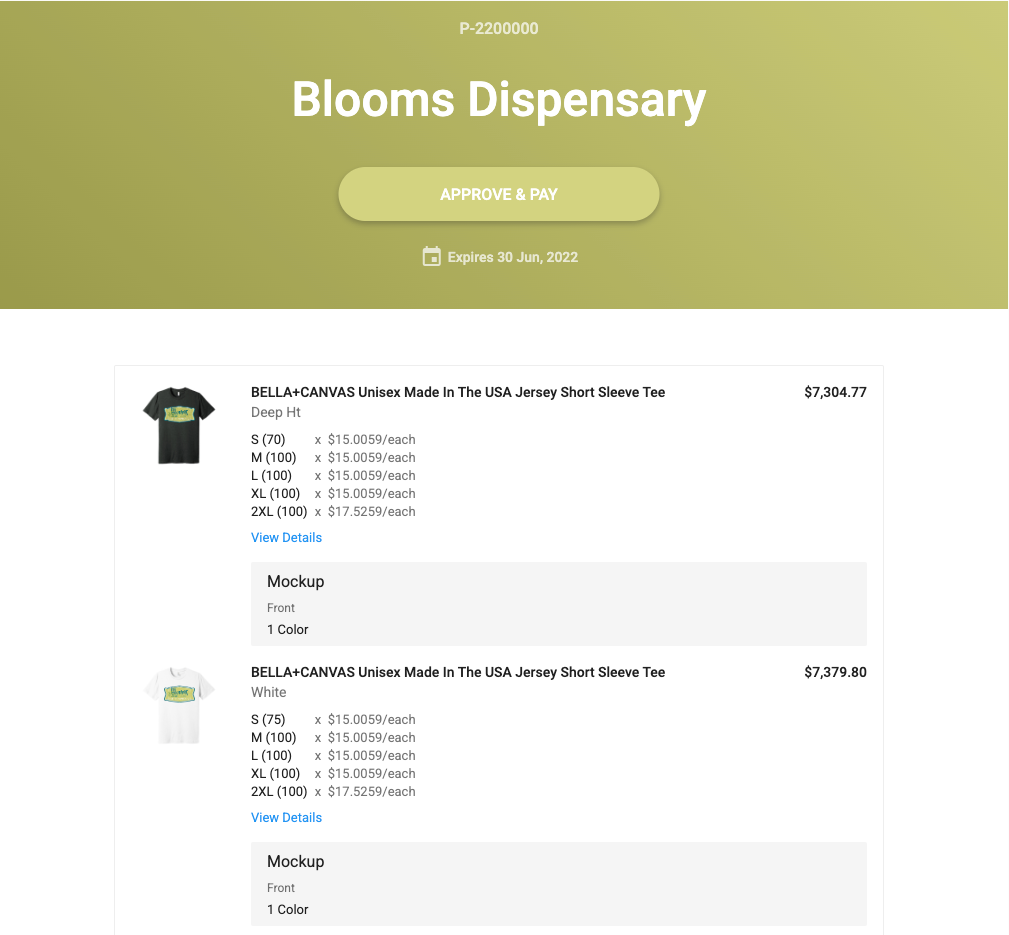 InkSoft Stores also present a massive e-commerce opportunity for your shop and dispensaries if your state allows online branded merch for said businesses. If the dispensary has its own website, they can easily link to an InkSoft Store from their page. Thanks to the flexibility of InkSoft Stores, businesses can rotate out the types of products they're selling on the site so that users always have a new selection of merchandise to choose from.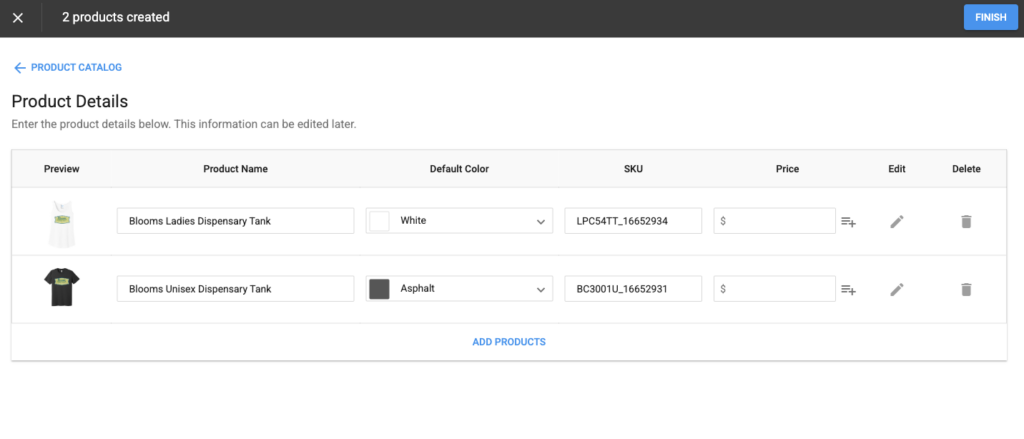 InkSoft's Rapid Product Creator makes it easy to mock up all types of products, whether it's apparel and headwear or totes and koozies. If the dispensary wants to add its branding to a broader array of products, you can easily and quickly apply that design across various items.
NOTE: This is another area to double-check the fine print in your state about what kinds of printed merchandise are allowed for cannabis businesses. The rules vary regarding who can purchase merchandise and the imagery permitted on printed products.
Types of customers
There are a couple of different avenues for selling printed merch to the cannabis market for sales opportunities.
The two most significant categories are:
Dispensary Employees: People working at these businesses need to be outfitted with apparel and accessories consistent with the shop's branding. You can be the go-to source for these printed products, but you can also use InkSoft Stores to set up an employee-store where team members can order all the gear they need for work.
Hoosier Jiffy Print set up a storefront for Timber Cannabis Co. with the dispensaries logo. The artwork was easily applied across multiple apparel items to offer a variety of ways to rep the brand.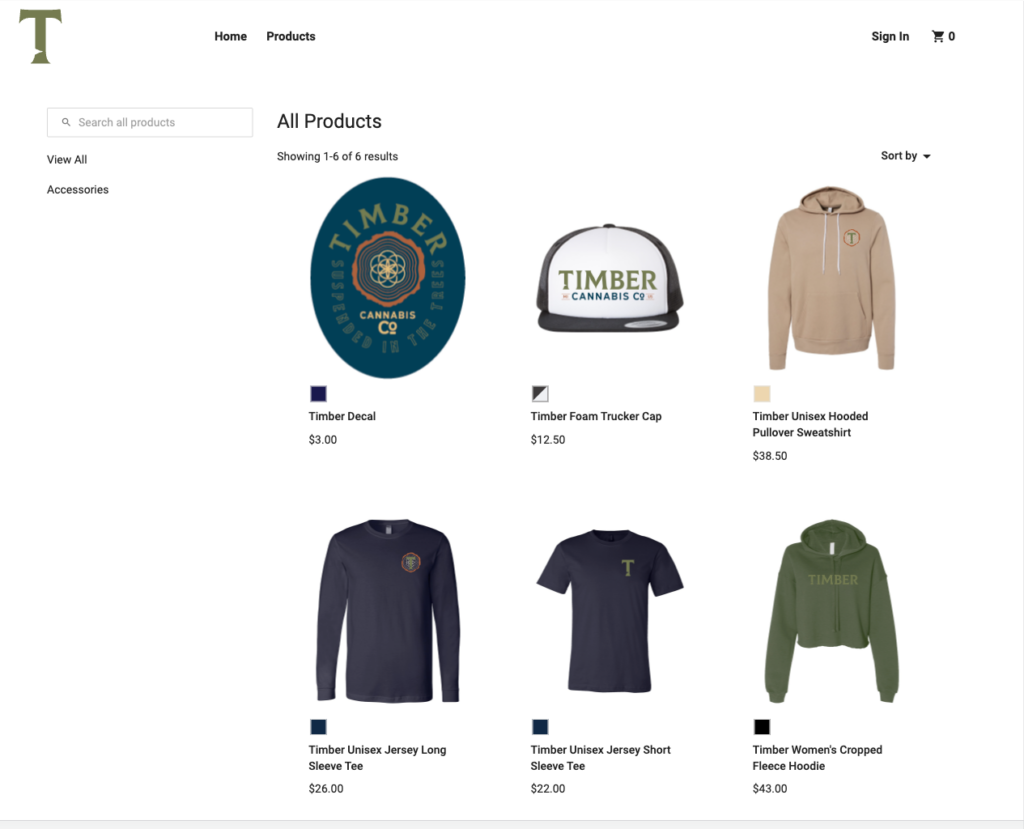 Store Customers: Offering patrons branded merchandise is an excellent way for these businesses to build brand loyalty and awareness. This merchandise can be either paid or giveaways (If it's allowed. Some states prohibit cannabis-themed giveaway merch from dispensaries). You can help facilitate customer merch sales for these shops in a few different ways:
Retail: Like other retail clients, you can print goods that shops can offer at point-of-sale in the dispensary as an add-on or upsell.
Online add-ons: Sell custom merchandise online in the dispensary's online store/ordering system. Many dispensaries offer online order placement with pickup, an excellent opportunity to cross-sell merch. Digital payments aren't available since banking and card processing aren't available to merchants in this industry (since cannabis isn't federally legalized). However, shops can still add swag to their store inventory which customers can select and pay for at pickup with their other goods.
Online hosted merch store: You can use InkSoft Stores to offer a fully-hosted online branded merchandise experience and store for customers.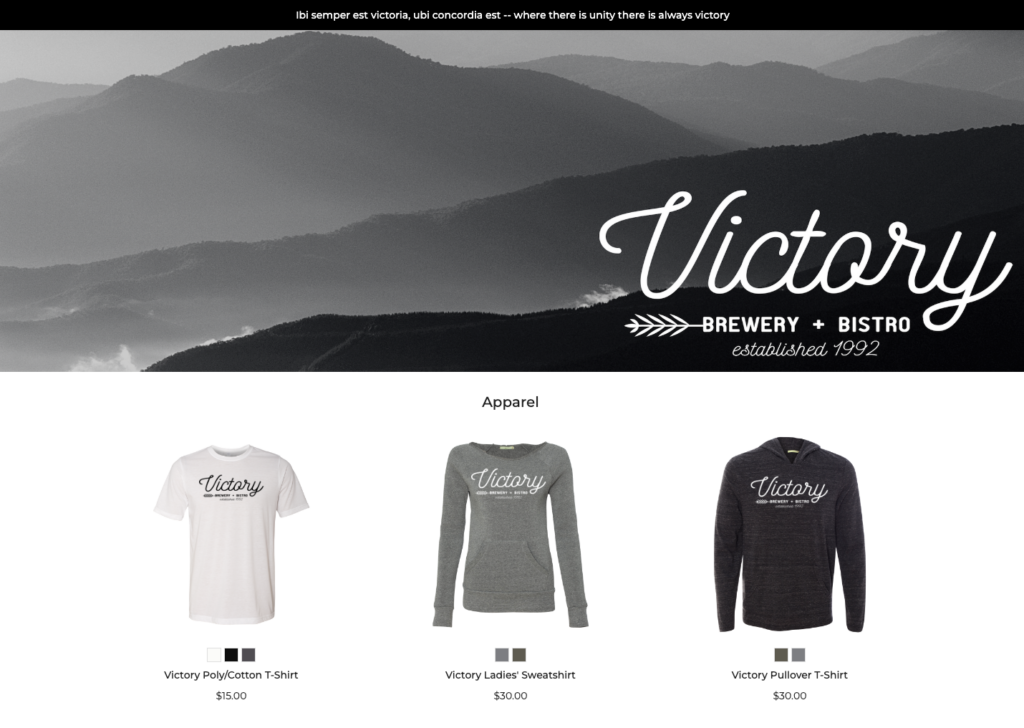 Merch stores like this brewery shop are a great example of how your customer can sell more merch to their end customers.
A diverse merch opportunity
The first thing people probably think of when marketing to a dispensary is custom-printed T-shirts. But with the power of InkSoft's Rapid Product Creator and a traditional cross-sell, there's so much more opportunity in this space. Here are just a few popular items you can mockup and suggest as a cross-sell with apparel for dispensaries:
Branded bags (reusable tote bags or other printable bags)
Lanyards (for store staff)
Custom packaging
Air fresheners
Water bottles
Storage containers
Matchbooks
Lighters
Sunglasses
Stickers
Bottle openers
Exploring opportunities in the cannabis market can take a little bit of extra work at the start to learn state regulations. But it's another excellent way for your shop to solidify its reputation as the single trusted source for printed goods in your town and state. And, if the trend keeps up, there may even be more significant opportunities to print and sell merch to the industry nationwide.
Ready to tap into profitable and growing markets like this one? Contact an InkSoft Client Advisor for a 15-minute, personalized tour.
Related Posts: