Bottom Line Up Front: Fundraisers are perfect for connecting with other businesses and organizations, but you need to run them with the right tools. See how InkSoft can help you run a successful online fundraiser with a powerhouse e-commerce storefront and other handy tools.
Fundraisers are an excellent way for print shops to get involved in their local community and connect with customers. Plus, with online stores and e-commerce, it's much easier for shops to help run successful fundraisers for causes and organizations across the country. However, successfully running a fundraising campaign requires essential components like an easy-to-use online storefront and understanding between the print shop and their customers. Let's look at five steps to creating a successful online fundraiser and how InkSoft can help with that strategy.
Find a cause and a partner
The first step in setting up an online fundraiser is finding the right partner and cause. Your shop can also run its own fundraising effort, but finding another organization or business to partner with will often yield better results since it'll combine your customers and its followers. These partners could be some of your longtime customers, other local businesses, or even an organization you've never done business with previously that has a cause you want to support. Some common categories of fundraisers include:
School spirit: These fundraisers are often the most common since school causes always need funds throughout the year. Whether to support the local football team, drama club, debate team, or another school group, you can use online stores to sell printed merch.

Disaster relief: Online stores can be a reliable tool for raising funds in emergencies like natural disasters. Your shop can run a campaign like this on your own or partner with groups like local fire and emergency services.

Charity benefit: Charity fundraisers are a broad category including local, regional, national, and international causes. This is where your shop can genuinely decide how it wants to help out by partnering with groups helping out in everything from local homelessness to global crises.
With an InkSoft Online Storefront, you can quickly and easily build a storefront for any of these fundraiser categories. The built-in style editor allows you to match the customer's branding and message and a color scheme that fits their campaign. They'll have an easy link they can send their supporters to purchase goods to contribute to the fundraiser.
You'll have a store that connects to other InkSoft tools like Production and Order Manager so that it's easy to keep track of order quantities and sizes.
Identify products
After selecting your cause, the other big part of fundraisers is determining the types of products you'll be selling to raise money. The most common one is typically a custom-designed T-shirt that carries a message related to the campaign. Still, it can be any sort of tangible printed item. In fact, adding more customized products to a fundraising campaign makes it more enticing for people to donate since they'll get more choices for their contributions.

Adding more items to a fundraising store is simple, too. You can use InkSoft's Rapid Product Creator to add any finalized artwork to a product and add that product to the fundraiser store. Similarly, suppose you or your partners decide to pull an item from the store. In that case, you can easily do so with minimal backend work.
Since not everyone wants to get something in return when it comes to fundraisers, you can also add a simple donation button to your online store. Even though this option isn't technically a product, it gives a whole other set of supporters a way to contribute to the cause.
Set goals and understandings
This step isn't universal since every fundraising campaign has its own set of desired outcomes. However, there are a couple of criteria that you can set with your customer:
Date range: Establish when the fundraising store will open and close with your customer. This helps create urgency for supporters to make a purchase and show their support before it's too late. And, it helps you and your team plan out production in advance since you'll know when the last orders will come in. You can set a date range for your fundraiser store so it'll close on the agreed-upon date, making things easier for both parties.

To go the extra mile, you can add a timer to your store to remind supporters of when that fundraiser ends, adding a little more fuel to the urgency.

Once that store is closed, you'll have all your orders ready to process and all the critical information stored inside InkSoft, so you can quickly move ahead to production and start printing off that custom merch.

Campaign goal: This goal can vary depending on the customer, but setting a target also helps build excitement for the fundraiser. Maybe your customer wants to sell 100 shirts during their campaign, or they want to raise $8,000 during the fundraiser. You can also add a counter to the store page that shows goal progress, which helps build enthusiasm with customers.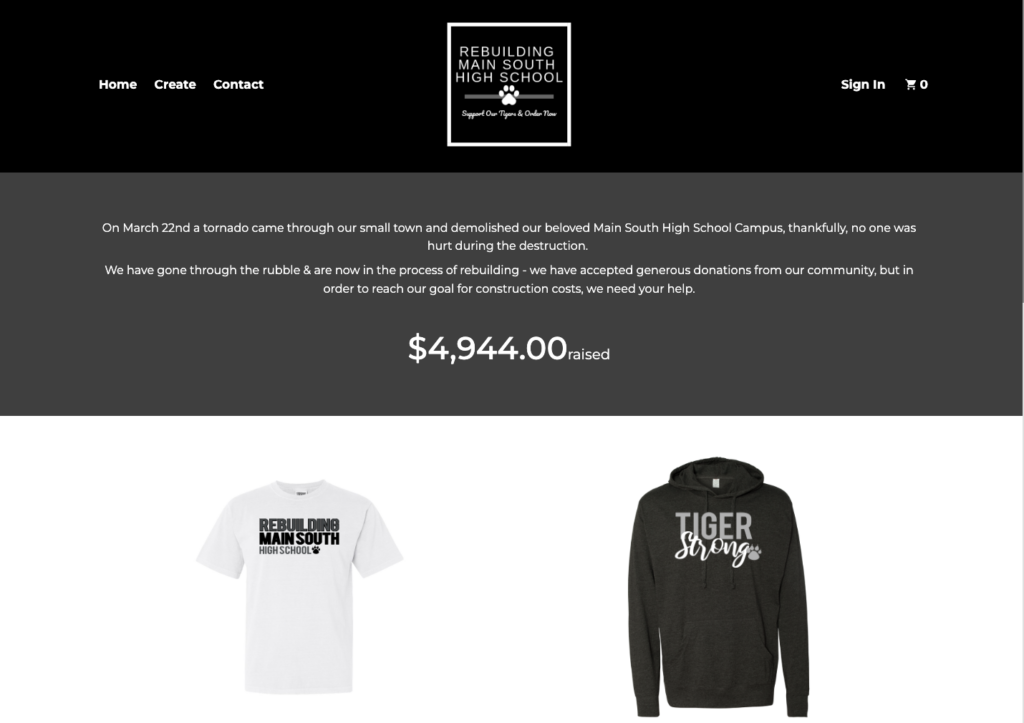 Spread the word
Central to any successful fundraiser is getting the word out as soon as possible and frequently reminding people to support it while the campaign is active. A big part of spreading the word with online fundraisers is to share the link to the store across your social media and email channels. And, if you're partnering with another business or organization, they must do the same.

If you and your collaborators need some simple, ready-to-use templates to spread the word to people about your fundraiser, check out some of our marketing kits. You can use these kits to set up social media posts and email blasts faster since they feature sets of prewritten copy. All you need to do is drop in core details like your business name and a link to your store.

Spreading the word effectively also means keeping the campaign as simple as possible. Suppose you and your team use InkSoft Stores. In that case, you'll have a mobile-optimized platform that supporters can easily click through and shop from on any device, increasing the chances of more supporters, regardless of where they're browsing from.
Share the story
Once orders are printed up and shipped out, there's still a little work to do. Make sure you and your partners share the story of how your fundraising efforts went. This doesn't need to be a long story, but a simple social post tagging the organization or group you raised money for with some information on how much you raised is a great way to let people know what kind of work you did. This strategy is vital for a couple of reasons:
keeping your shop top-of-mind for anyone who might be interested in running an online fundraiser in the future.
showing the organization that you helped out and made an effort to show your support.
helping solidify your reputation not just as a shop that cares about fundraisers but as a business that customers can rely on for important print jobs.
Following up
After running a successful online fundraiser with an organization, staying in touch with that group for future orders is a great idea. Whether that's a biannual check-in or a yearly note, this strategy will remind that group that you're ready to collaborate on a new store whenever they're interested. With InkSoft's CRM and order management tools, you can pull up your previous orders and quotes to start with core details already set to go.

Using InkSoft Stores for your online fundraisers gives you the powerful combination of top-notch e-commerce with easily customizable storefronts for all types of good causes.

Ready to start running better fundraising campaigns today? Contact an InkSoft Client Advisor for a 15-minute, personalized tour.
Related Posts: