Bottom Line Up Front: You need a reliable website to run your print shop in 2022. Find out how InkSoft gives you all the essential tools to do more business online.
Having a professional, reliable website is central to doing business in today's digital world, and it's just as crucial in the custom printed merchandise industry as in every other market. Whether you're a printer that deals solely with local customers or regional and out-of-state clients, most of those people want an easy, secure way to do business with you online.
And those customers aren't just looking for an online checkout solution. They want a shop that can handle business from the mockup phase through order shipment with online tools. If your shop needs a business website, find out what features you need and how InkSoft equips you with the right tools.
Room to Grow
One of the biggest headaches print shops face with running their website isn't necessarily the initial setup but updating and expanding it to reflect the business's growth. And once a business's website becomes increasingly outdated, it can give customers the wrong idea about how agile and successful your shop is.

Think of it this way: your team is busy keeping up with the massive stack of orders that need to ship out that month and the invoices from your regular customers are rolling in. But since you're so busy with production, no one's updating the website.
The product offering and layout on your site that you set up a year or two ago might suggest you're the smaller printer that can only handle a couple of onesie/twosie orders a week. Without a business website that reflects your shop's current capabilities and product offerings, there's a good chance new customers will visit the site and move on because they're not sure if you can handle the volume.
So how can you get around this dilemma and avoid those new customers going elsewhere?
With InkSoft, you can create an e-commerce business website designed to quickly expand your shop's growth so you'll always look up-to-date. You'll get tools like:
Easy-to-use feature library and style editor: Use InkSoft's style editor to change the look of your webpage and easily add new components like buttons, additional text, graphics, or other elements without any complicated backend work.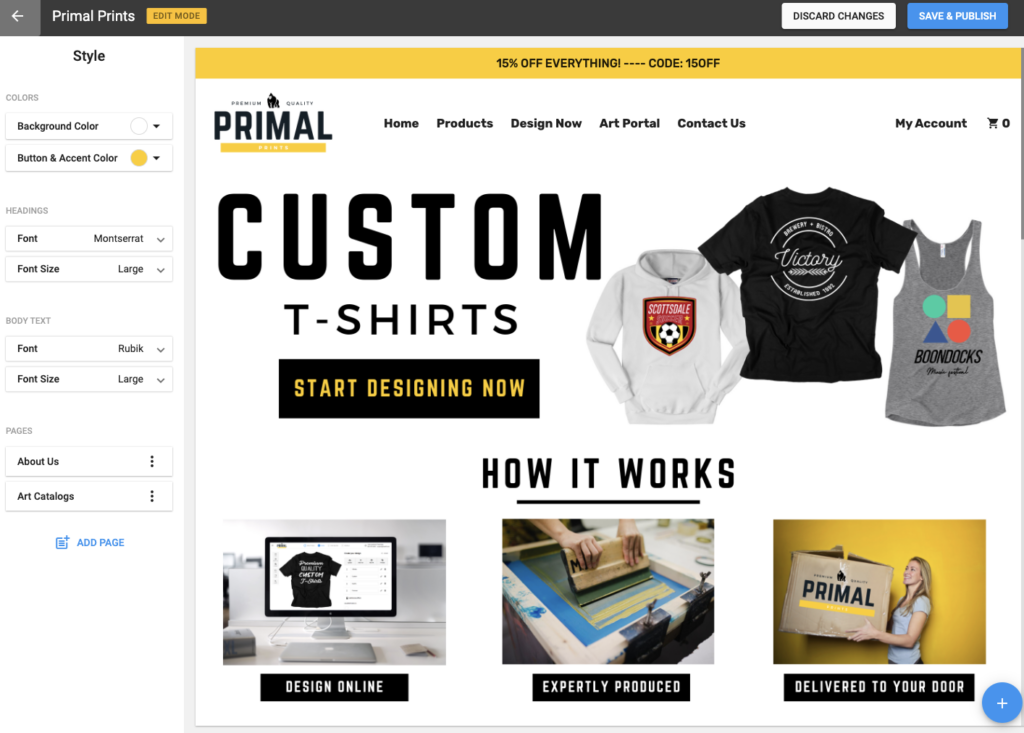 These tools also allow you to add custom text, easily updating any details you want to share with shoppers, whether that's an updated address, new services you're offering, or other essential information.
Add more pages: As your business grows, you might want to add separate sections for different products or services you offer to keep things organized for customers. You'll be able to add new pages, assign custom titles, and link to them on your main page so your customers can find everything you offer.
Tech support: Shop owners usually hit a snag when updating their business website, which is why it never gets updated. Whether they don't have the tech skills or just not enough time to deal with backend work, it ends up being a "set it and forget it" situation. InkSoft Support is equipped to help shop owners walk through whatever questions they have regarding expanding their website to fit their growing business. And, that robust support is available long after the initial setup phase, so you won't be stuck figuring out questions on your own.
E-commerce functionality
As we mentioned earlier, regardless if your customers are up the street or three states away, they want convenient options for doing business online. Setting up your shop with a store through InkSoft gives them a mobile-optimized experience. That means regardless of what device they're visiting your website from, they'll have a positive experience every time, whether they're reaching out for a quick quote or paying off a big invoice.

Plus, they'll get other significant benefits integral to e-commerce like:

A safe and secure checkout process: Customers can pay online with confidence that their information is safe and secure with an InkSoft site.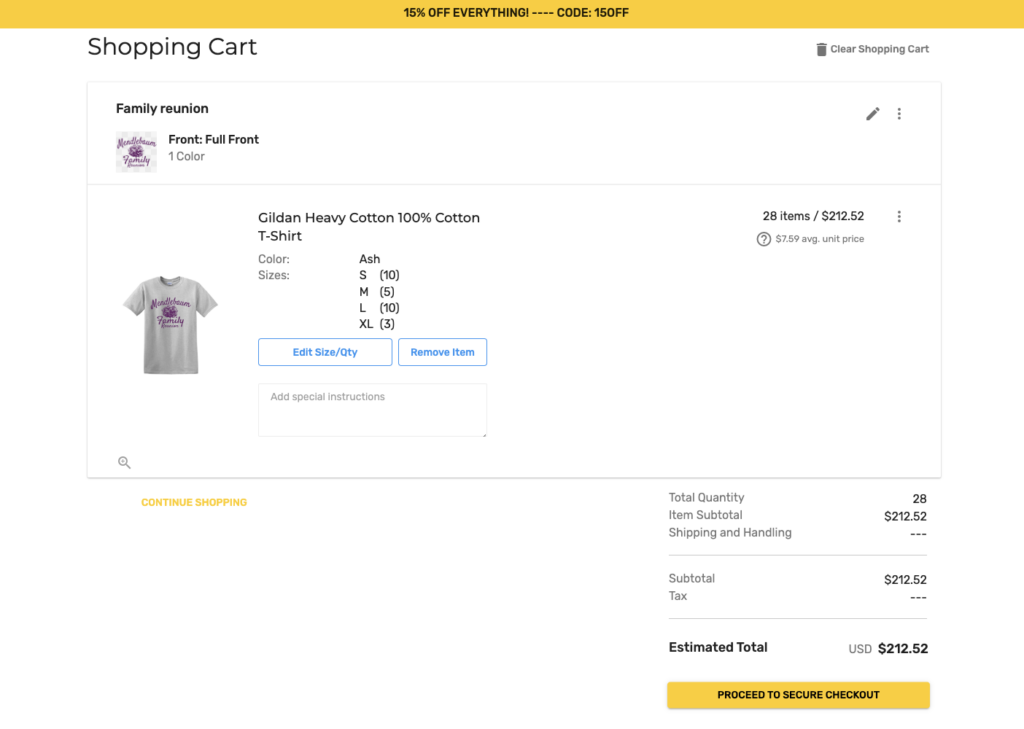 Multiple payment options: Modern customers want modern ways to pay, whether that's credit cards, Apple Pay, Google Pay, or other digital methods. They'll be able to pay your shop hassle-free with InkSoft's Stripe integration.
Customer stores: Whether it's a small business, school sports team, booster club, or other customers that need an online storefront to sell their products, you can also use InkSoft's Online Stores to offer those customers their own e-commerce solution. Use all the same convenient functionality that your business website enjoys for customer stores, and it's a win-win situation: they sell more merch, and you print more merch.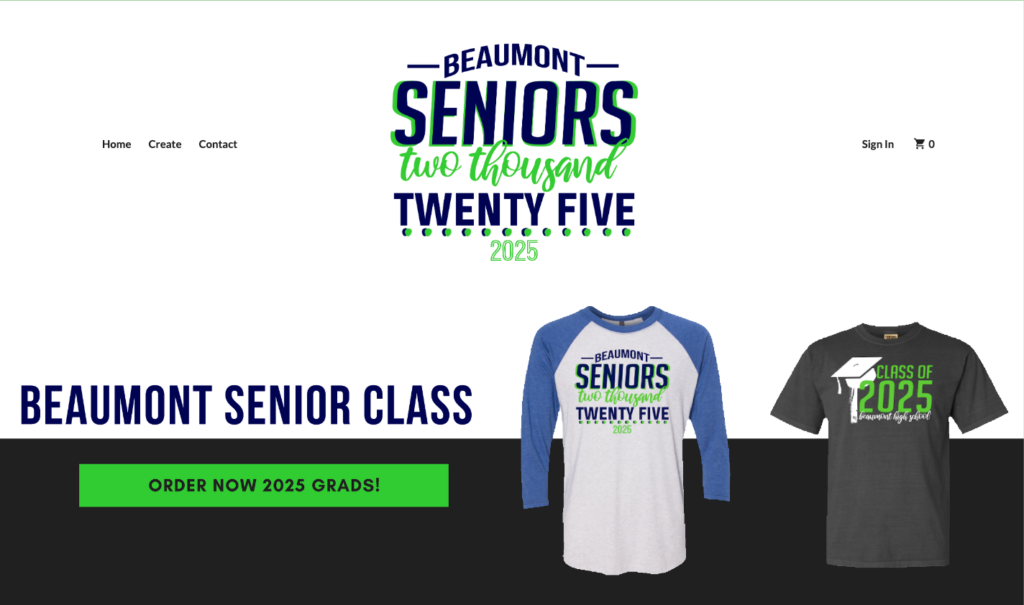 Easy Navigation
A good business website is easy to navigate, and products are easy to find. With InkSoft's templatized storefront setup, you can quickly add your shop's products and details so that customers see everything and can easily set up a quote or purchase. Update your website's product offerings with InkSoft's tools, and build a simple navigation menu so customers can find everything they need.
Part of that navigation also means giving customers an easy way to get in touch with you. Ensure your site has an About Us section, or at least an easy-to-find area with your contact information.
Product Lineup
Many modern customers are accustomed to online storefronts where all the products they need are literally at their fingertips. With InkSoft's Rapid Product Creator and Online Designer, you can easily give them the powerful combo of product diversity and customization.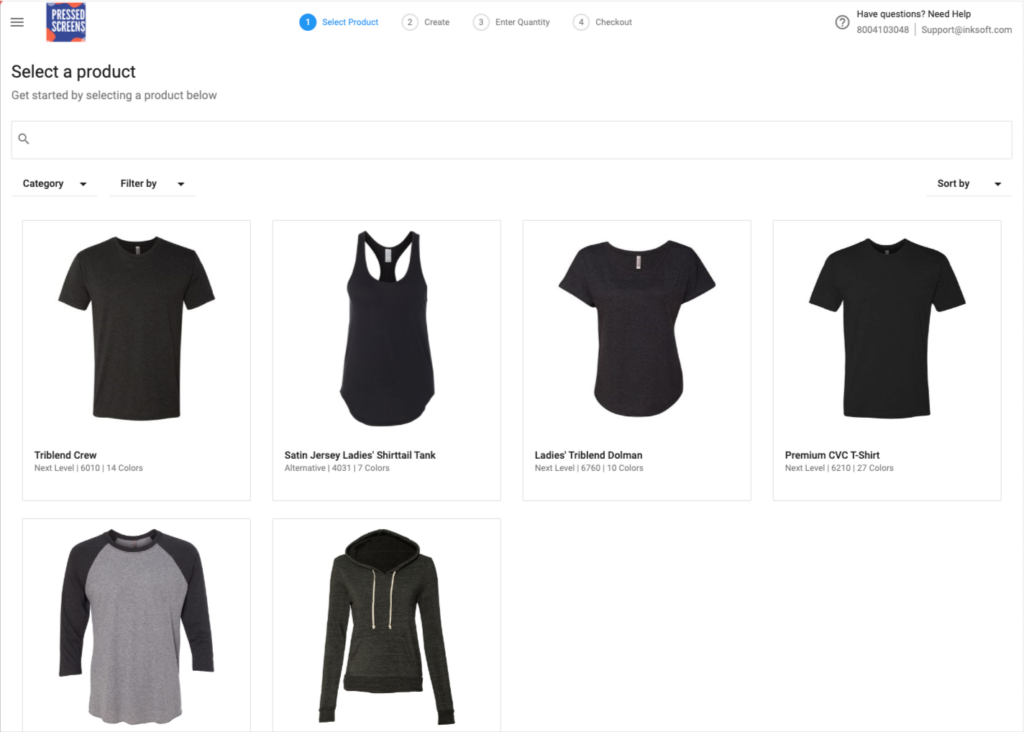 Use these tools to:
Build faster mockups: With InkSoft's Rapid Product creator, you can add a customer's artwork across multiple products and start the conversation about a printed merch bundle without having to print physical samples. Plus, if they decide they want to add new types of products to their order, you can easily create another mockup for their approval.
Encourage more orders: InkSoft's Online Designer helps entice more customers to send art requests to your shop with a simple drag-and-drop process. Whether they need a set of T-shirts, hats, bags, or other printed goods, they can use this tool to send your shop a mockup of what they're interested in. That speeds up the design and ordering process so you can move ahead to the invoicing and production phases.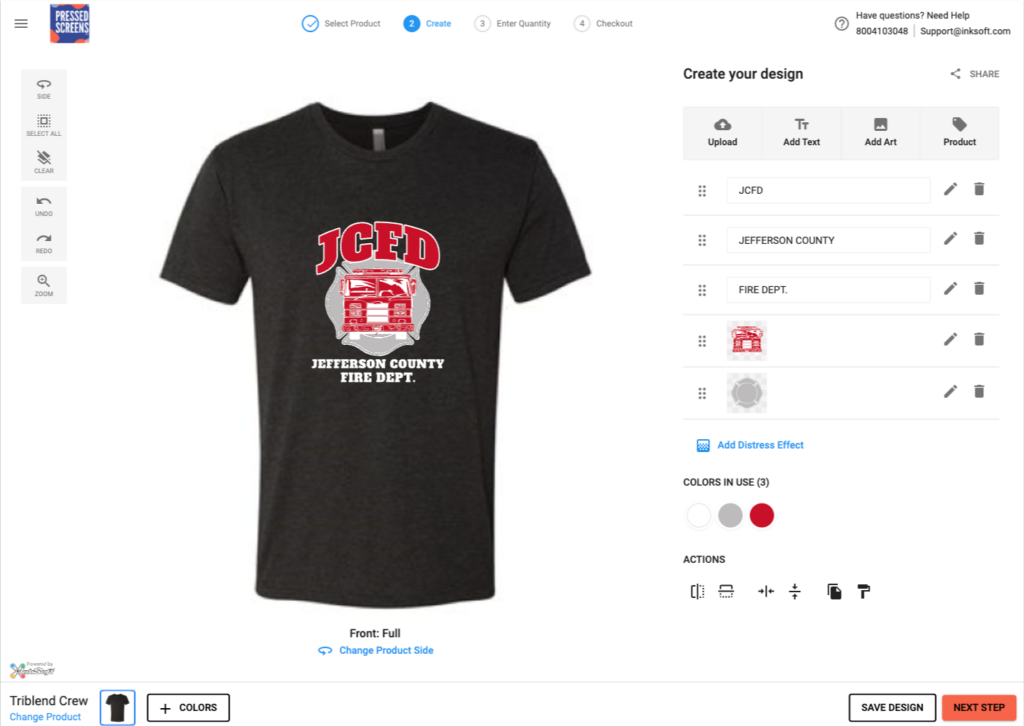 Create a better customer store: If you're running an online store for your customers, you can easily use the same handy tools to update their product offerings, so they're always selling the most up-to-date lineup of merch.
Running a print shop is challenging enough without dealing with tech headaches. Make sure you and your team have a reliable business website to accommodate your customers. With InkSoft, you'll get a platform built for printers like you, with the tools and support to give your customers an in-store experience online.
Ready to change how you run your business website? Contact a Client Advisor today for a 15-minute tour to learn how InkSoft Stores are the perfect e-commerce solution for you and your customers.
Related Posts: