We're huge fans of Brett Bowden, the effortlessly cool El Capitan of Keller, TX-based Printed Threads.

This April, Bowden and his crew were all set to celebrate his decorating shop's 10th anniversary. "Parties are our love language," he says, "so we were sad to postpone our big blowout bash. We like to joke that we're a "˜drinking shop with a printing problem.'"
But in all seriousness, Printed Threads is a screen-printing and stitching force to be reckoned with, despite having started out in Bowden's garage. Within five years, Printed Threads had vaulted from side hustle to a multimillion-dollar decorating shop housed in a 15,000-square-foot facility. 
Just before COVID-19 hit, Printed Threads brought in annual revenue of $3.5 million and employed 28 people. "We print for bands, brands, bars, and mega-churches," Bowden says.

We (virtually) sat down with Bowden to learn about how his shop has been affected by COVID-19, how he's giving back to the community (using InkSoft Tools), and what he thinks is next for the branded merch industry.
Q. What's changed for your business over the last six weeks?
BB: We're in Texas, so when we started hearing five to six weeks ago about COVID-19's effects in Seattle, people paid attention, but it was still distant.
Then, President Trump gave his March 11 address on the coronavirus. The next day, things went radio silent""we didn't get any emails or phone calls. By Monday, people were canceling orders. That was pretty scary and caused a little bit of a frenzy here.
But, we knew Printed Threads was resilient. Our company is great at marketing and reaching our customers. We like to make our customers the heroes of the story.
Of course, we made hard decisions. We had to lay off some people and cut expenses. But after we made those decisions, we asked ourselves: "How do we go into the community and rain down some positivity?"
Q. So what did your team do after the president's pandemic pronouncement?
BB: Right away, we sent an email to our customers letting them know we're still here for them. Then, we thought about how we could do some good together.
We came up with some fun ideas: On the Printed Threads' Instagram account (@printedthreads), we posted funny videos of how to cook cheap food (like a Totino's Party Pizza), since we're all in the same weird spot.
Then, we brainstormed how to help all our cool local businesses and their raving fans, who'd be upset if they closed down permanently.
We've been using InkSoft tools""Designer, Stores, and Fundraising""for years to sell T-shirts for rock bands and clothing lines. That's why we decided to use the same powerful Stores engine to create ecomm sites with a fundraising twist to help out local businesses.
Q. We're seeing decorators like Printer Threads tap into fundraising e-commerce stores. Is there a new twist on fundraising now?
BB: The concept of a fundraising store isn't new, but it may have been dormant for a while. We created a flyer and a video to promote fundraising stores to our local businesses with this general messaging: "We'll create a web store just for you. No money down. All profit. Send us your artwork. We'll supply and print the T-shirt. Then, we'll send you a check."
Within 24 hours, we saw knockoffs of our flyers. This kind of thing is becoming a sensation that's sweeping through the industry. That's OK because there's basically a bajillion businesses that need to be served.
We're charging $22 per T-shirt: $10 goes to our customer. We print the shirt and cover shipping and handling. We don't make a ton of money, but we're happy to keep our presses going.
Now, we're at 40 stores and counting. Two of our early adopter businesses each made $3,000 in the first 48 hours. That could be huge for them""maybe they can cover payroll for a month.
Our goal? To create a shirt that someone loves and will wear forever.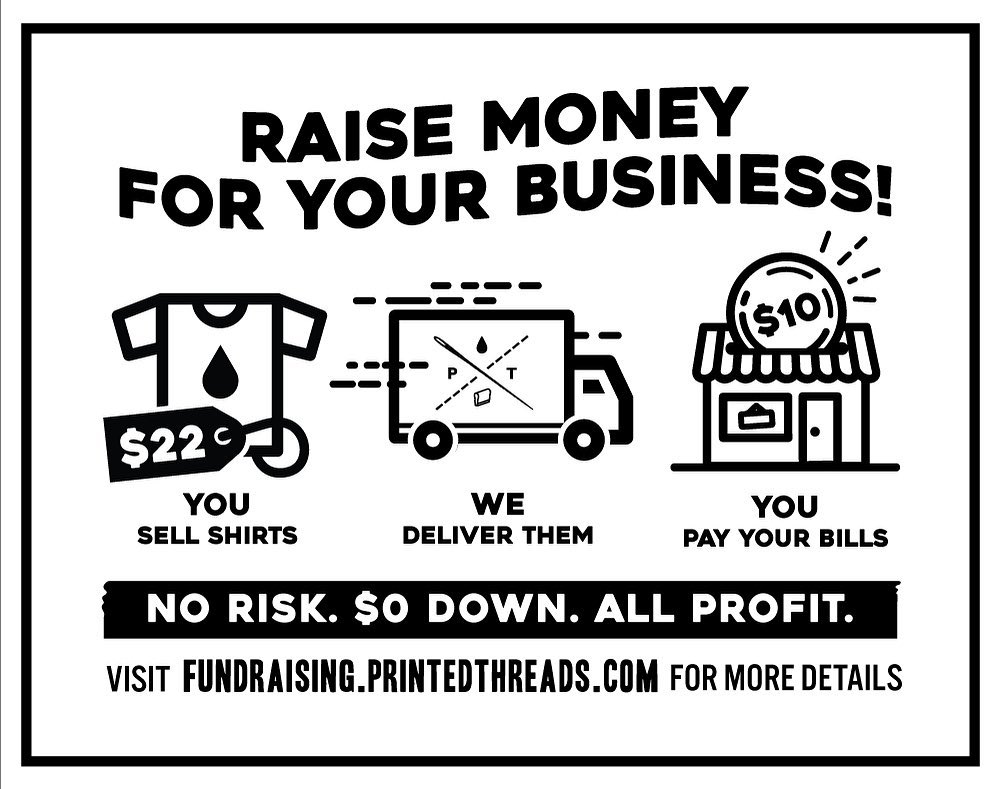 Q. None of us knows what the "˜new normal' looks like yet. What's your read of the current situation for decorators?
BB: There are some government stimulus package funds and loans we can look into for support. If you're creative, I believe you can make it. Unfortunately, we had to lay off 11 people. After that, though, we looked around and cleaned up some inefficiencies. When we hire people back, we're excited to show them the new workflows.
On the whole, some printers will fold into each other and we may see a lot of consolidation. Look, two weeks ago, I was fearful. Now I'm feeling optimistic about what's to come. We haven't seen the worst yet, but our country will go into recovery mode at some point after the coronavirus apex.
In August, we might all be attending rock concerts and music festivals wearing facemasks. We may be decorating face barriers. We must adapt to what's coming. The people who didn't want to adapt six months ago won't adapt now.

If you're not looking for the good things, you won't make a plan for those good things to happen. We can build the strongest team that we've ever had: It's kind of the way you break a bone and it heals stronger. We'll come out of these uncertain times stronger.
Watch our Fundraising for Community & Unity Class
Learn how you can serve your local community with an online t-shirt and custom apparel fundraising stores. Watch the video and access the turn-key fundraising marketing copy kit.