Help your fundraising customers sell more with custom merch with online stores.
Fundraising has been a central part of raising money for all types of organizations for a long time. School sports teams, charities, clubs, and foundations all need to raise funds to help pay for their supplies, operations, and sometimes travel costs.
If you're already working with these groups, have you thought about using custom merchandise to drive their success?
BOTTOM LINE UP FRONT: You can set up a fully managed online store. Here, donors can directly purchase and pay for branded merchandise. It's a fast and easy way for your customers to bring in business without the hassle of selling at the counter, building art designs, making invoices, and waiting for payment – it all happens in the online webstore you set up for your customers.
For example, which of these two campaigns do you think would perform better?
Campaign A: Please consider supporting the Lumberjacks by making a cash donation to University High School athletes today.
Campaign B: Support the Lumberjacks by purchasing an exclusive premium donor-only T-shirt. University High School athletes will get 100% of the proceeds!
If you picked B, you're not alone. The idea of getting a custom-made product for a donation is enticing to donors. It means you're not only helping out; you're getting something exciting in return instead of just a generic tote bag or water bottle.
Why offering customized merchandise works
There are a few reasons why customized merchandise helps drive better success for fundraisers.
They include-
Gamification: People like unlocking rewards and gifts. The video game industry has seen a lot of success with this strategy. It rewards users with "˜loot boxes' for game progress and achievement. The loot box strategy has been so successful that it's projected to generate more than $20 billion in sales by 2025, up from $15 billion in 2020.
Affiliation and Pride: Think about every sticker, T-shirt, and hat around your shop with an organization or group logo on it that you support. Consumers use branded merchandise to show support for brands, political affiliation, ideologies, and causes. Donors and supporters get excited and motivated at the idea of getting an "˜exclusive, premium donor-only' product like a beanie, customized sticker, or comfortable hoodie from the organization they support.
Great Marketing Vehicle: Fundraising organizations need to market their brand, missions, and values constantly. With branded goods, supporters and donors become walking billboards and micro-influencers. It is critical brand and message exposure that ALL fundraising organizations desperately need, especially since many organizations have a limited (or zero) advertising budget.
The traditional approach to getting orders
If you're printing merch for fundraisers, you can take two approaches. One is the traditional approach. The fundraising customer scrambles to get all the orders together. Then places an order for the product quantities needed. You'll get the paper order, transform it and track it on some type of spreadsheet, then manually input the order. Yuck!

The better approach to getting orders
If you want to step things up, consider the best approach. Offer a free, fully managed InkSoft powered online store. Donors can redeem e-gift certificates for branded merchandise rewards. Your fundraising client would provide a spreadsheet of qualifying donors and you can use InkSoft's e-gift certificate feature to bulk issue e-gift certificates via email for donors to redeem at the online store.
The better approach requires a little upfront work, but it is well worth the time investment because it will save you time and money in the long run:
Customers can purchase additional products and quantities because they see your entire catalog at their convenience.
Collect and automate shipping, billing, and payment information.
Fundraising organizations don't have to worry about order fulfillment, inventory, order collection, order processing, and shipping. Your customers will be singing your praises!
The pandemic has decimated fundraising organization staff levels and budgets. A hosted online store and seamless order fulfillment are desirable to fundraising organizations. And you'll be the business that provides the much-needed fundraising results these organizations desperately need now.
It's an excellent opportunity to generate qualified leads without any additional marketing costs since you can promote your services from the online store.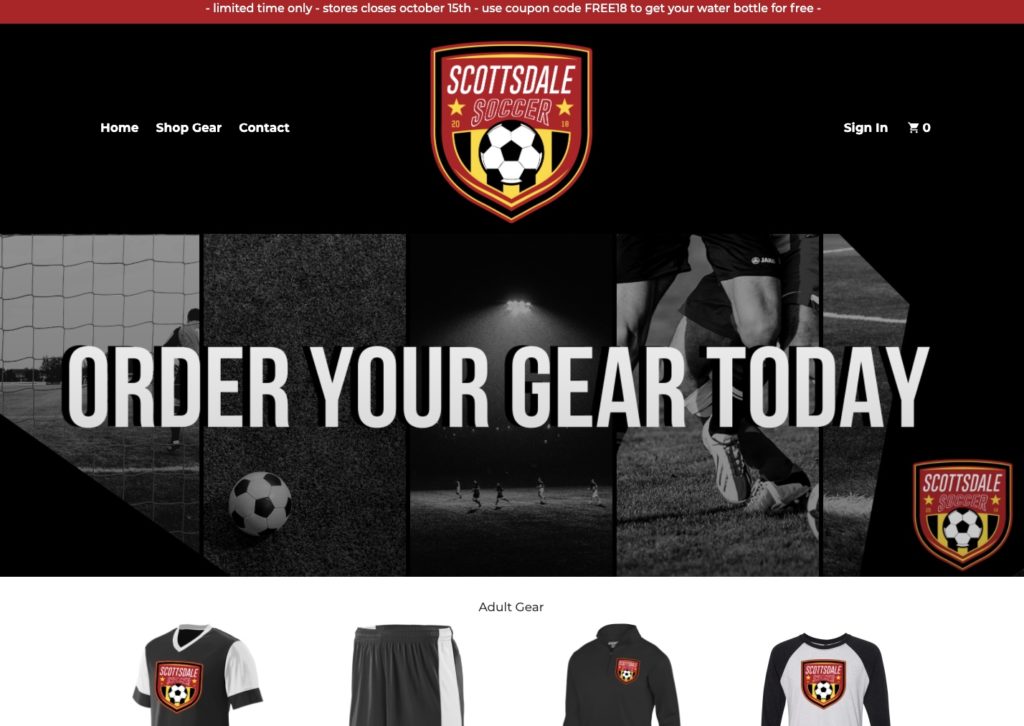 Bringing it all together
With custom-branded fundraising merch, organizations can reach their goals faster, and you'll grow your business. Keeping the merchandise unique also helps maintain a high level of perceived value. This value motivates more end-customers to donate.
Don't be afraid to ask for referrals, especially since groups like school organizations are tightly connected and could easily connect with your next fundraising client. Lastly, make sure to form an agreement and commitment to promoting the store to the fundraising organization's entire database to drive sales of branded merchandise for a revenue share. This is how you'll provide more value to the customer and grow your bottom line. For a better idea of what fundraising stores look like, check out our fundraising examples store.
Do you like what you are hearing? Well, InkSoft can make it happen. Make more sales, get more business. Book your free, personalized tour today.
Related Posts: