Bottom Line Up Front: See the five crucial criteria for choosing shop management software and why shops ultimately choose InkSoft.
Buying shop management software can get time-consuming and overwhelming since there are so many different products on the market. And like any purchase you make for your shop, you want it to be worth the investment. Read on to learn about five key elements you need to consider when shopping around for a platform built for the custom branded merch industry and how InkSoft checks all the boxes.
Business goals
It's good to figure out your shop's general goals before getting into the super-specific criteria of what you'll need in a platform. Are you looking for better ways to handle your order management? Maybe improve production times with the team in your warehouse? Or, perhaps you've wanted to step up your shop's online presence to stay ahead of the competition.

InkSoft features tools to help your shop stay on top of operations like order management and production management, so you're always running smoothly. Build and track orders, and use the Production manager to keep all critical information organized on each order to avoid costly mistakes like misprints.

And, if your shop's interested in stepping up its e-commerce game, InkSoft Stores give your business an excellent solution for running an easy-to-build, dynamic web store perfect for selling custom branded merch online.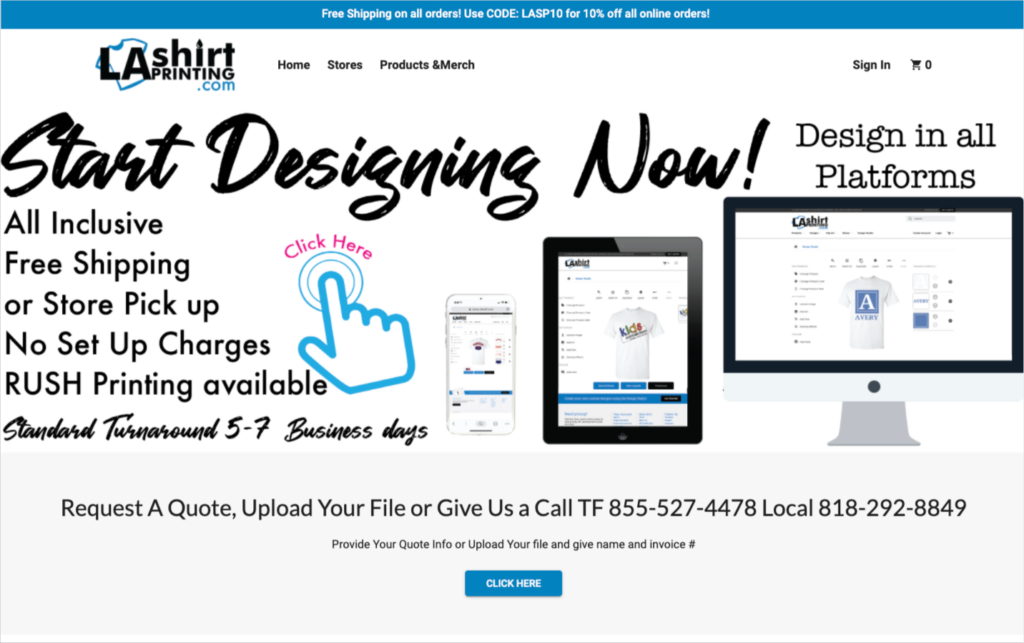 You can also use those same stores to build storefronts for your customers and help them sell their products online for everything from small businesses and fundraisers to schools and local organizations.
Starting by writing down a short list of a few core qualities you need out of your software will help you and your team hunt for your perfect fit. If you don't have a business plan already put together, it's also worth spending some time building. That way, everyone on your team knows the business's goals.
Scalability
Scalability ties back to your business needs, but it's also an inevitable factor for print shops. Whether you want to solidify your reputation as the #1 print shop in your city or are more interested in growing your shop's name far outside your region with e-commerce sales, one thing is sure. Growing your business is part of staying IN business.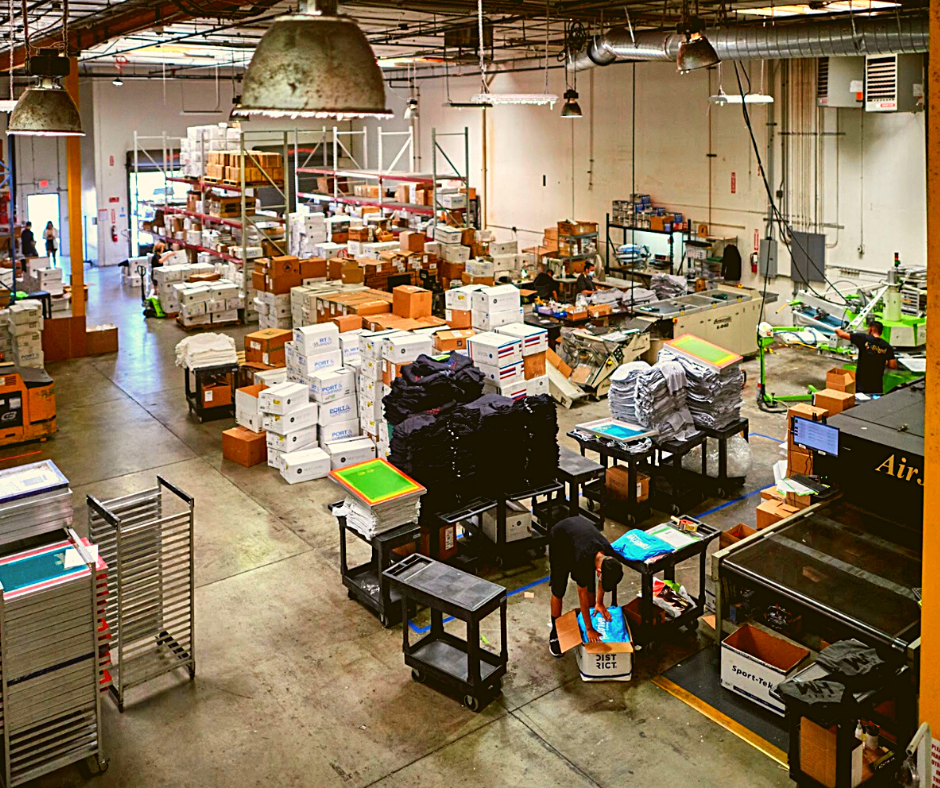 InkSoft is built to scale up or down with your business. So whether you decide to ramp up order volume, bring on more customers, or add more online stores, you won't need to worry about having to use extra add-on programs, deal with hidden fees, or find yourself slowing down because the software you're using can't handle the volume of orders you're processing.

And speaking of orders, InkSoft features tools that you won't find in other platforms for better ordering experiences as volume ramps up. Users can enable supplier inventory enforcement to prevent customers from ordering products that are out of stock from their supplier. That reduces extra communication between you and your customers when they order something that can't currently be fulfilled. Other platforms don't offer this feature, so customers will always be able to purchase products, even if the products aren't available to fulfill the order.
Workflow
Assess how your shop currently runs its operations. How do you keep track of customer orders, art files, and online sales? One of the biggest issues shops have is using separate programs for each part of their operations. Then the information gets lost or miscommunicated. For example, if you're handling quotes and approvals via email and attachments but then printing orders out and handing them to someone in production, that's one instance where information can get lost. Or, if you're selling products online, maybe you're using a separate storefront from your main website. Then, your team probably spends extra time tracking orders down and confirming that orders are printed or in progress.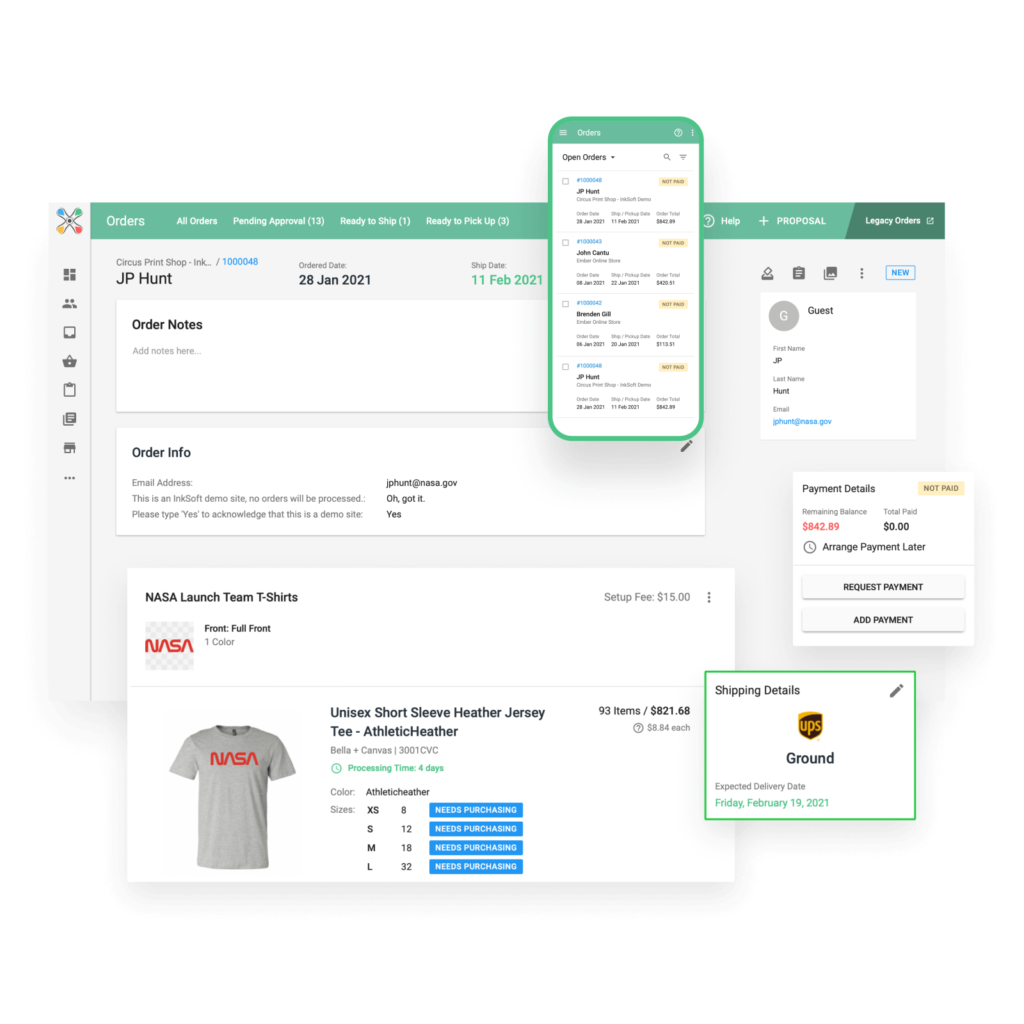 With InkSoft, you can stay on top of all these processes with one platform, and the information flows seamlessly between functions. So whether you're building a customer order, moving it into production, or pulling orders from an InkSoft Store, essential details like garment size, ink color, due dates, and customer information are all quickly pulled up inside the platform. And once an order is completed, all of that information is saved, so you can easily pull details back up later for simple reorders.
Setup time
Time is one resource that most shops don't have a lot of, so when you're searching for an all-in-one platform to run your business, you'll need a program that doesn't take a massive amount of time and resources to set up. Features like InkSoft Stores can be customized in configured in a short amount of time without any significant web design experience. And other tools like order manager and production management give you and your team the ability to manage your customer orders across multiple computers. That saves you and your team time instead of waiting on one person to log into a single machine to pull up customer information.
Support
Maybe the most crucial factor to consider is how much support you'll get from the company after you've purchased the product. Even after you've trained your team and set up your system, there are always questions that pop up when you're trying to make a platform that precisely fits your shop's needs. InkSoft's support team can help you dial in your settings, and there's a shorter response time thanks to an in-house crew instead of third-party support.

Finding a platform with good support also means looking for a platform made specifically for the apparel decoration and promotional products industry. And InkSoft is exactly that— an all-in-one platform built specifically for custom branded merch printers, rather than a catch-all business management platform. Features like the Online Designer are custom-tailored for shops that print popular products like hats, T-shirts, and promotional items.

Ready to set your shop up for success by meeting these five essential criteria? Contact a Client Advisor today for a demo.
Related Posts: