Bottom Line Up Front: Shops need a reputable website to stay competitive in today's crowded marketplace. Learn about the five most essential elements your site needs and how InkSoft checks those boxes.
The print industry has always been about tangible products, whether that's T-shirts, baseball caps, tote bags, water bottles, or more oversized products like banners and signs. Customers come to your shop because you're the expert in printing those goods and know they can rely on you for high-quality artwork and printed graphics.
But what's changed over time is how customers do business. While plenty of people still like to pick up orders at a print shop and drop in for a design consultation, there are lots of people who want the ability to do business with print shops online. That includes every step of the ordering process. And shops that can help customers who need e-commerce solutions of their own will have a massive advantage in this realm.
For your shop to stay ahead of the competition in today's crowded marketplace, you'll want to ensure you've got a website that checks all the boxes for your customers.
Distinct Product Offerings and Services
One of the big things customers look for when they visit your website will be a short, concise showcase of your product offerings and services. The easier it is for them to see what kinds of products your shop prints on and what sorts of decoration methods you specialize in, the sooner they'll be able to decide if you're a good fit for their needs.
One of the easiest to do this is by having a gallery of product mockups promptly displayed on your site.
Think of this as a virtual showcase as you'd traditionally have in the front office of your shop. You can still maintain that tangible, in-house display, but this online showcase will also help drive more customers to your website.
Smooth Navigation
When was the last time you clicked on a website, and the navigation was slow, clunky, or just generally difficult to find anything useful? Unless it was a very niche product or service that you couldn't find anywhere else, there's a good chance you left that site after a short time and looked for another business to take care of what you needed.
That same dilemma exists with your shop's customers too. Since there are scores of places they can turn to for printing their merchandise, you want to ensure your website gives customers a positive experience.
If products are too hard to find, pages take too long to load, or website pages aren't organized, you risk the chance of that customer going elsewhere. Some outlets estimate that most customers spend less than a minute on most websites, so you've got a tiny window of opportunity to get them interested in your shop.
Mobile Optimization
Mobile optimization shares some similarities with smooth website navigation, but it's an important enough quality to stand independently. Your website needs to be easy to navigate, but it also needs to load and display well on mobile devices since many customers are shopping and browsing from their phones in today's climate.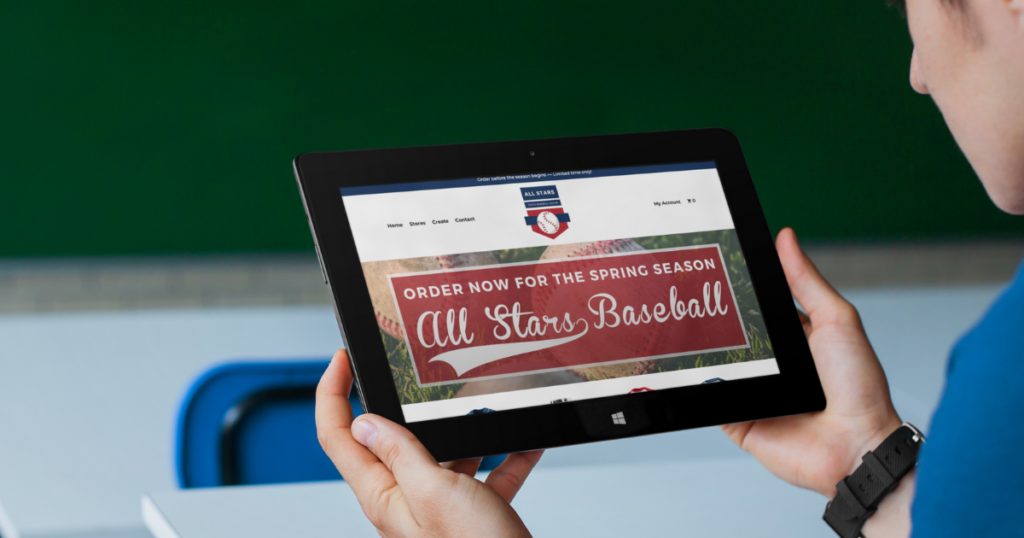 Why does your shop's site need to function well on phones and tablets? Consider this– in 2021, mobile e-commerce (also known as m-commerce) climbed to more than $350 billion, and that number is expected to keep growing this year. That's a lot of T-shirts, hoodies, and tote bags to print.
Mobile optimization also makes life easier for your team. For example, if your sales team needs to check a customer order on the go, having a system where they can log in from a phone and verify details makes it easier than waiting until someone is back in the office.
E-commerce functionality
A simple, secure way to buy and pay for products online might be the most essential element since it translates into your shop making money. Even if you and your team work with primarily local customers, having an online storefront for your business is vital since so many customers like the convenience of online shopping they've grown accustomed to with all their other goods and services.
Part of the e-commerce arm of your business also means having a way to help your customers sell their products online. Whether it's a local track team selling spiritwear, a brewery that wants a swag store, a local bank that needs corporate apparel, or a fundraiser campaign, all of these categories are types of customers you should be able to facilitate an online store for.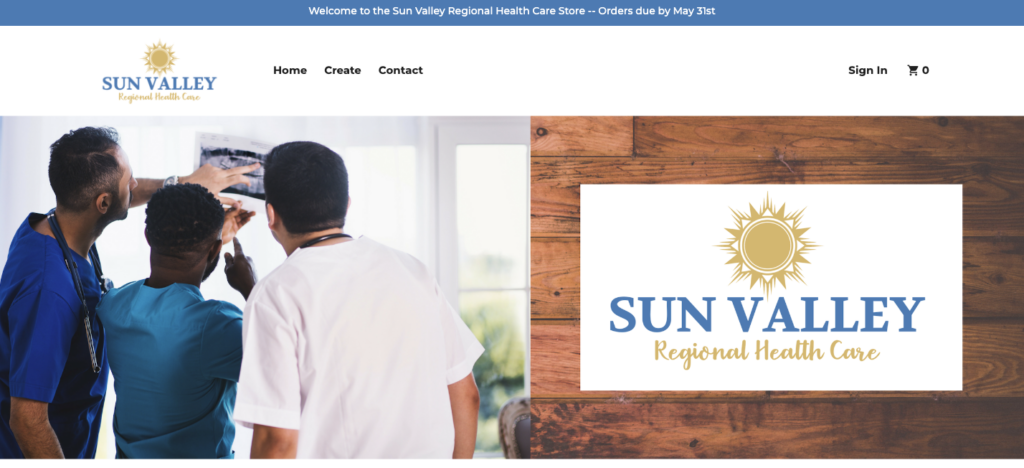 What's the benefit of having an online store for your shop AND online storefront options for your customers? If you're the go-to source for printed products and customer stores, you've got the double-whammy of a shop that offers it all. Customers can hire you to print the merchandise they need to sell to their end customers, and if they can sell more products thanks to a convenient e-commerce solution, you both benefit.
NOTE: Any good e-commerce solution includes a safe, secure checkout system, protecting your customers' information. A secure checkout process doesn't just put your customers' minds at ease; it protects them from vulnerabilities in an age where credit card and bank information is constantly compromised.
Easy to contact
Last but certainly not least among the must-haves for a print shop website is having an easy way for customers to contact you. While this component might seem like a given, think about how many websites you've visited where you scroll to the bottom to find an email address or phone number, and there's nothing provided. A simple section at the bottom of your webpage with phone number, address, and email contact information is crucial to running a professional business website. That way, customers can get in touch with you however they prefer.
You can also add other contact tools like a Contact Us form that customers can fill out with any designated questions or bits of information you and your team like to collect when building an order for a customer.
Tie it together with InkSoft
If you're looking through these categories and wondering how your shop can check all the boxes without going through the extra legwork of complicated web design and extensive research, we've got good news. InkSoft features tools to help you tackle these essential qualities in one comprehensive platform.
InkSoft Stores are a great way to help your customers sell more merchandise for all the scenarios we mentioned earlier. And they are a solid option if your shop needs a professional website but doesn't have the time to build one from scratch.
Just a few of the critical benefits of InkSoft Stores include:
Easily updated: Add more products, change colors and branding, and quickly update key information like website text.
Mobile responsive: InkSoft Stores are mobile responsive, so shoppers can browse and purchase products on whatever device they're using.
Secure checkout: All stores are equipped with a secure checkout process so customers can shop confidently, whether it's your shop's swag store or a client's online store.
Simple record keeping: Whether reviewing order histories or reprinting order receipts, InkSoft Stores make it easy to retrieve any order information.
Designer integration: InkSoft's Online Designer also makes the perfect companion to an online store since it gives customers an easier way to upload artwork and send you a design idea. This feature means that customers who might not live nearby can start the design conversation with your team online and still set up an order.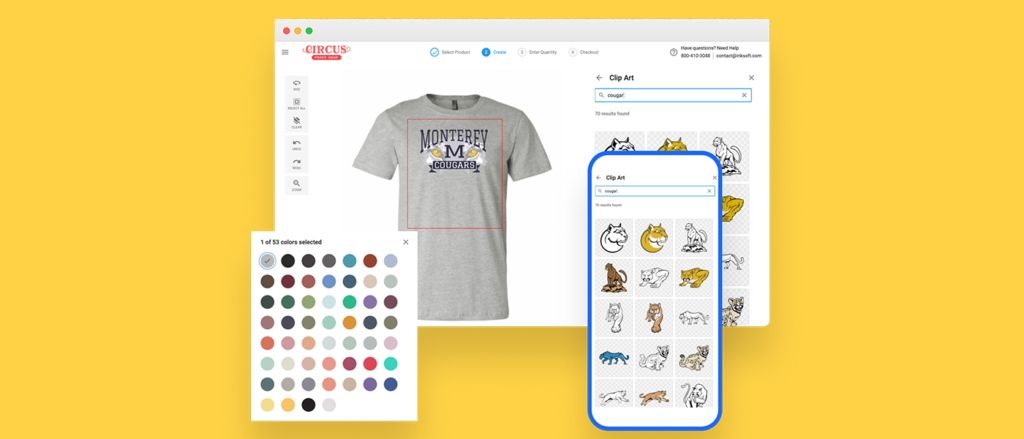 Interested in learning more about how InkSoft can help you check all the boxes for a top-notch print shop website and give your customers a headache-free online experience? Contact a Client Advisor today for a tour to see how you can sell more merchandise online.
Related Posts: