Bottom Line Up Front: Upsells and add-ons are a great way to take customer orders to the next level. Find out why stickers are one of the best products you can offer any customer, and how InkSoft makes it easier to offer them.
One of the best ways to boost your bottom line is having an upsell or add-on with every order you print at your shop. And one of the most popular products you can suggest for just about any order is stickers. These small but super-useful pieces of merchandise make the perfect companion to virtually any order or customer type.

Whether it's decorated apparel or promo products, stickers and decals are excellent add-ons that work well with a bundle package since they're small and inexpensive. Moreover, you can use InkSoft's signage program to easily tap into a world of sticker options without adding more equipment at your shop, hiring more employees, or bogging down your production with more products to print.
InkSoft's Signage Program
If you want to offer stickers to your customers but don't want to deal with the overhead, scheduling additional production, or adding more staff/labor hours, you're in luck. With InkSoft's signage-as-a-service, you can offer customers customized stickers and decals without any of those challenges.
Stickers, decals, and all the other products in our signage program integrate with InkSoft's Online Designer. Your customers can create customized decals, stickers, and bigger items like banners from your shop's website if you embed the designer. The designer also features bleed and cut line guides, so mockups are custom-tailored specifically for decal and sticker printing specs.
Why stickers?
Stickers are a great product to offer customers for a few different reasons. Aside from the affordability, here are a few key advantages:

Integrated with InkSoft Stores: If you already use InkSoft Stores, you know how easy it is to add new products to a storefront, whether that's your shop's online store or a customer store. InkSoft Stores make it easy for you and your customers to sell printed merchandise online with safe, secure checkouts, simple setups, and practical tools for customizing the look and color scheme of the store.

Along with virtual samples of custom apparel, you can add sample stickers to your storefronts to give shoppers even more variety of products to choose from.
Easy advertising: Much like how T-shirts become billboards for any organization, company, or cause, stickers are an even more portable version of that strategy. Your customers can hand them out to their clients with a shirt, hat, tote bag, or whatever product they're selling, and then those clients will put them on all types of items. That includes laptops, luggage, water bottles, and possibly even high-traffic areas like windows, countertops, and point-of-purchase areas where they work.

In turn, that printed sticker or decal becomes a portable advertisement for your shop to other people who see it and need to order printed goods for their business or cause.
Fewer variables: Unlike apparel, stickers don't come with the extra variables of tricky sizing or fabric blends. It's simply a matter of finalizing the design, choosing the sticker type and shape, and the order is ready to print.
Staying competitive: A simple but effective customizable merchandise offering like stickers gives your shop another product to help set you apart from the competition. Like any other service or product, the more things you can offer your customers as a one-stop shop, the less they'll be likely to turn to another printer.

Year-round popularity: While certain types of apparel and accessories have a seasonality to them, stickers and decals are popular products all year round, so you'll be able to suggest them anytime.
Create the perfect bundle
Stickers work great as an add-on to an apparel order, but you can take that bundle further if you use the signage program to print additional products for customers.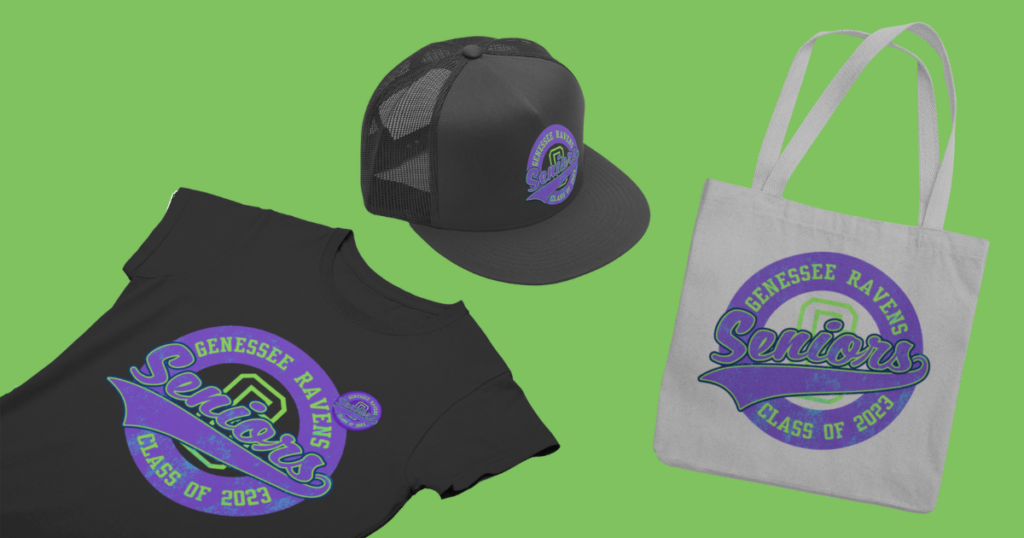 Here are a few other fantastic products you can suggest to customers through the signage-as-a-service program:
Yard signs
Banners
Floor graphics
Window graphics
Vehicle magnets
And those are just a few of the more popular items. InkSoft's program features more than 1,000 products perfect for any customized merchandise order. Best of all, products from the signage program are printed and drop-shipped by a third party. So even though your shop is tapping another facility to print the goods, you'll get the added benefit of presenting a professional, timely service and orders that ship directly to customers without any of the added overhead costs.
Customers who need stickers
Along with the ability to market stickers to your apparel and promo goods customers all year round, one of the best parts of this customizable product is that it works well for all customer categories.

Whether they're looking for a customized hat and shirt combo, a hoodie and tote bag, or any other printed merchandise package, here are a few popular niches you can offer stickers to:
Small business promotional bundle
Bands and other performing artists
Local events like farmer's markets and festivals
School teams and leagues
Slogans and names for political campaigns
If you can tie in stickers with a decorated apparel order, you'll have another exciting service to provide your customers that helps you stay ahead of the competition. And with InkSoft's signage program, you'll be able to do it without a lot of extra setup time or strain on your team.
Ready to offer your customers more product options with InkSoft? Contact a Client Advisor today for a free tour.
Related Posts: