The Print Life
Episode 019 of The BIG Idea Podcast by InkSoft is now live! Remember to subscribe and download on iTunes to get all the episodes as they are released. And leave a comment and rating to help us deliver the content you are looking for!
This week we are talking with Cam Earven from Monument Limited.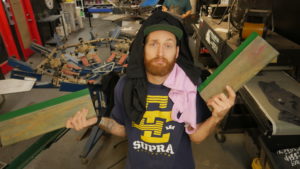 Cam started out as a street artist, but has since grown a successful screenprinting business and is the host of The Print Life vlog, which has grown to over 8,000 subscribers on YouTube.
In this episode, we talk about:
The power of social interaction to learn new things
How to nail down a true target audience for your services
How to effectively tell your story
What it means to be a part of a community
Industry insights for the future
Using audio/video in your business
Check it out!
Want a little more help with your InkSoft account? You can always contact the Support Squad directly at support@inksoft.com or 1-800-410-3048 (Option #1) for support.
If you're not a part of #TeamInkSoft yet, you should be! If you are looking to improve and grow your business you should check out our Online Stores Platform and set up a personal tour today!