Bottom Line Up Front: The situation in Ukraine is estimated to be one of the most significant humanitarian crises since World War II. People need essential goods like food, water, medical care, and shelter. Find out how to set up a fundraising campaign to help contribute to charities helping in relief efforts.
By now, you're probably well aware of the current situation in Ukraine. Since Feb. 24, more than 2 million refugees have fled the country as fighting continues to rage and casualties mount. The shelling and bombing by Russian troops have put people across the country in grave danger as they take shelter wherever possible or try to evacuate. As the crisis continues to intensify, here in the U.S., many businesses have decided to pitch in and help however they can, even though they're half a world away. One of the most impactful ways they've done this is by raising money for charities and relief organizations working to help families and children in Ukraine.
Spreading the Word
As a custom branded merch business, you might wonder how you can make a difference with such a complex global crisis. The good news is that you already have what you need to get started. Printed merchandise like T-shirts, hats, and promo goods brandishing powerful messages of support for Ukraine is a tangible way to raise funds for charities and organizations.
One of the biggest parts of running an effective fundraising campaign is having a dynamic online storefront where people can easily purchase products. The easier it is for customers to buy printed merch, the better you'll be able to raise funds for the charity you're focused on. You can use the power of InkSoft Online Stores to set up a fundraiser in support of Ukraine. From there, you can designate whatever organization you like to donate to help out in relief efforts. In fact, there are already several businesses already using InkSoft Stores to help raise money for Ukrainian humanitarian causes right now, including ones like this store:
Since the Ukraine crisis is fluid, you can also add a timer to your fundraising campaign to add urgency and get more people engaged with your efforts quicker.
"We have found that by using online stores we are able to generate a large quantity of orders and with a markup on the product, we have found this to be a very beneficial way to fundraise for these causes," says Emma Brunt from Advanced Incentives. Advanced Incentives is currently running an InkSoft store to raise money for Save the Children, a humanitarian group working in Ukraine.
With InkSoft Stores, you can quickly add multiple products with various designs, so customers can pick from various messages or themes to show their support. With a convenient storefront, customers also have a way to spread the word amongst their peers simply by resharing your link.

Use this Fundraising Kit to Reach More People
Besides having a central online store where people can easily purchase goods to contribute to your fundraiser, spreading the word is also essential. That's why we've put together a comprehensive fundraising kit which you can use to quickly and easily notify people about your fundraising efforts.

Simply add your business name to the designated fields, and it's as easy as copying and pasting onto your social media channels and emails to your customers so everyone knows how and where to help out.
Organizations to Support
There are dozens of organizations helping Ukrainian citizens right now, so you have many options to choose from. If you want a shortlist of some groups doing important work, here are a few ideas of places you can direct donations towards:
Medical
Direct Relief Direct Relief is working directly with Ukraine's Ministry of Health and other partners in the region to provide requested medical aid. That aid includes things like oxygen concentrators, critical care medicines, and long-term medical assistance to people affected by the conflict.
Children
Save the Children Aside from physical harm, children in Ukraine are at significant risk of emotional trauma and other long-term impacts from mass displacement. Donating to Save the Children's Ukraine Crisis Relief Fund helps provide children and families with immediate aid, such as food, water, hygiene kits, psychosocial support, and cash assistance.
General/Most Need
GlobalGiving Ukraine Crisis Relief Fund GlobalGiving works with several nonprofits in Ukraine. All donations to this relief fund support humanitarian assistance in Ukraine and bordering regions where refugees have fled. Contributions to this effort help provide essentials like shelter, food, and water for refugees. Plus, GlobalGiving provides health and psychosocial support, education, and economic assistance.
Need help setting up your online fundraising store? Contact us today, and we'll help you get started.
Download the fundraising kit here to get started and show your support for the Ukrainian people.
Need inspiration?
Here are some current InkSoft customers using online stores as a fundraiser for Ukraine. We've also created an example InkSoft online fundraising store that can be seen here.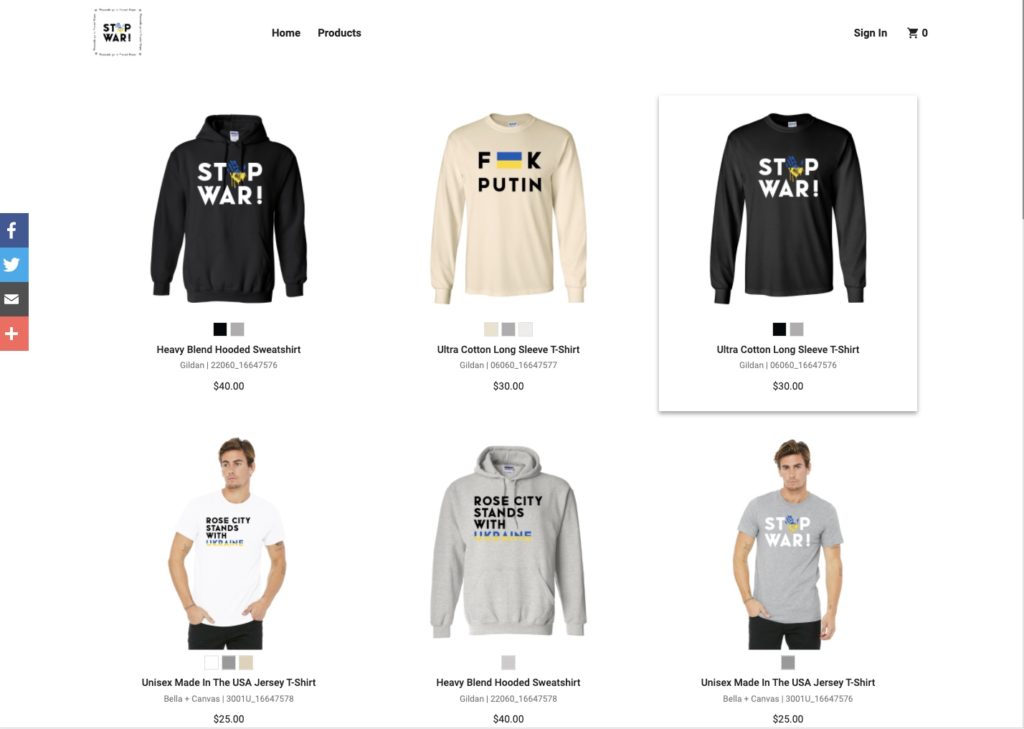 Related Posts: