Having the right tools for your print shop can help you stay competitive against more prominent companies and maintain that small business touch so your customers return. Sublime Silkscreen has been using this strategy to provide customers with excellent customer service and high-quality printed products. The shop offers various printing services, including screen printing, embroidery, and some outsourced services.
What helps keep Sublime Silkscreen running strong and helped their growth in the last few years has been InkSoft Stores and, more recently– Printavo for the shop's production management.
Ronald Benavente, head of production, says he got into the industry in the mid-1990s after working in the restaurant business and was looking for a change. A friend was exiting a print business, so he decided to jump into a new field.
"Coming from the restaurant industry helped me build my client base," he explains. "Plus, the printing industry was more enticing because I could make my own hours."
Since those early days, Sublime Silkscreen has become a bustling shop with a set of loyal local customers.
Building online stores at Sublime Silkscreen
Since 2017, Ronald and his business partner Brian Newman have run the family-based Sublime Silkcreen as a go-to print shop for the Hollister, California area, plus out-of-state clients. The business's primary market is schools and all subcategories that come with school merchandise, like uniforms, fan gear, clubs, and team gear.
"We're all coaches, so we already had a connection to that world," explains Ronald.
Like so many other businesses in recent years, what changed for Sublime Silkscreen was how they could do business during the height of the pandemic and the restrictions it placed on print shops. The shop used InkSoft Stores to pivot and could stay busy even when things were at their most challenging.
Taking a cue from the Here for Good initiative, Sublime Silkscreen jumped into action, printing shirts for other local businesses to help them stay afloat. The shop would print a one-color design, add it to an online store, and promote the product across social media and email. They'd split the difference with the business so both parties could raise money and keep their operations running.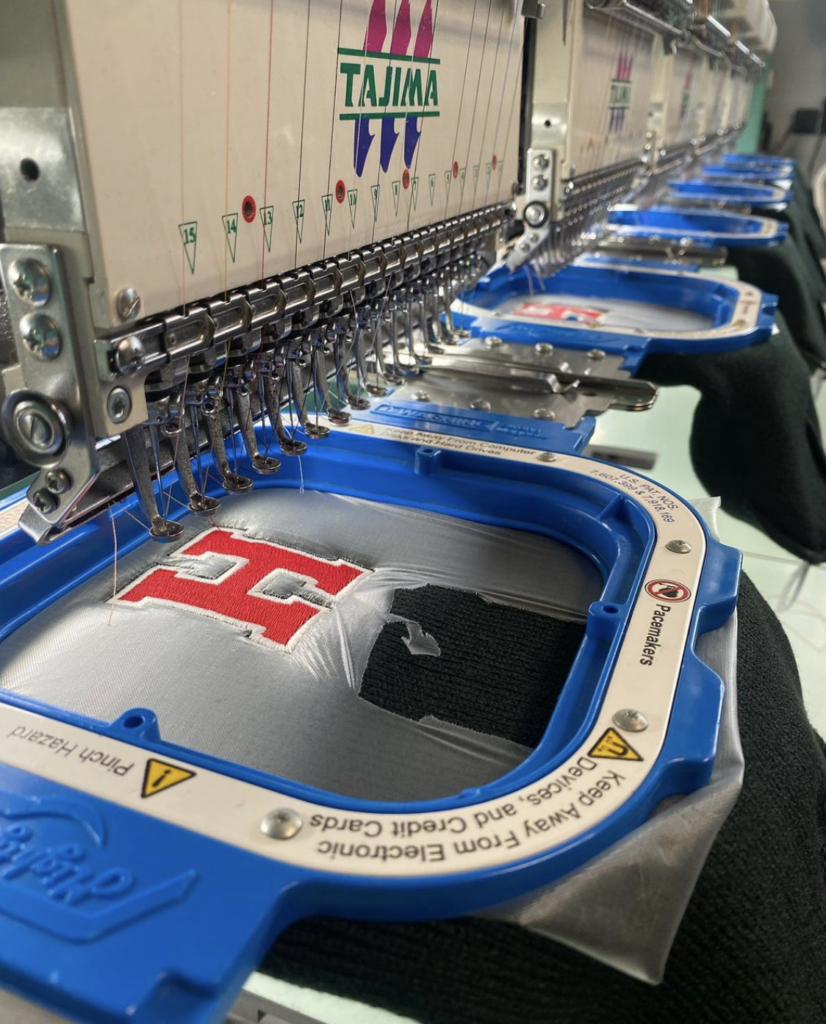 These fundraising campaigns helped keep Sublime and their customers running and helped build a strong crop of word-of-mouth referrals. Those referrals kept coming in so that once the economy re-opened, Sublime Silkscreen had a whole new set of customers to print for.
"InkSoft basically saved our company during the pandemic with the ability to run so many online stores," Ron states. "We lived on those stores for roughly the first 3-6 months of lockdown."
Current times at Sublime Silkscreen
Since those early days of running online stores, Sublime Silkscreen has continued to build and operate storefronts for customers, often running anywhere between 12-20 simultaneously, depending on the season.
"I like that once you build an InkSoft Store, all you need to do is update prices or add products," says Ron. "We've doubled the number of online stores we started with because they present a professional, legitimate look that shows we can offer the same thing as the bigger guys."
Adding Printavo
In the past year, Sublime Silkscreen has doubled down on their tech stack with Printavo. Bringing that platform online has helped strengthen the shop's image and reputation as a well-oiled machine that can handle various order sizes and types. Plus, Ron says bookkeeping has gotten more straightforward, and they've cleared hurdles they've had in the past of getting paid.
"With Printavo, we get paid faster; we're more organized because we're following a better process for quotes and not forgetting about orders," says Ron. "It's less stressful now. We're pumped about the fact that we're on top of our business, and we're staying disciplined."
Combining everything
Ron says the combination of InkSoft and Printavo has helped Sublime Silkscreen continue to crank out high-quality merchandise for customers and pull in new clients. Even as they continue to grow, they still operate under the banner of a small-town business.
"To me, it's all about perception," he says. "We can provide the same thing as our bigger competitors, especially when it comes to offering customers online stores."
As the business grows, Ron says they're exploring adding more services, like laser etching, to the lineup. By expanding their in-house offerings, Sublime Silkscreen can stay negotiable on order minimums and setup fees.
He also says other customers considering InkSoft and Printavo should be encouraged by the ROI Sublime Silkscreen has seen.
"You have to look beyond the monthly payment," he says. "Once you start seeing those orders come in, you'll forget about that payment fast because the investment starts paying for itself."
For more information, visit www.sublimesilkscreen.com.
Ready to change how you sell custom-branded merchandise online? Book a demo today.