Bottom Line Up Front: When it comes to planning and production, fall and winter aren't that far away. Find out why this season might be a little different and how InkSoft can help you get ahead of the rush.
You're probably already underway with printing your back-to-school orders for customers and lining up quotes. But it's worth considering that all the other significant money-making events happening this fall and winter are also around the corner.
The last two years have drastically changed how customers shop, plan, and choose who they do business with, so it's also time to make sure your shop has adjusted to those changes. Find out what you can do to get ready for fall and winter orders and how InkSoft has the tools you need to hit the ground running.
Different times
The supply chain pains businesses felt over the past year and a half might be subsiding in some spots. Still, those disruptions changed how people shop and do business. Everyone you print merchandise for will likely want their apparel and promo goods further in advance than they've asked for in previous years. That's because some projections estimate shoppers will be buying goods ahead of time this year to hopefully avoid the long waits they experienced in 2020 and 2021.
So how does this affect your print shop? A couple of ways:
Your regular customers who you print merchandise for will want to have their goods ready to sell far ahead of the busy Christmas season. Almost every small business in the country is still getting on its feet after a rough couple of years. So, any chance they have to sell custom merchandise to their end customers is as crucial as ever.
With the mixed messages about a recession on the horizon, people will likely become more cautious about how they spend their money. So, both your customers and their clients will be looking for ways to save money and find more value as they take a more careful approach. Instead of getting into the price-matching battle, you can offer your customers more value with higher-quality merchandise and better services as a print shop.
Lastly, the potential dash to buy things ahead of time could strain your supplies. Especially if other shops are stocking up on blanks and promo products. Suppose you have a better idea of how much you'll need to print for customers ahead of time. You'll be able to place orders sooner and have everything you need ahead of schedule.
Using InkSoft to Prep
Now, maybe you're wondering how you and your team can prep for the fall and winter season, especially in the face of fresh potential challenges. InkSoft's tools can help you meet your customers' needs, so you and your team aren't spending too much time on things like marketing, quoting, or backend web development.
Here are a couple of tools you can use to close out your year of customer orders strong:
InkSoft Proposals: You can use InkSoft Proposals to create a professional, easy-to-view presentation for your customers. Proposals are also a feature that helps you avoid the bidding war with price points. People will pay for convenience because shoppers are accustomed to getting what they need fast. You can define payment terms for each job. That way, there aren't any awkward misunderstandings about pricing a job is printed and shipped off.

Use InkSoft Proposals to build a professional mockup that sets you apart from the competition with critical elements like customer logos and other professional artwork.
Proposals also allow you to present a bundle for your customers, which benefits both parties. Your shop gets more print orders if they're interested in the bundle of multiple merch categories. Meanwhile, your customer has more exciting items to sell their clients, helping boost their bottom line.
InkSoft Stores: An online storefront is essential for a modern business, whether it's a team apparel store for a local school or a swag shop for a large brewery. If you can help your customers tackle e-commerce with an easy, secure, and professional solution, you'll have another quality that helps your shop stand out this season. InkSoft Stores are a great way for all of your customers to sell their printed merch online.
Whether it's a booster club, small business, family event, fundraiser, or other categories, here are a few handy features that'll make selling online easy for your customers:
Rich website feature library: Easily customize stores, so they match a customer's branding or campaign goals.
Simple website editor for quick changes: A comprehensive website editor allows users to quickly add new products to an online store, so shoppers have a wide variety of merch to choose from.
SEO Tools to improve online visibility: One of the most significant parts of selling online is ensuring a store has a robust online presence. InkSoft's SEO tools help your customers build a store that's easy to find, so more shoppers can easily find the store.
Customer login: If your customers build a private store, they can set up a login so their end customers can check the status of those holiday orders.
Simple Shipping Cart & Checkout: Customers want simple, secure checkout processes no matter what they're buying online. They'll get that confidence with InkSoft's stores. And all order details go directly to your team, so you know exactly what needs to be printed, packed, and shipped.
The Ultimate Sales and Marketing Guide for Branded Merchandise: One of the biggest obstacles shops have when prepping for a busy season like the fall or winter holidays is marketing. There's so much time spent on preparing mockups, quotes, and order quantities that you don't always have the extra time to do the promotion part. But it's still an important part of running a print shop since the more people aware of your services, the more chance you have at turning them into longtime customers.
Check out our Ultimate Sales and Marketing Guide for Branded Merchandise, built for busy times like the fall season and upcoming winter holidays. This handy kit has everything you need to get the word out about your shop and services like InkSoft Stores.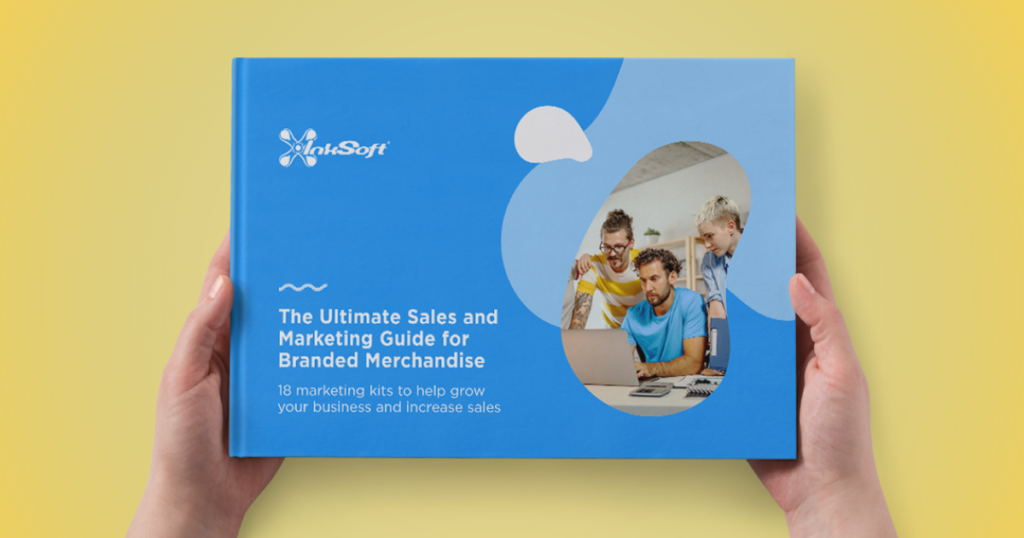 The kit features ready-to-use text for email and social media posts to your customers. All you need to do is drop in a couple of critical details like business name and year; you're ready to go. Plus, this copy-and-paste toolkit features readymade copy templates for all types of customers and applications, like schools, teams, fundraisers, small businesses, and more. The best part about it? It's a completely free resource.
A Diverse Opportunity
When we mention fall and winter, it's more than just school sports and Christmas events. Both seasons are a golden opportunity for you to connect with lots of different types of customers who need custom-printed merchandise for their events or organization. Some of the bigger ones include:
Farmers markets
Oktoberfest events
Halloween
Turkey Trots and other seasonal 5Ks
Family reunions/retreats
Putting it all together
With InkSoft's tools and your shop's printing expertise, you can head into the fall and winter seasons with better mockups, presentations, professional e-commerce solutions, AND an easier way to market your services. You'll be positioned to make this a solid printing year. Having all these tools to run your print shop better also means that even if you can't offer rock-bottom prices that customers are used to from shopping in other online retail spaces, they'll pay for what you can offer since you can provide more value than the competition.
Is your team ready to start prepping the presses for the upcoming holiday season? Contact a Client Advisor today to learn how InkSoft can help you deliver the best in custom printed merch for winter holidays and beyond.
Related Posts: