Bottom Line Up Front: Packaging inserts are as effective as they are underrated. They provide customizable value to your customers, enhancing your sales and your brand-consumer relationships at the same time. We break the tool down below.
Today's tip is an extension of what you already have going.
It takes the orders you're filling for the customers you already have and adds an exclamation point — something that both memorializes the order and gives your customers a reason to keep coming back.
We're talking about packaging inserts.
The old-school marketing trick might sound like it's the opposite of glamorous, but it's been proven effective for decades. But how can something so small, and something so mundane, really make a difference?
Well, we break it down for you below.
First, the basics
If we're going to praise the many benefits of packaging inserts, we should first make sure everyone's on board with what they are.
Packaging inserts are supplemental items that businesses who use e-commerce can use to enhance their customers' buying experience.
We're talking anything from a promotional offer to a "Thank You!" note, from a free sample to a quick "Other Products You Specifically Might Like" list.
The common ground for all of these examples is that they're unexpected, value-added perks that show your customers just how grateful — and excited — you are to have them.
By going above and beyond with packaging inserts, you're not just implementing another marketing tool that promotes your business. You're actually working to foster each individual brand-consumer relationship — and that's something your customers will be impacted by way more.
Designs to consider
When you're going the packaging insert route, the one thing you should remember is that simplicity is key.
You don't want to overwhelm your customers — or even turn them off from reading — an insert that's cluttered with words.
To avoid doing too many things at once, make sure you have a solid understanding of the value you're planning to offer your customers before you begin the creation process. Some possible ways to add value?
Maybe it's December, and your inserts take the "˜Thank You!' approach, also wishing your customers a happy holiday season.
Maybe you go the promotion route, and offer your first-time customers 20% off their next order.
Or maybe you're looking to build your brand's reach — so you invite customers to follow your social media accounts, post about their new products, and leave online reviews. You can even offer a social-based promotion: if they tag you in a product-focused post, they'll be entered to win a 50% off discount, or a product, or whatever else you have in mind.
There are endless ways to add value. But, while you're considering your options, make sure you're also remembering the golden rule — simplicity.
Your packaging inserts are representing your brand, so they should be in line with your brand's image. Keep that in mind as you choose the visuals and language for the layout.
What do we mean?
If your brand primarily deals with bigger corporate entities, your insert should be clear, succinct, and professional.
But, if you're a business that works with smaller brands, schools, and sports leagues — and you're already leaning into more casual communications with them — keep your inserts reflective of that.
In either case, you want your brand voice to stay consistent — and you want your customers to feel like you remember who they are and are speaking directly to them.
It's about the relationship
Just like you're using packaging inserts to add value to your customers' experiences, you can also use them to deepen your relationship.
Sure, that already happens when you're making your customers feel seen, appreciated, and satisfied — but it also happens when you let them get to know you.
Take this opportunity to give them a closer look into you and your team.
"Our small, family-run business appreciates customers like you who keep us running."
"This Atlanta-based print shop was born on its commitment to creativity & innovation — if you have any suggestions for improvement, let us know."
These aren't just empty words. They're descriptive indicators of who you are, how much you value your customers, and how your goal is to keep your relationship with them growing.
By emphasizing that they're not just another customer — that their feedback, and ultimately their long-term satisfaction, is important — you're not just talking the talk. You're walking the walk to a mutually beneficial brand-consumer relationship.
But do they actually work?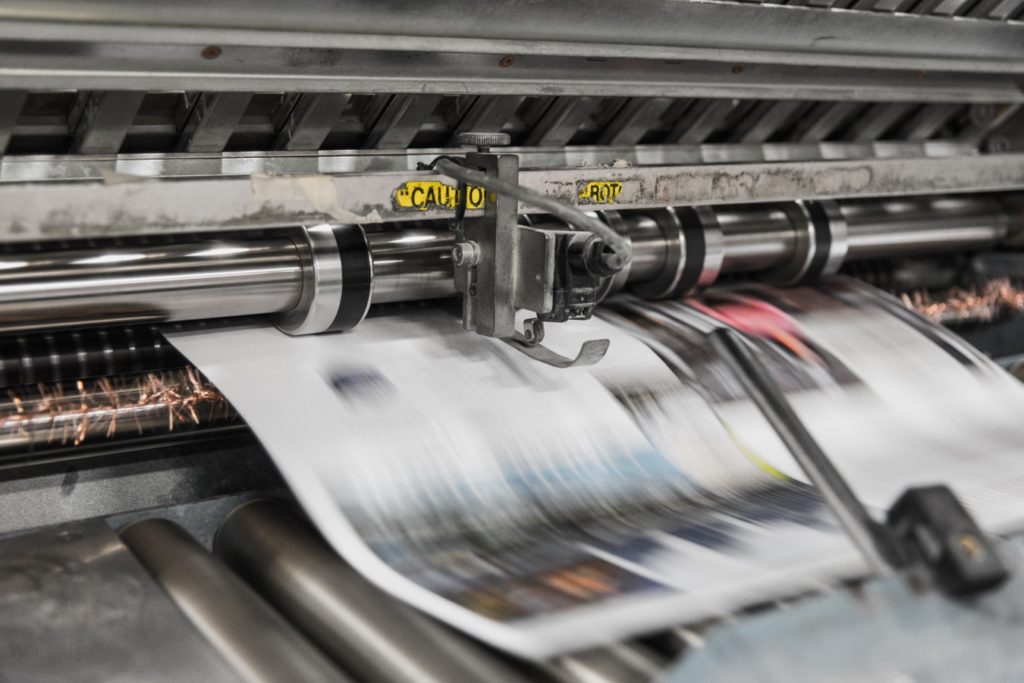 Packaging inserts might seem pretty small and insubstantial to do all of that. We get it. But we're not making any of this up.
According to Forbes, "The probability of selling to an existing customer is 60-70% while it falls to just 5-20% for new prospects." Packaging inserts aren't cold attempts at conversion — you already have your customer hooked, and now it's up to you to reel them in.
What's more is that when it comes to packaging — we're talking everything from the box itself to the ancillary stuff, like the packaging inserts, that your customers find inside — it's all important.
The unboxing experience is a big part of the entire e-commerce purchasing experience, and we know, from this study, that 40% of consumers are likely to purchase from an online merchant again when they feel they're getting premium packaging.
That means almost half of your customers are judging you on more than just your product — but on your delivery. You want to build the best unboxing experience you can for your customers, so why not employ little perks and shows of gratitude to leave them wanting a repeat?
With 12% of marketers currently using the packaging insert tactic (according to the DMA 2005 Statistical Fact Book), it's clear that it's a proven option — and one that can set you apart from your competitors.
At the end of the day, you're not just looking for one-off customers.
You're looking for customers that will keep coming back, that will tell their friends and coworkers how great your services are, and that will help you reach the capacity to become the business you want to be.
The conclusion
By now, it's pretty obvious we think packaging inserts are the real deal.
They're a low cost, high impact way to foster the most important relationships your business has: the ones with your customers.
And, if you want to cut costs even more, we've even seen inserts printed on the reverse side of packaging slips. You're already printing those, so why not use the blank side to add value?
Since packaging inserts are completely customizable, you can develop the messaging and offers that reflect who your business is — and what your customers want from you. And the best part?
You don't need to limit your inserts to just one! In fact, you shouldn't — you have the power to test which inserts work best, so do that.
Not only will testing which inserts are most effective increase your sales, but it'll also help you get to know your customers better. And the better you know your customers, the more you can evolve to be even more useful — and needed.
The relationship you have with your customers will always be a cycle of value: the value you offer, and the value you get back. With packaging inserts, you're taking an exceptionally easy-to-adopt marketing tool and providing your customers with value that will impact them — and keep them coming back for more.
If you have any questions for us, or are interested in learning more about how InkSoft technology can help you offer more value to your customers, don't hesitate to reach out.
Our goal is helping your business become the most effective version of itself it can be — so we're always here for you.
Take care,
The InkSoft Team