Bottom Line Up Front: In this new series, we walk you through how to use some of InkSoft's most in-demand features like an expert. Today's feature is Custom Pages — you'll learn how to use it, how to customize it for your business's needs, and tips & tricks that'll set you up for impressive sales results.
As the InkSoft platform continues to grow, offering businesses like yours access to new products, state-of-the-art features, and limitless productivity potential, our team thought it would be wise to take a step back and help you dive in.
Really dive in.
Because we don't just want you to have access to the technology. We want you to be able to navigate it like it's the town you grew up in. We want you to be able to use it like it's the phone that's always in your hand. And we want you to be able to customize it based on your business's needs, like it's a piece of apparel you're customizing for a client.
In other words: we want you to be experts.
This series will give you the roadmap you need to get there. Every edition will highlight one InkSoft feature, providing you with all of the information, all of the context, and all of the value-added tips you'll need to use it successfully.
And to kick us off, the very first feature we'll be examining is Custom Pages. So get ready to learn something — because it might just be the difference between where your sales are now, and where they could be next week.
The Breakdown
You spoke. We listened.
We know that many of you are already using the InkSoft platform for your main business website because you love the Online Designer, the Product Catalog, and the transaction features that are already integrated. But we've also heard that you wanted more.
That you wanted the option to add new pages — like an About Us page, a seasonal campaign page, or a targeted landing page — to help your business stand out. To help win you more sales, and to help market your brand more effectively.
So, like we said: We listened.
And we created the Custom Pages feature to help you do just that — create all of the specialized pages you want, using InkSoft's couldn't-be-easier page setup framework so that your site is working for you. So that it's showcasing all the right things, so that it's targeting all the right subgroups, and so that it's earning you all of your sales potential.
Got 12 minutes? This video will walk you through exactly how to use Custom Pages to your advantage — so you can leverage the technology to set your business up for long-term success.
It's All In The Details
Just to recap all of that greatness, here are some of the highlights you get with the new, knockout feature:
Full control over Page Title, Page URL, and all displayed text.
Ability to copy an existing page, saving you time when creating new, similar pages.
Access to the entire Page Component Library, making page creation easy as pie.
Streamlined efficiency when it comes to creating specialized pages (i.e. targeted landing pages, fundraising pages, and gallery pages).
Option to publish pages immediately, or save to publish later.
Capacity to unpublish a page (and have it disappear from the site) at any time.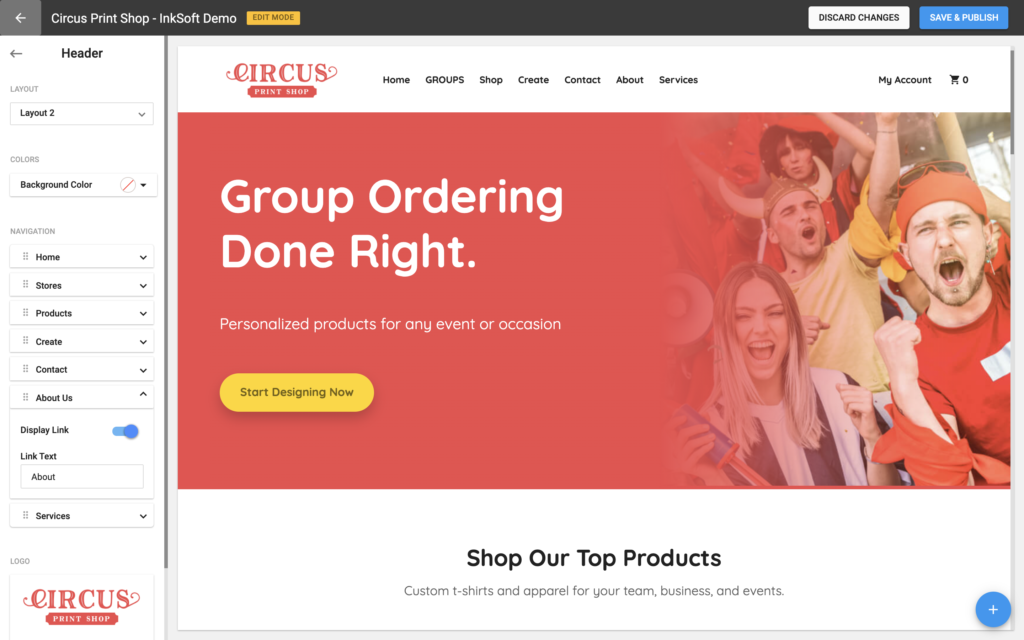 So there you have it! A high-demand feature that's been released for the sake of heightening your business's efficiency, marketing potential, and sales results.
We hope you learned something from today's edition of the New Feature series — and remember, if there's ever a point you'd like clarified, or a question you have that wasn't answered, don't hesitate to reach out. Our Success Squad is waiting to help you however they can — and they're just an email away.
We look forward to seeing you back here for the next edition! Until then, we can't wait to see how you use Custom Pages to your advantage.
---
Sell Smarter with the Industry's Best Online Store Solution.
With InkSoft Stores, you'll get an easy, modern, and feature-rich e-commerce platform to launch successful online stores for any customer or sales opportunity. Whether you are tapping into online fundraising, school spirit wear, or company stores, InkSoft Stores will help you sell smarter. To see the InkSoft difference, request your personalized online tour to learn how successful apparel decorators and print shops are using InkSoft to scale their sales growth.