Episode 017 of The BIG Idea Podcast by InkSoft is now live!
Remember to subscribe and download on iTunes to get all the episodes as they are released. And leave a comment and rating to help us deliver the content you are looking for!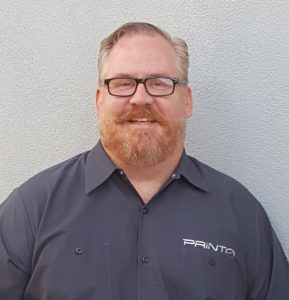 This week we are joined by Jay Busselle with Printa Systems. Jay started screen printing in high school, and eventually turned into a family business that focused on screen printing and promotional products. After his parents retired and sold the business, he worked for an industry software company that focused on graphics, design templates, logos, and production-ready artwork.
He is currently the Sales and Marketing Director at Printa Systems.
In this episode, you'll learn about:
How to define "branding" and why it's important for your business
Updating your forward-facing presence (including online)
Using social media engagement for your brand
Starting conversations with content
How to freshen up your logo to drive results
Enjoy!
Want a little more help with your InkSoft account? You can always contact the Support Squad directly at support@inksoft.com or 1-800-410-3048 Option #1 for support.
If you're not a part of #TeamInkSoft yet, you should be! If you are looking to improve and grow your business you should check out our Online Stores Platform and set up a personal tour today!