Bottom Line Up Front: Today's feature breakdown looks at the savvy sales tool you didn't know you needed: the Saved Design Notification. Find out exactly when (and where) to contact prospective customers, gain the insight you need to win the sale, & get ready for your operations to be revolutionized.
Another day, another new InkSoft feature breakdown.
That's right — we're back to give you the insider's breakdown for one of our newest, savviest, and most time-saving features: the Saved Design Notification.
Because we're all on the lookout for new techniques when it comes to lead generation. We're all looking to implement new ways to automate processes, minimizing time and effort required. And we're all constantly searching for the next feature that'll get team members and customers equally as excited.
Saved Design Notifications check off all three boxes. Don't believe us? We'll set the scene.
The Breakdown
Whether you're using the InkSoft's Online Designer on your primary business website or you have it embedded in a custom site, your customers have a full range of access to the design tool.
That means they can use it to visualize what they want, understand how their desired artwork (or type of artwork) will look on blank products, and try out new things. All without taking up any of your time.
But, while we all know and love the Online Designer, we're not here to talk about it today. We are here, however, to talk about its newest feature: the Saved Design Notification.
This notification comes into play as soon as your prospective customers click "Save Design" — so after they've spent some time playing around with different options, and after they've decided on one that they're serious about. As soon as that button is clicked, the customer will be prompted to log into an existing account or sign up for a new one.
And that's — you guessed it! — lead generation.
You get an email notification right to your inbox the second that design is saved, giving you the power to follow up, see the design, and make edits online or offline. Think about what that can do for your sales process: you know exactly when (and where) to follow up, you're armed with the materials you need to understand exactly what your customer's looking for, and you're free to make quick, on-point revisions at any time.
So how do you get this thing going? It actually couldn't be easier. Take a look at our 8-minute video and your whole team will be benefiting in no time.
It's All In The Details
To recap that tutorial, here are some of the highlights you'll be getting with the new feature:
Ability to know exactly when a customer is at the stage in their process where they're serious about a custom order.
Direct access to their email address, which can be used for communication here — and marketing initiatives later.
Direct access to their design, which will give you an understanding of their needs before you reach out to them.
Full control over how you edit: make adjustments right in the Online Designer, or download the design and make those tweaks offline.
Capacity to sign as many team members as you'd like up for the notification — so your sales team and your design team can be up to speed with new prospects.
So there it is — InkSoft's newest feature that might just help your team become more efficient, more prepared, and more confident in their sales process. (And generate future leads too.)
As always, if you'd like a point clarified or an unasked question answered, our Success Squad is here for you! Send them an email or call 800-410-3048 and they'll be happy to help make this feature as easy to leverage as possible for your team.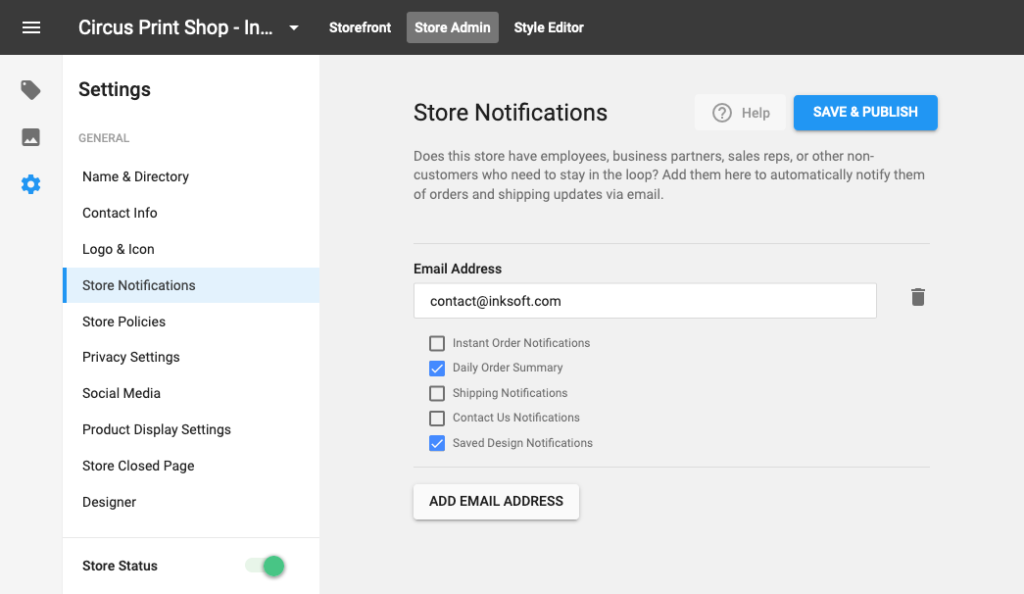 ---
Let your customers design online!
InkSoft's Online Designer is the industry's best online t-shirt and apparel design tool. The facts are: Customers want and expect to shop online, even for custom apparel. Let your customers self-serve, design, and buy personalized products online right from your website. Get your personalized tour of the Designer by completing the form below.