The recent weeks have been harrowing for the island of Maui and, more specifically, the community of Lahaina. After a catastrophic wildfire tore through the area on August 8, causing casualties and massive damage, there have been efforts from small and large organizations to chip in and help where possible.
Maui Custom T-Shirts sprang into action when crisis struck the island with the power of an online store and a talented customer's artwork. Co-owners Kathleen Aguas and her husband Ruben are a small team that has built up a strong following as a shop that believes being part of the community, having fun every day, and making customers happy create a fulfilling and rewarding opportunity.
On August 17, 2023, shortly after the tragic August 8 fire, Maui Custom T-Shirts opened the "Hug Maui" online store at the request of their customer Judie Vivan.

The store features shirts with artwork created by Judie, and proceeds generated from store sales go to the KahaKuKahi Foundation.
Choosing a Maui-focused foundation
Judie says she chose the foundation because of its focus "on local children who need mentorship to grow into responsible adults."

"Founder and World Champion Waterman Zane Schweitzer and his fellow surfers teach them about caring for the land and the ocean and introduce them to watersports," she adds.
The Foundation's work has now extended to support families affected by the Lahaina fire tragedy.
Original artwork
Ever since moving to Maui, Judie says she's been fascinated with the Legends and Myths of Hawaii and has researched these stories handed down through generations. From there, each story inspires her paintings. This rich heritage also inspired the shirt in the Hug Maui store.
"This painting shows Namaka, our Goddess of the Ocean, hugging Maui to give comfort and strength at this challenging time," she says.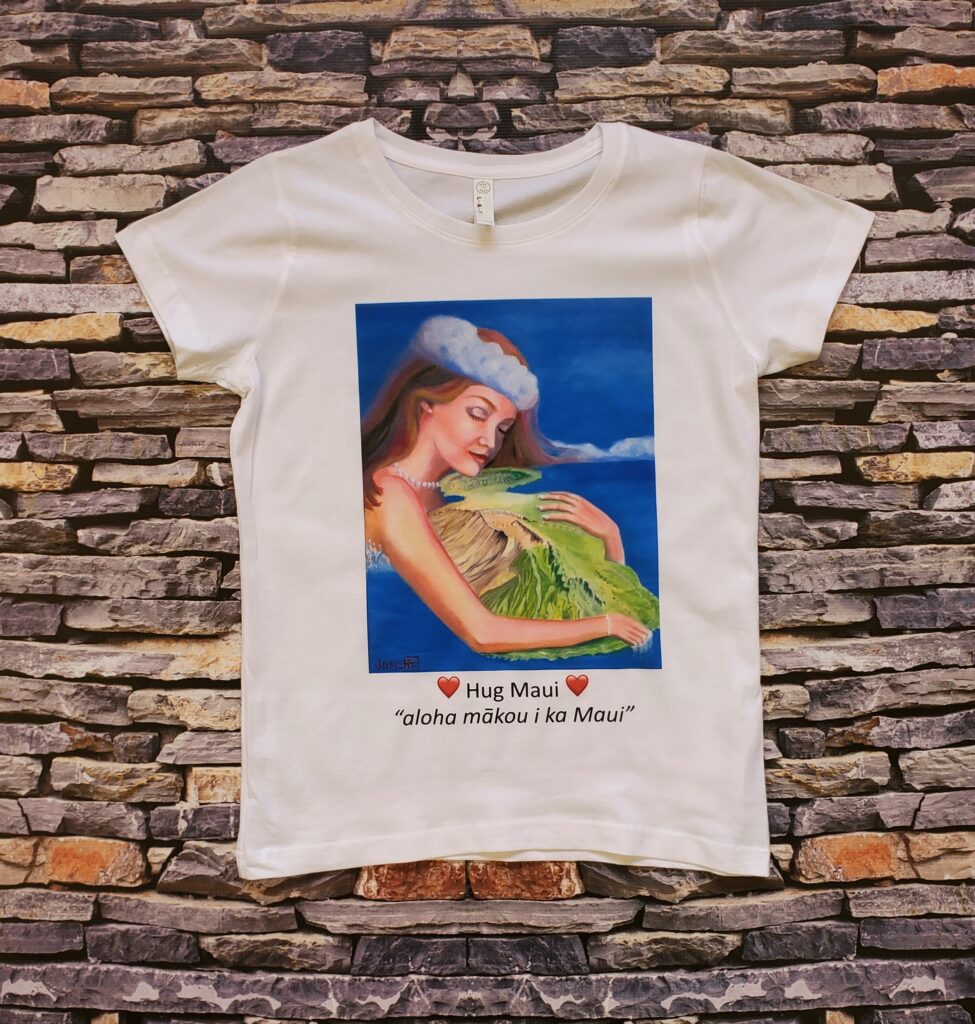 Supporting local businesses in Maui
In addition to inspired artwork, Judie says she chose to work with Maui Custom T-Shirts to uphold that spirit of community togetherness.
"We chose to make the T-shirts locally at Maui Custom T-Shirts to support our local businesses," she says. "It might have been easier to go to offshore manufacturing, but we felt it is important to keep the business here on Island."
Making an impact
With barely two weeks in operation, the Hug Maui store has already made an impact. Kathleen says the store has received 57 orders and counting, and over 100 shirts ordered, with more likely on the way. That support has poured in from all over North America.
"Maui is home or a beloved destination to many all over the country and Canada, and we will be shipping orders all over the U.S.," says Kathleen.
Because people in Lahaina continue to need help and will most likely for a long time to come, the business plans to continue running the store for the foreseeable future.
It's a testament to how something as simple as a decorated T-shirt can help contribute to a cause and give back to a community in need.
To see Judie's design and buy a shirt, visit https://mauicustomt-shirts.com/hugmaui/shop/home.
For more information on Maui Custom T-Shirts, visit https://mauicustomt-shirts.com/.