Bottom Line Up Front: In one of the most successful Here For Good campaigns we've seen, this Canadian print shop took their passion for community & commitment to innovation and drove RESULTS. Here's how.
Today's Spotlight looks at a print shop that understands the importance of distinguishing itself in a crowded market. And goes the extra mile to make sure it's giving its community precisely what it's after.
You'll learn about their high-energy branding. You'll learn about the 'Print Machines' unstoppable marketing. And, you'll learn about how both of those factors had allowed them to exert massive fundraising impact when their community needed it most.
Any time one of our customers uses their capabilities for good, we're proud. But this particular story has had our pride pouring over.
It's determination mixed with positivity mixed with community cooperation you'd be hard-pressed to find anywhere else. Ladies and gentlemen, meet the subject of today's Customer Spotlight: Canada's Print Machine.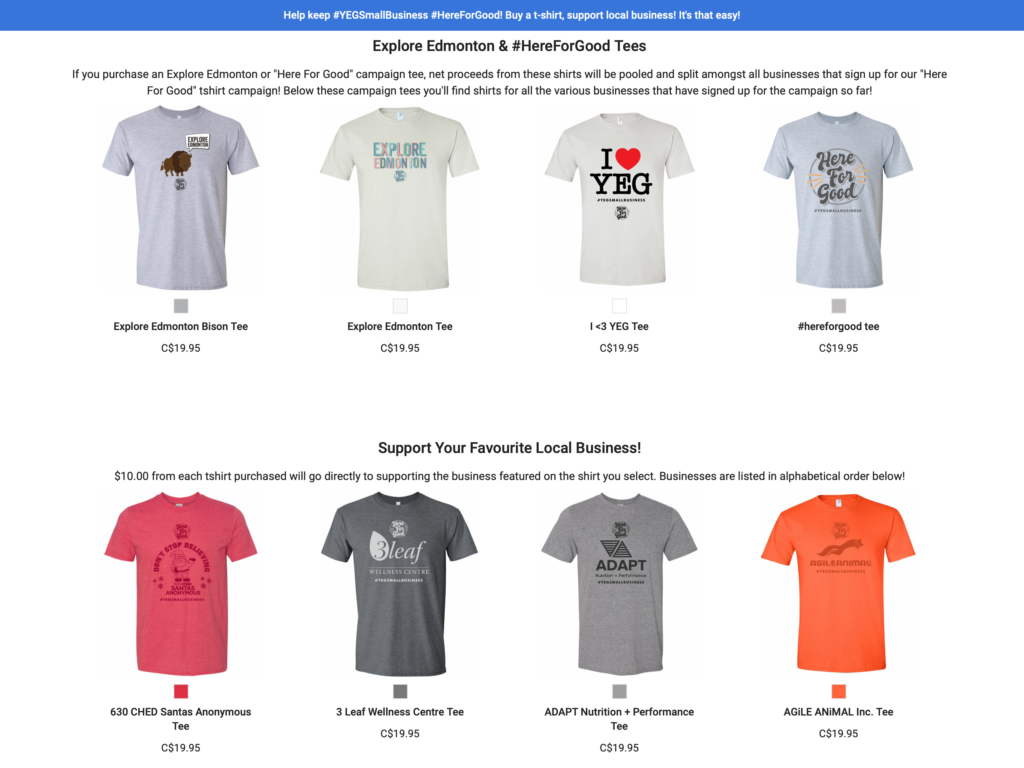 Meet Print Machine
Based in Edmonton, Canada, The Print Machine is a custom apparel and promotional product print shop that knows its way around staying relevant. From its wide range of product offerings to its command of the most cutting-edge industry capabilities, Print Machine's driving value has been evident since it opened its doors in 2013.
To give the people what they want. Quickly, reliably, and with the type of professionalism that speaks for itself.
"You think it, we ink it," has been the shop's motto since that very first opening day. It's that sense of individualized customer-first thinking that's continued to earn Print Machine a loyal customer base. (But its exciting offerings menu certainly hasn't hurt either.)
Seven years after Print Machine entered the market, Covid-19 threw a damper in its operations. It caused a pause alongside the majority of other nearby businesses. But, taking stock of the havoc being wrought across the city, devastating companies indiscriminately, the team (led by founder Jonny Jacques) refused to sit still.
So they used their capabilities to lend a helping hand.
Here For Good
The concept was simple. Since Print Machine already boasted quick printing capabilities with no minimum orders required and, of course""the best e-commerce system in the industry""they were uniquely equipped to take fundraising matters into their own hands.
Enter: Here For Good, Edmonton Edition.
The YEG Small Business Online Fundraising Store has been up and running since March 2020. It's managed to partner with over 150 local businesses and give each of them, no matter their industry, a new way to earn.
From salons and barbershops to tea shops and theaters, from carpenters and gyms to pubs and art studios, one scroll through the online store showcases just how affected the community as a whole has been. And how much liveliness, originality, and thriving is waiting for it on the other side.
Site visitors can purchase a business-specific t-shirt (with proceeds going directly to that business) or a general Edmonton support t-shirt (with proceeds split among each of the participating companies). The options for community members to show up are extensive.
With over a year of runtime and over $43,000 earned so far, it's safe to say that those options are leaving an undeniable impact.
The Wrap Up
While it was Print Machine's quick thinking and innovative capabilities that got their Here For Good fundraiser off the ground, it was their legendary knack for marketing that helped it genuinely soar.
They told their story on social media, engaging local businesses and local buyers with earnestness. They posted about their e-commerce and Online Designer platforms, and they made sure that every set of eyes knew exactly how top-notch the quality of products was.
But the most differentiating aspect of Print Machine's digital marketing wasn't its consistency or diversity of posts. It was its authenticity.
Scrolling through their Instagram images and tweets, you can't help but be struck with how many causes Print Machine goes out of its way to support. Fundraising initiative after fundraising initiative is promoted. You are left thinking: How can they possibly execute for all of it?
But the magical thing is: they do. At Print Machine the local and global community is everything. From their offerings menu to their commitment to innovation, the Here For Good expertise, to their genuine love of audience engagement, that shines through.
We're so glad to have gotten the chance to Spotlight the Print Machine team today. We hope they've left you as inspired as they have us.
And if you're sitting there reflecting on your fundraising capabilities with distaste, we're beyond excited to have gotten to introduce you to our Online Fundraising Stores system. It has limitless customization power, seamless integrations, and the type of buying experience your audience expects, it'll help you achieve your fundraising goals without the stress. Get the details now.
Related InkSoft Customer Spotlights