"Whether you're with Deco, OrderMyGear, Printavo, or anyone else, if you want to grow, you'll always end up with InkSoft."

– Bob Ewald, Fresh Horizons Group
The momentum that pure determination brings — there's nothing quite like it. And our Customer Spotlight today exemplifies that perfectly.
Now, you all know we at InkSoft are big fans of showing off our community. When we see a business grinding and innovating, when we see a team moving the needle forward, we can't help but want to observe them closer. To get to the bottom of what makes their motivation tick, and to share their strides — their ambition — with all of you.
As a technology company, it's in our DNA — but as a company invested in the success of our community, it's in our hearts.
So, ladies and gentlemen, this Spotlight is a big one. It'll show you a commitment to improvement, yes, but also a commitment to taking chances. It'll show you the persistent drive of a business owner who's never too proud to make a change, and it'll show you the incredible results that are only handed to the teams that set out to grow.
We couldn't be more excited to introduce you to this InkSoft customer, who used his entrepreneurial passion — and confidence — to reach new heights. Bob Ewald, of Fresh Horizons Group, is here. And his story might just get you thinking about yours.
The Million Dollar Problem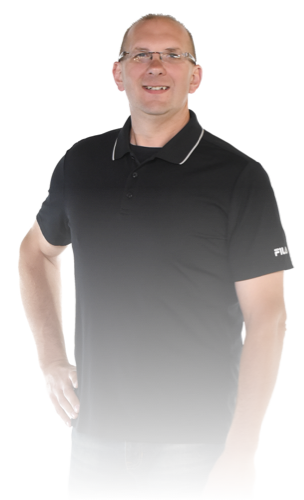 So when, in 2019, a local nonprofit organization he'd been doing some fundraising for came back to him, asking if this time, instead of a coffee fundraiser, he could put together a t-shirt fundraiser, Bob paused. He didn't have a t-shirt company like he had a coffee company. But despite that minor detail, he agreed.
And just like that, Bob became part of the decorated apparel industry.
With Fresh Horizons Group expanding to include custom apparel and promotional products in its arsenal of offerings, Bob and his team were moving fast to figure out the capabilities, equipment, and systems required to be a competitive business. He wasn't having trouble finding excited customers, but doing the research to determine his backend options was a different story.
Because there were plenty of options.
After weighing the e-commerce platforms out there, Bob ultimately chose DecoNetwork for its features and set-up process. He knew that having the right systems and tools in place early on would help his new business succeed down the road — something he learned through his lawn care company — so he went with the option that he thought would empower him to do the most.
And for a while, DecoNetwork did empower him. Even though it was more labor-intensive to use than platforms like InkSoft were, it came with a comprehensive offering of features and abilities — making the effort worthwhile. A couple of years later, Bob had six online stores up and running through DecoNetwork.
But producing them had taken him months of collaboration with a Deco expert — and thousands of dollars – in addition to his $200 monthly payment to the platform.
Bob knew something was amiss — that these costs shouldn't have to be drained from his still-small company — so he went back to the drawing board. It had been two years since he'd given other platforms a measured look, but now, he was ready to embrace a different path forward. He was ready to give another option a shot.
The Priceless Solution
Bob's readiness was magnified by what he saw.
In the two years since he'd last learned about InkSoft, the platform had evolved – massively. While DecoNetwork was expanding with incremental changes, InkSoft had its foot on the gas — and launched itself right to the top of the industry's offerings.
It was, without a doubt, the decorated apparel industry's leader. Knowing full-well what a boost in technology — coupled with a reduction in cost — could do for his business, Bob wasted no more time making the pivot.
An important note to make here is that, even though Bob was dead-set on finding the right technology and investing in it, he wasn't operating from a place of excess. His still-new company didn't have extra spending money; finances were tight, he emphasized to us as he told his story, so any decision he made about where money was going was a big one.
The stakes were perpetually high, but that didn't stop Bob from taking the risk. It didn't stop him from hedging on his company's future success.
Bob signed up with InkSoft plus an additional upgrade to utilize InkSoft's white labeling feature. It was already less money — but would the move pay off in impact?
He was building banners, managing integrations (like Stripe and UPS), and designing logos without help. He was awed by the ease of use, and he was impressed by the intuitive functionality for customization. From the Online Stores to the Sales Presentations, he was building everything he needed — in personalized ways — without help.
Without spending additional money, and without waiting for days — or months — to pass.
We asked Bob for his official report card on why he's a fan of InkSoft, and he responded with these markers:
Ease & Speed: You won't find an easier functionality, a more intuitive platform, or a quicker start-to-finish build-time anywhere else.

Versatility: Whether you're using a product that's in the catalog or a custom product that's not, you're able to upload it directly to the platform.

Empowerment: You can set your own pricing, fulfill your own needs, and do it all simply.

No Wasted Time: With Deco, you could waste hours (or days) building tables and grids that never actually gave you the look or function of what you needed. With InkSoft, that's a thing of the past.
The moral of this story? Bob and Fresh Horizons Group didn't wait out a status quo that wasn't working for them. They didn't choose comfort over risk, and they weren't willing to accept losses based on a decision made in the past.
Because for them, it was all about the future.
Just like the 3,500 square foot warehouse space and the $100K worth of equipment. Just like the unrestrained ambition and the big, big goals. They're all preparation for the checkpoints that are fast approaching, leading to bigger ROIs, bigger audiences, and bigger impact.
And those results are made possible by Bob's innate, serial entrepreneur philosophy of hedging on his own success. Of doubling back when necessary to do things differently, and of betting big on declaring victory down the road.
Because of Bob's faith in his business, his industry, and what the right technology can do, he was able to set himself up for success ahead of time. It's a strategic bet on prosperity, and it's something that every smart entrepreneur should lean into.
There's no question that the right technology goes a long way in deciding a company's fate. Just ask Bob. But more than the right technology is the right mindset. Because if you're not willing to invest in your company's future, why would anyone else — customer, employee, or otherwise — be inclined to?
InkSoft's platform solutions give you a clear, results-driven way to invest in your success. Today and down the road. If you're ready to start seeing what our Online Stores and Quotes and Invoices systems can do for you, take the tour now.