Networking has always been a huge part of driving business, no matter what industry you're in.
But now, these uncertain times sparked by COVID-19 are substantial game-changers for how we interact.
Jobless claims in the past week have jumped to the highest rate in years and the United Nations predict 24 million people will lose their livelihood as a result of this virus. Because of this, companies of all stripes should take advantage of every tool at their disposal.
"Networking has been a critical part of our marketing planning for most of the 13 years we've been in business," says Amy Kritzman, president of Buffalo Grove, IL-based Gold Medal Ideas Inc. "We must find new or enhanced ways to meet when we can't go to a regular meeting or other networking planned event. That might mean more phone calls or web-based meetings. If a group that's been working together stays together during these times, it's very powerful."
We've got a slew of ideas on how networking can bolster your business.
The Way COVID-19's Changing Our Landscape
To call COVID-19 a disruptor is an understatement. In all fields, businesses are being shuttered or having to shift their focus. For instance, the fast food industry has had to cut out all dining room eating and switch to delivery or carry-out. On the other hand, "gig" economy jobs such as food and grocery delivery are booming, as are streaming services.
"Business in every industry will change in a lot of ways," says Tom Rauen, CEO of Dubuque, IA-based Envision Tees. "I expect companies to be more frugal, so they may not spend as much on promo products or premium branded merch. As owners of decorated-apparel companies, it's our job to educate our customers and prospects about the benefits of our products and marketing services, and the ROI we can deliver."
One of the biggest changes coming to the decorated-apparel industry will be a heavy reliance on e-commerce. More and more, business will be conducted online, with fewer people journeying to brick and mortar stores and shops. (If you don't have an ecommerce site or want to upgrade yours, InkSoft Stores offers an easy-to-launch, all-inclusive option.)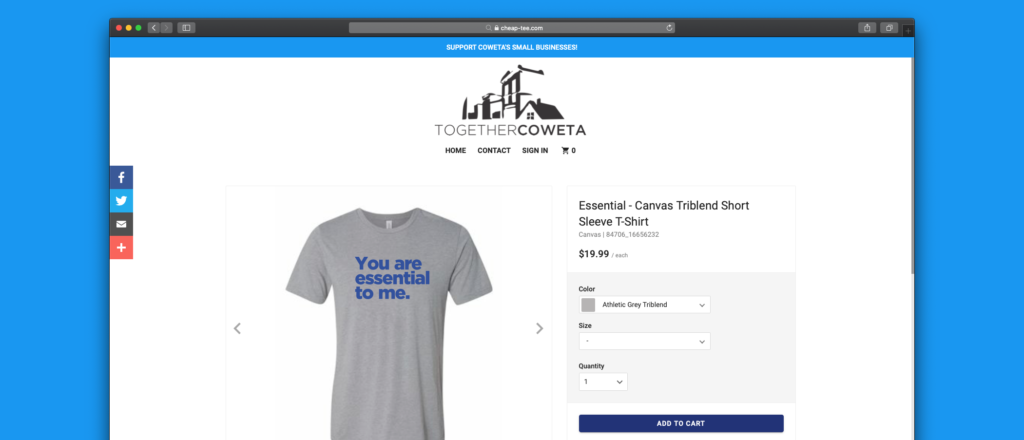 Plus, as Kritzman, notes, if events are canceled or postponed your customers may cancel orders. "In many cases, though, they haven't ordered yet, so they won't," she says. "If it's a trade show where you planned to exhibit, you won't be in front of customers and prospects. You may also have event expenses that you can't recoup."
"In any of these cases, businesses like ours are looking for creative ways to adjust to a new model or for new revenue-generating opportunities," Kritzman says. "It's not an easy task. We should be asking: What can we do for our current customers? What can we do to continue to develop new customers?"
Let's Count the Benefits of Networking
Networking has always been a popular business practice, but many shop owners eschew networking for focusing on production. Now's the time to take a fresh look at connecting with others.
"Coming out of this, people are going to strive for connection more than ever," Rauen says. "Right now, the capital of your network is the one thing that will help keep you moving forward in a number of ways. Relationships matter now more than ever, and the strength of those relationships will be a direct result of the sustainability for your business."
Top networking opportunities include:
Conferences: We're seeing a lot of conferences and events cancel or postpone as people isolate because of COVID-19. It's likely that many events will be replaced by virtual conferences, so seek those out and make it a point to e-attend. "Whole conferences are being hosted online, complete with breakout sessions," Kritzman says. "There are some very powerful tools like Zoom to help these business activities go on."
Volunteering: Virtual volunteering and philanthropy might look different these days, but a lot of our resourceful decorator customers have been using our InkSoft Stores platform to build custom online stores to support their local communities, and to spread the word about their shop's capabilities.
For example, Design A Shirt launched an "Isolated But Never Alone" store stocking tees with light-hearted quarantine sayings. (The Design A Shirt team also launched a "Nashville Strong" store to support tornado victims.) Okaloosa, FL-based Anchor Screen Print built an "Anchoring Okaloosa" Store, where printed T-shirt proceeds go directly to support local small businesses. "Here for Good" stores are making a difference.
Events: It's always a good idea to stay social and get out in public (when not in a pandemic). Any event from a concert to a community rally can be a chance to network. While there might not be a chance to meet face-to-face now, keep rescheduled events on your radar. "In person-events help generate ideas, foster an environment of learning, and build relationships and connections you can't get online," Rauen says.
Community Memberships: Another way to get out in the community is with memberships in local groups such as the Junior League, the Kiwanis or your local chamber of commerce. You can join now, as many clubs are creating online communities to meet. "You get out what you put in," Rauen says. "For memberships to work well for your business, you need to devote the time to be active and participate."
Social Media and Online Groups: Growing by leaps and bounds over the past decade, using social media and online groups for networking will probably expand in the next year or so as travel is limited due to concerns over COVID-19. "Be part of the conversation, offer help and feedback, and keep a pulse on what your clients are doing," Rauen says, "but also manage your time wisely."
How Will You Leverage Networking?
There are lots of ways networking can help grow your business. One overall rule of thumb? "Always be ready to give more than you get," Kritzman says.
Here are five specific ways to make networking work for you:
1. Find a mentor: If you're just breaking into screen printing or want to expand into a new area, it's always a good idea to have a guide. Joining printing-related Facebook or LinkedIn groups is one way to get acquainted with industry veterans who can help you navigate challenges. On the flip side, offering to mentor a newbie also generates some great networking karma.
2. Find new customers: By networking with other local business owners or any company nationwide that could use your marketing expertise, you open yourself up to reach prospects you might not have reached before. This is where posting short "edu-taining" (that's educational + entertaining) about the marketing power of branded products can go a long way.
3. Find new team members: Did you know that nearly 85% of all business hires are a result of networking? In this case, it's all about who you know. As you participate in online groups and build out your brand, you'll also attract people who are drawn to your company culture. This will give you the opportunity to attract like-minded people to be part of your virtual or physical team.
4. Ignite word-of-mouth marketing: Recommendations from others lead to 83% of customers making a purchase. That's why keeping the ROI marketing top of mind when you interact with people is so important. You never know who'll recommend your services to someone else. "I'm leaning on my network for advice, for guidance, and most importantly, to help generate word-of-mouth to keep our business alive," Rauen says.
5. Build brand awareness: How can people work with you if they've never heard of your shop? Just getting your name "out there" to a wider audience will improve brand awareness and help drive new business. Tap into social media: Post regularly and start doing live videos on Facebook or Instagram on the value of branded merch. If you're doing it well, people will share your posts and videos with businesses that are planning a lot of during and post-coronavirus marketing.
How Will YOU Network?
As always, the importance of business networking is about making connections and showing the other person how you can add value to their brand. You don't want to come off as someone trying to hard-sell your shop to others and you don't want to create a one-sided relationship.
"Give value unconditionally and work on building the relationship above all else," Rauen says. "The network and the relationship is worth far more than any single transactional order."
Take this uncertain time""when we're all facing uncertainty together""as an opportunity to truly get your brand out there, and help others as well as your own business.
"I love this Theodore Roosevelt quote: "˜Believe you can and you're halfway there,'" Kritzman says. "I'm not sure it can be said much better."