📸 Photo credit: WearTheFund®
Looking for a money-making service every one of your clients will line up for?
You don't have to look far. It's fundraising. Yes, this isn't a new sales and marketing opportunity for print shops and apparel decorators.
However, we're watching smart shop owners rev up their fundraising efforts in a different way""and you can do it, too.
During the height of the coronavirus lockdown, decorators like Andy Holst of Embroidery & Screen Works Inc., Mike Cho at Impress Printing, Jared Chubb at Parkway Printshop and countless others launched online fundraising stores""to date, they've sold hundreds of thousands of dollars of custom T-shirts to support local businesses and their shops.
Yes, experts predict a touch-and-go buying climate well into 2021. But your shop can tap into the power of people's desire to "support local." You'll counteract the uncertain economic conditions created by COVID-19.
Here's where fundraising 2.0 waxes a little different. It's about generating good business karma in an age of social responsibility. "If we all start jumping on this, we're going to shine," Holst says. "If we don't do it now, when will we do it?"
In 2020 and beyond, this fundraising pitch will be a major growth engine for decorators: "Our fundraising programs can help your organization raise money and generate awareness with high-quality branded merchandise."
We're going to drill down into how to add a no-risk fundraising program to your business. Plus, we'll give you a plug-and-play marketing copy kit so you can start promoting your new service today.
4 Reasons Why Fundraising's Here to Stay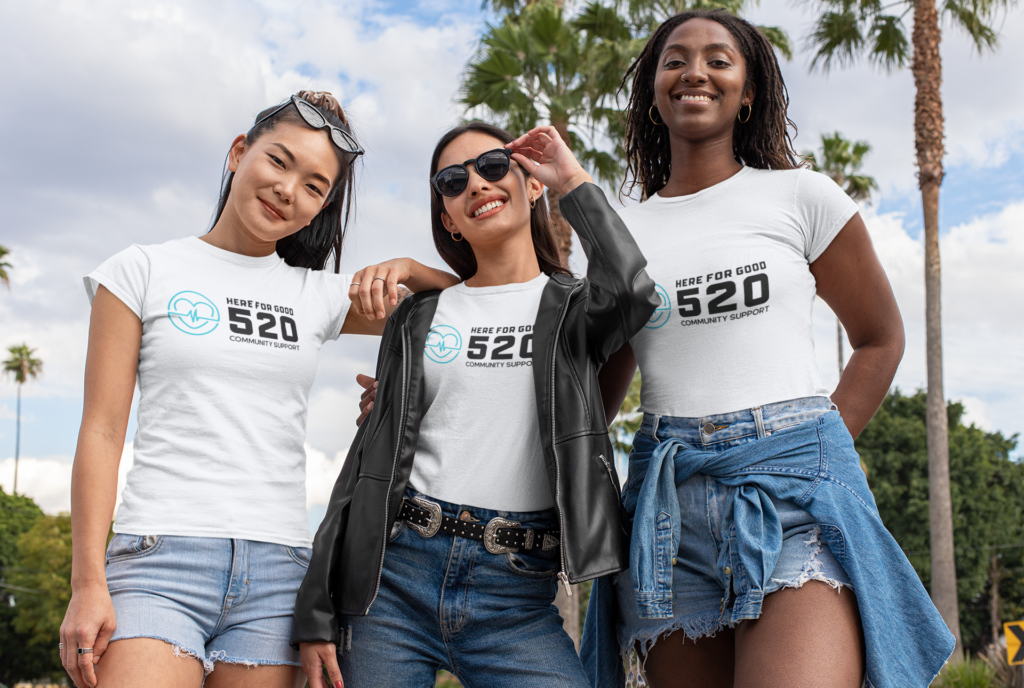 We see a huge shift toward fundraising as a viable income stream. Here are four reasons why you need to pay attention.
Traditional fundraising as we know it may never be the same.
We've watched galas, dinners, auctions, and live events cancel across the board. That's due to social distancing, closures, and organizations operating on limited budgets. Since we don't know how long we'll be in this new normal, galas or big live events might phase out for a while.
Fundraising won't be a maybe""it'll be a universal must.
We're witnessing an unprecedented economic contraction. Most public and private organizations will continue to work with smaller operating budgets, especially for marketing. That's why they'll need all the help they can get to fundraise for extra funds and cost-effectively promote their organization, values, and vision.
People really want to help""so let's activate them!
When the going gets tough, the human spirit rises up. We rally to help in times of need. In 2018, despite a tougher climate, Americans gave $427.71 billion to charitable causes. That's why lots of groups""customers, patrons, members, supporters, and fans""gladly purchase branded merch to help local businesses, schools, organizations, and special causes.
We all love branded products.
Yes, we all have that pen from our favorite pizza joint or the T-shirt from our yoga studio. Whether it's logoed apparel or hard goods like pens or water bottles, branded promo products serve a purpose way beyond a fundraising cause: They promote and convey identity, branding, and messaging.
For example, T-shirts and jackets become walking billboards, scoring a business or organization a lot of impressions during the garment's lifetime. And the marketing cost per impression (CPI) of a branded product can be as low as 1/10 of one cent, making it a great choice for companies on a budget. If a buyer spends $10 on a branded hoodie and that hoodie generates 1,000 views over its lifespan, the CPI is one cent, according to ASI.
Hot Tip: The top five most popular branded items that people report as being the most influential in terms of swaying opinions are USB drives, outerwear, drinkware, writing instruments, and performance wear, ASI reports.
Launch Your Fundraising Service With InkSoft's Help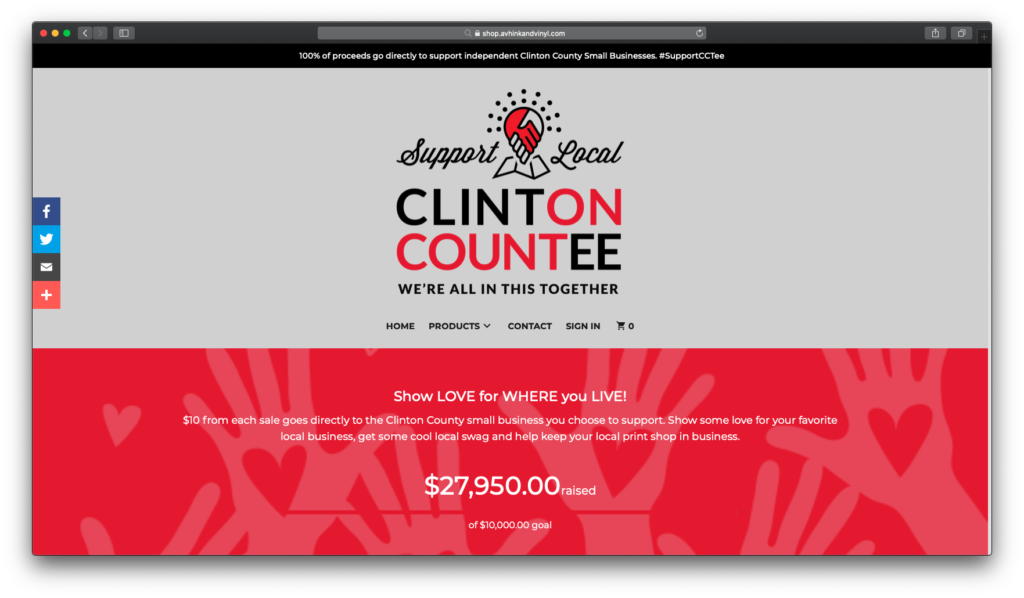 InkSoft offers a complete turnkey Fundraising program that became a staple mainstay of many decorators' businesses during COVID-19.
You've probably heard of (or have been part of) the grassroots Here for Good movement, brainchild of Monster Marketer at St. Louis-based Tiny Little Monster. Now, active in more than 30 states, screen printers imprint T-shirts with local businesses' logos: Part of the proceeds go to support the local business and the other half helps keep the printer afloat.
After watching that success, print shops are launching fundraising as a full service, using the same principles: You build and host the online store. (Guess what? Many of the screen printers who've launched an InkSoft Store with a Fundraising component tell us they did so in mere hours""almost an instant revenue-generator for themselves and other local businesses.) Then, you fulfill all printed merch orders. Every time a buyer makes a purchase, our tool automatically allocates the profits behind the scenes. You keep a portion of the proceeds and then send a check for the other portion to your customer.
When you approach businesses or organizations about setting up a free fundraising store, here are three best practices we recommend:
Actively promote a zero-risk, no-labor, turn-key fundraising campaign offering that you manage completely for your client.
Your messaging should be, "We do all the work! We set up the online store. We upload your artwork. We stock the inventory. We collect and process orders. We print and deliver awesome branded T-shirts to your supporters. Then, we send you a check for your cut of the profits."
Realize that you'll need to overcome a skeptical objective from prospects, "Wow, if this seems too good to be true, it must be, right?"
That's why we recommend offering a free fundraising consultation to potential customers to show them exactly why there are zero risks if they sign up. They'll only experience upsides: profits and increased brand awareness.
Develop a fundraising product and price mix
Standardize fundraising programs for simplicity and efficiency. Even better? You can charge retail pricing (hello, bigger profit margins), as supporters will be willing to spend more.
7 Ways Offering a Fundraising Service Benefits Your Shop
Still waffling about offering a regular fundraising service to your customers?
Read these top seven reasons to pitch a fundraising program to literally every client (this is the advice we give all of our screen-printer clients).
Give customers a "˜can't say no' reason to work with you.
A no-risk fundraising service that puts money in their pockets""and creates brand awareness for clients""adds immediate value to your prospects. In fact, online giving grew by 12.1% over the past year, so people are ready, willing, and able to support businesses and causes they like.
Hot Tip: Feature your fundraising program prominently in your marketing mix""and include success stories from your client mix. Consistently post fundraising messaging and promotions on your website, social media messaging, newsletters, and in your guerrilla marketing efforts, like cold pitching. Do this consistently!
A "˜free' offer lets you maintain retail pricing on printed goods.
Position fundraising as a zero-risk, free service to your direct clients. When you tout the "no-risk benefits" correctly, you build tremendous value in a no-cost, turnkey fundraising program.
It's OK to maintain a fundraising campaign service retail price, to protect and maximize the profit potential!
Hot Tip: When it's a fundraising effort, people will be happy to purchase products to support a local business, church, school or organization. Plus, using the word "free" in your marketing efforts means that you don't need to discount your printed goods to end-consumers.
"˜Support Local' and align with your community.
Sparked during the early days of the COVID-19 lockdown, the Here for Good independent business fundraising movement proved that decorators can serve their communities better than large online e-tailers.
As a print shop owner, you've cultivated the relationships and connections to uniquely drive local support and do good in your community.
Hot Tip: During coronavirus""but really any time""you can push "We support local" messaging in your marketing efforts to create an inducement to partnering with your business vs. a big online retailer. Anyway, 61% of people prefer supporting small and local retailers because they offer more unique products. Secondly, these shoppers want to support their local community and small businesses.
Generate lots of goodwill and a massively positive reputation.
Fundraising automatically creates goodwill and helps to bolster your local business reputation as a shop that gives back. This reflects positively on your brand and helps foster word-of-mouth marketing results and referrals.
Hot Tip: After you partner with a new local business to fundraise, don't be shy about sharing your results. You'll score more publicity for you and your client! Use storytelling in your content marketing efforts to show how you're helping a local business or organization raise awareness with branded goods and raise money. As we've learned in our coverage of the Here for Good movement, each and every fundraiser has an important story. Share them!
Yes, press and social media exposure scores you and your client more support.
We watched so many InkSoft customers get featured in their local news and media for their Here for Good fundraising campaigns. People love fundraising stories: They're human interest and feel good, and create lots of social sharing opportunities. Your local media outlets""a free source of advertising and exposure""help generate even more new leads and brand awareness, for your print shop and your clients.
Hot Tip: Reach out to producers, editors, and reporters at your local news stations, as well as print and digital publications. They're always looking for impactful, positive community stories. Again, we can't stress enough the power and cost-effectiveness of press coverage as free advertising. For a wider reach, encourage your fundraising customer to actively promote your program via their networks to gain even more local traction.
Create a lead-generation engine and expand your wallet share.
A fundraising program also acts as a lead-generation engine. First, after your fundraising customers see the power of printed products, they'll probably extend their business with you into other areas. You'll also attract new customers when they see how well fundraising efforts work for other businesses and organizations.
Hot Tip: Once you're up and running with a new fundraising program, ask for referrals. If a client benefitted from your free, no-risk fundraising program, they'll be more than happy to recommend your service to other businesses, groups, and organizations. And of course, don't be shy about asking your fundraising customers if they need help with other promo marketing efforts.
Reduced Marketing Costs & Fast and Direct Access to Consumers
No doubt, your fundraising customers will actively promote their online store to their audiences: members, patrons, supporters, customers, employees, students, team members, and more. The upside for you? You'll get instant and free access to a customer base via your existing customers.
Consider that gaining a prospect's trust one of the most difficult, time-consuming, and expensive parts of the marketing and sales cycle. Yet, referral business closes and converts more than 70% of the time. When your fundraising customers promote your efforts, you've fast-forwarded the sales cycle with their valuable and weighty introduction to their buying base.
Hot Tip: Don't leave anything to chance! Give your fundraising customers turnkey marketing resources to easily promote their fundraising campaign with you. Supply them with best practices and a simple plan to maximize their fundraising goals. This is your chance to help your fundraising client make even more sales, and for you to reach new customers for free.
Our Gift to You: The Total Fundraising Spread-the-Word Toolkit
OK, you already know that it's uber-easy to set up an InkSoft Store with the Fundraising feature.
Now it's time to reach out to your customer base, along with other local businesses and organizations, to build momentum. When you have the right messaging, it's easy.
Since we want you to succeed, we're giving you our done-for-you marketing copy, from emails to social posts. Feel free to take our templates and make them yours! Register for access using the form below. Registering is important so you'll receive notifications of any new additions!