If you've already read part one of our Ultimate Guide to Online Stores (and if you haven't, check out it here), you probably already know there's much more to selling online than putting a few photos on your website and hoping for the best. For part two, we'll take a closer look at some of the logistical aspects of your shop involved in running successful online stores.
Set your team up for success
Whether your customers are running an online store for a fundraiser, their business, a school sports team, or another category, you still need to have some key elements buttoned down at your shop.
For this blog, we'll focus on three main areas:
Fulfillment
Pickup and Delivery
Supplies
These main categories help determine how you're stocking (or not stocking) blanks, where and how customers pick up their printed goods, and how to maintain a stock of supplies so you can print and pack merchandise without any downtime because of shortages.
Online Stores Fulfillment
To Stock or Not to Stock?
The short version? You need to have a handle on your shop's inventory strategy. Some printers now do "just in time" fulfillment rather than stockpiling boxes of garments in the warehouse. This approach complements decoration methods like DTG and DTF printing since they are usually for short-run or short-turnaround orders.
Some shops, like Ohio-based Power Graphics, use just-in-time strategies for monthly and bi-monthly promotional stores to incentivize more people to buy custom merch before it's sold out.

"There's no inventory stockpiling, and it helps us gauge demand," says Power Graphics owner Nyles Reinfeld.
Other businesses, like STL Shirt Company, utilize supplier programs to streamline their inventory strategy. Owner Connor McDonnell says the business takes advantage of programs like S&S Activewear's Freight Advantage to reduce inventory but still supply customers with what they need and stay on schedule.
"We get free shipping on all orders, no matter the size of the order," says Connor. "It is better for us to order as needed compared to keeping any stock."

Check out this deep dive on how STL Shirt Company established their online store strategy:
Rethinking the Online Store Fulfillment Strategy
If you're thinking of revamping your current fulfillment strategy and thinning out how much stock you're keeping in-house, check with your suppliers on what sort of options they might provide. For example, S&S Activewear's Freight Advantage program that Connor's team uses provides free ground shipping on all orders from S&S Activewear locations sent to participating decorators.
Keeping inventory on-hand
There are cases for keeping inventory stocked too. For example, if you have recurring customers who typically place the same order every month, then keeping blanks on hand can be helpful. Especially if you provide local delivery.
Dana Cardinas from One Stop Promotional Products says this is the strategy at their shop.

"This approach allows us to complete orders quickly," she says. "For instance, a customer texted me this morning needing 15 shirts for new employees. I had them in stock, and the decoration is super quick to apply. We delivered his order this afternoon."
Ultimately, your production process will determine whether or not you choose to keep stock on hand. And, if a third-party fulfillment program can keep up with your shop's order volume so that customer jobs are still completed on time.
PRO TIP: In your terms and conditions, ensure customers know what days you do fulfillment. This helps reduce confusion with customers who might expect items to ship in real-time.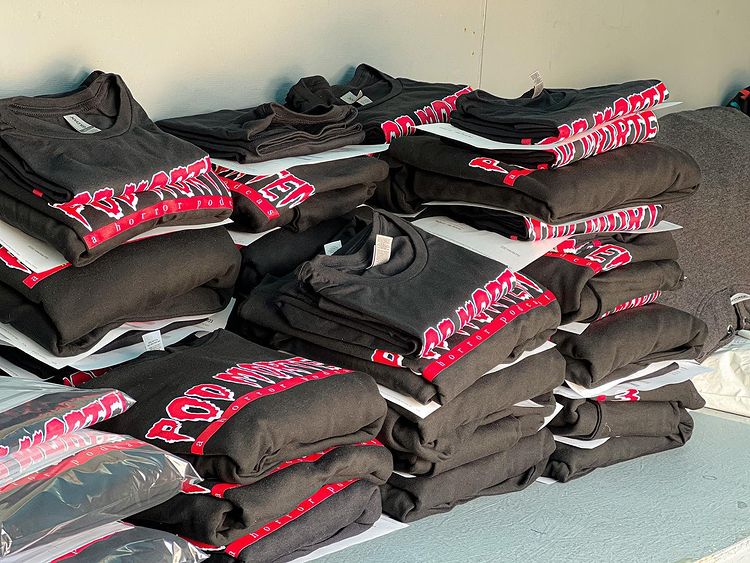 Bagging and Tagging
If you need a formalized process for bagging and tagging orders at your shop, check out this handy nine-step process. This method ensures that every step, from checking your blanks inventory to packing orders for your customers, is done with the utmost attention to detail and minimizes spoilage.
You can also get a breakdown of the process here.
In short, you want to ensure that nothing's missing from each online store order every step of the way. That means starting by counting in products when they arrive, eventually matching order slips to filled packages, and double-checking your master order list one last time before the order leaves the shop.
Including contact information and a thank you note in the package is also a good idea. That way, customers can get in touch if there are any questions about the order, and ideally, they'll be excited to order from you again because of your excellent customer service.
For pricing bag-and-tag services, one popular way is to factor the cost of the service into your product prices. Connor points out that he doesn't charge a separate fee for the service and uses a built-in pricing method.

"Typically, we upcharge around $2.00-3.00 per shirt sold in a store to account for bagging, separating, and smaller print runs," he notes. "Usually, we assume that our stores will have at least 24-48 total items sold of each design, so we start there with pricing. For example, if a normal, bulk order of 24-48 run of one-color Gildan shirts is $13.00 per shirt, we are charging $15.00-16.00 per shirt on a store to account for the extras." 
Online Stores Pickup and Delivery
If you want to expedite things, you can offer local pickup to the customer in charge of the store. So if it's a school, the coach or administrator will need to come to get their end-customer orders and handle their own distribution. This is typically a good way to handle things if your customer has multiple online stores so you don't wind up with inaccurate orders.

"If the person in charge of the store wants to pick up all of the separated orders and distribute themselves, that is no problem to us," says Connor. "We do not, however, let them separate the orders. We do that all in-house to ensure order accuracy."

If your customers are using InkSoft stores, they can specify the terms of the pick-up with instructions on the invoice for their end customers. For a school, that would look something like "Students and parents must pick up their orders at the school office Mon.-Fri. 9 a.m.-5 p.m."
Supplies for Online Stores
Depending on your shop's size and order volume, you'll want to stick to an ordering schedule that ensures you don't run low on essentials but aren't stuck with a pile of goods that take up extra space and hamper your ability to run a clean shop.
If you have the room, ordering once a month can work if you buy from a distributor that gives you bulk discounts since you can store your shipping supplies and work through them as needed.

If you're a smaller shop with less warehouse space, a more "as-needed" schedule will typically make sense, like every two weeks or so.
Outside of basics like shipping tape and packing materials, here are a few good items to make sure you keep in stock:
Poly Shipping bags
Clear Shipping Bags
Large and small shipping boxes
Thermal printer for postage
Postcard or business card that includes a "Thank you note" (We mentioned this one earlier, make sure you always have a stack of these printed so you can drop them in every order.)
Pro Tip: Include a coupon or QR code to keep customers shopping for more items.

Supply Hacks
Connor points out that if you're a higher-volume shop, you can use large boxes for holding separated orders and use the small boxes for larger, individual orders.
Branding your shipping packaging with your shop's logo is a great way to promote your business. But it can get expensive if you're a smaller shop that doesn't ship or pack as many orders. If you don't have the budget to order custom-printed boxes, there are still ways to get crafty.

"If you want to get fancy, you can heat press your logo onto your boxes using a DTF transfer," says Dana.

For shops that don't print DTF, a simpler route is adding a sticker to the exterior shipping carton and including one with the thank-you note inside the box. Stickers are typically one of the most affordable promo items that you can order in bulk and add to any customer order.
Making it all work
While there's no one-size-fits-all plan for handling fulfillment, pickup, and supplies with your online stores, these steps can help you put together a better strategy so you're always filling orders on time, keeping up with order volume and staying well-stocked on all your shop's supplies.
Smaller shops might need to rotate who handles fulfillment so that one of your team members working in the front office on Mondays and Wednesdays helps pack orders on Tuesdays and Thursdays. If your shop has the payroll budget and your order volume is high enough to justify it, hiring someone to oversee fulfillment as their full-time job is also a great idea since it'll help keep all your other departments on track.
If you need a refresher on marketing online stores to customers, pricing products, setting terms and conditions, plus a few other pro tips on e-commerce, check out part one of the ultimate guide to online stores for print shops.
Here are a few more resources on how to run better online storefronts:
Learn how One Stop Promotional Products grew their business with online stores.
Read why online stores are the ultimate selling tool for busy seasons like back-to-school.
Find out how to combine online stores with upselling strategies to sell more custom merch.