In the past couple of weeks, we've seen so many community initiatives, so many examples of strong campaigns, that we've been more than just a little impressed.
We've been inspired.
From restaurant chains fundraising for their laid off staff to screen printers bringing entire cities together, it's safe to say that the determination levels — and the creativity levels — have been running high.
These campaigns deserve to be recognized, and we have been recognizing them (see here, here, and here, for starters), but they also deserve to be learned from. Which is why we've started this "˜Tip of the Day' series — to arm you with even more insight, so you can take action.
In a time like this, that's what everyone should be doing. Taking action. Regardless of business size, of industry, of capabilities, we should be banding together to help each other out.
So, without further ado, let's get into today's tip — and hopefully inspire you to get moving.
Artists make great partners.
While the Here for Good movement showed us that local businesses banding together can accomplish awe-inspiring things, a new initiative that's partnering artists with printers is teaching us something new.
That there's a whole new way to cross through industry borders and join forces. A way that brings with it massive returns, exposure, and community support.
Think about it: in times of crisis, there's always a surge of art.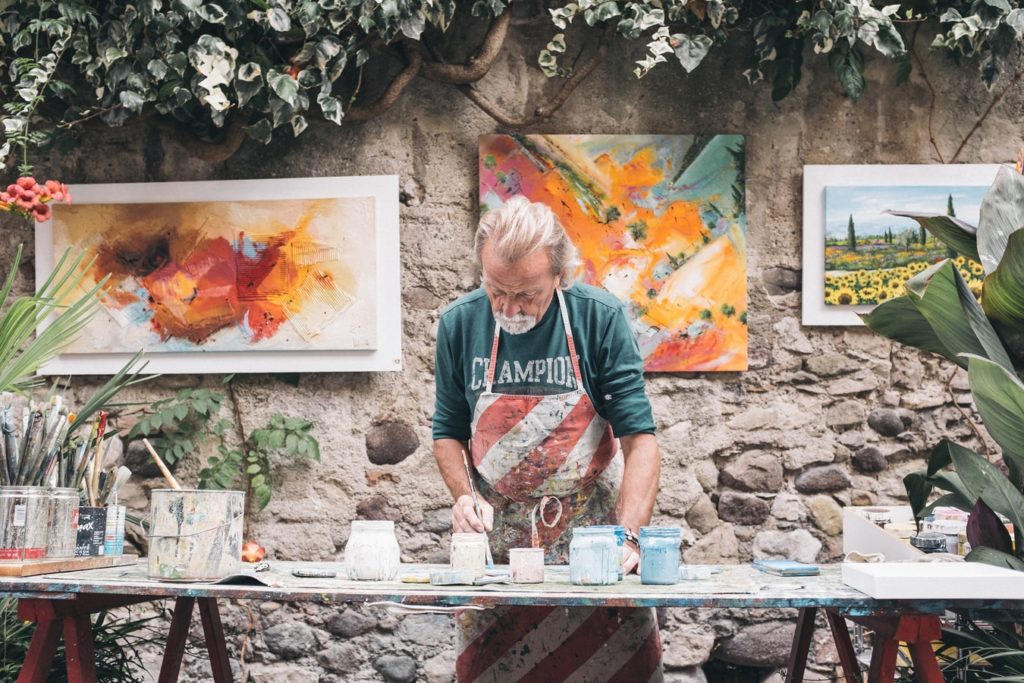 Artists create so that they can share. Right now, there are artists all over the country "" all over the world "" who are itching to get their new work out there.
They're itching to be of service to their community. To use their art to bring people together.
That's how the Erase COVID campaign "" the campaign that showed us these partnerships were possible "" started.
Because artists were looking for a way to share their work in meaningful ways. They were looking to connect people from across the globe, and fundraise for the whole artist community.
How does it work?
The artists involved send their work "" including greeting cards, posters, and magnets "" to Graphic Business Solutions, a California-based printer. The printer then adds those goods to the fundraiser's virtual store, and prints and ships them when purchased.
All proceeds are split between the artists, the printer, and the charity partner MusiCares "" which provides relief for musicians affected by the pandemic.
So, by utilizing the capabilities it already had, Graphic Business Solutions was able to add something vital to the campaign "" a campaign that couldn't have gotten off the ground without it.
Not only is the printer giving back to the community, and to the artists who make it strong, but it's also fundraising for itself "" something every local business should be doing in these troubling times.
The partnership breakdown
We're not suggesting that you replicate the Erase COVID movement, following in Graphic Business Solutions' exact footsteps.
We are suggesting that you take in your own capabilities, and what you're able to do given InkSoft's technology, and find actionable ways to implement it.
Every community has artists, which means that every community has people waiting to, wanting to, share their work. Whether it's printing their greeting cards or printing t-shirts with their designs and messages, you have the power to help them share.
Like the Here for Good campaigns we've seen, the logistical breakdown is pretty simple.
Reach out to artists and graphic designers "" find programs, schools, collectives that harbor artist communities and pitch your campaign. Odds are, they'll have some creative ideas of their own and be eager to jump on board.
Once the product designs for your campaign are in, you can use the InkSoft Stores feature to get them up into a custom, easy-to-navigate online store.
Then, all you have to do is promote, promote, promote. Make sure you're sending news of your initiative to everyone you know "" and that each artist is doing the same.
We recommend that the artwork included focuses on COVID-related messaging and themes, like the Erase COVID campaign did. That way the art will feel timely, powerful, and urgent — and you'll be able to promote your store as a limited time marketplace, which will encourage visitors to show their support ASAP.
Another reason to keep the messaging and theme consistent? It'll help to educate, using messages like "Wash your paws!" and "Social Distancing Champion."
As one artist involved in the Erase COVID movement explained, it's "PSA Art that I'd like to own."
When your community starts showing up, supporting the artists and the initiative as a whole, we bet you'll be blown away at the returns. Because, like we said, people are itching to be of service to their community. And you're giving them a no-brainer way how to.
Completely, 100% up to you
The specifics of your campaign, including how you promote it and the breakdown of earnings, are completely customizable.
Maybe an artist you partner with has a massive social media following. Maybe they're able to promote the initiative and the online store to millions of people, all over the world.
Or, maybe you reach out to a local news station, and get your campaign covered in the press "" just like the Erase COVID campaign was.
However you choose to promote your initiative, make sure you get its purpose across. It's intended to help bring people together "" to connect people in a time when we're forced to be physically distanced.
And, even more than that, the art produced and purchased will serve as a physical reminder of this crisis, long after it's over. It'll remind us of the strangeness, but it will also remind us of how we banded together.
How we took steps to support our community, and the arts, in a time when it was extraordinarily easy not to.
When it comes to the proceeds earned from your initiative, have an open dialogue with the artists you're collaborating with. Maybe the proceeds of each item are split between you and the artist who designed it, or maybe you add in a charity partner too, like Erase COVID did.
The point is, throughout every step of your campaign, you're in charge. You hold the reins "" wherever you want to go, wherever you want to take it, it's up to you.
But you should do something.
And, when you do it, InkSoft's technology is here to help. From designing products to creating unique virtual stores, from streamlining fundraising logistics to offering easy-to-understand access to every customer, our features are equipped to make the entire life cycle of your campaign as seamless as possible.
We know you can make a difference, and with our tools, you're better equipped than ever.
So go ahead and get brainstorming. Reach out to artists, get the campaign started, and let your community in on the project.
You might just be surprised at how impactful it is.
If there's anything we can do to help your initiative along the way, we're always happy to chat. Our number's 800-410-3048.
Good luck, and we're rooting for you!
Stay safe,
The InkSoft team