Bottom Line Up Front: The Orlando Merch Store campaign is using InkSoft's e-commerce technology to raise money for 80+ local businesses, and the local food bank. We'll break the campaign down, including how it's already hit $20k in raised funds, below.
As the weeks spent isolating continue, the number of incredible campaigns that apparel decorators are taking part in all over the country keeps growing bigger.
These apparel decorators aren't hitting the brakes in the face of crisis. Instead, they're pulling out all of the stops, using every ounce of their know-how and technological capacity to keep their business — and the local businesses around them — up and running.
We know that easy times don't reveal character. It's times like these, times where we're all inundated with concern and stress, uncertainty and chaos, where we really get to see the heart of a business. And we've been so consistently impressed — and awed — with the heart that we've seen.
So, to give you a little taste of that hard-working, creative, magnanimous heart, we've got quite the campaign spotlight lined up.
This is a campaign that took the foundation of the Here for Good movement and added its own humanitarian twist. It's been fueled by innovation and determination, and it won't be slowing down anytime soon.
So, put your hands together for today's Spotlight feature: Impress Ink and their Orlando Merch Store!

A familiar starting point that led somewhere special
Like countless companies across the nation, when operations started to slow and doors started to close, Impress Ink couldn't believe it.
The Orlando, Florida based apparel decorator was used to keeping busy. Offering everything from screen printing to promotional products, live printing to brand consulting, the team was masterful at delivering diverse, high-quality services.
But then the virus struck, and orders started to disappear. It became clear that business-as-usual wasn't going to cut it, so the team, headed by co-owner and head of operations Mike Cho, got creative.
At first, the idea was to take what apparel decorators were already doing so well, through the Here for Good movement, and make it their own. Appeal to as many local Orlando businesses as possible, and infuse a strong sense of home-grown community into their online store.
That alone would've been a campaign worth spotlighting.
But instead, the Impress Ink team took it a step further. They turned the Orlando Merch Store campaign from a fundraiser for local businesses to a fundraiser for local businesses and the local food bank.
And the result is something spectacular.
Let's break it down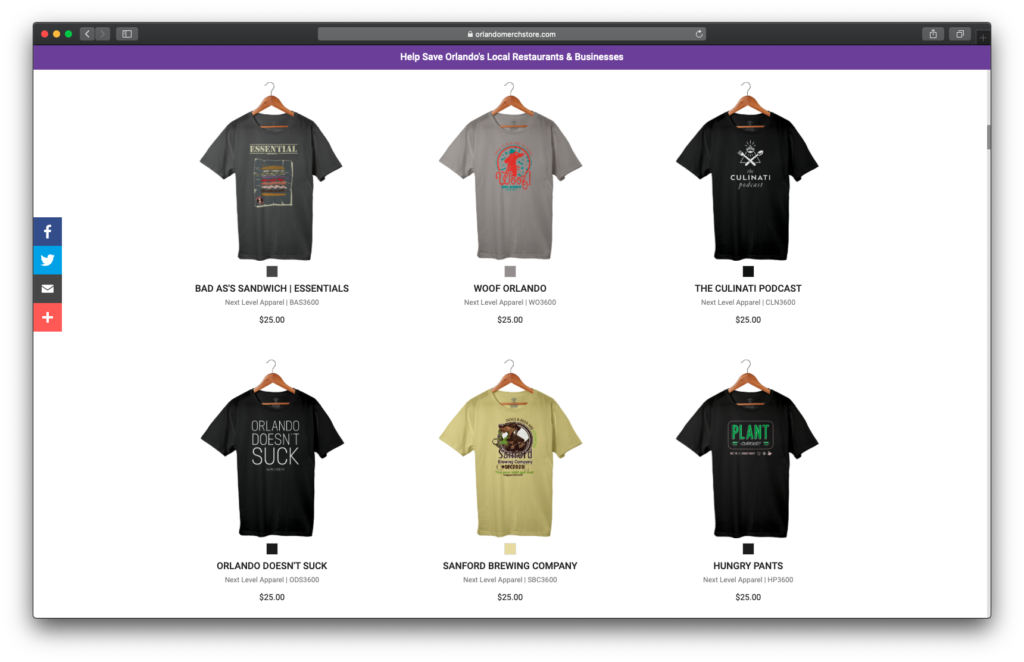 You already know the drill: the apparel decorator, in this case Impress Ink, partners with local businesses to create custom, branded t-shirts and sell them online.
Not only does the campaign raise money for two local businesses with every t-shirt purchased, but it also works to enhance brand exposure and community ties — while we're all stuck on our couches, watching the umpteenth Netflix series in a row.
The Orlando Merch Store has 100 different t-shirts on offer from more than 80 different local businesses, which means that more than 80 different businesses are being impacted by this campaign.
With one scroll, Orlando residents are seeing branded merch from their favorite poke bowl spot, neighborhood ice cream shop, and crossfit studio. Every place they frequented before the pandemic, every business they took joy in supporting, they can now show up for.
Completely, 100% online.
But the ridiculously high number of local businesses involved and the state-of-the-art e-commerce technology used aren't even the best parts of the Orlando Merch Store.
What is? Its commitment to sending proceeds from every purchase to the Second Harvest Food Bank. Its commitment to helping the thousands of seniors, kids, and families who rely on the organization for their daily necessities.
Talk about making a difference: Impress Ink lowered the proceeds they'd make from each sale in order to send $2 from each t-shirt directly to the food bank, all while making sure each local business receives $10 for every one of their t-shirts sold. The remaining proceeds then go to keeping Impress Ink's operations — including this fundraiser — alive.
Community impact that keeps on growing
The Orlando Merch Store opened for business just a few weeks ago.
Since then, more than 80 Orlando businesses have signed up to be a part of the campaign, and more than $34,000 has already been raised.
Think about what those earnings mean for the restaurants, bars, cafes, and gyms that can no longer operate. Think about what they mean for the seniors, children, and families who rely on the local food bank — now more than ever.
Impress Ink went way above expectations, inciting massive community impact for the city they call home.
They designed original t-shirts with local businesses to create the best products possible, they created an online fundrising store that makes it easy for community members to support the places they love, and they made sure to give back to the vulnerable at every opportunity.
So, if today's feature has you as inspired as it has us, what are you waiting for?
Get your own fundraising campaign rolling. All it takes is the apparel decorating know-how you already have, the InkSoft technology you already know your way around, and the determined spirit of a business that's not afraid to get creative.
If you have any questions for us, or if you already have a campaign that's doing awesome things and deserves its own Spotlight feature, don't hesitate to reach out. The only thing we love more than answering questions about our tech is learning about new campaigns that are bringing communities together.
Wherever you're at in your campaign journey, keep going! We're rooting for you.
Take care,
The InkSoft Team