Bottom Line Up Front: We spotlight six different apparel decorators who got creative when it came to face masks. They offered different features, started different campaigns, and generated a whole lot of excitement over the public safety accessory — so check them out and get inspired. 
Today's Spotlight edition is a little different from editions past. But this series was created to showcase moments and acts of triumph, of goodness, and of community-mindedness, so while the type of feature might be different today, the intention remains the same.
The intention to celebrate the good, even in times of difficulty.
The intention to inspire other apparel decorators, professionals, and people to think creatively for their community, even when chaos and uncertainty run rampant.
With public health front of mind for just about every industry in every state, all eyes are on the innovators. The leaders and businesses who see the newly formed needs, think fast, and create new products and services that better the lives of their customers.
Today, we'll be spotlighting six different apparel decorators who turned to face masks.
Six different apparel decorators who got creative in their approach, using their capabilities to respond to new needs and generate higher degrees of protection and safety in their communities.
We all know that the true strength of this country comes down to its people — and it's these hard-working, quick-thinking, community-minded people that we're going to celebrate today. Whether you're featured in this edition or not: we see you, we're impressed by you, and we thank you for all that you're doing.
So get ready to meet six apparel decorators that are making a real difference: Graphic Connection, Sunday Cool, Advanced Impressions, Alliance Graphics, A Stitch Ahead, and LA Shirt Printing!
Face Masks as Fundraisers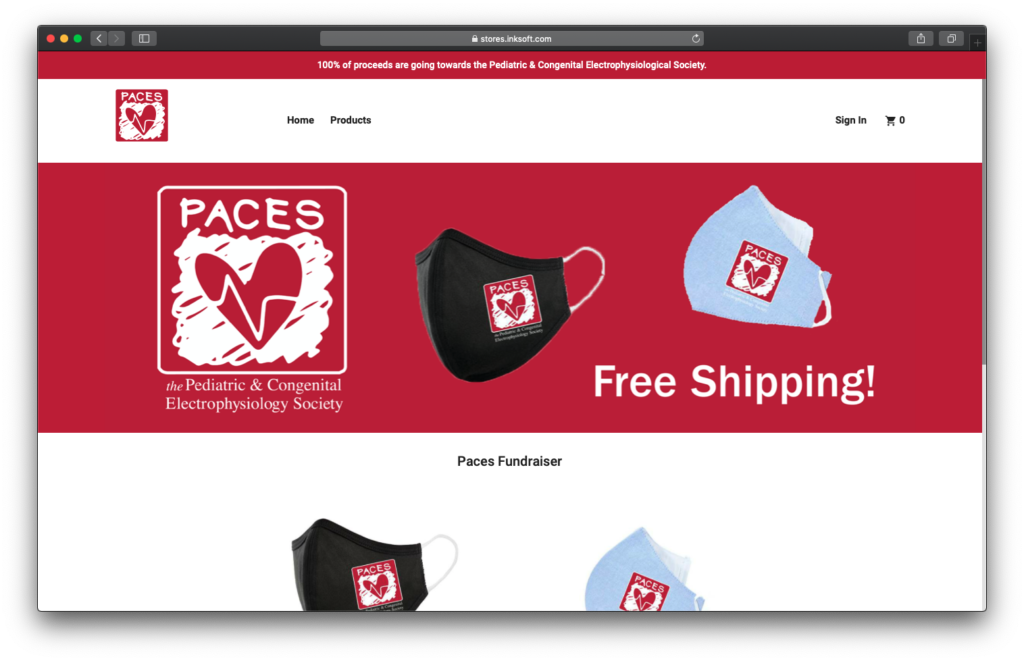 The first use-case we'll look at is New Mexico-based screen printer Graphic Connection, and how they partnered with the Pediatric & Congenital Electrophysiology Society (PACES) to turn selling face masks into a fundraising opportunity.
PACES is a nonprofit organization comprised of physicians and allied professionals from across the world, all working to improve the care for children with cardiac rhythm disturbances.
Offering one black mask and one blue mask, Graphic Connection designed both options with the PACES logo before creating a custom online fundraising store. The result is an easy-to-access online store that makes buying a mask — and supporting a worthy cause — simple, helping to achieve two separate goals under the public health umbrella at once.
Because of the minimalistic design and the ease with which an online fundraising store can be created (through InkSoft technology), Graphic Connection was able to offer an important service to PACES and its consumers, without spending an excess of time doing it.
Face Masks as Blank Products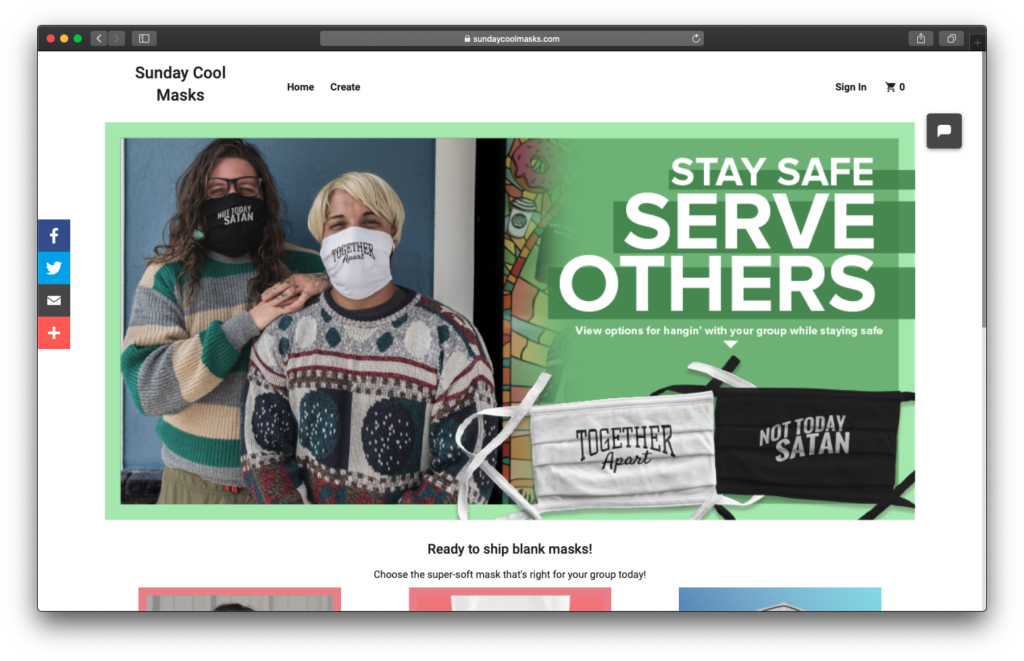 When it comes to offering selection, Florida-based screen printer Sunday Cool has always had it covered — and with face masks, their approach was no different.
They knew that some customers would want highly-customized, highly-personal end-products — but the others? The people who'd just want a simple, effective face mask to grab on their way out of the house? That's where the blank masks came in.
With a double layer of 100% t-shirt fabric, the choice of black or white material, and the guarantee of it being shipped within 24 hours, these masks answered the call for simplicity — and then some.
With a minimum order of 12 masks required, Sunday Cool offered families, workplaces, and individuals who like having a safety net (pun intended) a clear, cost-effective, and quick solution. So while they also offered custom printed face masks, these blanks were what caught our attention — showcasing how meeting new customer needs was more important than showing off fancy capabilities, and how even the most basic offerings can make a huge impact.
Face Masks as Pre-Decorated Products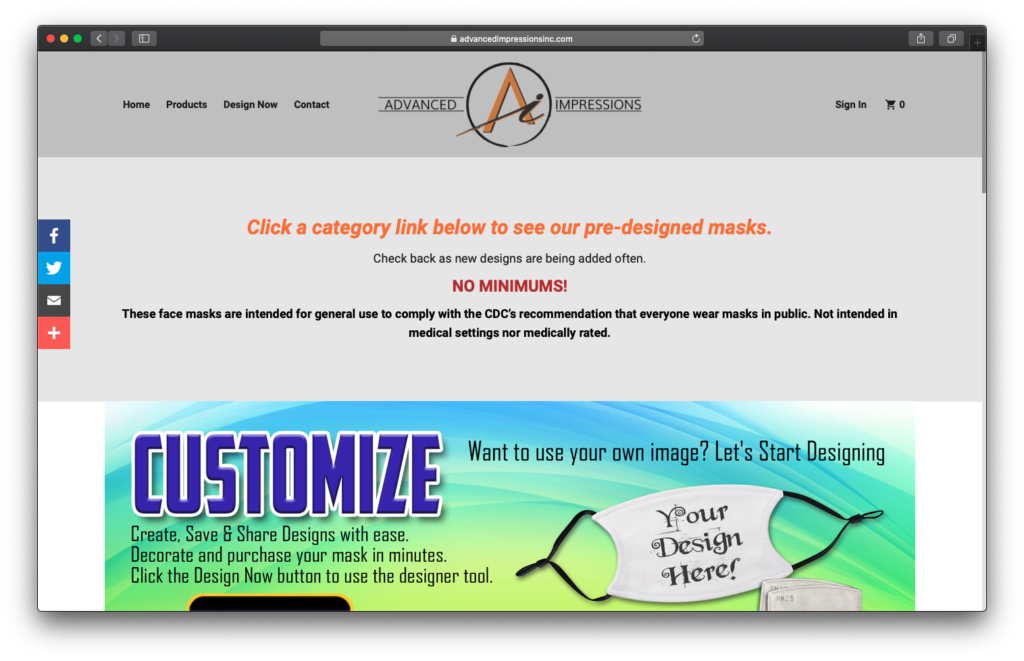 For Colorado-based Advanced Impressions, it was all about offering as many pre-decorated styles as possible — so that kids, employees, and individuals alike could feel excitement about the masks they donned frequently. So that the masks could serve as a marker of self-expression, and become an accessory they'd be proud to wear.
With style categories ranging from Patriotic to Colorado-Specific, from Animal-Centric to Inspirational/Religious to Miscellaneous/Abstract, the screen printer made sure there was something for everyone.
And they did that while keeping costs low, and accessibility (via the online store) high.
Advanced Impressions did a great job at turning face masks, a tool used to enhance public safety, into products that can also generate excitement, happiness, and self-expression — which we know will lead to them being worn more frequently, and ultimately, to a safer community.
Face Masks as Free For Teachers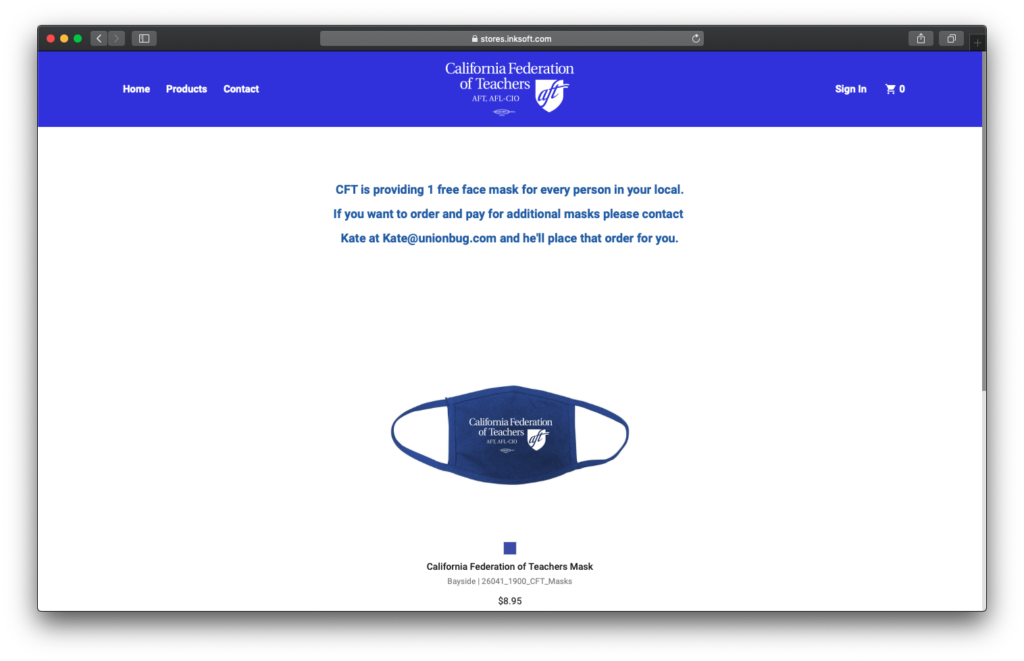 For Alliance Graphics, a mission-based apparel decorator in Berkeley, California, adding face masks to their offerings paved the way for new community-minded initiatives. Initiatives that would boost public safety and do good in the community at the same time.
They partnered with the California Federation of Teachers, a union that protects and fights for education professionals in the state of California, to provide one free face mask to every teacher.
With the question of whether schools will reopen for in-person teaching ringing out across the country — and final decisions yet to be made — the notion of teacher and student safety is gaining massive, rightful attention. This initiative is one step in the right direction, showcasing to teachers that their health and safety is a priority.
In times like this, there's seldom a clear-cut right answer. But we know that any act, and any initiative, that shows support and care to vulnerable community members — and the community at large — is a good one.
That's why we're so impressed by this Alliance Graphics use-case — and that's why we hope it inspires you to think outside of the box too.
Face Masks as Innovative, Feature-Wise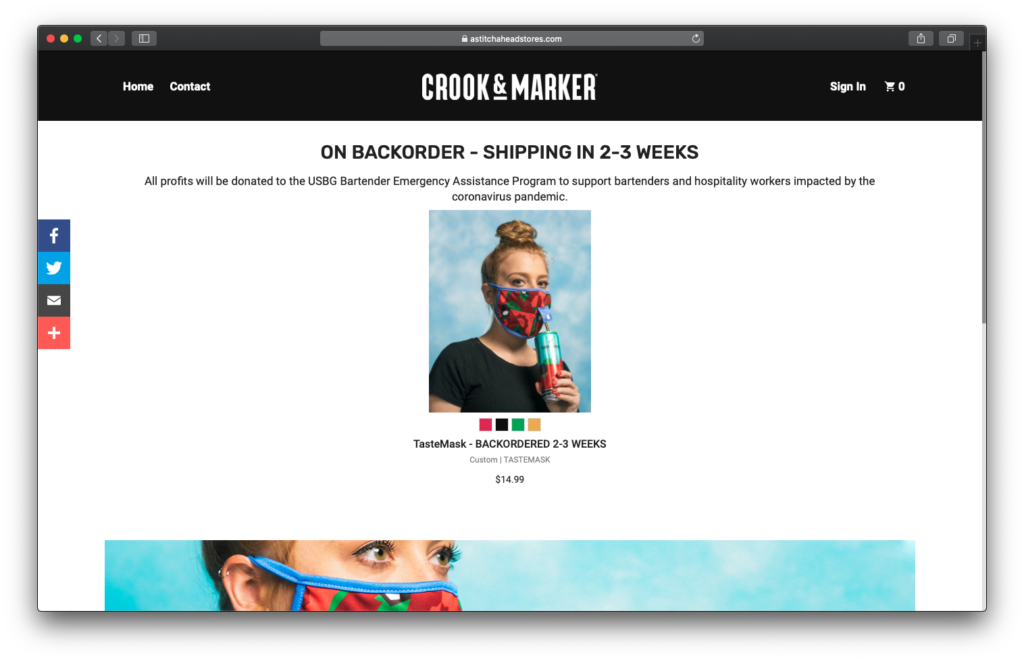 This next feature will blow you away. A Stitch Ahead, a New Jersey-based apparel decorator, partnered with an alcoholic beverage company to create a fundraising campaign that sells face masks. But not just any kind of face masks.
Face masks that come with an openable, straw-sized flap, making it possible to sip responsibly while doing your part in protecting public health and safety.
These masks are obviously innovative, using one-of-a-kind features to stand out and offer a solution to a massive need. But they also empower customers to make prioritizing health and safety easy. As summer roars on, many will find themselves in public spaces — beaches, parks, and lakes — thirsty for a drink (alcoholic or otherwise). This mask gives them protection that's also functional, which will make donning it for longer expanses of time all the more likely.
And that, in turn, makes the mask all the more effective.
But that's not all. A Stitch Ahead and Crook & Marker (the beverage company) sought to turn this incredible, innovative product into a fundraising campaign — where all proceeds go directly to the USBG Bartender Emergency Assistance Program, which supports bartenders and hospitality workers that've been impacted by the pandemic.
We're just as impressed as you are.
Face Masks as Designed How You Want It, In Real Time
For California-based screen printer LA Shirt Printing, they were looking to use their time-tested capabilities when it came to the buying experience and apply them to their new offering: face masks.
Known for their easy, accessible, and empowering buying journey — that allows users to design their own products in real time (using InkSoft's Online Designer) — LA Shirt Printing made sure that that same level of control and care was possible for its face masks.
And boy, did it succeed.
Customers are able to upload their own artwork, choose from pre-designed graphics, and/or add whatever text they'd like. The result? Complete customization that anyone can partake in, from anywhere in the world.
There's something to be said for offering customers a sense of excitement — and a sense of control — during a time that's so often fueled by stress and helplessness. That's why we're so impressed by LA Shirt Printing's quick thinking — and we hope you are too.
The Wrap Up
While this wasn't the typical one-business write up, we hope that the collection of initiatives, use-cases, and company profiles showed you just what's possible when it comes to face masks.
The truth is, they're not going anywhere. As time progresses, they'll become an even bigger part of our lives — whether we're in the decorated apparel industry or not.
That's why we believe it's integral for screen printers to jump on the face mask opportunity now. Because if you don't, you'll be missing out on a massive market — and you'll be ignoring the needs of the people around you.
So take a look at your business's capabilities. Find a way to integrate face masks into them. With InkSoft technology and your expertise at the wheel, you'll be helping to protect your community — and beyond — in no time.
Just like these six incredible apparel decorators have done. And just like countless more across the country, and across the world, are doing every day.