See how the campaign ended!! Axelrad Screen Printing Raises Over $87,000 for Local Businesses Read more.
Bottom Line Up Front: The Shirt Off Our Backs movement sends 100% of all proceeds back to the hundreds of businesses it's helping. Don't believe us? We break down the full big-hearted campaign below — including how it raised over $45k in two weeks' time.
Get ready, folks, because this is a big one.
Today's Spotlight feature goes above and beyond what we've seen before. It gives everything it has to offer to its community, and it doesn't ask for anything in return.
This campaign is fueled by selflessness, creativity, and an incredible amount of community-mindedness — and we are absolutely awed by the results it's had so far.
If you've been distracted by the negativity as of late, this Spotlight feature is sure to remind you of the lightness that's out there. It'll prove to you that, in the face of adversity, people choose to fight chaos by sticking together. And it'll inspire you to make a difference of your own.
(At least, we hope it will.)
So, without further ado, get ready to have your minds blown by today's noble Spotlight feature: Axelrad Screen Printing and the Shirt Off Our Backs movement!
The start of a community pillar
Based in Wilkes-Barre, Pennsylvania, Axelrad opened up for business in 2003. Five years later, the screen printer's built a renowned reputation on craftsmanship and customer service.
On Yelp, the Axelrad team's been consistently lauded with five starts — and praise — for their easy-to-work-with nature. But it's not just their demeanor. It's their work, too.
Offering everything from design to screen printing, embroidery to vinyl, the print shop is known for delivering on all kinds — and all stages — of decorated apparel.
But then, COVID-19 entered everyday American life. The team at Axelrad saw businesses in their community, and outside of it, brace for impact.
Operations were stalled or rendered impossible, doors were forced to close, and owners and employees all over the country were left wondering what the hell they were supposed to do.
Businesses that had never even considered alternative revenue streams were suddenly scratching their heads, grasping for an idea — any idea — that could generate earnings. But the team at Axelrad was way ahead of them.
A compassionate store by compassionate people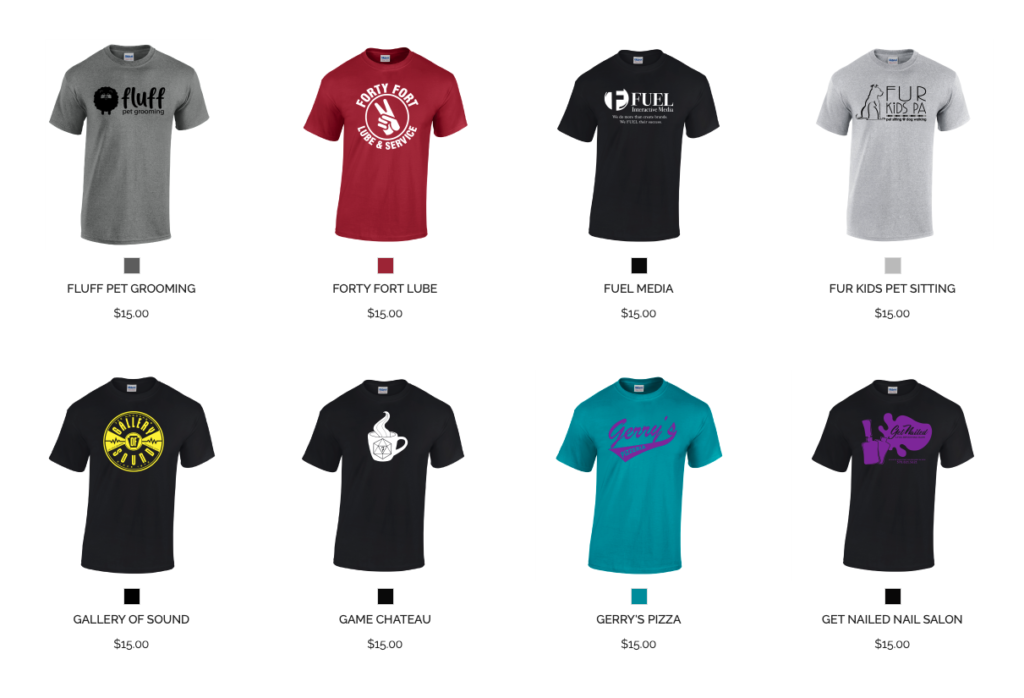 The concept was simple: a campaign that would raise money for as many businesses as possible, by using the skill-set that Axelrad's team already employed.
The Shirt Off Our Backs movement was born, and it couldn't have had a more accurate name.
By welcoming local business after local business into its fold, giving each the time (and respect) necessary to collaborate on something great, the campaign was literally offering its prized capabilities up for the sake of helping out their community.
Here's how they did it.
Using the same digital Designer feature that Axelrad depended on for all of its usual business, the team got to work, helping local businesses in and around Wilkes-Barre get their designs just right.
Some designs included pandemic-related messaging, some included impressive visuals, but most kept it simple. A business name, a logo, and a t-shirt.
Then, when each business's design was ready, Axelrad moved it into the custom online store, created specifically for this campaign.
Once there, the entire community — and beyond — was able to scroll, click, and purchase their way to supporting the places they love.
For Axelrad, the movement was a piece of cake. It used their pre-existing know-how and the technology they love to create alternative revenue streams for businesses in need.
But, while it might have been conceptually simplistic, the movement itself was nothing short of profound.
Leaving a distinct, humanitarian mark
The team at Axelrad offered up their services, their expertise, and their products, and they didn't ask for anything in return.
You read that right: the Shirt Off Our Backs movement sends 100% of the proceeds made to the local businesses.
If you buy a t-shirt designed by Posh Puppies Grooming Salon, for instance, every cent goes to Posh Puppies Grooming Salon.
If the "Puck Quarantine" t-shirt by Puck Cancer is more your style, every cent you spend on it goes to them.
But we're not the only ones amazed by the generosity. Community members near and far are jumping in and showing their support in waves, leaving Axelrad with the well-deserved feeling that their campaign is being noticed.
And not just noticed, but appreciated — and believed in.
The Shirt Off Our Backs virtual store opened two weeks ago. More than $60,000 has already been raised.
That means that the team at Axelrad has burst through its $10k goal, its $15k goal, its $25k goal, and its $35k goal — in less than 14 days. So then, they aimed for a goal above $50k… and they did it.
If you ask us, it was only a matter of time.
Promotion and inclusion
Scrolling from the top of the Shirt Off Our Backs virtual store to the bottom of it might take you a few seconds. That's because there are 203 different t-shirts, representing 203 different businesses, to choose from.
Axelrad was committed to helping every local business that inquired — and they still are. With consistent promotion, both by its in-house team and the entire community, awareness of the campaign is spreading quickly.
Local businesses are catching word of it and wanting in, and Axelrad is quick to include them and their designs, too. And then that business promotes the campaign to their customers, and the cycle continues.
What we're saying is, the Shirt Off Our Backs movement is a perfect example of reach affecting change. The more businesses you reach and include, the more customer-bases you reach and include, the larger the community impact.
From start to where the campaign's at now, Axelrad has consistently proven itself to be a smart, driven, and impeccably community-minded business — and we're so glad we got the chance to give them a Spotlight.
But, as impressive as the Shirt Off Our Backs movement is, we're not saying that you have to go out and start a fundraiser that donates 100% of the proceeds to other businesses or organizations.
We are saying that you should do something.
Whether you follow the Here for Good movement or the Shirt Off Our Backs movement, whether you team up with a fundraiser that's already rolling or create your own completely unique one, the path you choose is up to you.
The one thing all of those options have in common? That they're putting the work in to achieve results. They're getting creative, they're using their skill-set, and they're causing an impact.
Not just internally, for their own business, but for the businesses around them. For the people around them. Because once people see you putting the work in to affect change, they'll be inspired to show up too.
And, if these Spotlight features have taught us anything, it's that a little inspiration goes a long way.
If there's anything we can do to smooth the road to your campaign, or if you know of an initiative that deserves its own feature, don't hesitate to give us a shout.
In the meantime, get moving. We can't wait to see who you inspire.
We're rooting for you,
The InkSoft Team
---
Learn how InkSoft can help your shop sell smarter
Speak with one of our industry experts to learn how businesses just like yours are using InkSoft to sell decorated products and grow their sales. Click the link below to take the first step.