A tight-knit community anyway, artists and local businesses in Richmond, VA, were hard hit by the COVID-19 pandemic and resulting avalanche of order and event cancellations.
"There are no words to adequately express the anxiety and uncertainty we're all feeling," says Nico Cathcart, a muralist and a graphic artist who's been with K2 Custom Tees for five years. "Richmond is a city that thrives on its independence, creativity, and collective enterprise""and the local arts community, the creative heartbeat of our city, is taking a hard hit from this loss of work. Our artists are an essential part of what makes Richmond such a special place to live, and after years of them bringing life and culture into our home, it's our turn to give back."
That's why Cathcart and the K2 staff decided to take action, launching RVA Together, an online fundraising Store to support Richmond artists and benefit local food pantry "‹Feed More"‹, which helps get meals out to seniors and residents who live in food deserts. RVA Together is a partnership between RVA Magazine, K2 Custom Tees and local muralists.
"Each purchase makes sure our small screen-print business stays open, keeps a magazine open for business, supports a local artist, and provides a donation to Feed More," says Cathcart, who volunteers for Feed More.
How InkSoft's Easy-to-Use Tools Helped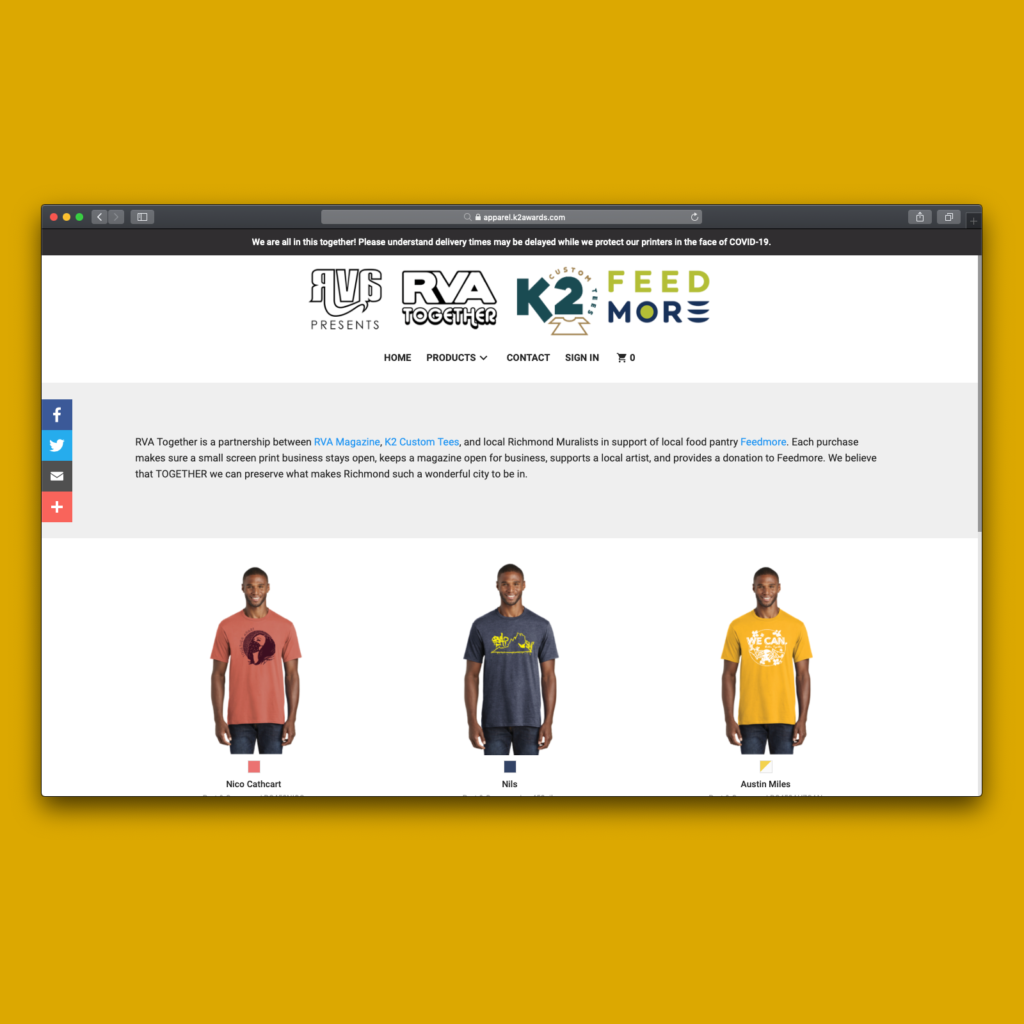 The K2 team has used InkSoft Stores for spiritwear e-commerce sites for years, so it was easy for Cathcart to spring into action building the RVA Store within mere hours of receiving designs from artists. "It's amazing how simple it is to pull a Store together and launch it," she says.
The day after schools statewide in Virginia canceled, K2 immediately saw orders slowing way down. "Most T-shirt businesses rely on schools, events, and races, so we were impacted day one," Cathcart says. "Since Richmond is a very arts-based city, local artists saw their work dry up fast as well."
Cathcart and the K2 staff gathered in their offices to find a way to continue to stay afloat. "We wanted to figure out a unique way to do business to make rent and payroll while giving back at the same time," she says. "We also had to furlough people, and we want to bring them back."
Within the first few days of the Store's launch, the team had raised $1,000 for artists, $500 for Feed More and $1,000 for K2. "InkSoft's Fundraising feature makes it so easy for us to divide up the profits," Cathcart says.
A Special Kind of Fundraising Store
Every two weeks, a new set of five artists' designs rotate into the RVA Store, built using Inksoft's Designer and Stores tools. Each sale donates $10 to the artist, $10 to K2 Custom Tees (covering the cost of the shirt and staff work) and $5 to Feed More.
In the Store's first round of artists, the designs are uber-inspiring and speak to Richmond's solidarity in getting through this crisis together. "We believe that together we can preserve what makes Richmond such a wonderful city to be in," says Cathcart, whose design "Together, Apart" features a defiantly courageous woman wearing a face mask.
The other featured artists include "‹Nils Westergard"‹, "‹Matt Lively"‹, "‹Hamilton Glass"‹ , and "‹Austin Miles, all of whom tapped into the theme of positivity and Richmond togetherness.
There's also a unique, limited-edition RVA Magazine shirt that benefits the local media company's staff. "RVA has been a great sponsor, helping us get the word out about the Store via a press release and across their online platforms," Cathcart says.
The Future Is Now
For years, Cathcart has seen a shift in how decorators do business, a slow shift away from brick-and-mortar interactions to e-commerce.
"This pandemic may be cementing that move, and we're in uncharted territory," she says. "A fundraising shop can bridge this gap. We have an opportunity to stay in business while being compassionate toward the community as we give back.
"It's more important now than ever for us to come together as a city and support our artists, creative culture and small businesses," Cathcart says. "Let's preserve everything that makes Richmond "˜Richmond.'"