Bottom Line Up Front: A professional, accessible website is crucial for selling custom branded merchandise in 2022. Use InkSoft Stores to deliver what customers want without the extra backend work.
All of us have our favorite go-to websites. Whether that's for shopping, hobbies, or just some casual browsing on purchases we're thinking over. When you think of those websites, what are some of the reasons you choose to come back to them repeatedly? Chances are it's because it's a site that loads quickly and doesn't bombard you with pop-up ads that ask you to give away a bunch of information just to browse the page. Products are easy to find, and you know exactly how to get in touch with the company if you need to. And, you probably prefer sites that have a modern, contemporary look to them. Good design shows the company takes the extra time to give you a positive experience by offering you a website you actually want to spend time on. If the site loads well on your phone, that's a bonus since so many of us are buying and browsing on the go these days.
Now, think about how your shop sells online. Do you have an online storefront that is inviting, easy to use, and mobile-optimized? If you can't answer "yes" to those characteristics, it's time to reassess your e-commerce strategy. InkSoft Stores can help your shop step up its e-commerce game and build a contemporary online store that's optimized for mobile and easy to navigate.
Better Navigation
To keep customers engaged on your website, you'll want to make sure you have a layout that's easy to navigate. Modern shoppers have a minimal attention span, so the longer they're forced to click and scroll around to find what they need, the more likely they'll go to your competitors.
InkSoft Stores have a robust feature library for building clean, simple navigation on a website. Use it to create a header menu on your online storefront that makes it easy for customers to find exactly what they need the minute they land on your website. You can also build custom footers that include your contact information and sidebar menus that divide up all the product categories you offer.
Sell More Products
One of the biggest mistakes shops make with their e-commerce setup is not displaying everything they offer on their website. You can easily use InkSoft Stores to display your shop's products in a sleek layout that's split up by category.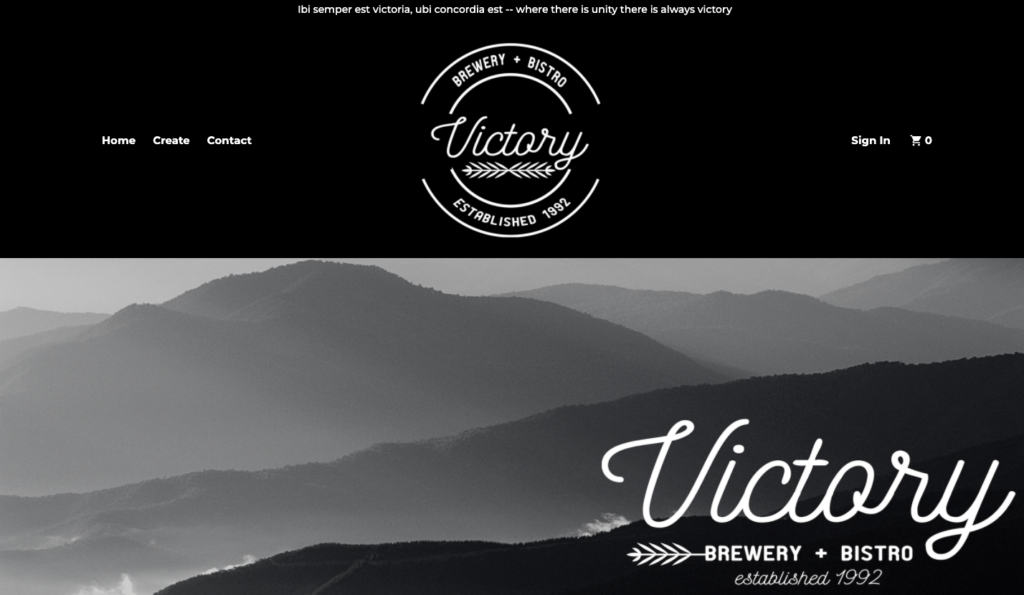 Additionally, InkSoft's Rapid Product Creator makes it easier to create a mockup of branded products so that you can add mockups of logo-ed items to your storefront. That way, whether a customer wants a hoodie, a tote bag, a water bottle, or even a yard sign, you have examples of those products on your site.
Best of all, you can use that same Rapid Product Creator when you're building custom mockups for customers to speed up the approval process.
Easily Configure Branding
Part of a professional, trusted website includes clear, consistent branding regarding color, fonts, and logos throughout the store. InkSoft Stores feature tools to easily pick out your color scheme and apply it across the entire online storefront, so everything looks uniform.

The store builder also lets you customize which fonts to use on your menus, headers, and footers, tightening up another critical element of your online store's uniform appearance.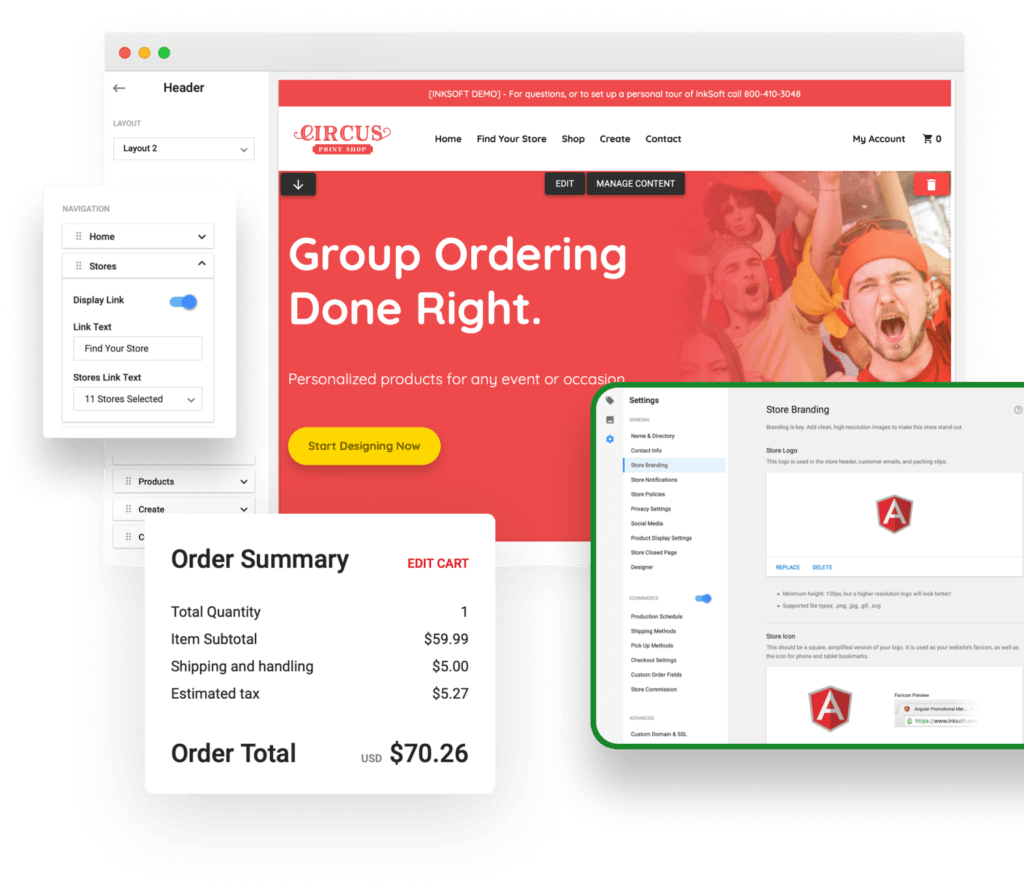 Mobile Optimization
It's no secret that building a website from scratch is time-consuming. And even after it's launched, one of the biggest pitfalls is not ensuring that it's optimized for mobile devices. That flaw can cause your shop to lose out on a whole set of customers who shop exclusively on their phones. InkSoft Stores are 100% mobile-optimized, so they'll respond the same, whether your customers visit your site on their phones, tablets, or computers.
Plus, InkSoft Stores load quickly and smoothly, so you don't have to worry about shoppers with that short attention span we talked about earlier.
Add More Revenue With Customer Stores
InkSoft Stores give your shop the tools to stay ahead of the competition in e-commerce, and they're also an excellent solution for your customers who sell products online. Use InkSoft Stores to help your customers set up stores for fundraisers, small businesses, and team sports apparel, to name just a few categories. Your customers will sell more products with a well-built, mobile-optimized online storefront for their business or campaign. And, you'll get the benefit of printing more orders.
InkSoft Stores save your team valuable time that you'd otherwise spend on building a website from the ground up. And, you'll save on overhead that would typically require investing in a web designer. Plus, stores seamlessly integrate with other features inside InkSoft, like production management. As soon as customers approve a job, you can send it to your production team to start printing.
Want to outshine the competition with online stores that deliver what modern custom-branded merch customers demand? Contact an InkSoft Client Advisor for a personalized tour today and change how you sell online.
Related Posts: